Review by Leonard Norwitz
Studio:
Theatrical: Universal Pictures & Imagine Entertainment
Video: Universal Studios Home Entertainment
Disc:
Region: A
Runtime: 1:57:39.427
Disc Size: 45,147,782,169 bytes
Feature Size: 38,835,234,816 bytes
Average Bitrate: 44.01 Mbps
Chapters: 32
Case: Locking Blu-ray case
Release date: January 6th, 2009
Video:
Aspect ratio: 2.35:1
Resolution: 1080p
Video codec: MPEG-4 AVC
Audio:
DTS-HD Master Audio English 3986 kbps 5.1 / 48 kHz / 3986 kbps / 24-bit (DTS Core: 5.1 / 48 kHz / 1536 kbps / 24-bit)
DTS Audio French 768 kbps 5.1 / 48 kHz / 768 kbps / 24-bit
DTS Audio Spanish 768 kbps 5.1 / 48 kHz / 768 kbps / 24-bit
Dolby Digital Audio English 192 kbps 2.0 / 48 kHz / 192 kbps / Dolby Surround
Subtitles:
English SDH, French, Spanish, none
Extras:
• Commentary with Director Peter Berg & Author Buzz Bissinger
• Deleted Scenes (21:48)
• Player Cam (1:09)
• Tim McGraw: Off the Stage (4:19)
• Friday Night Lights - The Story of the 1988 Permian Panthers 23:32 (SD 4:3)
• Gridiron Grads (14:11 - SD 4:3)
• Behind the Lights (26:51 - SD 4:3)
Bitrate: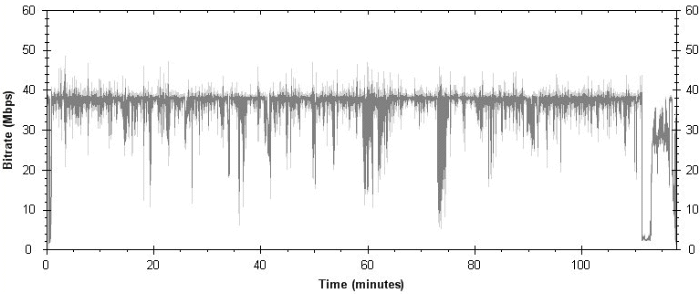 Description: Taken from "Friday Night Lights: A Town, a Team, and a Dream" a 1990 non-fiction book written by H. G. Bissinger. The book follows the story of the 1988 Permian High School Panthers football team from Odessa as they made a run towards the Texas state championship. While originally intended to be a Hoosiers-type chronicle of high school sports holding a small town together, the final book ended up being critical about life in the town of Odessa, Texas, complete with portraits of what Bissinger called "the ugliest racism" he has ever witnessed, as well as misplaced priorities, where football conquered most aspects of the town and academics were ignored for the sake of championships.
The Film: 8
Coach Gaines' philosophy of football – especially high school football – is a lot like the approach many guys take toward war and sex: It's something you wait all your life for up to this point. You give it your all, never quite sure what's driving you, and then it's all over, and all you have to show for it are memories.

This may seem a stretch, but I think the citizens of the west Texas town of Odessa would have to concur. Odessa, at least seen through the eyes of director Peter Berg, strikes me as a town well on its way to becoming like Anarene (The Last Picture Show). In a peculiarly American mix of pride and desperation, all they live for is football. Mothers coach their sons on statistics and plays; fathers humiliate their sons in front of the team for fumbling; coaches are fired for not winning championships; daughters seem hell bent on making it with every team player possible; businesses close for the Friday night game; school – as a institution of learning – is removed from sight and mind. It's a town who helped fill the Astrodome for a championship game. It's a place where football is as important as the church. Maybe more so.

In such a setting, the coach is not the central figure – or even on whom winning and losing depends. Peter Berg takes a rather Tolstoyian view of things: It's not the generals that win wars, it's the soldiers that fight them. And, indeed, the focus here is not Coach Gaines, ably played by the single A-list star in the movie, Billy Bob Thornton, it is his team – dramatized primarily by the fortunes of a handful of its players.

These include Boobie Miles (Derek Luke): with his winning smile and an ego that any Texan would be proud to own, he jogs about town and into the locker room with all the assurance of an Apollo. Though he has the scholastic abilities of a third grader, his future is assured. And for good reason: Miles is one dynamite athlete, and it is on him that his team and the hopes of the whole town rest. Just as in a melodrama, the unthinkable happens when an on-field knee injury puts an end to his future and the aspirations of the team for the championship.

The team's quarterback, Mike Winchell (Lucas Black), is a tortured soul with a modestly mentally ill mother, who watches over her son's career like a coach with an intensely personal interest. After Miles' injury, Winchell is called upon to actually do his job which, up to then, amounted little more than handing the ball off to Boobie and watch him do his thing.

Then there's Don Billingsley (Garrett Hedlund), whose father (Tim McGraw), a former Panther champion player, enjoys humiliating his son at every fumble. If we hadn't gotten the point by now, it is in this relationship that we see clearly that all these men have is this year, because even after being a star player in high school, there is no future for him in Odessa – thus Anarene.

While the actors who play the high-schoolers are in their twenties and early thirties, they are convincing enough. Anyhow, it is their personal dramas that rivet our attention, and in this they are formidable players, if not unsubtle. Thornton's idea of Gaines is to give away nothing to those off the field who would influence him, and give away everything on the field. It is both refreshing and disturbing to see how he handles Billingsley's outrageous bursts of rage during a game. Gaines knows full well where this all comes from, yet he offers the boy no shoulder to cry on. Instead he's more like John Wayne urging his men up Suribachi, he gives no quarter. . . not until his final speech at halftime. . . and it's a winner..
Image:
8
/8
NOTE: The below Blu-ray captures were ripped directly from the
Blu-ray disc.

The first number indicates a relative level of excellence compared to other Blu-ray video discs on a ten-point scale. The second number places this image along the full range of DVD and Blu-ray discs.

From all reports, the Blu-ray is faithful to the theatrical image with its yellowish, desaturated, grainy picture, like the sands of the countryside around the town and football stadium where the Panthers play. I was aware of no defects or troublesome artifacts. The image is very sharp and, until the arrival of the Dallas Carver red shirts, almost colorless. Makes sense.
Ed. note: This was available in HD-DVD but this must be a new, and superior, transfer as it exceeds the capacity of the now defunct format.
CLICK EACH BLU-RAY CAPTURE TO SEE ALL IMAGES IN FULL 1920X1080 RESOLUTION
Audio & Music: 7/7
Ah, the crunch of a well placed block or ferocious tackle – or the scream of the fans and the overlapping comments by the players on the bench. This is where uncompressed audio comes into play, assuming that the audio mix is properly scaled to start with, which this one is, though the surrounds are not as enveloping as I would have expected. Dialogue is always clear, whether in the quiet reflective moments or the hubbub of play.
Operations: 8
The menu is laid out like other Universal Blu-rays. Arrows tell you which way to direct your remote, and the bonus feature instructions are detailed and intuitive. There is no U-Control on this one, making everything that much simpler to navigate. .
Extras: 6
The DVD has been with us since early in 2005, and all the bonus features from that disc are present here in all there 480p glory – which is to say, that they look only fair on Blu-ray. The commentary track is full of anecdotes about the real events and how they were interpolated into the movie. Probably the most interesting of the featurettes is "The Story of the 1988 Permian Panthers" which brings together the actual players and fans for their insights about the real events and the film about them offers more insight into the characters. Finally, BD-Live 2.0 is up to its usual fun tricks.
| | |
| --- | --- |
| | |
| | |
| | |
| | |
Bottom line: 8
Friday Night Lights – the movie – has since given way to a television series, now in its third season. But make no mistake: the film is not your typical feel-good sports movie. The desperation infecting players, fans, and the town in general is as powerfully portrayed as the game itself. The image is correspondingly and correctly empty of warmth. I can't help myself: Warmly Recommended.
Leonard Norwitz
January 4th, 2009