Review by Leonard Norwitz
Studio:
Theatrical: Warner Bros. Pictures
Blu-ray: Warner Home Video
Disc:
Region: All
Runtime: 1:55:33
Chapters: 28
Feature Size: 18.1 Gig
Disc Size: 23,199,443,504 bytes
Case: Amaray Blu-ray case w/ hinged flip page & slipcover
Release date: November 25th, 2008
Video:
Aspect ratio: 2.40:1
Resolution: 1080p
Video codec: VC-1
Average Bitrate: 21.46 Mbps
Bitrate Graph: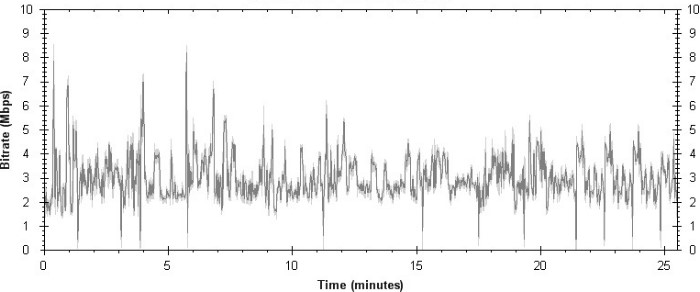 Audio:
Dolby Digital Audio English 640 kbps 5.1 / 48 kHz / 640 kbps
Dolby Digital Audio French 640 kbps 5.1 / 48 kHz / 640 kbps
Dolby Digital Audio Japanese 640 kbps 5.1 / 48 kHz / 640 kbps
Dolby Digital Audio Portuguese 640 kbps 5.1 / 48 kHz / 640 kbps
Dolby Digital Audio Spanish 640 kbps 5.1 / 48 kHz / 640 kbps
Dolby Digital Audio English 192 kbps 2.0 / 48 kHz / 192 kbps / Dolby Surround
Subtitles:
English, French, Spanish, Chinese, Japanese, Korean & Portuguese
Extras:
• Director's Commentary
• Additional Scenes in SD (25:30)
• Vince & Paul's Fireside Chats in SD (4:10)
• Pause for Claus: Elves Tell All in HD (8:59)
• Sibling Rivalry with Vince Vaughn, Roger Clinton, Stephen Baldwin & Frank Stallone in HD (9:27)
• Meet the Other Claus in HD (13:04)
• Ludacrismas Music Video in HD (1:36)
• Disc 2: Fred Claus: Race to Save Christmas DVD Game
• Digital Copy Disc
The Film:
A few snippets from the critics:

The burden of having a famous sibling seems fraught with comedic possibilities, but whatever potential existed has been squandered and then some in "Fred Claus," dumping coal into everyone's holiday stocking. Although promoted as a comedy, this reunion of "Wedding Crashers" star Vince Vaughn and director David Dobkin alternates between unpleasantness and Hallmark-sweet sappiness. - Brian Lowry, Variety.

The movie wants to be good-hearted but is somehow sort of grudging. It should have gone all the way. I think Fred Claus should have been meaner if he was going to be funnier, and Santa should have been up to something nefarious, instead of the jolly old ho-ho-ho routine. – Roger Ebert.

Fred Claus is a tacky would-be comedy about family dysfunction that fronts some Scrooge attitude only to dissolve into slobbering sentimentality and canned uplift. Neither here nor there, the film is Elf without the goofy jokes, Will Ferrell or heart, Bad Santa without the smut, Billy Bob Thornton or spleen. – Monohla Dargis, NY Times.


Or, as Chico Marx observes in A Night at the Opera: You can't fool me! There ain't no Sanity Claus.

The Movie : 4
It seems that a few hundred years ago, young Fred Claus promised to be bestest older brother to his new sibling, Nicholas. But Nick was just to good for words, eventually leading to resentment on the part of poor Fred, whose mother repeated ad nauseum: "Why can't you be more like your brother?" As we anticipate, Nick grows up to be a saint and, contrary to commonly held belief, Nick, his brother and parents get to live forever. Fast forward to the present day, when Fred (Vince Vaughn) has located himself in Chicago. He's a fast-talking con man whose con is so transparent we wonder how anyone could fall for his patter, let alone his sweet meter-maid girlfriend (Rachel Weisz). It's been centuries since Fred last said Hello to his brother, but his latest scam requires a loan of $50,000 which Nick (Paul Giamatti) is willing to give him in exchange for a few days work at the toyshop.

Fast forward by way sled-taxi, complete with reindeer, and Fred finds himself at the North Pole which, contrary to commonly held belief, enjoys the sun in the daytime in the dead of winter. But, no matter, the real fly in the ointment here isn't Fred, but an efficiency expert (Kevin Spacey), determined to put Santa and his entire operation out of business.
Image: 7/8 NOTE: The below Blu-ray captures were ripped directly from the Blu-ray disc.
The first number indicates a relative level of excellence compared to other Blu-ray video discs on a ten-point scale. The second number places this image along the full range of DVD and Blu-ray discs.

The image is quite good, rich with saturated colors, especially reds and other warm fuzzies. Indeed sharpness is not as a tack, except on occasion. I found no blemishes or artifacts to complain about. However, there is some inconsistent grain that was a little distracting.
CLICK EACH BLU-RAY CAPTURE TO SEE ALL IMAGES IN FULL 1920X1080 RESOLUTION
Audio & Music: 7/6
The Dolby Digital 5.1 is sufficient for the purposes, though I feel there is no good reason not to employ uncompressed audio on all HD video material. Dialogue is clearly rendered and properly centered. The surround channels kicks in at times, mostly for spatial effects and musical underscoring.
Operations: 6
Like all Warner discs that I've seen we get right to the movie without promo detours. The DD 5.1 mix is the default, so we're all set. The menu is easy to use until we get to the features page that is positively dense with more information than needed to make an informed decision.
Extras: 7
The Blu-ray has a number of extras as compared to the simultaneously released DVD. These include the Fred Claus: Race to Save Christmas DVD Game that occupies the entire second disc, and a separate Digital Copy Disc. Lots of material for a $35.99 SRP. The Extra Features for the Blu-ray edition on disc one, besides an audio commentary by the director, include several bonus bits not on the DVD, mostly in HD – very easy on the eyes. I found the Fireside Chats (in SD) to be too self-consciously funny to actually be funny and the excerpted bits end too abruptly. In the Pause for Claus featurette, pseudo-elvish cast members in character comment on what it's like to work for a saint. Meet the Other Claus is entirely redundant if you've just watched the movie. I had hopes that Sibling Rivalry would expand on the Sibling Rivalry Anonymous group – but not so much, though the obvious is restated. And I had hopes for the music video, being in HD (how often do we see that!), but it's all too brief, and comprised entirely of snips from the movie. The rap doesn't quite work for me.
| | |
| --- | --- |
| | |
| | |
| --- | --- |
| | |
| | |
| --- | --- |
| | |
Bottom line: 5
If you aren't in too critical a mood, Fred Claus isn't a complete waste. There's a very funny scene where Fred attends a Sibling Rivalry Anonymous meeting where Frank Stallone, Stephen Baldwin and Roger Clinton offer their perspectives on the subject. The Blu-ray is worth a rental just for that.
Leonard Norwitz
November 24th, 2008