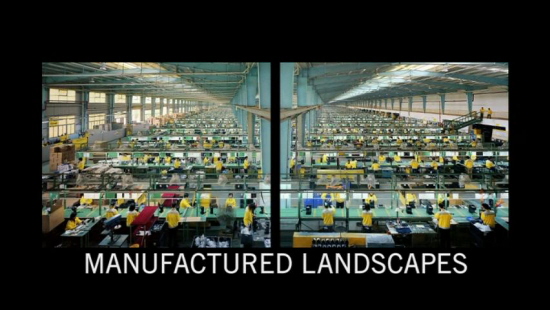 directed by Jennifer Baichwal
Canada 2006
At one point in the absorbing if unsettling documentary Manufactured Landscapes, about the work of the Canadian photographer Edward Burtynsky, a few unnamed voices try to assure a couple of Chinese officials not to worry. Mr. Burtynsky, these voices say, will make everything -- meaning the mountains of coal that seem to stretch on forever behind them -- beautiful. And so Mr. Burtynsky does. Whether in a coal distribution center or a garbage dump, he turns the grotesque into something beautiful, or at least something that looks good on a gallery wall.

It's unclear if those Chinese officials are government minders or work for the enormous company that funnels those mountains of coal first into factories and then into the environment. Manufactured Landscapes is one of those contemporary documentaries that put a premium on their visuals (which are estimable) and their conceptual underpinnings (a bit vague), and pay rather less attention to nominally irrelevant details like dates and names, facts and figures, history, and politics. Thus, while some black-and-white video images of Mr. Burtynsky (shot by Jeff Powis) during his photographic safaris are time-stamped to a few years ago, much of the film takes place in a nonspecific present.

In this present, Mr. Burtynsky and an indefinite number of helpers trot across China taking glossy, large-format, generally long-view color photographs of factories, welding sites, and recycling centers, with an abbreviated side trip to the Bangladesh coast where young men disassemble oil tankers, at times ankle-deep in sludge. Directed by Jennifer Baichwal and sensitively shot in 16-millimeter film by Peter Mettler, Manufactured Landscapes (which is also the name of a 2003 book of Mr. Burtynsky's photographs) is partly a Great Man documentary, a record of an artist immortalized at the moment of creation: point, shoot, voilą! Rather more interestingly, at times, it also appears to be a rather tentative, perhaps even unconscious, critique of that same artist and his vision.

Critique may be too strong a word. Still, at its most arresting, Manufactured Landscapes does suggest that Ms. Baichwal and her excellent cinematographer are not entirely at ease with Mr. Burtynsky's work, which tends to subordinate the human form to the harmonious use of color, the balance of graphical forms and the overwhelming man-made and man-ravaged environments. In many of these landscapes (which I have looked at only in this film and online), scores of anonymous workers become specks of canary yellow and blots of bubble-gum pink, a pointillist population. The angles of their bowed heads and raised arms, carefully arranged before assembly lines, are just some of the decorative, precise formal elements. Note how those angles dovetail with those of the machinery.
Excerpt from Manohla Dargis, The New York Times
Poster
Theatrical Release: 9 September 2006 (Toronto Film Festival
Reviews More Reviews DVD Reviews
DVD Review: Zeitgeist - Region 1 - NTSC
Big thanks to Yunda Eddie Feng for the Review!
DVD Box Cover

CLICK to order from:

BFI in the UK have released this documentary on DVD as well:
Distribution

Zeitgeist

Region 1 - NTSC

Runtime
90 mins
Video

1.85:1 Original Aspect Ratio

16X9 enhanced
Average Bitrate: 6.6 mb/s
NTSC 720x480 29.97 f/s

NOTE: The Vertical axis represents the bits transferred per second. The Horizontal is the time in minutes.

Bitrate

Audio
DD 5.1 English and Chinese, DD 2.0 stereo English and Chinese
Subtitles
Optional English and English SDH
Features
Release Information:
Studio: Zeitgeist

Aspect Ratio:
Widescreen anamorphic - 1.85:1

Edition Details:
• additional scenes
• Al Gore at the Nashville Film Festival
• Discussion With the Director and Edward Burtynsky
• Mini-interview with the Cinematographer
• theatrical trailer
• stills galleries with audio commentary by Edward Burtynsky

DVD Release Date: November 20th, 2007
transparent keepcase

Chapters 16
Comments:

Video:
As the source was originally shot on 16mm film, the 1.85:1 anamorphic widescreen is heavily grainy. The rough look appropriately reflects the industrial settings of some of Edward Burtynsky's photographic subjects (especially during sequences where we're seeing Burtynsky on location), though 16mm's lack of detail does not do justice to shots of Burtynsky's developed photos.

Audio:
This is a low-key documentary, so the DD 5.1 English and Chinese track is understandably low-key as well. Much of the sonic action comes from the center channel, though some music is filtered to the front mains and rear surrounds. Some of the industrial machinery provide brief bass response.

You can also watch the movie with a DD 2.0 stereo English and Chinese track. Optional English subtitles support the audio. There are two subtitle streams: one for non-English dialogue and one for SDH.

Extras:
The extras have self-explanatory titles and are substantive for the most part. You get several additional scenes, a clip of Al Gore at the Nashville Film Festival talk about the movie, a Discussion with the Director and Edward Burtynsky, a Mini-interview With the Cinematographer, a theatrical trailer, and several stills galleries with informative audio commentaries by Edward Burtynsky.

--Miscellaneous--
Zeitgeist is using a transparent keepcase so that can see a picture on the inside of the cover art sleeve. An insert booklet provides information about the director, chapter listings, film credits, and DVD production credits.
---

DVD Menus

---
Screen Captures
subtitle sample