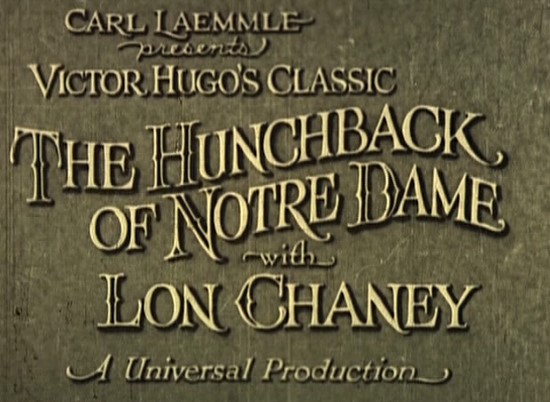 Directed by Wallace Worsley
USA 1923
There have been a lot of misconceptions about The Hunchback of Notre Dame over the years but one thing is certain, it made a bona fide star out of Lon Chaney. What isn't so clear is how Irving Thalberg came to be credited as the mastermind behind the project. Lon Chaney had been lobbying for a film version since 1920 but it wasn't until he shared his ideas with Thalberg that the project got greenlighted by Universal studio head Carl Laemmle. The result was a phenomenally successful film that set the standard for all future historical epics. It also confirmed Thalberg's reputation as a creative producer and helped pave the way for his illustrious career at the newly formed Metro-Goldwyn-Mayer Studios the same year. And yet, Chaney was really the driving force who originated the project.

Victor Hugo's tragic tale of the deformed bellringer and his love for Esmeralda, a doomed gypsy girl, has been filmed so many times that an accurate count of all the versions would probably be difficult to pinpoint but it's not hard to see the film's ageless appeal. While you may find movie lovers who cite the 1939 Charles Laughton version or even the 1996 Disney animated version as favorite interpretations, the general consensus among actors (Burt Lancaster and Orson Welles to name a few) is that Chaney remains the definitive Quasimodo.
Excerpt from Turner Classic Films located HERE
****
Chaney's first big-budget film, and the one which made his reputation. Laden down with massive sets and milling extras, bowdlerised even by comparison with the Laughton version of 1939, it emerges more as a historical spectacle than as a horror movie - and a rather tedious one at that, thanks to Worsley's often painfully ponderous direction. Worth seeing mainly for Chaney's remarkable performance; even bowed and constricted by the heavy weights he used to help simulate Quasimodo's crippled gait, his body remains extraordinarily expressive.
Excerpt from TimeOut Film Guide located HERE
*****
Universal's lavish production of Victor Hugo's historical novel, filmed twice before and twice since, brilliantly recreates medieval Paris, especially the central square dominated by the giant cathedral. The film, though, is dominated by Chaney as the ugly but heart-breaking deaf bell ringer, Quasimodo. With his pained expression, grotesque make-up and extraordinary ape like agility, it is one of the great performances of silent cinema. His physical suffering would seem to have been genuine - he carried a 70-pound rubber lump on his back, while wearing a leather harness that prevented him from standing upright and a hairy rubber suit.
Excerpt from Channel 4 located HERE
Poster
Theatrical Release: September 2nd, 1923
Reviews More Reviews DVD Reviews
DVD Review: Image Entertainment (Ultimate Edition) - Region 0 - NTSC
DVD Box Cover

CLICK to order from:

Distribution
Image Entertainment - Region 0 - NTSC
Runtime
1:57:04
Video
1.78:1 Aspect Ratio
Average Bitrate: 4.29 mb/s
NTSC 720x480 29.97 f/s

NOTE: The Vertical axis represents the bits transferred per second. The Horizontal is the time in minutes.

Bitrate:

Audio
English (Dolby Digital 2.0) for music and audio essay
Subtitles
None
Features

Release Information:
Studio: Image Entertainment

Aspect Ratio:
Original Aspect Ratio 1.33:1

Edition Details:

• Optional audio essay by Michael F. Blake
• Lon Chaney on the set
• Alias and Alack (excerpt)
• Gallery of 3-D stills
• Gallery of promotional shots and advertising material
• 3-D glasses

• 20-page liner notes booklet with images featuring essay and reproduction of original souvenir program.

DVD Release Date: October 9th, 2007
Keep Case
Chapters: 22
Comments:

Image Entertainment came out with a DVD of this film in 1999 and there have been other public domain issues (from companies like Alpha Video and Front Row Entertainment). None, of the past editions, ever looked especially good as the surviving elements are in quite poor condition (16mm only were used I believe). Producer David Shepard is credited with the improved appearance that utilizes a new high-definition video transfer from an "original" color-tinted 35mm print in this 'Ultimate Edition' DVD. Extensive scratches and damage marks are still present, but in relation to past releases this is by far the best Chaney's Hunchback has ever looked on digital. As with many silent film transfers this is interlaced and pictureboxed with a healthy border circumventing the 1.33:1 aspect ratio frame. The disc is dual-layered.

The score, in 2.0 channel stereo, was composed by Donald Hunsberger and conducted by Robert Israel. It sounds quite good but at times almost overpowers the film's relatively technically weak appearance. Still the score was large part of my enjoyment in watching this classic.

Extras include an early Lon Chaney short entitled Alas and Alack from 1915. There is less than 2 minutes of silent footage of Chaney on the set and some 3-D stills (glasses included) but the Real McCoy here is the audio essay, running as an optional commentary, by the author of many books about Chaney, Michael F. Blake. In the liner notes there is a facsimile reproduction of the original souvenir program and another 4 pages of essay by Blake.

Image Entertainment have a kind of phony 'puffing up' of their work here but fans will surely rejoice at the improved edition. The 3-D stuff isn't required but the video essay (indirect commentary) is a nice touch. The grand history of the film is broached in an informative manner. I hope this becomes a more prominent feature in future silent offerings.

Overall this is the edition to own for this important and lauded work whose history is almost matched by the film's towering content. Fascinating stuff to be sure. Recommended for fans of the silent era and those keen on the Hugo classic.
---

DVD Menus
| | |
| --- | --- |
| | |
| | |
| | |
| | |
---
Intertitle Sample
Screen Captures