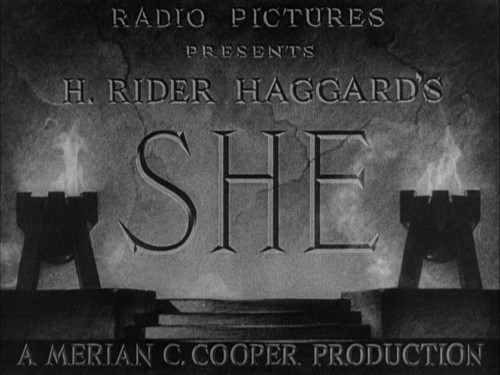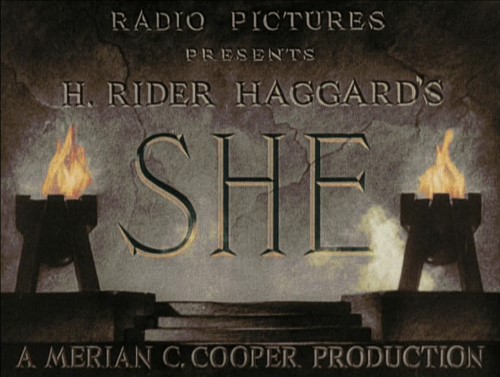 (aka 'Merian C. Cooper's 'She' ')
Directed by Lansing C. Holden and Irving Pichel
USA 19
35
This sumptuous Hollywood adaptation of H Rider Haggard's classic fantasy by producer Merian C. Cooper (who had previously brought King Kong to the screen) was long held to have been a lost film until the last surviving print turned up in, of all places, Buster Keaton's garage. So we can travel once again through icy wastelands to the kingdom of She Who Must Be Obeyed and bathe in the flames of eternal life. Plot and acting are sheer hokum and there's much unintentional humour, but the gargantuan set design is amazing and Max Steiner's musical soundtrack pulses with mystery and romance.
Excerpt from Channel 4 located HERE
Posters
Theatrical Release: July 12th, 1935
Reviews More Reviews DVD Reviews
DVD Review: Kino Video/Legend Films - Region 1 - NTSC
DVD Box Cover

CLICK to order from:

Distribution
Kino Video/Legend Films - Region 1 - NTSC
Runtime
1:43:16 (black and white - 1:42:06)
Video
1.33:1 Aspect Ratio
Average Bitrate: 5.3 mb/s
NTSC 720x480 29.97 f/s

NOTE: The Vertical axis represents the bits transferred per second. The Horizontal is the time in minutes.

Bitrate:

Audio
English (Dolby Digital 1.0)
Subtitles
None
Features

Release Information:
Studio: Kino Video/Legend Films Home Video

Aspect Ratio:
Original Aspect Ratio 1.33:1

Edition Details:

• Commentary on the color version by Ray Harryhausen and Mark Cotta Vaz
Disc 2
• Interview with Ray Harryhausen (12:35)
• About the Colorization process with Harryhausen (8:58)
• Harryhausen text bio and filmography

• Interview with composer John Morgan (17:11 - 16X9)

• Interview with Curator James V. D'Arc (20:19- 16X9)

• Featurette - 'She - Visions of the Past' - (29:11)

• She storybook

• Advertising Art and Promotional Gallery

• Photo Gallery

• She trailer

• Sci-fi Toys commercials

DVD Release Date: August 21st, 2007
Keep Case
Chapters: 12
Comments:

The Kino/Legend DVD package consists of 2 discs - the full 102-minute cut in both black and white and restored colorized version on the progressive and dual-layered disc one (with an occasionally awkward but enthusiastic commentary offered for the color edition by Harryhausen and Mark Cotta Vaz) and some extensive extras on the single layered second disc. It looked exceptionally good to me and although I am a purist I loved the 'feel' of the colorization appearance. This is such a hokey fantasy, adventure yarn - totally old-fashioned in its most endearing sense - that I can't see anyone shaking their fist too vociferously at the colorized edition since the original black and white is a couple of menu clicks away. One other difference that I noted was that the colorized version has picture boxed the opening credits (as frequently done by Warner on vintage films) where they are full screen on the black and white edition. There are no subtitles offered and the audio is expectantly on the weak end of the scale but it didn't impinge upon my viewing in the least bit.

On Disc 2 there is a 12 minute opening interview/introduction with Ray Harryhausen followed by another where he discusses the colorization process for about 9 minutes. We are given a text bio and filmography of Mr. Harryhausen and then some other interviews - one 16X 9 enhanced with composer John Morgan for almost 20 minutes where he talks of the Max Steiner bombastic score. Then another with Cooper expert and Brigham Young University curator James V. D'Arc (20:19 - also 16X9). We also have a featurette - 'She - Visions of the Past' - which lasts 30 minutes and shows clips from the 1911 and 1925 versions. There is a kind of useless storybook, some advertising art promos in a gallery and also some photo galleries (including behind the scenes, production stills and star portraits), a She trailer and some cool but weather-beaten Sci-fi Toys commercials.

Helen Mack (also known for His Girl Friday from 1940 and The Son of Kong in 1933) is a real honey! I recommend this DVD, because, for me personally, I LOVE these type of grandiose Hollywood vintage adventure epics. I was reminded of Fritz Lang's The Indian Tomb (1959) and The Tiger of Eschnapur (1959) with the heavy focus on fantasy elements although 'She' is far from those masterpiece films it still has such innocent appeal and camp value with mediocre rendering of the dialogue and obvious spectacles of the backdrops.
---

DVD Menus

Disc 2
---
Opening 'presents' screen on Black and white version LEFT and Color version RIGHT
Screen Captures
(Black and White version TOP vs. Color version BOTTOM)
(Black and White version TOP vs. Color version BOTTOM)
---
(Black and White version TOP vs. Color version BOTTOM)
---
(Black and White version TOP vs. Color version BOTTOM)
---
(Black and White version TOP vs. Color version BOTTOM)
---
(Black and White version TOP vs. Color version BOTTOM)
---
(Black and White version TOP vs. Color version BOTTOM)