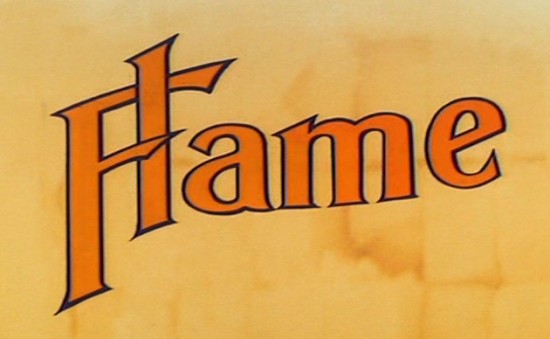 (aka "Slade in Flame" )
directed by Richard Loncraine
UK 1975
The rock'n'roll movie Flame first hit the cinemas in 1975 and although more then 30 years have passed, it still holds up. The plot is intriguing, the cast well chosen and the music great.

The movie centres itself around the Wolverhampton-based rock group Slade, who in the early 1970's was the best selling British act since the Beatles. In the film they don't play themselves though, but a working-class band called Flame.

The story takes place in the second half of the 1960's and is about the rise and fall of Flame as they get caught in a bitter power struggle between their menacing two-bit agent and a slick businessman. The consequences are grave, involving trouble with wives and girlfriends, the firing (and molesting) of band- and crew-members and last but not least the ruin of the band members' friendships.

Flame is bleak, serious and gritty in its description of a greedy music industry that is able to both make and break a band. It exposes the downsides of the business and shows how the band is transformed from hardworking musicians to a moneymaking product, which everybody wants to milk.

The story is convincing, mainly because it is based on real events. Before filming Slade took director Richard Loncraine and screenwriter Andrew Birkin with them on tour in America and here they told them stories about the music business. This way every scene in the movie is based on true events, which had happened either to Slade themselves or to other musicians.

Also the cast makes the story ring true. Especially Alan Lake (husband of Diana Dors) as the former singer Jack Daniels and Johnny Shannon (known from "Performance") as the menacing agent Ron Harding are convincing, but also Slade themselves stand out. The four of them had never acted before but they all do it with inspired naturalness.

Although Flame was not about Slade, their characters were based on their real personalities. This made acting easy, even for drummer Don Powell who had lost his short time memory in a car accident the year before and has suffered from amnesia ever since. In the movie his character Charlie (like in Charlie Watts) has the quick wit, the brilliant one liners and - before turning pro - a day job in a steel factory just like Powell himself. Bassist Jim Lea and his Flame-alter ego Paul (like in Paul McCartney) are both family men, serious, musically gifted and carries their basses in a plastic bag. Guitarist Dave Hill and his character Barry (derived from J.M. Barrie, the author of "Peter Pan") are both ladies men with an interest in fashion. And finally there's the Flame-singer Stoker (like in Bram Stoker, author of "Dracula"), who's told not to nod off, thereby hinting to Slade-singer Noddy Holder, who plays the part. Both are talented showmen, who take to fame like ducks to water. Holder and Lea act out most of the serious scenes, whereas Hill and Powell provide the movie with some comic relief.

Worth noting are also the then up and coming Tom Conti in the role as ruthless businessman Robert Seymour and Kenneth Colley as his sidekick Tony. People will know Colley as Admiral Piett from the Star Wars Episodes V and VI.

Flame has a problem, though, as director Loncraine has not succeeded in creating an illusion of time passing. He – like screenwriter Birkin – were novices in filmmaking, so although the plot expands over 4 years, starting in 1966, you get the feeling that it all happens within a couple of months, and that reduces credibility. Only the changes in hair- and clothes-styles indicate the time span. Loncraine later went on to Hollywood where he directed "Firewall", starring Harrison Ford.

Also screenwriter Birkin went on to fame, writing screenplays for "Perfume" and "The Name Of The Rose", the script for "Joan Of Arc" and cameoing in the latter two. Furthermore he is the official biographer of Peter Pan's "father" Sir J.M. Barrie, and Birkin even sneaked the mention of Peter Pan into Powell's canal-scene in Flame.

The movie spawned the book "Flame" by John Pidgeon, which was published prior to the film. Some of the band members have later vented that they would rather have filmed the book than the script, as the book is superior in many ways, especially when it comes to portraying characters. Here the Slade members' mutual relationships as well as their real personalities really burn through the Flame characters of Charlie, Paul, Barry and Stoker and you get a better understanding of why they react to their situation in the different ways that they do. A lot of that had to be skipped in the movie, probably because all of the violence and sex had to be cut out in order to get a PG rating so that Slade's fans – mostly teenagers – were allowed to see the it. Maybe just as well as the audience of the time couldn't separate the band Slade from Flame, anyway, and didn't realise that they played characters. After the release of the movie Slade always had to assure fans that in real life they actually loved each other. At least they stayed together in the original line-up for 25 years!

As a music film Flame functions very well. It contains 10 examples of Holder/Lea's fantastic song writing partnership, which shows why this team used to be compared to Lennon/McCartney. For the first time ever Jim Lea made use of a full brass and woodwind section when composing, in order to give the music a sixties-movie feel. The film contains the super-hit "Far Far Away", but it is the haunting opening song "How Does It Feel?" that stands out in the movie. Lea had composed the tune back in 1969 and by many this is regarded the finest Slade song ever. Also "Them Kinda Monkeys Can't Swing" draws attention in the movie with Holder's ambiguous lyrics and a smash club performance.

The movie runs 86 minutes and is produced by Gavrik Losey. It was shot on a low budget in London, Nottingham and Sheffield in just six weeks.

Don Powell and I had a talk about the film recently. You can read the interview HERE.
Lise Lyng Falkenberg
www.liselyngfalkenberg.com
Posters
Theatrical Release: January 1975 - UK
Reviews More Reviews DVD Reviews
DVD Comparison:
Union Square Music - Region 0 - PAL vs. Union Square Music (CE) - Region 0 - PAL
Big thanks to Ole Kofoed for all the Screen Caps!
(Union Square Music - Region 0 - PAL - LEFT vs. Union Square Music (CE) - Region 0 - PAL - RIGHT)
DVD Box Covers

Distribution

Union Square Music

Region 0 - PAL

Union Square Music
Region 0 - PAL
Runtime
1:26:31
1:26:32
Video

1.78:1 Aspect Ratio

16X9 enhanced
Average Bitrate: 6.96 mb/s
PAL 720x576 25.00 f/s

2.30:1 Original Aspect Ratio

16X9 enhanced
Average Bitrate: 7.39 mb/s
PAL 720x576 25.00 f/s

NOTE: The Vertical axis represents the bits transferred per second. The Horizontal is the time in minutes.

Bitrate:

Union Square Music

Bitrate:

Union Square Music (CE)

Audio
Dolby Digital 2.0 mono

PCM 2.0 mono

Subtitles
None.
None.
Features
Release Information:
Studio: Union Square Music

Aspect Ratio:
Widescreen anamorphic - 1.78:1

Edition Details:
• Interview with Noddy Holder (51:20).
• Photo gallery (4 pictures).
• Discography.

DVD Release Date: 17 Mar 2003
Keep Case.

Chapters 13

Release Information:
Studio: Union Square Music

Aspect Ratio:
Widescreen anamorphic - 2.30:1

Edition Details:
• Interviews with band members, Tom Conti and Richard Loncraine (56:02).
• 16 page booklet with essay by Chris Ingham.
• Remastered soundtrack CD.


DVD Release Date: 2 April 2007
Digipack.

Chapters 14
Comments:

It is a bit problematic that Union Square Film has chosen to release the film as "Slade in Flame", using the title and cover of the soundtrack album. It stirs a bit of confusion, as the original name of the film was simply "Flame".

On prior video- and DVD-releases the picture of the movie was so dark that it was impossible to view several scenes, the old DVD release was tape sourced and cropped, but for this special collector's edition a new print has been digitally restored and the picture now comes across as light and clear as the original cinema version. Unfortunately the two track mono sound hasn't been equally improved. Background noises often drown out the spoken lines and furthermore the actors can't be heard if they turn their backs to the camera. Furthermore people not familiar with Slade's "Black Country" dialect may find it difficult to understand what they are saying.

Extras:

Slade in Flame special collector's edition comes in a deluxe digi slip case with a separate soundtrack CD - a beautiful remastering of the "Slade In Flame"-album released in 1974 prior to the movie - and a 16 pages colour booklet. The booklet features detailed notes about the film, related memorabilia and 21 photos shot by Andrew Birkin on Slade's 1974 US-tour with revealing commentary from Jim Lea. Furthermore the DVD contains a 1 hour featurette with Don Powell, Jim Lea, Noddy Holder, Dave Hill, Tom Conti and Richard Loncraine. The Holder-segments were shot in 2002 for Union Square Films prior to their 2003-release of the DVD, whereas the rest were made in 2006 specifically for the special collector's edition. Here the 6 of them discuss Flame in length, the music, the actors etc. The extras alone makes this DVD a must have for fans of Slade or the movie.

Overall:

Despite minor flaws Flame is a landmark in the history of rock'n'roll cinema and later rock movies are indebted to it, especially Alan Parker's highly successful "The Commitments" from 1991. Although rise & fall stories are common in music films, Flame set the standard. Conscientiously it deflates the myth of glamorous rock'n'roll life and replaces it with a bleak, realistic view of being part of the music business while chunking out a string of great songs on the way. No wonder that English film critic Mark Kermode has called it "the Citizen Kane of pop pictures".
---

DVD Menus
(Union Square Music - Region 0 - PAL - LEFT vs. Union Square Music (CE) - Region 0 - PAL - RIGHT)
| | |
| --- | --- |
| | |
| | |
| | |
| | |
---
Screen Captures
(Union Square Music - Region 0 - PAL - TOP vs. Union Square Music (CE) - Region 0 - PAL - BOTTOM)
---
(Union Square Music - Region 0 - PAL - TOP vs. Union Square Music (CE) - Region 0 - PAL - BOTTOM)
---
(Union Square Music - Region 0 - PAL - TOP vs. Union Square Music (CE) - Region 0 - PAL - BOTTOM)
---
(Union Square Music - Region 0 - PAL - TOP vs. Union Square Music (CE) - Region 0 - PAL - BOTTOM)
---
(Union Square Music - Region 0 - PAL - TOP vs. Union Square Music (CE) - Region 0 - PAL - BOTTOM)

---
Report Card:
| | |
| --- | --- |
| Image: | CE |
| Sound: | -- |
| Extras: | CE |
| Menu: | CE |