WE NEED YOUR HELP!
We have started a Patreon page with the hopes that some of our followers would be willing to donate to keep DVDBeaver alive. We are a small niche, so your generosity is vital to our existence.

To those that are unfamiliar, Patreon is a secure/verified third-party service where users can agree to a monthly donation via credit card or PayPal by clicking the button below.






| | |
| --- | --- |
| | S E A R C H D V D B e a v e r |
Cult Camp Classics 1 - Sci-Fi Thrillers

Attack of the 50 Ft. Woman (1958) Giant Behemoth (1959) Queen of Outer Space (1958)
The Giant Behemoth is compared on Blu-ray HERE
Queen of Outer Space is compared on Blu-ray HERE
Attack of the 50 Foot Woman
Stars Allison Hayes, William Hudson, Yvette Vickers, Roy Gordon, George Douglas
Directors: Nathan Juran
Theatrical Release Date: May 19, 1958
Synopsis After an encounter with aliens, a wealthy women grows to, surprise surprise, 50 feet tall. With her new found size she decides to get revenge on her husband and others that annoyed her.

Queen of Outer Space
Stars Zsa Zsa Gabor, Eric Fleming, Dave Willock, Laurie Mitchell, Lisa Davis
Directors: Edward Bernds
Theatrical Release Date: September 7, 1958
Synopsis Three American astronauts are on the first manned mission to Venus, and when they arrive, they find the planet to be inhabited solely by women with high heels and short dresses. Unfortunately, they are immediately imprisoned, for the queen who rules Venus hates men... Suspecting the astronauts to be spies, she now plans to destroy the Earth. So now it's up to the three men (and some friendly Venusians) to overthrow the wicked queen and save the Earth.

The Giant Behemoth
Stars Gene Evans, André Morell, John Turner, Leigh Madison, Jack MacGowran
Directors: Eugène Lourié
Theatrical Release Date: March 3, 1959
Synopsis The dumping of radioactive waste in the ocean disturbs a prehistoric monster than can project electric shocks and radioactive beams. After terrorizing the English coast, it is discovered that if the creature is destroyed with conventional weaponry it would spread a dangerous amount radioactive contamination over the entire country, with this fact preventing the military from attacking the monster as it nears London.
---
Titles
---

Attack of the 50 Ft. Woman (1958)
Delirious pre-feminist horror movie about a rejected woman who suffers a dose of extra-terrestrial gigantism and finally rampages into town to twist her husband round one little finger (literally!). The special effects are dire, but the film's psycho-pathology is fascinating, and the lines have to be heard to be believed ('Put him down, Mrs Archer...'). Perfect late night indulgence...
Excerpt from TimeOut Film Guide located HERE

The Giant Behemoth(1959)
The Giant Behemoth is an English co-production that apparently started as something akin to a Quatermass picture, about an invisible radioactive blob or the like. When the producer demanded a garden variety monster, director Eugene Lourie apparently instructed writers Robert Abel and Alan Adler to repackage his original The Beast from 20,000 Fathoms, copying whole scenes and situations. The structure and script are almost a verbatim clone, right down to the dotty paleontologist (this time amusing actor Jack MacGowran of The Fearless Vampire Killers) excited to be chasing down a living paleosaurus. Sam Fuller's "Sgt. Rock" Gene Evans joins forces with the unflappable Quatermass TV actor (among 101 other impressive roles) Andre Morell to head a low-key scientific pursuit of a radioactive monster that's killing fish and roasting unlucky fishermen with its radioactivity.
Excerpt from Turner Classic Movies located HERE
Queen of Outer Space(1958)
Standout 'Best Worst' movie in which astronauts crash-land on Venus and discover that women are ruling the planet. It takes the earthlings a while to grasp the feminine superiorities ('Even if a woman could build a gizmo like that, she'd never know how to aim it!'), and rather longer to locate the leader (Gabor) of those subversives who feel that 'vimmin cannot live vizout men'. The Place may be Venus, but the Time looks more like cocktail hour than the future; everyone's wearing vintage Swanky Modes and ice-skating skirts. There's also a fine display of '50s sublimated sexuality in the endless kissing scenes - which may have you pondering, along with the expedition's professor, 'How ironic that our lives and the lives of millions on Earth should depend on the sex appeal of our Captain'.
Posters
Theatrical Releases: 1958 - 1959
DVD Review: Warner Home Video (3-disc) - Region 1,2,3,4 - NTSC
DVD Box Cover

CLICK to order from:

Distribution
Warner Home Video - Region 1,2,3,4 - NTSC
Time:
Respectively - 1:05:36 + 1:19:42 + 1:19:54
Bitrate:

Attack of the 50 Ft. Woman

Bitrate:

The Giant Behemoth

Bitrate:

The Queen of Outer Space

Audio
English (2.0)
Subtitles
English, English (HOH), French and none
Features

Release Information:
Studio: Warner Home Video

Aspect Ratio:
All Original Aspect Ratios - 1.85:1 for Attack and Behemoth - 2.35:1 for Queen

Edition Details:

• Commentary track on by Yvette Vickers and Tom Weaver on Attack

• Commentary track on by Dennis Muren and Phil Tippett on Behemoth

• Commentary track on by Laurie Mitchell and Tom Weaver on Queen


DVD Release Date: June 26th, 2007
3 Standard Keep Cases in cardboard box
Chapters: various
Comments:

The Giant Behemoth is compared on Blu-ray HERE

Queen of Outer Space is compared on Blu-ray HERE

The big drawing card of this this boxset is Attack of the 50 Ft. Woman . Fans of the eclectic have anticipated its DVD release for years. Although it may be remembered (in adolescence) as being as inventive as The Incredible Shrinking Man - it is really a cheesy cousin not unlike The Amazing Colossal Man. Still its ridiculousness is part of its bizarre charm. Good news is that The Giant Behemoth is a decent entry into the genre - quite pleasing in fact and it gives superior value to the set although Queen of Outer Space certainly detracts from it.

This Warner boxset features 3 single-layered DVDs containing Attack of the 50 Ft Woman (1958) and The Giant Behemoth (1959) both in anamorphic 1.85 widescreen and Queen of Outer Space (1958) in an anamorphic 2.35:1 ratio. All three are progressive and have optional English (HOH and without) or French subtitles. They are coded for regions 1 thru 4 in the NTSC standard. All three have optional commentaries.

Attack of the 50 Ft Woman looks quite acceptable - clean and generally decent contrast. It is a notch above standard for sure but the film itself is more of amusing than serious. I've admitted numerous times how I love 50's sci-fi trash and this would seem to fit the category to a 'T'. The DVD offers an optional, kind of fittingly hokey, commentary, by Yvette Vickers and Tom Weaver. Kind of cute and all but it could stand to be given miss. Generally speaking the disc is no more or less than what you may expect.

The Giant Behemoth looks solid. Shots (aside from the monster ones) are very detailed and it has super contrast. It deserved a standalone release with its supplements that include a humorous but empty commentary with Dennis Muren and Phil Tippett. I liked this film - as a flawed creature-feature.

Queen of Outer Space - Wow - this is one bad film. I usually find something to enjoy about this type of kitsch but this really put me to the test. The transfer is not too bad though - decent colors (a bit dull) and fairly sharp. I was so not into this one I only got through the beginning of the commentary with Laurie Mitchell and Tom Weaver (who also did 50 ft Woman commentary). It seemed okay but I just wasn't in the mood. It's a shame that Warner couldn't have chosen something superior for the boxset, but anyway it is a prime example of what this genre was about - cheap productions with limited performances and no real script.

Nice of Warner to include the commentaries although they are not at Criterion levels. My opinion was that 50 Ft. Woman was a let down after such high expectations (and original memories) - Behemoth is quite worth it and Queen is junk. Buy the Boxset at your peril - but really the value offered is exceptionally good. I'm glad its in my library for raining days or late Friday nights with a large scotch.
---
DVD Menus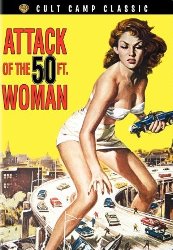 Also available individually here:

Screen Captures
Attack of the 50 Foot Woman

Stars Allison Hayes, William Hudson, Yvette Vickers, Roy Gordon, George Douglas

Directors: Nathan Juran

Theatrical Release Date: May 19, 1958

---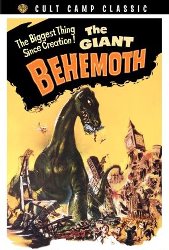 Also available individually here:

Screen Captures
The Giant Behemoth
Stars Gene Evans, André Morell, John Turner, Leigh Madison, Jack MacGowran

Directors: Eugène Lourié

Theatrical Release Date: March 3, 1959
Queen of Outer Space

Stars Zsa Zsa Gabor, Eric Fleming, Dave Willock, Laurie Mitchell, Lisa Davis

Directors: Edward Bernds

Theatrical Release Date: September 7, 1958