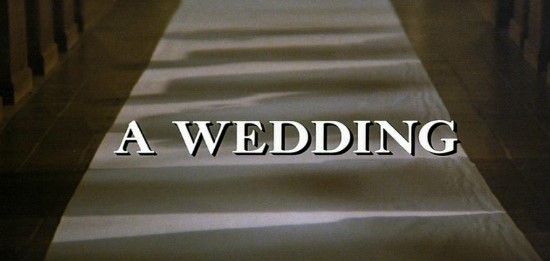 Directed by Robert Altman
USA 1978
An ensemble comedy based around a society wedding where everything goes wrong. Directed by Robert Altman and featuring Mia Farrow.

When it was first released A Wedding received a cooler reception than director Robert Altman was used to with previous films Nashville and 3 Women. It is frenetic and confusing with Altman himself confessing, "It probably had too many characters and it gets a little unwieldy." With no fewer than 48 significant speaking parts, that was something of an understatement. However, even with its flaws, this is one of Altman's funniest and most ebullient films.

The ceremony that unites the Corelli and Brenner family gets off to a terrible start when "fuddy-duddy" Bishop Martin (an amusingly vacant Cromwell) fluffs his lines. The presiding matriarch of the Corelli household, Nettie Sloan (a suitably waspish Gish), then proceeds to drop dead. However this doesn't stop guests from attempting to converse with her and they're encouraged to do so by Dr Meecham (Duff). He's determined to conceal her lack of life signs so as not to spoil the party.

It helps that the guests are necking drink and drugs like there's no tomorrow. Fraught wedding planner Rita (Chaplin) looks set to crack as secrets and infidelities are revealed, feuds break out and a drunken aunty insists on singing. On top of that, the overzealous security staff begin to turn on the guests; "Sir, I don't want to have to neutralise you," says one the less confrontational bouncers.
Ostensibly Robert Altman's aim in this 1978 comic free-for-all was to top his own Nashville by doubling his cast of leading players from 24 to 48. The film concentrates on the aftermath of an upscale Chicagoland wedding, and it certainly has its moments. But the facileness of this "exposť" of the upper middle class adds up to a lot of cheap shots--watchable enough, but considerably less than the sum of its parts. Among the 48: Carol Burnett, Desi Arnaz Jr., Amy Stryker, Vittorio Gassman, Geraldine Chaplin, Mia Farrow, Paul Dooley, Lillian Gish, Lauren Hutton, John Cromwell, Pat McCormick, Howard Duff, Dina Merrill, Nina Van Pallandt, John Considine, and Viveca Lindfors.
Excerpt from Jonathan Rosenbaum's capsule at the Chicago Reader located HERE
DVD Review: 20th Century Fox - Region 1 - NTSC
DVD Box Cover

CLICK to order from:

This is the exact same version as found in the Robert Altman Collection (M*A*S*H / A Perfect Couple / Quintet / A Wedding) reviewed by Gregory Meshman HERE and available:
Distribution
20th Century Fox Home Video - Region 1 - NTSC
Runtime
2:04:48
Video
2.32:1 Aspect Ratio
Average Bitrate: 6.37 mb/s
NTSC 720x480 29.97 f/s

NOTE: The Vertical axis represents the bits transferred per second. The Horizontal is the time in minutes.

Bitrate:

Audio
English (Dolby Digital 2.0 Stereo), DUB: French (Dolby Digital 2.0 Mono), Spanish Dolby Digital 2.0 Mono)
Subtitles
English, Spanish, None
Features

Release Information:
Studio: 20th Century Fox Home Video

Aspect Ratio:
Original Aspect Ratio 2.32:1

Edition Details:

• A Wedding: Altman Style featurette (21:08)
• Theatrical Trailer (2:25)
• 3 Bonus Trailers for titles in a box set

DVD Release Date: June 12th, 2007
Keep Case
Chapters: 28
Comments:

This transfer is exactly the same as the Altman Boxset one HERE.

Decent image - a few speckles and some digital noise. It has a typical Altman appearance - intentionally hap-hazard at times but colors look acceptable and the image exhibits occasional sharpness. A 20 minute featurette is included and some trailers.

From the Altman boxset review: A Wedding is a movie in a true tradition of Altman - a satirical drama/comedy with a huge cast of interesting characters. Fox provided featurettes on each exclusive film as well as theatrical trailers for all four of them. MASH is better in 2-disc edition and A Perfect Couple and Quintet worth a look, but A Wedding is a standout in the set and is highly recommended.
---

DVD Menus
---
Subtitle Sample
Screen Captures
---
---
DVD Box Cover

CLICK to order from:

This is the exact same version as found in the Robert Altman Collection (M*A*S*H / A Perfect Couple / Quintet / A Wedding) reviewed by Gregory Meshman HERE and available:
Distribution
20th Century Fox Home Video - Region 1 - NTSC