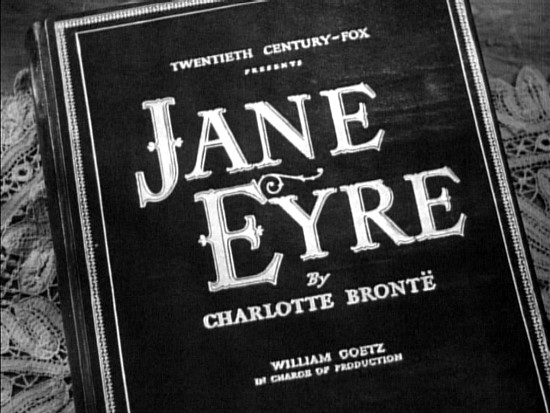 Directed by Robert Stevenson
USA 19
44
Made two years after Citizen Kane, this 1943 version of Charlotte Brontė's Jane Eyre sure looks like star Orson Welles muscled his way behind the camera much of the time. (In fact, costar Joan Fontaine--who plays the title character--has maintained that Welles methodically did just that every day on the set.) Not that the film's official director was a hack: Robert Stevenson, who later had a busy career at Disney making numerous live-action hits for the studio, such as Mary Poppins, gets the credit. But there's no mistaking Welles's masterful hand in the film's bold and creative look, and there's no getting away from his enigmatic charisma as Rochester, the widower who takes in Jane as a governess to his daughter. An engrossing, gorgeous film, there's even a small role for Elizabeth Taylor at the beginning as Jane's unlucky, doomed friend at a cruel boarding school.
Excerpt from Tom Keogh's review at Amazon located HERE
Charlotte Bronte reduced to straight Gothic romance, but surprisingly effective right from the opening shot of a wavering candle being carried down a long, dark corridor. The early sequences of Jane's schooling are probably the most stylistically consistent and vividly realised (Daniell's chillingly pious sadism as the headmaster, Moorehead sourly petting a piggish little fat boy, young Elizabeth Taylor dying from cruel negligence). After Welles makes his thunderous appearance out of the mist, thrown from his startled horse but still able to swirl a cape with fine braggadocio, the film becomes more erratic, but always looks as though Orson had at least one eye behind the camera. And the cracks (notably the discrepancies in acting styles between pallid Jane and full-blooded Rochester) are neatly papered over by a fine Bernard Herrmann score.
Excerpt from TimeOut Film Guide located HERE
Posters
Theatrical Release: February 3rd, 1944
Reviews More Reviews DVD Reviews
DVD Review: 20th Century Fox - Region 1 - NTSC
DVD Box Cover

CLICK to order from:

Distribution
20th Century Fox Home Video - Region 1 - NTSC
Runtime
1:36:18
Video
1.33:1 Aspect Ratio
Average Bitrate: 7.8 mb/s
NTSC 720x480 29.97 f/s

NOTE: The Vertical axis represents the bits transferred per second. The Horizontal is the time in minutes.

Bitrate:

Audio
English (Dolby Digital 2.0), English (Mono), DUBs: Spanish (Mono), French (Mono)
Subtitles
English, Spanish, None
Features

Release Information:
Studio: 20th Century Fox Home Video

Aspect Ratio:
Original Aspect Ratio 1.33:1

Edition Details:

• Commentary by Welles biographer Joseph McBride and actress Margaret O'Brien
• Commentary by Nick Redman, Steven Smith and Julie Kirgo

• Isolated Score

• Featurette: Locked in the Tower: the Men Behind Jane Eyre (18:48)

DVD Release Date: April 24th, 2007
Keep Case inside a cardboard box
Chapters: 16
Comments:

This dual-layered and progressively transferred image is not without flaws and looks fairly rough in spots but detail has moments of strong clarity although contrast is quite washed. Compression artifacts are certainly prevalent and there are plenty of vertical scratches and speckles. There is an original mono track and a stereo one as well as DUBs and optional subtitles. I imagine the film elements (see caveat below) were not in the best condition and it may not have warranted an expensive restoration. I'm sure many are simply grateful that the film is now available - and I think I am in that camp myself.

There are two commentaries available - the first has the wonderful combination of the excessively knowledgeable and prepared Joseph McBride taking the lead with most of the talking with actress Margaret O'Brien (Adele Varens in the film) adding in some interesting personal tidbits that she recalled about production. I found this a very professional and thorough commentary and McBride has a strong clear voice discussing such things as Welles over-the-top performance. It was excellent to listen to with a few gaps where key dialogue is left to run. The second commentary with Nick Redman, Steven Smith and Julie Kirgo also has merit but no one really takes the lead in a concrete direction - Julie is asked various questions about the literary work of Jane Eyre and other details and she is very competent and thorough with her answers - sometimes long-winded. In fact she seems to do much of the talking throughout with long stretches of only her talking. More off the cuff and still interesting, no doubt, but I personally preferred the first commentary. Still it is appreciated and worthwhile to listen to for fans of the book or film! The isolated and often powerful Herrmann score is included for those keen on listening to it without any dialogue. Finally there is a 20 minute featurette entitled Locked in the Tower: the Men Behind Jane Eyre. It has the son and daughter of director Stevenson, giving input on their father and the creation of the production with a bit of a battle between the director and Welles who attempted to unsuccessfully usurp control from him. The featurette includes input from many individuals.

I'm no Jane Eyre expert but I thought this film was marvelous. I really enjoyed my viewings and was just as intrigued during the two commentaries when I found myself watching it again while briefly drifting away from the discussion track(s). This is wonderful classic film that I whole-heartedly recommend - especially at this price with the addition of the thorough supplements.
---

DVD Menus
---
Subtitle Sample
---
This caveat starts the feature:
Screen Captures