Description: VCI Entertainment and Kit Parker Films present "Hammer Film Noir Vol. 4" (1953) --- Perhaps the beauty of 'Film-Noir' is its lack of limitation, and its problematic nature of strict classification. Translated literally as "Black Cinema (or film)" and so defined by French critics post WW2 to describe the increasing trend of American crime dramas shot with murky, shadowy grays often with anti-hero protagonists. Plot devices of amnesia, recent ex-convict characters, flash-back (remembered) narratives, femme fatales, shared guilt, pathos, classic nemesis and occasional obtuse camera angles are only a few of the recognizable stylistic norms building the distinguishing keys of Film-Noir. Most often plots were derived from the hard-boiled pulp fiction novels of the era. More of a theme or mood than a 'genre' - the Noir appeal spawned many contemporary imitations - 'Tech-Noir (Blade Runner), Neo-Noir (Taxi Driver) etc.
---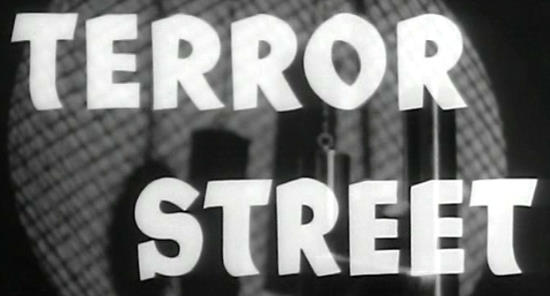 (aka "36 Hours" )
directed by Montgomery Tully
UK 1953
First up we have "TERROR STREET" (1953) (80 min. B/W) --- Under Montgomery Tully (Director), Anthony Hinds (Producer), Steve Fisher (Screenplay & Story), Ivor Slaney (Original Score), Malcolm Arnold (Stock Music), Walter J. Harvey (Cinematographer), James Needs (Editor) --- the cast includes Dan Duryea (Major Bill Rogers), Eisle Albin (Katherine 'Katie' Rogers), Gudrun Ure (Sister Jenny Miller), Eric Pohlmann (Slossen, the smuggler), John Chandos (Orville Hart), Kenneth Griffith (Henry Slosson), Harold Lang (Harry Cross, desk clerk), Jane Carr (Soup Kitchen Supervisor), Michael Golden (The Inspector), Marianne Stone (Pam Palmer) ------ our story has our hero Dan Duryea as the prime suspect in the murder of his British wife who has been shot ... in this post war film noir Duryea has only 36 hours to discover in his desperation who is the real killer and why ... Duryea is at the top of his game in this British melodrama, as you find yourself completely engulfed in his character and waiting for the next scene to unravel another clue and clear himself ... can he find the real killer before the police track his whereabouts and bring in the wrong suspect ... the scenes between Duryea and John Chandos (the major villain) are riveting.
Posters
Theatrical Release: 4 December 1953 (USA) / 25 October 1954 (UK)
Reviews More Reviews DVD Reviews
DVD Review: VCI - Region 0 - NTSC
Big thanks to Gregory Meshman for the Review!
DVD Box Cover

CLICK to order from:

Distribution

VCI

Region 0 - NTSC

Runtime
1:24:36
Video

1.33:1 Original Aspect Ratio
Average Bitrate: 5.11 mb/s
NTSC 720x480 29.97 f/s

NOTE: The Vertical axis represents the bits transferred per second. The Horizontal is the time in minutes.

Bitrate

Audio
English (Dolby Digital 2.0)
Subtitles
None
Features
Release Information:
Studio: VCI

Aspect Ratio:
Fullscreen - 1.33:1

Edition Details:
• Bios for Dan Duryea and Montgomery Tully
• Trailers for Terror Street, They Were So Young, Unholy Four, Unwed Mother
• Short Commentaries about the film and Dan Duryea by Alan K. Rode
• Photo Gallery

DVD Release Date: December 26, 2006
Keepcase

Chapters 12
| | |
| --- | --- |
| Comments | A very good print with very minor damage. The only drawback is non-progressive transfer, but otherwise above average quality and quite suitable for tube viewing. |
---

DVD Menus
---
Screen Captures
---
Recommended Reading in Film Noir (CLICK COVERS or TITLES for more information)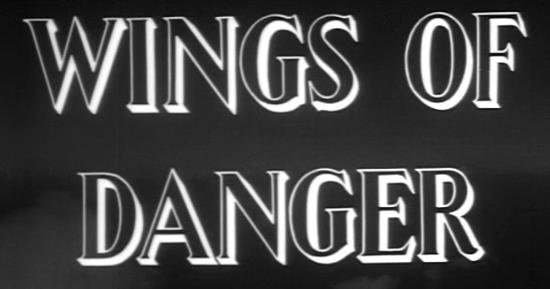 (aka "Dead on Course" )
directed by Terence Fisher
UK 1952
Second on the double bill is a Lippert Picture release "WINGS OF DANGER" (1952) (73 min. B/W) --- Under Terence Fisher (Director), Anthony Hinds (Producer), John Gilling (Screenplay), Trevor Dudley Smith (Novel), Packham Webb (Novel "Dead on Course"), Malcolm Arnold (Original Score), Walter J. Harvey (Cinematographer), James Needs (Editor) ------ the cast includes Zachary Scott (Richard Van Ness), Robert Beatty (Nick Talbot), Kay Kendall (Alexia LaRoche), Naomi Chance (Avril Talbot ), Arthur Lane (Boyd Spencer), Colin Tapley (Inspector Maxwell), Diane Cilento (Jeannette), Harold Lang (Snell, the blackmailer) ------ our second feature film noir is a first timer on DVD, and the intrigue is nerve-wracking just the way we would want it ... is our leading man Zachary Scott having bouts with blackouts and what part does the lovely Kay Kendall play in this twist and turn film noir story ... is Scott's friend Robert Beatty strong armed into the smuggling game, has he turned up missing ... this overlooked noir is loaded with suspense and drama, watch Zach Scott take on this web of smugglers only to find more mystery to this puzzle ------ there's a great deal of entertainment here for all the film noir fans out there --- all courtesy of VCI Entertainment, who in my humble opinion is the best there is in restoring early serials and features like this one.
Theatrical Release: 1 April 1952 (USA) / 26 May 1952 (UK)
Reviews More Reviews DVD Reviews
DVD Review: VCI - Region 0 - NTSC
Big thanks to Gregory Meshman for the Review!
DVD Box Cover

CLICK to order from:

Distribution

VCI

Region 0 - NTSC

Runtime
1:11:48
Video

1.33:1 Original Aspect Ratio
Average Bitrate: 5.11 mb/s
NTSC 720x480 29.97 f/s

NOTE: The Vertical axis represents the bits transferred per second. The Horizontal is the time in minutes.

Bitrate

Audio
English (Dolby Digital 2.0)
Subtitles
None
Features
Release Information:
Studio: VCI

Aspect Ratio:
Fullscreen - 1.33:1

Edition Details:
• Bios for Zachary Scott, Robert Beatty, and Terence Fisher
• Trailers for Terror Street, They Were So Young, Unholy Four, Unwed Mother
• Short Commentaries about Steve Fisher by Alan K. Rode
• Photo Gallery

DVD Release Date: December 26, 2006
Keepcase

Chapters 12
| | |
| --- | --- |
| Comments | Quality is a bit worse than its co-feature. A lot more damage (vertical scratches) on the print and still non-progressive transfer (visible 'combing' in horizontal pans). |
---

DVD Menus
---
Screen Captures
DVD Box Cover

CLICK to order from:

Distribution

VCI

Region 0 - NTSC