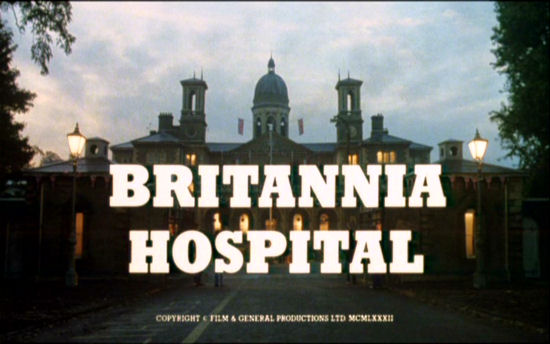 directed by Lindsay Anderson
UK 1982
Whilst it may lack the iconic vitality of 'If….' (1968) or the cinematic daring of 'O Lucky Man!' (1973), Lindsay Anderson's 'Britannia Hospital' (1982) should nonetheless be regarded as highly as its well-received predecessors in the 'Mick Travis' trilogy. However, from its première at Cannes – which witnessed a walk-out by British critics – to the present day, opinion has generally been slanted against this sideswipe at Thatcherite Britain. Does this opinion fail to notice the powerful moral questions that lie beneath 'Britannia Hospital''s caustic exterior? Or does it choose to ignore them?

It is likely that people have been swayed by the surface qualities of the film; many of which seem designed to ostracize the casual viewer. Not only is the popular Mick Travis (Malcolm McDowall) a peripheral figure (in comparison to his central roles in 'If....' and 'O Lucky Man!'), but also 'Britannia Hospital' eschews the subtle humour of its forerunners in favour of lurid silliness and near-slapstick. Further, the ultra-gory experiments conducted by the hospital's resident Frankenstein, Professor Millar (Graham Crowden), are fodder only for the midnight movie crowd.

However, perhaps the feature of the film which most alienates the crowds is its seemingly cynical and unforgiving portrayal of humankind as a whole. 'Britannia Hospital''s overarching plot – which sees the titular establishment (acting as a microcosm for all of Thatcherite Britain) descend into conflict and madness, as 'haves' and 'have-nots' clash over healthcare – enables Anderson and his screenwriter, David Sherwin, to attack groups from across all of the political and social spectra. Both hospital workers and public figures, alike, are portrayed as being capable of cruelty, and thus almost no-one is spared Anderson's wrath.

But, at the same time – and this is crucial – almost no-one is spared Anderson's compassion. It is this fact that prevents 'Britannia Hospital' from being the exercise in rampant cynicism that many believe it to be. The film recognizes that just as anyone, from any background, can be cruel, so too can anyone be a victim of cruelty. Accordingly, then, there are numerous scenes in which Anderson elicits our sympathy for his subjects, regardless of their place on the social ladder – for example, when left-wing demonstrators are brutally clubbed, or when the hospital's wealthy patients are refused treatment. These scenes are distinguished by emotive, Fordian close-ups of the victimized; close-ups which – as well as recalling the tenderness of earlier Anderson films such as 'Thursday's Children' (1954) and 'Every Day Except Christmas' (1957) – serve to individualize the crowds. The message is almost Biblical: people persecute as groups but suffer as individuals. And so Anderson's true target becomes apparent: all organizations, classes, groupings and institutions which stand as a barrier to true human fellowship and understanding. Individuals deserve sympathy and forgiveness, whilst organizations do not; and herein lies the film's anarchism.

However, there is perhaps one individual who is beyond forgiveness: Professor Millar, a latter-day Hitler who cloaks his plans for genocide – the replacement of brains with silicon chips; of humans with machines – in the language of science and progress. When his mysterious 'Genesis' project is unveiled at the film's astonishing climax, its mechanistic rendition of the "What a piece of work is man..." speech from Hamlet belies a single truth: no machine can ever truly replicate human soul or human artistry. In comparison to such monsters, humans are of almost limitless potential; yet – as the film's previous scenes have made clear – humankind needs to refine its methods of interaction in order for such potential to flourish. Rarely has cinema achieved so pure a humanism or made so momentous a statement.

With its more considered world-view, 'Britannia Hospital' actually surpasses 'If....' and 'O Lucky Man!' in many respects, and represents the culmination of a near-lifetime's worth of critical and intellectual engagement with the world on the part of Lindsay Anderson. Given this, the negative popular response to the film may well have been shattering for him as well as for his career (Derek Jarman predicted that Britannia Hospital "would finish Lindsay in the British film industry"). And indeed, soon after the film's short-lived release, Anderson was to scribe these despondent words in a letter to Malcolm McDowall:

"I've been back in London – how long? - about three or four weeks ... Time is rather featureless at the moment. I'm sure you'll understand when I say it's a dispiriting place to return to. The dark waters have closed over 'Britannia Hospital'"

Thankfully, 'Britannia Hospital''s ready availability on DVD means that the "dark waters" can finally recede: the time has come for revaluation.
Posters
Theatrical Release: May - 1982 - Cannes Film Festival
Reviews More Reviews DVD Reviews
DVD Review: Cinema Club/Studio Canal - Region 2 - PAL
DVD Box Cover

CLICK to order from:

Distribution

Cinema Club/Studio Canal

Region 2 - PAL

Anchor Bay also released an NTSC version in Region 1. It is available to be purchased here:

Runtime
1:51:32
Video

1.85:1 Original Aspect Ratio

16X9 enhanced
Average Bitrate: 5.5 mb/s
PAL 720x576 25.00 f/s

NOTE: The Vertical axis represents the bits transferred per second. The Horizontal is the time in minutes.

Bitrate

Audio
English (Dolby Digital 2.0)
Subtitles
None
Features
Release Information:
Studio: Cinema Club/Studio Canal

Aspect Ratio:
Widescreen anamorphic - 1.85:1

Edition Details:
• theatrical trailer

DVD Release Date: July 19th, 2004
Keep Case

Chapters 18
Comments:

This Region 2 Cinema Club release features a clean, anamorphic transfer – with no obvious digital artifacts or print damage – which enables 'Britannia Hospital''s Hammeresque colour-scheme to fizz off the screen. If there is one problem with the transfer, it is a general lack of detail, but this in no way detracts from a viewing of the film.

Also commendable is the disc's vibrant Dolby Digital 2.0 soundtrack.

However, all is not positive: the DVD inexplicably comes without any subtitles, and the extras have been limited to a single theatrical trailer.

Given that hopes for a more extras-laden disc may be overly optimistic, this Region 2 release of 'Britannia Hospital' – with its more-than-adequate picture and sound quality – comes recommended. Indeed, with DVD releases of 'If….' and 'O Lucky Man!' on the horizon, this disc is a great way for collectors to "complete the trilogy".
---

DVD Menus


---
Screen Captures