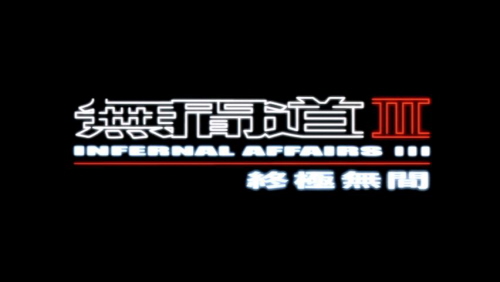 (aka "Mou Gaan Dou 3" or "Wu Jian Dao 3")
directed by Andrew Lau Wai Keung and Alan Mak Siu Fai
Hong Kong 2003
The Criterion
Blu-ray
of the
Infernal Affairs Trilogy
is reviewed
HERE
After Infernal Affairs basically revived Hong-Kong cinema single-handedly, the moviemakers announced that they would produce two more movies. Since the backstory involving the two moles was as fascinating as what they did in the "present", Infernal Affairs 2 was drafted as a prequel. Infernal Affairs 3 details events following what happened in the first Infernal Affairs. Not only did these decisions provide a before-and-after appraisal of the characters' lives, they also gave the characters a defining sense of closure. By the end of the trilogy, everyone related in some way to the two main undercover moles is either dead or has nothing left to do but mourn the dead. Perhaps the sense of finality is too pat and neat for some viewers, though the resolutions reflect the movies' insistent references to Buddhist teachings about karma and fate.

You don't need to have seen Infernal Affairs 2 to understand Infernal Affairs 3. However, you will be very lost if you don't see Infernal Affairs 3 soon after seeing the first Infernal Affairs. The third movie is heavily dependent on a great degree of familiarity with the events in the first outing. As a whole, the series takes place out of order, with the "origin story" appearing as the second movie. Chronologically speaking, the events in Infernal Affairs 3 take place after the events in Infernal Affairs, but several sequences backtrack to when the story in the first movie was unfolding.

This may seem confusing, but after the initial shock wears off, part of the pleasure of watching this installment is figuring out where the pieces of the third movie fit into the overall narrative. As the movie shifts in time, we get to know other members of the police force, other moles, and various strategies used by all sides to emerge as the victors. The movie is a bit unfocused at times and also shares too much unnecessary information with the audience (for example, we learn that Tony Leung Chiu-wai's character had a physical relationship with his psychiatrist), but Chen Daoming and Leon Lai make deep impressions as characters deeper in deception than even the two moles at the heart of this trilogy's universe.
David McCoy
Poster
Theatrical Release: 12 December 2003
Reviews More Reviews DVD Reviews

DVD Comparison:
Genius Products/The Weinstein Company - Region 1 - NTSC vs. Media Asia (Limited Edition Trilogy Box Set) - Region 0 - NTSC
Big thanks to David McCoy for all the Screen Caps!
(Genius Products/The Weinstein Company - Region 1 - NTSC - LEFT vs. Media Asia (Limited Edition Trilogy Box Set) - Region 0 - NTSC - RIGHT)
DVD Box Covers

OUT-OF-PRINT

Thinking of buying from YesAsia? CLICK HERE and use THIS UPDATED BEAVER PAGE to source their very best...

Distribution

Genius Products/The Weinstein Company

Region 1 - NTSC

Media Asia
Region 0 - NTSC
Runtime
118
118
Video

2.35:1 Original Aspect Ratio

16X9 enhanced
Average Bitrate: 6.85 mb/s
NTSC 720x480 29.97 f/s

2.35:1 Original Aspect Ratio

16X9 enhanced
Average Bitrate: mb/s
NTSC 720x480 29.97 f/s

NOTE: The Vertical axis represents the bits transferred per second. The Horizontal is the time in minutes.

Bitrate:

Genius Products/The Weinstein Company

Bitrate:

Media Asia (Limited Edition Trilogy Box Set)

Audio
Dolby Digital 5.1 Cantonese Chinese, Dolby Digital 2.0 surround English

DD 5.1 Cantonese Chinese, DD 5.1 Mandarin Chinese, DTS 5.1 Cantonese Chinese

Subtitles
Optional English and Spanish
Optional Traditional Chinese, Simplified Chinese, English
Features
Release Information:
Studio: Genius Products/The Weinstein Company

Aspect Ratio:
Widescreen anamorphic - 2.35:1

Edition Details:
• The Making of Infernal Affairs 3
• various trailers

DVD Release Date: 13 Feb 2007
keepcase

Chapters 16

Release Information:
Studio: Media Asia

Aspect Ratio:
Widescreen anamorphic - 2.35:1

Edition Details:
• The Story (plot synopsis)
• The Making of Infernal Affairs 3
• various trailers
• music video
• Cast and Credits (with mini-biographies)
• Photo Gallery
• Easter Egg


DVD Release Date: 2004
keepcase inside custom box

Chapters 20

Comments:

The Criterion

Blu-ray

of the

Infernal Affairs Trilogy

is reviewed

HERE

Video:
R1 Genius
The R1 2.35:1 anamorphic widescreen picture looks like it has a little more information on the sides than the R0 transfer. Otherwise, it has noticeable halos and mosquito noise. I assume the problems arise from the comparatively low bit rate.

R0 Media Asia
The R0 2.35:1 anamorphic widescreen image is generally much stronger than what you get with the R1 disc, though for some reason, a lot of text looks very soft. Also, the R0 is slightly windowboxed.

Audio:
R1 Genius
The R1 Genius disc offers a Dolby Digital 5.1 Cantonese Chinese track and a DD 2.0 surround English dub track. The DD 5.1 Cantonese track seems very similar to the 5.1 tracks on the R0 release.

Optional English and Spanish subtitles support the audio.

R0 Media Asia
The R0 Media Asia disc offers Dolby Digital 5.1 Cantonese Chinese, Dolby Digital 5.1 Mandarin Chinese dub, and DTS 5.1 Cantonese Chinese tracks. Although the poignant and tense music cues are spread fairly wide across the front soundstage, the rears don't have much activity since this is a dialogue-heavy drama. Nevertheless, there are deep bass extensions when appropriate.

Optional Traditional Chinese, Simplified Chinese, and English subtitles support the audio.

Extras:
R1 Genius
The movie-pertinent R1 extras are included in the R0 mega box set, though the reverse is not true. The R1 disc also has trailers for other Dragon-Dynasty DVDs.

R0 Media Asia
The eight-DVD box set devotes two discs to each movie and includes a five-hour chronological cut spread across another two discs. On the bonus disc for the movie, you get "The Story" (plot synopsis), "The Making of Infernal Affairs 3", trailers for this movie and other Media Asia releases, a music video, Cast and Credits (text pages with info about the moviemakers), a Photo Gallery, and an Easter Egg with some flubbed takes if you use the remote control to underline the title (look on the right-hand side of the fifth menu screen capture).

David McCoy
---
DVD Menus
(Genius Products/The Weinstein Company - Region 1 - NTSC - LEFT vs. Media Asia (Limited Edition Trilogy Box Set) - Region 0 - NTSC - RIGHT)

| | |
| --- | --- |
| | |
| | |
| | |
| | |
| | |
---
Screen Captures
(Genius Products/The Weinstein Company - Region 1 - NTSC - TOP vs. Media Asia (Limited Edition Trilogy Box Set) - Region 0 - NTSC - BOTTOM)
---
(Genius Products/The Weinstein Company - Region 1 - NTSC - TOP vs. Media Asia (Limited Edition Trilogy Box Set) - Region 0 - NTSC - BOTTOM)
---
(Genius Products/The Weinstein Company - Region 1 - NTSC - TOP vs. Media Asia (Limited Edition Trilogy Box Set) - Region 0 - NTSC - BOTTOM)
---
(Genius Products/The Weinstein Company - Region 1 - NTSC - TOP vs. Media Asia (Limited Edition Trilogy Box Set) - Region 0 - NTSC - BOTTOM)
---
(Genius Products/The Weinstein Company - Region 1 - NTSC - TOP vs. Media Asia (Limited Edition Trilogy Box Set) - Region 0 - NTSC - BOTTOM)

---
Report Card:
| | |
| --- | --- |
| Image: | R0 Media Asia |
| Sound: | R0 Media Asia |
| Extras: | R0 Media Asia |
| Menu: | R0 Media Asia |
DVD Box Covers

OUT-OF-PRINT

Thinking of buying from YesAsia? CLICK HERE and use THIS UPDATED BEAVER PAGE to source their very best...

Distribution

Genius Products/The Weinstein Company

Region 1 - NTSC

Media Asia
Region 0 - NTSC