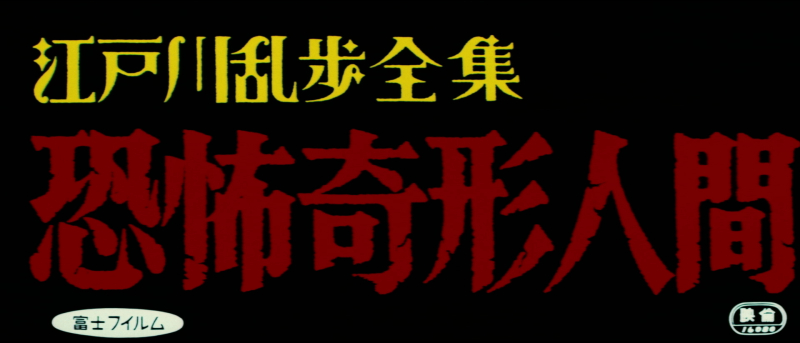 (aka "Horrors of Malformed Men" or "Ky˘fu kikei ningen: Edogawa Rampo zenshű" )
directed by Teruo Ishii
Japan 1969
Director Teruo Ishii takes the helm for this controversial shocker that follows a young medical student as he escapes from a medical asylum and makes a shocking discovery while attempting to locate his mysterious doppelganger. Hirosuke is an amnesiac determined to locate his long lost father. Soon after escaping the asylum where he is being held against his will, Hirosuke is shocked to see a picture of his spitting image in the newspaper. Now, as Hirosuke assumes the identity of a dead man in order to travel to remote Panorama Island and unlock the secrets of his family past, the grotesque truth that awaits him will forever alter his perception of the natural world. Deep in the jungles of Panorama Island, Hirosuke's obsessed father has been conducting a series of bizarre medical experiments in hopes of finding a cure for his disfigured wife. But success has eluded the crazed scientist, and all that his experiments have yielded is an abominable dominion populated by repulsive, half-human/half-man hybrids. Here, in a surreal world of incest, murder, and insanity, Hirosuke will finally come face to face with the most terrifying creations ever to walk the earth.

***

Cult director Teruo Ishii (Blind Woman's Curse) presents a nightmarish, hallucinogenic tale drawn from the fevered imagination of Japan s celebrated pioneer ofero-guro (erotic grotesque) literature, Edogawa Rampo.

Medical student Hirosuke Hitomi slips out of the asylum in which he has been wrongfully confined and stealthily assumes the identity of a recently deceased nobleman with whom he bears an uncanny resemblance. Hirosuke eases his way into the nobleman s household and his dead double s marital bed. But as long-repressed memories begin to bubble to the surface, he soon finds himself drawn to a remote isle where he is confronted by a mad scientist and his malformed men, and discovers the key that will unlock some long-suppressed mysteries of his own.

A dark labyrinth of the monstrous and perverse that fuses mystery and horror while incorporating motifs from a myriad of Rampo's tales, Horrors of Malformed Men boasts astonishing carnivalesque art design and haunting performances. Withdrawn from cinemas by its own studio after its original scandalous release nearly fifty years ago, the film is among the very best screen interpretations of the author's macabre brand of horror-fantasy fiction, and a unique oddity of Japanese cult cinema.
Posters
Theatrical Release: 31 October 1969 (Japan)
Reviews More Reviews DVD Reviews
Comparison:
Synapse Films - Region 0 - NTSC vs. Arrow - Region FREE - Blu-ray

Big thanks to Eric Cotenas for the Synapse Films Screen Caps!
(Synapse Films - Region 0 - NTSC - LEFT vs. Arrow - Region FREE - Blu-ray - RIGHT)
Box Covers

Distribution

Synapse Films

Region 0 - NTSC

Arrow
Region FREE - Blu-ray
Runtime
1:39:06
1:39:14.782
Video

2.33:1 Original Aspect Ratio

16X9 enhanced
Average Bitrate: 6.31 mb/s
NTSC 720x480 29.97 f/s

Disc Size: 38,307,180,481 bytes

Feature Size: 29,418,894,912 bytes

Average Bitrate:

34.96 Mbps

Dual-layered Blu-ray MPEG-4 AVC Video

NOTE: The Vertical axis represents the bits transferred per second. The Horizontal is the time in minutes.

Bitrate:

Synapse Films

Bitrate:

Arrow Blu-ray

Audio
Japanese Dolby Digital 2.0 mono

LPCM Audio Japanese 1152 kbps 1.0 / 48 kHz / 1152 kbps / 24-bit
Commentaries:

Dolby Digital Audio English 192 kbps 2.0 / 48 kHz / 192 kbps
Dolby Digital Audio English 192 kbps 2.0 / 48 kHz / 192 kbps

Subtitles
English, none
English, none
Features
Release Information:
Studio: Synapse Films

Aspect Ratio:
Widescreen anamorphic - 2.33:1

Edition Details:
• Audio Commentary by film critic Mark Schilling
• 'Malformed Memories' featurette (22:53)
• 'Ishii in Italia' featurette (13:49)
• Original Trailer (3:16)
• Teruo Ishii Bio (8 text screens)
• Edogawa Rampo Bio (5 text screens)
• Booklet with essays by Jasper Sharp, Patrick Macias and Tomohiro Machiyama
• Reversible Cover

DVD Release Date: 28 August 2007
Amaray

Chapters 18


Release Information:
Studio: Arrow

Aspect Ratio:
Original Aspect Ratio 2.35:1

Disc Size: 38,307,180,481 bytes

Feature Size: 29,418,894,912 bytes

Average Bitrate:

34.96 Mbps

Dual-layered Blu-ray MPEG-4 AVC Video

Edition Details:
• Two audio commentaries by Japanese cinema experts Tom Mes and Mark Schilling
• Malformed Movies: a new video interview with Toei exploitation movie screenwriter Masahiro Kakefuda (13:28)
• Malformed Memories: Filmmakers Shinya Tsukamoto (Tetsuo the Iron Man) and Minoru Kawasaki (The Calamari Wrestler) on the career of director Teruo Ishii (22:52)
• Ishii in Italia: Ishii and Mark Schilling visit the Far East Film Festival (13:45)
Image Gallery
• Theatrical trailer (03:14)
• Reversible sleeve featuring original and newly commissioned artwork by Dan Mumford
FIRST PRESSING ONLY: Collector's booklet featuring new writing by Jasper Sharp, Tom Mes and Grady Hendrix

Blu-ray Release Date: September 17th-18th, 2018
Transparent Blu-ray Case
Chapters: 13

Comments

NOTE: The below Blu-ray captures were taken directly from the Blu-ray disc.

The Arrow 1080P transfer is cited as a "Brand new 2K restoration of the film from the original negative". It is on a dual-layered Blu-ray with a max'ed out bitrate. It varies a lot from the 2007 DVD having some green/teal leaning, a substantial more information in the 2.35:1 frame, and a higher degree of texture. The green is quite heavy but these visuals look quite strong in-motion. Some may prefer the more natural colors of the DVD but then you lose all the value of the higher resolution. It wouldn't surprise me if the film's original color pallet was askew for such a bizarre film.

Arrow use a liner PCM mono track (24-bit) in the original Japanese language. There are aggressive effects that come through flat but with slight depth. The score is by

Hajime Kaburagi's (The Sleeping Beast With, Retaliation, Blind Woman's Curse, Fairy in a Cage, Tokyo Drifter) and sounds as obtuse as the film, suiting the onscreen activity appropriately - and sounding decent, without issues, via the HD presentation. Arrow offer optional English subtitles on their Region FREE Blu-ray disc.

Two audio commentaries by Japanese cinema experts Tom Mes and a second, repeated from the old DVD by Mark Schilling. Mes does a good job stating early that he finds the film is the closest you can come to dreaming without closing your eyes, that it is the director, Teruo Ishii's, best film, recognizing a gal in the insane asylum who also played characters in the original Female Prisoner Scorpion and in Bullet Train. He states that for the strange film he will provide a strange commentary track, but it is quite informative and interesting, regardless. Malformed Movies is a new video interview with Toei exploitation movie screenwriter Masahiro Kakefuda running about 13 1/2 minutes. Malformed Memories seems repeated from the Synapse DVD but is much longer and has filmmakers Shinya Tsukamoto (Tetsuo the Iron Man) and Minoru Kawasaki (The Calamari Wrestler) discuss the career of director Teruo Ishii for almost 23-minutes, in Japanese with English subtitles. Ishii in Italia has Ishii and Mark Schilling visiting the 'Far East Film Festival' running 14-minutes. There is an image gallery and a trailer plus the package offers a reversible sleeve featuring original and newly commissioned artwork by Dan Mumford and the first pressing purchasers get a collector's booklet featuring new writing by Jasper Sharp, Tom Mes and Grady Hendrix.

This unique genre of films is a favorite and I was so intrigued by many sequences in the film. It is very surreal at times but also remains fascinating that it was banned in Japan and people there were importing the Synapse DVD. Well, the Arrow Blu-ray has much more to offer . I hope fans find this as fascinating as I do. Absolutely recommended!

-Colin Zavitz and Gary Tooze

---
Menus
Synapse Films - Region 0 - NTSC

| | |
| --- | --- |
| | |
| | |
Arrow - Region FREE - Blu-ray
---
CLICK EACH BLU-RAY CAPTURE TO SEE ALL IMAGES IN FULL 1920X1080 RESOLUTION
(Synapse Films - Region 0 - NTSC - TOP vs. Arrow - Region FREE - Blu-ray - BOTTOM)
---
(Synapse Films - Region 0 - NTSC - TOP vs. Arrow - Region FREE - Blu-ray - BOTTOM)
---
(Synapse Films - Region 0 - NTSC - TOP vs. Arrow - Region FREE - Blu-ray - BOTTOM)
---
(Synapse Films - Region 0 - NTSC - TOP vs. Arrow - Region FREE - Blu-ray - BOTTOM)
---
(Synapse Films - Region 0 - NTSC - TOP vs. Arrow - Region FREE - Blu-ray - BOTTOM)
---
(Synapse Films - Region 0 - NTSC - TOP vs. Arrow - Region FREE - Blu-ray - BOTTOM)