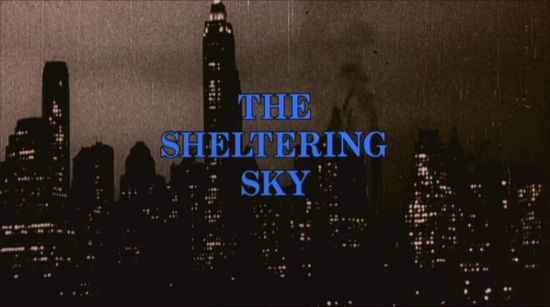 (aka "Un the Au Sahara" or "Il Tè Nel Deserto")
directed by Bernardo Bertolucci
UK/Italy 1990
Paul Bowles' novel presents the problem of interiorisation, and a presiding morbidity that would clear most movie-houses. Bertolucci has wisely elected to open things out and to humanise his characters, relenting a little in favour of romance. The American travellers in North Africa, Kit and Port Moresby, still go down the drain, but in this version you care. Remote husband Port (Malkovich) unwisely samples Arab prostitutes, neurotic Kit (Winger) has a fling with their travelling companion Tunner (Scott); but where the story really hooks in is their realisation, after an abortive attempt at sex, that reconciliation is impossible. Port contracts typhoid, and the couple's frantic search for help in increasingly primitive terrain makes for horrifyingly powerful cinema. After Port's death, Kit loses both identity and compass bearings, wanders into the desert, and enters into a sexual delirium with the Tuareg Belqassim (Vu-An). As you'd expect, it's a big, handsome film, rich and strange in psychological depths and eroticism. Malkovich and Winger play woundingly well.
Excerpt from TimeOut Film Guide located HERE
Posters
Theatrical Release: 12 December 1990 (USA)
Reviews More Reviews DVD Reviews
DVD Comparison:
Warner - Region 1 - NTSC vs. GCTHV (Edition 2 DVD) - Region 2 - PAL
Big thanks to Eric Cotenas for all the Screen Caps!
(Warner - Region 1 - NTSC - LEFT vs. GCTHV (Edition 2 DVD) - Region 2 - PAL - RIGHT)
DVD Box Covers

Distribution

Warner

Region 1 - NTSC

GCTHV
Region 2 - PAL
Runtime
2:18:10
2:12:12 (4% PAL speedup)
Video

1.78:1 Original Aspect Ratio

16X9 enhanced
Average Bitrate: 5.72 mb/s
NTSC 720x480 29.97 f/s

1.79:1 Original Aspect Ratio

16X9 enhanced
Average Bitrate: 7.44 mb/s
PAL 720x576 25.00 f/s

NOTE: The Vertical axis represents the bits transferred per second. The Horizontal is the time in minutes.

Bitrate:

Warner

Bitrate:

GCTHV (Edition 2 DVD)

Audio
English (Dolby 2.0 Surround Stereo); French (Dolby 2.0 Surround Stereo)

English (DTS & Dolby Digital 5.1); French (DTS & Dolby Digital 5.1)

Subtitles
English, French, Spanish, none
French, Italian, none
Features
Release Information:
Studio: Warner

Aspect Ratio:
Widescreen anamorphic - 1.78:1

Edition Details:
• Making-Of featurette (5:53)
• Theatrical Trailer (1:55 / 16:9)
• Cast & Crew (text)
• Awards (text)

DVD Release Date: 3 Septemeber 2002
Snapper

Chapters 33


Release Information:
Studio: GCTHV

Aspect Ratio:
Widescreen anamorphic - 1.79:1

Edition Details:
• Audio Commentary with Bernardo Bertolucci
• Desert Roses documentary (47:27)
• Making of (5:53)
• Apropos de Paul Bowles (20:34 - French with no subtitles) (disc 2)
• Sheltering Sky trailer (same as R1 but 4:3)
• Last Emperor trailer
• Filmographies



DVD Release Date: 9 April 2003
Digipack in Sleeve

Chapters 20
Comments:

The Warner DVD, which looked great at the time of its release looks faded compared to the French DVD which features more saturated colors without distortion, looking like what one expects of a film shot by Vittorio Storaro.

Although the French disc does not feature the original Dolby Surround mix, the DTS and 5.1 mixes are quite enveloping. Both discs feature the 6 minute promotional piece but the French DVD has the commentary and longer "Desert Roses" documentary, both of which were also featured on the German 2-disc set from Arthaus but I've been told that that set is 4:3 letterbox and has inferior image quality (but does feature the original surround mix). Those interested in the French DVD should keep in mind that there is also a single disc version out there which features the commentary but, reportedly, not the DTS mixes. Although the OAR is listed at imdb as 1.85:1, both discs are letterboxed at 1.78 (well, 1.79 on the French) but the French reveals more at the bottom of the frame than the R1 while sacrificing just a sliver above. I prefer the French set for the extras, the sound, and the image. On a slightly trivial note, the Warner DVD does feature English subtitles and the theatrical trailer in 16:9 (the same trailer is 4:3 letterbox on the French DVD and looks video sourced).
---

DVD Menus
(Warner - Region 1 - NTSC - LEFT vs. GCTHV (Edition 2 DVD) - Region 2 - PAL - RIGHT)
---
Screen Captures
(Warner - Region 1 - NTSC - TOP vs. GCTHV (Edition 2 DVD) - Region 2 - PAL - BOTTOM)
Besides the first cameo by author Paul Bowles, note the extra picture information at the bottom on R
---
(Warner - Region 1 - NTSC - TOP vs. GCTHV (Edition 2 DVD) - Region 2 - PAL - BOTTOM)
---
(Warner - Region 1 - NTSC - TOP vs. GCTHV (Edition 2 DVD) - Region 2 - PAL - BOTTOM)
---
(Warner - Region 1 - NTSC - TOP vs. GCTHV (Edition 2 DVD) - Region 2 - PAL - BOTTOM)
---
(Warner - Region 1 - NTSC - TOP vs. GCTHV (Edition 2 DVD) - Region 2 - PAL - BOTTOM)

---
Report Card:
| | |
| --- | --- |
| Image: | GCTHV |
| Sound: | GCTHV |
| Extras: | GCTHV |
| Menu: | GCTHV |