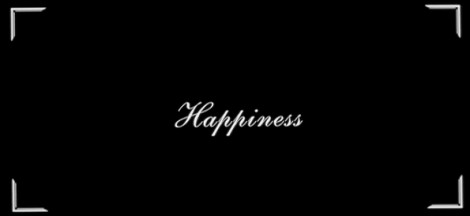 directed by Todd Solondz
USA 1998
Todd Solondz is surely one of the bravest filmmakers working today. From his first feature film "Welcome to the Dollhouse", he ignored expectations and made films about unhappy outsiders, loners and even mentally disturbed people. With "Happiness", he tells the story of a group of various people and their problems.

"Happiness" begins with Joy (Jane Adams) breaking up with Andy (Jon Lovitz). This scene establishes the whole film. They both pretend to be mature and understanding, Andy shows Joy a personal gift he got her (an ashtray with her name on it), she masquerades the embarrassing situation with her overacted happiness about the gift and a joke and then Andy explodes and tells her that this ashtray is for the girl who loves him for what he is. Violin music sets in, the opening credits fill the screen and after that we meet pathetic Allen (Philip Seymour Hoffman) describing to his psychiatrist Dr. Bill Maplewood (Dylan Baker) what a boring person he is and that he adores his neighbor Helen (Lara Flynn Boyle), Joy's sister. Allen lives in a small New Jersey apartment, spending time with anonymous, perverse phone calls to women and getting drunk. Helen is an acclaimed book author with a new boyfriend ever day. She is successful and good looking, but at the same time filled with self-hatred and insecurity, calling the poems she writes pretentious. When she goes to lunch with Trish, Helen says "I'm so tired of being admired all the time." This statement is the reason why she is attracted to Allen's phone calls, because in his anonymity, he does not have the distance everyone else has towards her. Trish (Cynthia Stevenson) is the third Jordan-sister. She is married to Bill Maplewood, has two children, Billy (Rufus Read) and Timmy (Justin Elvin) and hence, pretends to "have it all", while obviously envying the success and fame of Helen. The three sisters' parents are Lenny (Ben Gazzara) and Mona (Louise Lasser). They are just about to split, but don't like to use the word "divorce". Mona has difficulties in accepting to live all by herself, while Lenny doesn't know what to do with his future, except for living alone. Finally there is Kristina (Camryn Manheim), another neighbor of Helen and Allen, who hides a crime and is secretly in love with Allen.

All these stories in some way interconnect and they all deal with unhappiness, alienation and loneliness. In this sad world, however, are actually some beautiful moments, like the impressively intimate father-son discussions between Bill Maplewood and Billy, Joy's face sparkling in euphoria after her sexual encounter with Vlad (Jared Harris), one of her students, or a lovely little dance in a bar between Allen and Kristina. Hence, Solondz creates everyday life on the screen, but that naturally also includes misery. The most disturbing and notorious plot is surely Bill Maplewood's story, who soon turns out to be a pedophile. After the discussion with Allen, Bill drives to the next gas station, buys a teen magazine and masturbates in his car. The man who at first seemed like a normal, likeable psychiatrist turns out to commit the most horrible crime imaginable. He sexually abuses a friend of his son Billy, named Johnny Grasso, after pouring tranquilizer into the dessert he made for his family. Just shortly after that, Bill finds out that another friend of his son is alone at his parents' house for a few days, so he finds out the boy's address and abuses him too. What Solondz wants us to see and feel with this story is what Trish, Billy, Timmy and all the other parts of the family must have felt after learning about the pedophilia of Bill.

There is one exceptionally moving scene that I want to mention here. When Billy finds out about the crimes of his father, they both have a very intimate discussion, as open and honest as the previous ones shown in the film. Billy asks his father some extremely difficult questions, and every single answer is true. Dylan Baker's acting in this scene is both disturbing and tender. J. Hoberman compared the intensity of this sequence to Bibi Andersson's monologue in Bergman's "Persona", about her sexual encounter on the beach, and I couldn't think of a better comparison. This long dialogue, filmed completely in a very dark room, is the most tragic and heartbreaking sequence in the film.

"Happiness" is a film about people who pretend and act. Everybody in this film seems to be happy and fulfilled, and behaves like that, but actually, there are self-doubts and sadness all over them. There are some useless slapstick comedy moments in this film which are totally out of place as well as Solondz' immature use of pop- and elevator-music. But all in all, "Happiness" is an intelligent examination of modern life. The film is filled with exceptionally brilliant performances, an interesting visual and narrative style and very touching emotional moments. Certainly one of 1998's best movies.
Poster
Theatrical Release: 15 May 1998 (Cannes Film Festival)
Reviews More Reviews DVD Reviews
DVD Review: Lions Gate Home Entertainment (Signature Series) - Region 1 - NTSC
DVD Box Cover

CLICK to order from:

Distribution

Lions Gate Home Entertainment

Region 1 - NTSC

Runtime
2:19:45
Video

1.85:1 Original Aspect Ratio
Average Bitrate: 3.89 mb/s
NTSC 720x480 29.97 f/s

NOTE: The Vertical axis represents the bits transferred per second. The Horizontal is the time in minutes.

Bitrate

Audio
English (Dolby Digital 2.0)
Subtitles
English, French, Spanish, none
Features
Release Information:
Studio: Lions Gate Home Entertainment

Aspect Ratio:
Widescreen - 1.85:1

Edition Details:
• Original Theatrical Trailer
• Cast and Crew Biographies

DVD Release Date: 3 June 2003
Keep Case

Chapters 36
Comments
The non-anamorphic picture quality of this Signature Series DVD is quite good, although its very disappointing that this reissue is still letterboxed and not anamorphic. The picture still has vibrant colors, sharpness and detail, but also some specks and artifacts.

The soundtrack is in its original front-driven 2.0 with clear dialogues and nice reproduction of music. The DVD contains only the original trailer and some cast and director bio-/filmographies.

What we have here is exactly the same DVD as the original Trimark release, only packed in the Signature Series. A big disappointment from Lions Gate, but the greatness of the film and the good video- and audio-quality still make this a big recommendation.
---




DVD Menus

---
Screen Captures
Subtitle sample














DONATIONS Keep DVDBeaver alive:
Mail cheques, money orders, cash to: or CLICK PayPal logo to donate!
Thank You!
Todd Solondz' - Happiness - DVD Review Todd Solondz Happiness DVD Review Todd Solondz Happiness DVD Review Todd Solondz Happiness DVD Review Todd Solondz Happiness DVD Review Todd Solondz Happiness DVD Review Todd Solondz Happiness DVD Review Todd Solondz Happiness DVD Review Todd Solondz Happiness DVD Review Todd Solondz Happiness DVD Review Todd Solondz' - Happiness - DVD Review Todd Solondz Happiness DVD Review Todd Solondz Happiness DVD Review Todd Solondz Happiness DVD Review Todd Solondz Happiness DVD Review Todd Solondz Happiness DVD Review Todd Solondz Happiness DVD Review Todd Solondz Happiness DVD Review Todd Solondz Happiness DVD Review Todd Solondz Happiness DVD Review Todd Solondz' - Happiness - DVD Review Todd Solondz Happiness DVD Review Todd Solondz Happiness DVD Review Todd Solondz Happiness DVD Review Todd Solondz Happiness DVD Review Todd Solondz Happiness DVD Review Todd Solondz Happiness DVD Review Todd Solondz Happiness DVD Review Todd Solondz Happiness DVD Review Todd Solondz Happiness DVD Review Todd Solondz' - Happiness - DVD Review Todd Solondz Happiness DVD Review Todd Solondz Happiness DVD Review Todd Solondz Happiness DVD Review Todd Solondz Happiness DVD Review Todd Solondz Happiness DVD Review Todd Solondz Happiness DVD Review Todd Solondz Happiness DVD Review Todd Solondz Happiness DVD Review Todd Solondz Happiness DVD Review Todd Solondz' - Happiness - DVD Review Todd Solondz Happiness DVD Review Todd Solondz Happiness DVD Review Todd Solondz Happiness DVD Review Todd Solondz Happiness DVD Review Todd Solondz Happiness DVD Review Todd Solondz Happiness DVD Review Todd Solondz Happiness DVD Review Todd Solondz Happiness DVD Review Todd Solondz Happiness DVD Review Todd Solondz' - Happiness - DVD Review Todd Solondz Happiness DVD Review Todd Solondz Happiness DVD Review Todd Solondz Happiness DVD Review Todd Solondz Happiness DVD Review Todd Solondz Happiness DVD Review Todd Solondz Happiness DVD Review Todd Solondz Happiness DVD Review Todd Solondz Happiness DVD Review Todd Solondz Happiness DVD Review Todd Solondz' - Happiness - DVD Review Todd Solondz Happiness DVD Review Todd Solondz Happiness DVD Review Todd Solondz Happiness DVD Review Todd Solondz Happiness DVD Review Todd Solondz Happiness DVD Review Todd Solondz Happiness DVD Review Todd Solondz Happiness DVD Review Todd Solondz Happiness DVD Review Todd Solondz Happiness DVD Review Todd Solondz' - Happiness - DVD Review Todd Solondz Happiness DVD Review Todd Solondz Happiness DVD Review Todd Solondz Happiness DVD Review Todd Solondz Happiness DVD Review Todd Solondz Happiness DVD Review Todd Solondz Happiness DVD Review Todd Solondz Happiness DVD Review Todd Solondz Happiness DVD Review Todd Solondz Happiness DVD Review Todd Solondz' - Happiness - DVD Review Todd Solondz Happiness DVD Review Todd Solondz Happiness DVD Review Todd Solondz Happiness DVD Review Todd Solondz Happiness DVD Review Todd Solondz Happiness DVD Review Todd Solondz Happiness DVD Review Todd Solondz Happiness DVD Review Todd Solondz Happiness DVD Review Todd Solondz Happiness DVD Review Todd Solondz' - Happiness - DVD Review Todd Solondz Happiness DVD Review Todd Solondz Happiness DVD Review Todd Solondz Happiness DVD Review Todd Solondz Happiness DVD Review Todd Solondz Happiness DVD Review Todd Solondz Happiness DVD Review Todd Solondz Happiness DVD Review Todd Solondz Happiness DVD Review Todd Solondz Happiness DVD Review Todd Solondz' - Happiness - DVD Review Todd Solondz Happiness DVD Review Todd Solondz Happiness DVD Review Todd Solondz Happiness DVD Review Todd Solondz Happiness DVD Review Todd Solondz Happiness DVD Review Todd Solondz Happiness DVD Review Todd Solondz Happiness DVD Review Todd Solondz Happiness DVD Review Todd Solondz Happiness DVD Review Todd Solondz' - Happiness - DVD Review Todd Solondz Happiness DVD Review Todd Solondz Happiness DVD Review Todd Solondz Happiness DVD Review Todd Solondz Happiness DVD Review Todd Solondz Happiness DVD Review Todd Solondz Happiness DVD Review Todd Solondz Happiness DVD Review Todd Solondz Happiness DVD Review Todd Solondz Happiness DVD Review Todd Solondz' - Happiness - DVD Review Todd Solondz Happiness DVD Review Todd Solondz Happiness DVD Review Todd Solondz Happiness DVD Review Todd Solondz Happiness DVD Review Todd Solondz Happiness DVD Review Todd Solondz Happiness DVD Review Todd Solondz Happiness DVD Review Todd Solondz Happiness DVD Review Todd Solondz Happiness DVD Review Todd Solondz' - Happiness - DVD Review Todd Solondz Happiness DVD Review Todd Solondz Happiness DVD Review Todd Solondz Happiness DVD Review Todd Solondz Happiness DVD Review Todd Solondz Happiness DVD Review Todd Solondz Happiness DVD Review Todd Solondz Happiness DVD Review Todd Solondz Happiness DVD Review Todd Solondz Happiness DVD Review Todd Solondz' - Happiness - DVD Review Todd Solondz Happiness DVD Review Todd Solondz Happiness DVD Review Todd Solondz Happiness DVD Review Todd Solondz Happiness DVD Review Todd Solondz Happiness DVD Review Todd Solondz Happiness DVD Review Todd Solondz Happiness DVD Review Todd Solondz Happiness DVD Review Todd Solondz Happiness DVD Review Todd Solondz' - Happiness - DVD Review Todd Solondz Happiness DVD Review Todd Solondz Happiness DVD Review Todd Solondz Happiness DVD Review Todd Solondz Happiness DVD Review Todd Solondz Happiness DVD Review Todd Solondz Happiness DVD Review Todd Solondz Happiness DVD Review Todd Solondz Happiness DVD Review Todd Solondz Happiness DVD Review Todd Solondz' - Happiness - DVD Review Todd Solondz Happiness DVD Review Todd Solondz Happiness DVD Review Todd Solondz Happiness DVD Review Todd Solondz Happiness DVD Review Todd Solondz Happiness DVD Review Todd Solondz Happiness DVD Review Todd Solondz Happiness DVD Review Todd Solondz Happiness DVD Review Todd Solondz Happiness DVD Review Todd Solondz' - Happiness - DVD Review Todd Solondz Happiness DVD Review Todd Solondz Happiness DVD Review Todd Solondz Happiness DVD Review Todd Solondz Happiness DVD Review Todd Solondz Happiness DVD Review Todd Solondz Happiness DVD Review Todd Solondz Happiness DVD Review Todd Solondz Happiness DVD Review Todd Solondz Happiness DVD Review Todd Solondz' - Happiness - DVD Review Todd Solondz Happiness DVD Review Todd Solondz Happiness DVD Review Todd Solondz Happiness DVD Review Todd Solondz Happiness DVD Review Todd Solondz Happiness DVD Review Todd Solondz Happiness DVD Review Todd Solondz Happiness DVD Review Todd Solondz Happiness DVD Review Todd Solondz Happiness DVD Review Todd Solondz' - Happiness - DVD Review Todd Solondz Happiness DVD Review Todd Solondz Happiness DVD Review Todd Solondz Happiness DVD Review Todd Solondz Happiness DVD Review Todd Solondz Happiness DVD Review Todd Solondz Happiness DVD Review Todd Solondz Happiness DVD Review Todd Solondz Happiness DVD Review Todd Solondz Happiness DVD Review Todd Solondz' - Happiness - DVD Review Todd Solondz Happiness DVD Review Todd Solondz Happiness DVD Review Todd Solondz Happiness DVD Review Todd Solondz Happiness DVD Review Todd Solondz Happiness DVD Review Todd Solondz Happiness DVD Review Todd Solondz Happiness DVD Review Todd Solondz Happiness DVD Review Todd Solondz Happiness DVD Review Todd Solondz' - Happiness - DVD Review Todd Solondz Happiness DVD Review Todd Solondz Happiness DVD Review Todd Solondz Happiness DVD Review Todd Solondz Happiness DVD Review Todd Solondz Happiness DVD Review Todd Solondz Happiness DVD Review Todd Solondz Happiness DVD Review Todd Solondz Happiness DVD Review Todd Solondz Happiness DVD Review Todd Solondz' - Happiness - DVD Review Todd Solondz Happiness DVD Review Todd Solondz Happiness DVD Review Todd Solondz Happiness DVD Review Todd Solondz Happiness DVD Review Todd Solondz Happiness DVD Review Todd Solondz Happiness DVD Review Todd Solondz Happiness DVD Review Todd Solondz Happiness DVD Review Todd Solondz Happiness DVD Review