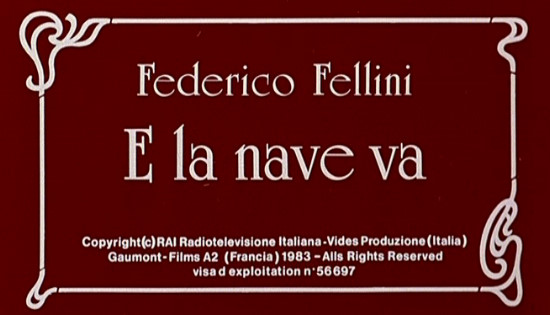 (aka 'And the Ship Sails On" or "Et vogue le navire')
In Fellini's quirky, imaginative fable, a motley crew of European aristocrats (and a lovesick rhinoceros!) board a luxurious ocean liner on the eve of World War I to scatter the ashes of a beloved diva. Fabricated entirely in Rome's famed Cinecittą studios, And the Ship Sails On (E la nave va) reaches spectacular new visual heights with its stylized re-creation of a decadent bygone era.
Posters
Theatrical Release: September 10th, 1983 - Venice Film Festival
Reviews More Reviews DVD Reviews
DVD Review: Criterion - Region 0 - NTSC
DVD Box Cover

CLICK to order from:

Distribution
Criterion Collection - Spine # 50 - Region 0 - NTSC
Runtime
2:08:00
Video
1.83:1 Original Aspect Ratio
Average Bitrate: 7.27 mb/s
NTSC 720x480 29.97 f/s

NOTE: The Vertical axis represents the bits transferred per second. The Horizontal is the time in minutes.

Bitrate:

Audio
Italian (Dolby Digital 2.0)
Subtitles
English, None
Features

Release Information:
Criterion / Home Vision

Aspect Ratio:
Original aspect Ratio 1.83:1

Edition Details:

• 6-page liner notes with Fellini comments

DVD Release Date: September 28th, 1999
Keep Case
Chapters: 39
| | |
| --- | --- |
| Comments: | This is not one of Criterion's more sterling efforts. Weak image in many respects (non-anamorphic, black borders around image, thin, hazy etc...). Unusually bloated subtitles and no digital extras add to the mediocrity. I kind of rate this Criterion DVD as I do this Fellini film - in the lower half of their respective achievements. I'm not aware of a better transfer so for Fellini complete-ists (and yes, I am one) this is the one to buy at present. Being a relative lack of respect in Fellini's ouvre it may never come out in a superior digital versatile disc form. It is no masterpiece but you may wish to snap it up for its quirky charm. out of |
---
---
Subtitle Sample
Screen Captures
---
---
Recommended Books on Federico Fellini (CLICK COVERS or TITLES for more information)
DVD Box Cover

CLICK to order from:

Distribution
Criterion Collection - Spine # 50 - Region 0 - NTSC





DONATIONS Keep DVDBeaver alive and advertisement free:
Mail cheques, money orders, cash to: or CLICK PayPal logo to donate!
Thank You!
E la nave va Federico Fellini And the Ship Sails On Criterion DVD Review E la nave va Federico Fellini And the Ship Sails On Criterion DVD Review E la nave va Federico Fellini And the Ship Sails On Criterion DVD Review E la nave va Federico Fellini And the Ship Sails On Criterion DVD Review E la nave va Federico Fellini And the Ship Sails On Criterion DVD Review E la nave va Federico Fellini And the Ship Sails On Criterion DVD Review E la nave va Federico Fellini And the Ship Sails On Criterion DVD Review E la nave va Federico Fellini And the Ship Sails On Criterion DVD Review E la nave va Federico Fellini And the Ship Sails On Criterion DVD Review E la nave va Federico Fellini And the Ship Sails On Criterion DVD Review E la nave va Federico Fellini And the Ship Sails On Criterion DVD Review E la nave va Federico Fellini And the Ship Sails On Criterion DVD Review E la nave va Federico Fellini And the Ship Sails On Criterion DVD Review E la nave va Federico Fellini And the Ship Sails On Criterion DVD Review E la nave va Federico Fellini And the Ship Sails On Criterion DVD Review E la nave va Federico Fellini And the Ship Sails On Criterion DVD Review E la nave va Federico Fellini And the Ship Sails On Criterion DVD Review E la nave va Federico Fellini And the Ship Sails On Criterion DVD Review E la nave va Federico Fellini And the Ship Sails On Criterion DVD Review E la nave va Federico Fellini And the Ship Sails On Criterion DVD Review E la nave va Federico Fellini And the Ship Sails On Criterion DVD Review E la nave va Federico Fellini And the Ship Sails On Criterion DVD Review E la nave va Federico Fellini And the Ship Sails On Criterion DVD Review E la nave va Federico Fellini And the Ship Sails On Criterion DVD Review E la nave va Federico Fellini And the Ship Sails On Criterion DVD Review E la nave va Federico Fellini And the Ship Sails On Criterion DVD Review E la nave va Federico Fellini And the Ship Sails On Criterion DVD Review E la nave va Federico Fellini And the Ship Sails On Criterion DVD Review E la nave va Federico Fellini And the Ship Sails On Criterion DVD Review E la nave va Federico Fellini And the Ship Sails On Criterion DVD Review E la nave va Federico Fellini And the Ship Sails On Criterion DVD Review E la nave va Federico Fellini And the Ship Sails On Criterion DVD Review E la nave va Federico Fellini And the Ship Sails On Criterion DVD Review E la nave va Federico Fellini And the Ship Sails On Criterion DVD Review E la nave va Federico Fellini And the Ship Sails On Criterion DVD Review E la nave va Federico Fellini And the Ship Sails On Criterion DVD Review E la nave va Federico Fellini And the Ship Sails On Criterion DVD Review E la nave va Federico Fellini And the Ship Sails On Criterion DVD Review E la nave va Federico Fellini And the Ship Sails On Criterion DVD Review E la nave va Federico Fellini And the Ship Sails On Criterion DVD Review E la nave va Federico Fellini And the Ship Sails On Criterion DVD Review E la nave va Federico Fellini And the Ship Sails On Criterion DVD Review E la nave va Federico Fellini And the Ship Sails On Criterion DVD Review E la nave va Federico Fellini And the Ship Sails On Criterion DVD Review E la nave va Federico Fellini And the Ship Sails On Criterion DVD Review E la nave va Federico Fellini And the Ship Sails On Criterion DVD Review E la nave va Federico Fellini And the Ship Sails On Criterion DVD Review E la nave va Federico Fellini And the Ship Sails On Criterion DVD Review E la nave va Federico Fellini And the Ship Sails On Criterion DVD Review E la nave va Federico Fellini And the Ship Sails On Criterion DVD Review E la nave va Federico Fellini And the Ship Sails On Criterion DVD Review E la nave va Federico Fellini And the Ship Sails On Criterion DVD Review E la nave va Federico Fellini And the Ship Sails On Criterion DVD Review E la nave va Federico Fellini And the Ship Sails On Criterion DVD Review E la nave va Federico Fellini And the Ship Sails On Criterion DVD Review E la nave va Federico Fellini And the Ship Sails On Criterion DVD Review E la nave va Federico Fellini And the Ship Sails On Criterion DVD Review E la nave va Federico Fellini And the Ship Sails On Criterion DVD Review E la nave va Federico Fellini And the Ship Sails On Criterion DVD Review E la nave va Federico Fellini And the Ship Sails On Criterion DVD Review E la nave va Federico Fellini And the Ship Sails On Criterion DVD Review E la nave va Federico Fellini And the Ship Sails On Criterion DVD Review E la nave va Federico Fellini And the Ship Sails On Criterion DVD Review E la nave va Federico Fellini And the Ship Sails On Criterion DVD Review E la nave va Federico Fellini And the Ship Sails On Criterion DVD Review E la nave va Federico Fellini And the Ship Sails On Criterion DVD Review E la nave va Federico Fellini And the Ship Sails On Criterion DVD Review E la nave va Federico Fellini And the Ship Sails On Criterion DVD Review E la nave va Federico Fellini And the Ship Sails On Criterion DVD Review E la nave va Federico Fellini And the Ship Sails On Criterion DVD Review E la nave va Federico Fellini And the Ship Sails On Criterion DVD Review E la nave va Federico Fellini And the Ship Sails On Criterion DVD Review E la nave va Federico Fellini And the Ship Sails On Criterion DVD Review E la nave va Federico Fellini And the Ship Sails On Criterion DVD Review E la nave va Federico Fellini And the Ship Sails On Criterion DVD Review E la nave va Federico Fellini And the Ship Sails On Criterion DVD Review E la nave va Federico Fellini And the Ship Sails On Criterion DVD Review E la nave va Federico Fellini And the Ship Sails On Criterion DVD Review E la nave va Federico Fellini And the Ship Sails On Criterion DVD Review E la nave va Federico Fellini And the Ship Sails On Criterion DVD Review E la nave va Federico Fellini And the Ship Sails On Criterion DVD Review E la nave va Federico Fellini And the Ship Sails On Criterion DVD Review E la nave va Federico Fellini And the Ship Sails On Criterion DVD Review E la nave va Federico Fellini And the Ship Sails On Criterion DVD Review E la nave va Federico Fellini And the Ship Sails On Criterion DVD Review E la nave va Federico Fellini And the Ship Sails On Criterion DVD Review E la nave va Federico Fellini And the Ship Sails On Criterion DVD Review E la nave va Federico Fellini And the Ship Sails On Criterion DVD Review E la nave va Federico Fellini And the Ship Sails On Criterion DVD Review E la nave va Federico Fellini And the Ship Sails On Criterion DVD Review E la nave va Federico Fellini And the Ship Sails On Criterion DVD Review E la nave va Federico Fellini And the Ship Sails On Criterion DVD Review E la nave va Federico Fellini And the Ship Sails On Criterion DVD Review E la nave va Federico Fellini And the Ship Sails On Criterion DVD Review E la nave va Federico Fellini And the Ship Sails On Criterion DVD Review E la nave va Federico Fellini And the Ship Sails On Criterion DVD Review E la nave va Federico Fellini And the Ship Sails On Criterion DVD Review E la nave va Federico Fellini And the Ship Sails On Criterion DVD Review E la nave va Federico Fellini And the Ship Sails On Criterion DVD Review E la nave va Federico Fellini And the Ship Sails On Criterion DVD Review E la nave va Federico Fellini And the Ship Sails On Criterion DVD Review E la nave va Federico Fellini And the Ship Sails On Criterion DVD Review E la nave va Federico Fellini And the Ship Sails On Criterion DVD Review E la nave va Federico Fellini And the Ship Sails On Criterion DVD Review E la nave va Federico Fellini And the Ship Sails On Criterion DVD Review E la nave va Federico Fellini And the Ship Sails On Criterion DVD Review E la nave va Federico Fellini And the Ship Sails On Criterion DVD Review E la nave va Federico Fellini And the Ship Sails On Criterion DVD Review