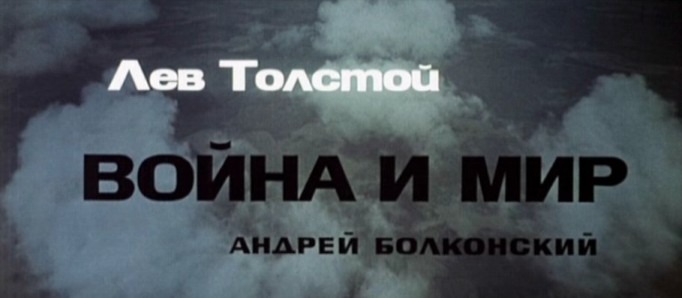 ( aka 'War and Peace', "Voina I Mir" )
directed by Sergei Bondarchuk
Soviet Union 1967

"This gigantic motion picture epic, based on the novel of the same name by the great Russian writer Leo Tolstoy, has won worldwide critical acclaim. For the shooting of the film's battle scenes, such as the Battle of Borodino or the 1812 Moscow fire, a regular army was mustered into service, as well as a specially created cavalry regiment. Over 12,000 soldiers participated as extras in the crowd scenes. More than 35,000 costumes were made for the production.
The details of 19th-century Russia's everyday life, the period costumes, society and its traditions, the psychological characteristics and the heroism of the people, the glory of Russian arms – all this attracts the viewer not less than the love story of the delightful Natasha Rostova and the Prince Andrei Bolkonsky."
DVD Comparison:
Ruscico Region 0 - NTSC (with PAL speed-up) vs. Kultur - Region 1 - NTSC
All screenshots courtesy of Ashirg. Thanks Gregory!
(RusCiCo - R0 - NTSC - LEFT vs. Kultur - R1 - NTSC - RIGHT)
DVD Box Covers

NOTE: Purchases through DVDBeaver's links to Amazon help keep us afloat and advertisement free!
Distribution

RusCiCo

Region 0 - NTSC

Kultur
Region 1 - NTSC
Runtime
Approx. 403 minutes ( 6 hours 43 minutes )
Approx. ( 6 hours 39 minutes ) ?
Video

2.30:1.00 Letterboxed WideScreen / 16X9 enhanced
NTSC 720x480 29.97 f/s

1.33:1 Cropped Aspect Ratio
NTSC 720x480 29.97 f/s

Audio
Russian, English, French (Dolby Digital 5.1 )

Russian (Dolby Digital 2.0 Stereo)

Subtitles

Russian, English, French, German, Dutch, Portuguese, Spanish, Italian, Swedish, Greek, Japanese, Chinese, Arabic, Herbew, None

English (non-removable)
Features
Release Information:
Studio: Mosfilm / through RusCiCo ( Russian Cinema Council )
Theatrical Release Date: January 1, 1967


Aspect Ratio:
Widescreen anamorphic - 2.30:1

Edition Details: on Disc 5:
• Cast & crew interviews
• Interview with the President of Mosfilm Studio K. Shakhnazarov
• Documentary films about Sergei Bondarchuk and Leo Tolstoy
• "Making of…"
• Photo album


DVD Release Date: 2nd Quarter 2003
Keep Case
Chapters: Disc 1- 22, Disc 2 -13, Disc 3 - 13, Disc 4 - 20


Release Information:
Studio: Kultur
Theatrical Release Date: January 1, 1967
DVD Release Date: October 29, 2002
Run Time: 403 minutes
Production Company: kultur
Package Type: Box Set


Aspect Ratio:
Full Screen (Standard) - 1.33:1


Edition Details:
• In Russian with English subtitles
• Sergei Bondarchuk biography and filmography
• Leo Tolstoy biography
• Full-screen format

DVD Release Date: October 29, 2002
Box Set

Chapters ?

Comments:
To crop a 2.30:1 film to 1.33:1 is tantamount to making an entirely different motion picture. The Kultur Region 1 DVD bears no resemblance to the RusCiCo. The Kultur has burned in subs and minimal extras in comparison. I am so surprised that someone took the trouble to do this and put it in a Boxset. As far as I am concerned the Kultur DVD is a joke of mammoth proportions. - Gary W. Tooze
---



DVD Menus
(RusCiCo - R0 - NTSC - LEFT vs. Kultur - R1 - NTSC - RIGHT)
---
Screen Captures
(RusCiCo - R0 - NTSC - TOP vs. Kultur - R1 - NTSC - BOTTOM)
---
(RusCiCo - R0 - NTSC - TOP vs. Kultur - R1 - NTSC - BOTTOM)
---
(RusCiCo - R0 - NTSC - TOP vs. Kultur - R1 - NTSC - BOTTOM)
---
(RusCiCo - R0 - NTSC - TOP vs. Kultur - R1 - NTSC - BOTTOM)
---
(RusCiCo - R0 - NTSC - TOP vs. Kultur - R1 - NTSC - BOTTOM)
---
---
Report Card: