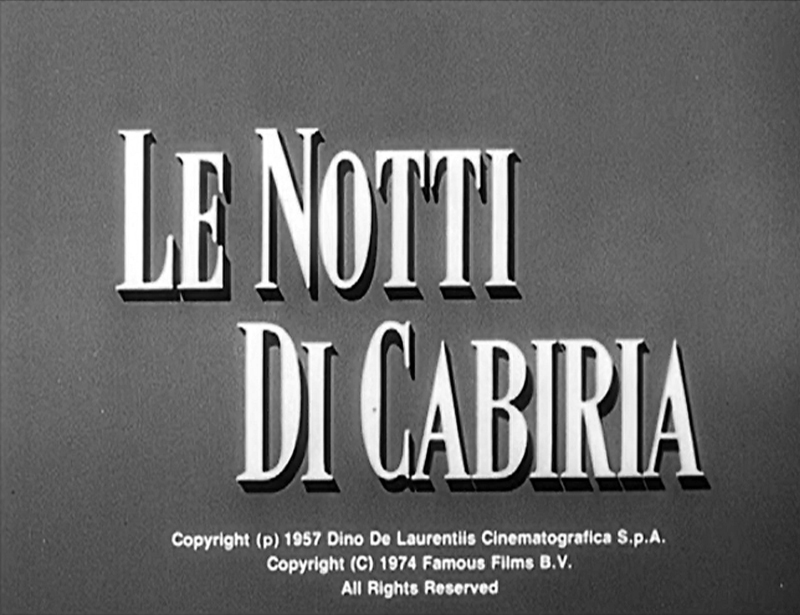 (aka "Cabiria" or "Nights of Cabiria" or "Les Nuits de Cabiria")
The Blu-ray of Nights of Cabiria is compared to these DVDs HERE
Giulietta Masina won Best Actress at Cannes as the title character of one of Fellini's most haunting films. Oscar winner for Best Foreign Language Film, Nights of Cabiria (Le Notti di Cabiria) is the tragic story of a naive prostitute searching for true love in the seediest sections of Rome.
***
Cabiria (Giulietta Masina) is a prostitute - protecting herself whilst eking out an existence in the gutters of Rome. She is also a painted caricature (not unlike Chaplin's little tramp - sporting an umbrella instead of bamboo cane). She exhibits wild emotions and waif like tantrums. She is seeking something... perhaps an inner meaning to her existence. She cries in church but is confused why. She happens into a performance of a hypnotist, and is reluctantly persuaded onstage. In the film's most unusual scene she is put "under" resulting in an embodiment of her true self . Through this miraculous transition are we able to gaze through the hard shell and determine that underneath she is but a child survivor. Her trance helps reveal her trusting nature, innocence and sweetness. Her naiveté deludes her into believing a man will complete her deeply personal inquiry that she is oblivious to comprehending. Regardless of how often life has let her down, she bounces back - she is loveable and our empathy actually becomes the films enduring message - as compassionate as any cinema I have ever seen. Days after your first viewing of Nights of Cabiria - you will repeatedly think of her. Your concern for her will feel quite real and lasting.
Posters
Theatrical Release: 10 May 1957
Reviews More Reviews DVD Reviews
DVD Comparison:
Criterion Collection Spine # 49 - Region 0 - NTSC vs. Umbrella Entertainment - Region 0 - NTSC
Big thanks to Gary Tooze and Eric Cotenas for the Screen Caps!
(Criterion Collection Spine # 49 - Region 0 - NTSC - LEFT vs. Umbrella Entertainment - Region 0 - NTSC - RIGHT)
DVD Box Covers

Distribution

Criterion Collection Spine # 49 Region 0 - NTSC

Umbrella Entertainment
Region 0 - NTSC
Runtime
1:57:48
1:57:36
Video

1.33:1 Original Aspect Ratio
Average Bitrate: 7.28 mb/s
NTSC 720x576 25.00 f/s

1.33:1 Original Aspect Ratio
Average Bitrate: 6.96 mb/s
NTSC 720x480 29.97 f/s

NOTE: The Vertical axis represents the bits transferred per second. The Horizontal is the time in minutes.

Bitrate:

Criterion Collection Spine # 49

Bitrate:

Umbrella Entertainment

Audio
Italian Dolby Digital 2.0 mono; English Dolby Digital 2.0 mono

Italian Dolby Digital 2.0 mono

Subtitles
English, none
English, none
Features
Release Information:
Studio: Criterion Collection Spine # 49

Aspect Ratio:
Original aspect Ratio 1.33:1

Edition Details:

• Exclusive video interview with former Fellini assistant Dominique Delouche
• Audio interview with producer Dino De Laurentiis (3:40)
• The original and re-release theatrical trailers
• Excerpt from Fellini's The White Sheik, in which Masina makes her first appearance as Cabiria
• Restoration demonstration (6:19)

• Liner Notes - excerpt from I, Fellini

DVD Release Date: September 7th, 1999
Keep Case
Chapters: 24

Release Information:
Studio: Umbrella Entertainment

Aspect Ratio:
Fullscreen - 1.33:1

Edition Details:
• none


DVD Release Date: 2018
Amaray

Chapters 24
Comments

The Blu-ray of Nights of Cabiria is compared to these DVDs HERE

The newer Umbrella DVD in Region 0 - in the NTSC standard and has the same running time as the 'director's cut' Criterion. It is horizontally compressed with thinner faces and the Criterion looks more correct to me. The Aussie SD also shares the digitization issues that plagued the Criterion with both mild DNR and some edge-enhancement (see zoomed-in capture below). It has no menus or extras and starts with a 'Canal' logo followed by a 'La Paramount Prestenta' logo. Still worth owning to see the film as the Criterion is out-of-print and fetching big bucks.

This is my personal #1 request for Blu-ray treatment. I see it as Fellini's most impacting work and as the best film not to be in the 1080P format, yet. My suspicions are that the sources are in imperfect condition and it requites an extensive film-level restoration, although I seem to recall hearing something about that. Let's hope for a Nights of Cabiria Blu-ray soon!!

***

As stated on the Criterion box; "This new digital transfer was created from the restored 35mm dupe negative. The sound was created from the restored digital soundtrack. These new master elements were created through extensive replacement of damaged frames in the original negative and resynchronization of the restored sound." Looking at the Restoration Demonstration offered as an extra you can see the huge difference this cleaned print has made. Solid extras with the Dominique Delouche interview as the highlight.
---
Criterion Collection Spine # 49 - Region 0 - NTSC Menus
Umbrella Entertainment - Region 0 - NTSC starting logos
---
Screen Captures
(Criterion Collection Spine # 49 - Region 0 - NTSC - TOP vs. Umbrella Entertainment - Region 0 - NTSC - BOTTOM)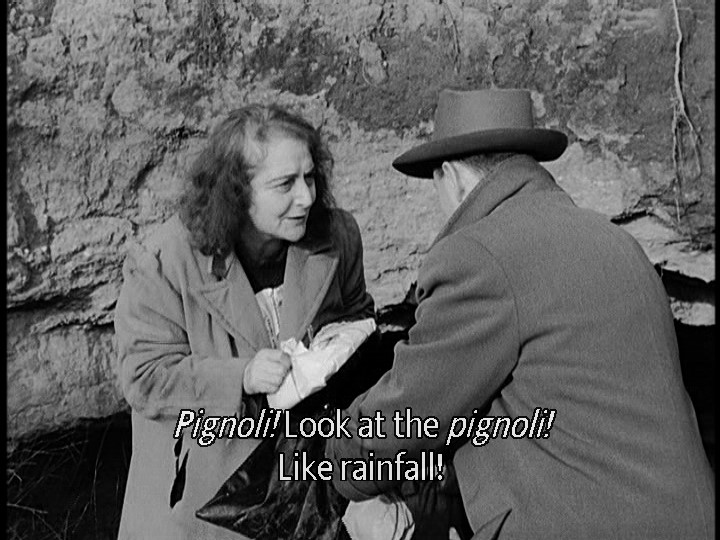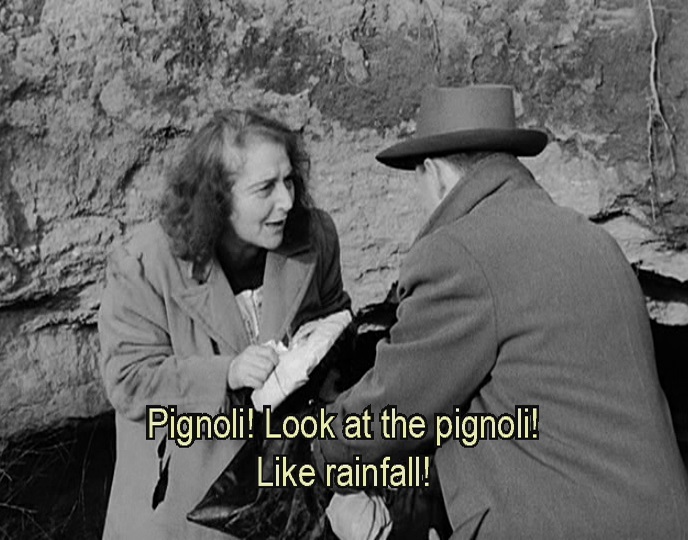 ---
(Criterion Collection Spine # 49 - Region 0 - NTSC - TOP vs. Umbrella Entertainment - Region 0 - NTSC - BOTTOM)
---
(Criterion Collection Spine # 49 - Region 0 - NTSC - TOP vs. Umbrella Entertainment - Region 0 - NTSC - BOTTOM)
---
(Criterion Collection Spine # 49 - Region 0 - NTSC - TOP vs. Umbrella Entertainment - Region 0 - NTSC - BOTTOM)
---
(Criterion Collection Spine # 49 - Region 0 - NTSC - TOP vs. Umbrella Entertainment - Region 0 - NTSC - BOTTOM)
Edge enhancement halos - Both editions have digitization issues
---
(Criterion Collection Spine # 49 - Region 0 - NTSC - TOP vs. Umbrella Entertainment - Region 0 - NTSC - BOTTOM)
---
(Criterion Collection Spine # 49 - Region 0 - NTSC - TOP vs. Umbrella Entertainment - Region 0 - NTSC - BOTTOM)
---
(Criterion Collection Spine # 49 - Region 0 - NTSC - TOP vs. Umbrella Entertainment - Region 0 - NTSC - BOTTOM)
---
(Criterion Collection Spine # 49 - Region 0 - NTSC - TOP vs. Umbrella Entertainment - Region 0 - NTSC - BOTTOM)
---
Report Card: