At a time when many cineasts are beginning to respond to the beauties of Powell and Pressburger's "
Gone to Earth
", Wyler's "
Carrie
", that other most underrated masterpiece, continues to attract too little appreciative attention. It is not difficult to see why insofar that its depressing subject material is incompatible with audience expectations of its genre, Hollywood studio romanticism. It has a hero who slides into despair and degradation whilst the heroine succeeds in her chosen profession as an aspiring actress. Women who take their handkerchiefs to the cinema have always seemed indifferent to the film: indeed the only admirers I have personally found have been male, possibly identifying with the debonaire restaurateur, Hurstwood (magnificently played by Laurence Olivier), sowing the seeds of his downfall through human weakness which destroys everything except his innate dignity. Had the film been set in its own period (mid 20th century) and directed by, say, a De Sica or Kurosawa, we might still be talking about it. Instead it is set shortly after the beginning of the century, a transitional period when the romantic past was rapidly being overcome by the grainy realism of a new mechanized age. However, far from being weakened by the genre conventions of a highly romantic approach, the superbly crafted direction by William Wyler, photography perfectly composed by Victor Milner and a wonderfully lyrical score by David Raksin are elements that serve to enhance the material. They never sentimentalize it, somehow proving that when as here the the Hollywood romantic cinema was given a really mature theme and text, it could, in the hands of some of its greatest craftsmen, be responsible for producing a work of the highest cinematic art.
Excerpt from John Simpson's review on IMdb located HERE
Posters
Theatrical Release: July 17th, 1952 - NY, NY
Reviews More Reviews DVD Reviews
DVD Review: Paramount Home Video - Region 1- NTSC
DVD Box Cover

CLICK to order from:

Distribution
Paramount Home Video - Region 1- NTSC
Runtime
2:01:24
Video
1.33:1 Original Aspect Ratio
Average Bitrate: 8.39 mb/s
NTSC 720x480 29.97 f/s

NOTE: The Vertical axis represents the bits transferred per second. The Horizontal is the time in minutes.

Bitrate:

Audio
English (Dolby Digital 2.0 Dolby)
Subtitles
English, None
Features

Release Information:
Studio: Paramount Home Video

Aspect Ratio:
Original aspect Ratio 1.33:1

Edition Details:

• none

DVD Release Date: January 25th, 2005
Double lock - Keep Case
Chapters: 17
| | |
| --- | --- |
| Comments: | Not much to say that the images can't tell you. Great detail, sublime black levels, excellent contrast, smidgeon of damage... but zero extras. Original audio and removable subtitles (well appointed). Being a huge Wyler and Jen Jones fan, I'd have bought this no matter what, but I think its about time that Paramount (innovator of the double-lock keep case) embraced the idea of some commentaries or extra features. This doesn't even have a trailer for gosh sakes.... but we do appreciate the stellar image. out of |
---
---
Subtitle Sample
Screen Captures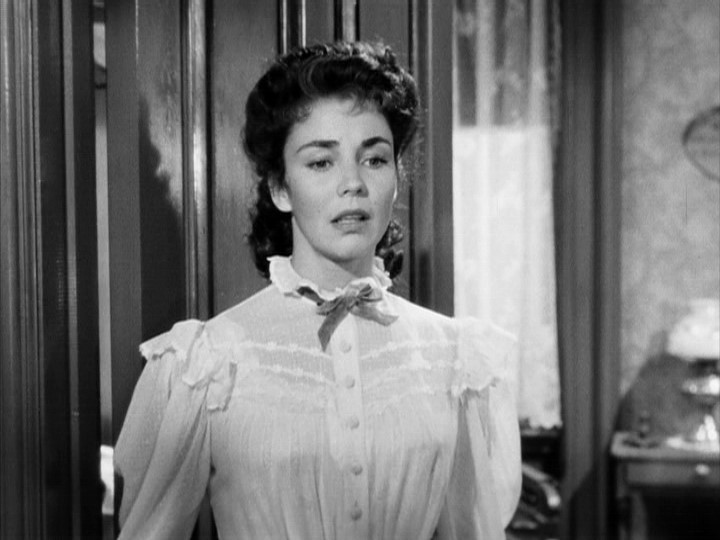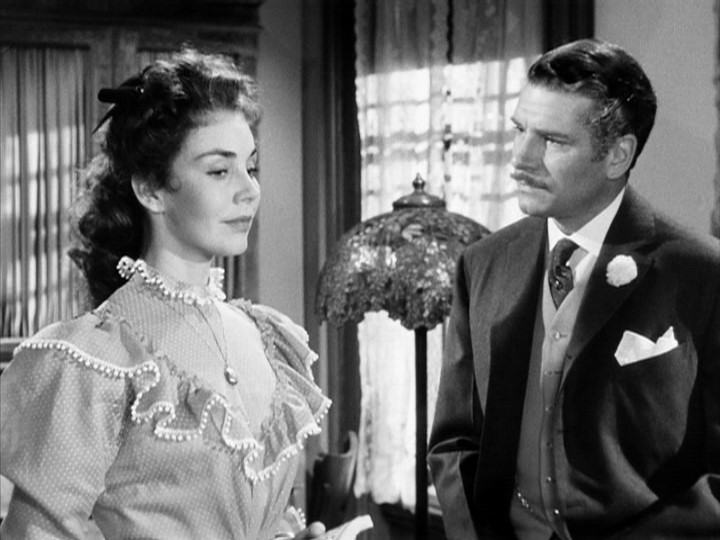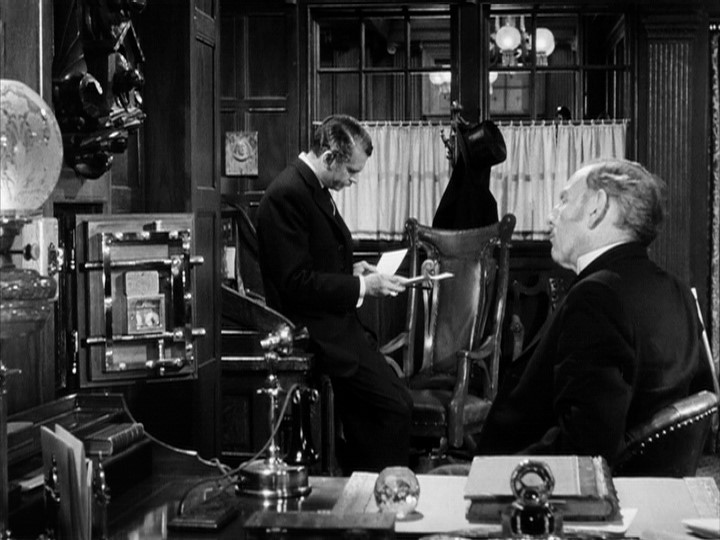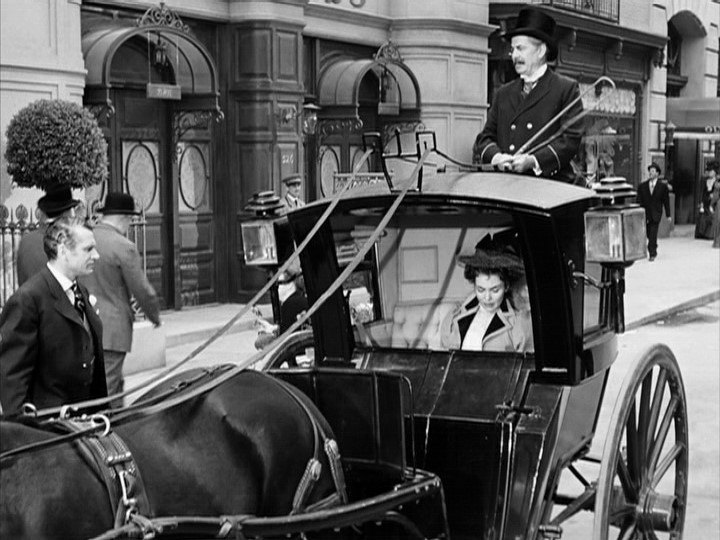 ---
---
DVD Box Cover

CLICK to order from:

Distribution
Paramount Home Video - Region 1- NTSC





| | |
| --- | --- |
| | S E A R C H D V D B e a v e r |















DONATIONS Keep DVDBeaver alive:
Mail cheques, money orders, cash to: or CLICK PayPal logo to donate!
William Wyler's - Carrie - DVD Review Laurence Olivier Jennifer Jones William Wyler Carrie DVD Review Laurence Olivier Jennifer Jones William Wyler Carrie DVD Review Laurence Olivier Jennifer Jones William Wyler Carrie DVD Review Laurence Olivier Jennifer Jones William Wyler Carrie DVD Review Laurence Olivier Jennifer Jones William Wyler Carrie DVD Review Laurence Olivier Jennifer Jones William Wyler Carrie DVD Review Laurence Olivier Jennifer Jones William Wyler Carrie DVD Review Laurence Olivier Jennifer Jones William Wyler's - Carrie - DVD Review Laurence Olivier Jennifer Jones William Wyler Carrie DVD Review Laurence Olivier Jennifer Jones William Wyler Carrie DVD Review Laurence Olivier Jennifer Jones William Wyler Carrie DVD Review Laurence Olivier Jennifer Jones William Wyler Carrie DVD Review Laurence Olivier Jennifer Jones William Wyler Carrie DVD Review Laurence Olivier Jennifer Jones William Wyler Carrie DVD Review Laurence Olivier Jennifer Jones William Wyler Carrie DVD Review Laurence Olivier Jennifer Jones William Wyler's - Carrie - DVD Review Laurence Olivier Jennifer Jones William Wyler Carrie DVD Review Laurence Olivier Jennifer Jones William Wyler Carrie DVD Review Laurence Olivier Jennifer Jones William Wyler Carrie DVD Review Laurence Olivier Jennifer Jones William Wyler Carrie DVD Review Laurence Olivier Jennifer Jones William Wyler Carrie DVD Review Laurence Olivier Jennifer Jones William Wyler Carrie DVD Review Laurence Olivier Jennifer Jones William Wyler Carrie DVD Review Laurence Olivier Jennifer Jones William Wyler's - Carrie - DVD Review Laurence Olivier Jennifer Jones William Wyler Carrie DVD Review Laurence Olivier Jennifer Jones William Wyler Carrie DVD Review Laurence Olivier Jennifer Jones William Wyler Carrie DVD Review Laurence Olivier Jennifer Jones William Wyler Carrie DVD Review Laurence Olivier Jennifer Jones William Wyler Carrie DVD Review Laurence Olivier Jennifer Jones William Wyler Carrie DVD Review Laurence Olivier Jennifer Jones William Wyler Carrie DVD Review Laurence Olivier Jennifer Jones William Wyler's - Carrie - DVD Review Laurence Olivier Jennifer Jones William Wyler Carrie DVD Review Laurence Olivier Jennifer Jones William Wyler Carrie DVD Review Laurence Olivier Jennifer Jones William Wyler Carrie DVD Review Laurence Olivier Jennifer Jones William Wyler Carrie DVD Review Laurence Olivier Jennifer Jones William Wyler Carrie DVD Review Laurence Olivier Jennifer Jones William Wyler Carrie DVD Review Laurence Olivier Jennifer Jones William Wyler Carrie DVD Review Laurence Olivier Jennifer Jones William Wyler's - Carrie - DVD Review Laurence Olivier Jennifer Jones William Wyler Carrie DVD Review Laurence Olivier Jennifer Jones William Wyler Carrie DVD Review Laurence Olivier Jennifer Jones William Wyler Carrie DVD Review Laurence Olivier Jennifer Jones William Wyler Carrie DVD Review Laurence Olivier Jennifer Jones William Wyler Carrie DVD Review Laurence Olivier Jennifer Jones William Wyler Carrie DVD Review Laurence Olivier Jennifer Jones William Wyler Carrie DVD Review Laurence Olivier Jennifer Jones William Wyler's - Carrie - DVD Review Laurence Olivier Jennifer Jones William Wyler Carrie DVD Review Laurence Olivier Jennifer Jones William Wyler Carrie DVD Review Laurence Olivier Jennifer Jones William Wyler Carrie DVD Review Laurence Olivier Jennifer Jones William Wyler Carrie DVD Review Laurence Olivier Jennifer Jones William Wyler Carrie DVD Review Laurence Olivier Jennifer Jones William Wyler Carrie DVD Review Laurence Olivier Jennifer Jones William Wyler Carrie DVD Review Laurence Olivier Jennifer Jones William Wyler's - Carrie - DVD Review Laurence Olivier Jennifer Jones William Wyler Carrie DVD Review Laurence Olivier Jennifer Jones William Wyler Carrie DVD Review Laurence Olivier Jennifer Jones William Wyler Carrie DVD Review Laurence Olivier Jennifer Jones William Wyler Carrie DVD Review Laurence Olivier Jennifer Jones William Wyler Carrie DVD Review Laurence Olivier Jennifer Jones William Wyler Carrie DVD Review Laurence Olivier Jennifer Jones William Wyler Carrie DVD Review Laurence Olivier Jennifer Jones William Wyler's - Carrie - DVD Review Laurence Olivier Jennifer Jones William Wyler Carrie DVD Review Laurence Olivier Jennifer Jones William Wyler Carrie DVD Review Laurence Olivier Jennifer Jones William Wyler Carrie DVD Review Laurence Olivier Jennifer Jones William Wyler Carrie DVD Review Laurence Olivier Jennifer Jones William Wyler Carrie DVD Review Laurence Olivier Jennifer Jones William Wyler Carrie DVD Review Laurence Olivier Jennifer Jones William Wyler Carrie DVD Review Laurence Olivier Jennifer Jones William Wyler's - Carrie - DVD Review Laurence Olivier Jennifer Jones William Wyler Carrie DVD Review Laurence Olivier Jennifer Jones William Wyler Carrie DVD Review Laurence Olivier Jennifer Jones William Wyler Carrie DVD Review Laurence Olivier Jennifer Jones William Wyler Carrie DVD Review Laurence Olivier Jennifer Jones William Wyler Carrie DVD Review Laurence Olivier Jennifer Jones William Wyler Carrie DVD Review Laurence Olivier Jennifer Jones William Wyler Carrie DVD Review Laurence Olivier Jennifer Jones William Wyler's - Carrie - DVD Review Laurence Olivier Jennifer Jones William Wyler Carrie DVD Review Laurence Olivier Jennifer Jones William Wyler Carrie DVD Review Laurence Olivier Jennifer Jones William Wyler Carrie DVD Review Laurence Olivier Jennifer Jones William Wyler Carrie DVD Review Laurence Olivier Jennifer Jones William Wyler Carrie DVD Review Laurence Olivier Jennifer Jones William Wyler Carrie DVD Review Laurence Olivier Jennifer Jones William Wyler Carrie DVD Review Laurence Olivier Jennifer Jones