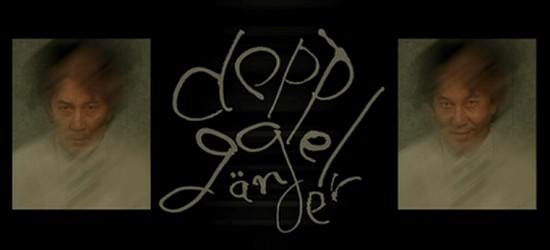 (aka 'Dopperugenga' or 'Doppelgänger' or 'Doppelganger')
directed by Kiyoshi Kurosawa
Japan 2003
Development of film project takes a certain discipline. It becomes too easy to 2nd guess your initial plans while in the middle of shooting. You might suppose that you are improving the overall presentation – you mentally challenge the existing script. "Should we add/delete a scene here?" This is why Hitchcock was considered 'The Master'. Absolutely every detail was fully story-boarded and prepared in advance and for him the boring part was the actual shooting. As few alternations as possible. Planning. This is the key.

Japanese latest psycho-thriller auteur, Kiyoshi Kurosawa, directed "Doppelganger" and expects us to swallow a lot: an unexplained premise and seemingly random plot shift matched to erratic characterizations. Unfortunately, I needed the Heimlich. I guess I didn't appreciate the unusual gear shift from his standard creep-festival film spiraling into a disjointed black comedy. This is appears to be what happened. Although I am not 100% sure.

A temperamental engineer/inventor (played by K. Kurosawa regular Koji Yakusho) is employed by an organization to develop a chair with mechanical arms. This would benefit a disabled person who could operate it from a strap attached behind their neck. In another storyline a young man has been seen in two locales at once… and in one he has committed suicide. His sister becomes suspicious, but later accepts the appearance of the similar double saying "I like him better than my real brother. At least he's not such a slacker". Now enter the inventor's double (appearing out of nowhere) – a real nasty piece of work. He is tending to screw up his better half's life – gets him fired – flirts and molests girls that he likes etc. Yeah, okay – not your usual story – but standard fare for Mr. Kurosawa. I lowered by suspension of disbelief and began to accept the first 50 minutes which were actually building well... and then it stops. Seemingly there was no script to continue and a 6 year old was deciding the plot advancement. I moderately liked Kurosawa's "Cure" and 'Pulse' even less so, but Doppelganger had absolutely no point to it... certainly not one that I could distinguish. True cynics' could have torn all the massive plot holes and incongruities apart at the seams. It seemed to spiral into a preposterous mess with smatterings of violence to keep the masses watching. I don't think I have ever seen a film fall flat on its face so abruptly. I defy anyone to explain or even remember all these meaningless instances (ex. how many times individuals got bashed over the noggin with a pipe or wrench?). I really don't think there was any organization in this production. You were expected to take the film seriously, and then the film decides not to take itself seriously. This is how I felt.

A la "The Boston Strangler" Kurosawa incorporates some occasional split screens into the film. Personally, I didn't find them particularly clever or purposeful. It came across as a cheap gimmick to possibly distract from the continually weakening narrative. Truly I must have missed some thing along the way. "Doppelganger" was moderately engaging at times but the occult issues never really evolved or where explained and any 'suspense' expressed itself as which bizarre incident would occur on screen next. If the director was going for something avant-garde, that's okay, but I feel like I've been suckered here. This is pointless trash. If you like films with random occult details and interspersed violence (both with no interconnected point) then this may be to your liking. If this is the future of Japanese cinema then there is something wrong. Very wrong.

out of

Theatrical Release: January 27th, 2003 - Tokyo
Reviews More Reviews DVD Reviews
DVD Review: Cinexus - Region 3- NTSC
Available at (CLICK LOGO):

DVD Box Cover

CLICK to order from our friends at:

Distribution
Cinexus - Region 3 - NTSC
Runtime
1:46:16
Video
1.78:1 Original Aspect Ratio
Average Bitrate: 4.92 mb/s
NTSC 720x480 29.97 f/s

NOTE: The Vertical axis represents the bits transferred per second. The Horizontal is the time in minutes.

Bitrate:

Audio
Japanese (Dolby Digital 5.1)
Subtitles
English, Korean, None
Features

Release Information:
Studio: Cinexus

Aspect Ratio:
Original aspect Ratio 1.78:1

Edition Details:

• Various Japanese Language Extras (with only Korean subtitles)

DVD Release Date: 2004
Transparent Keep Case inside slipcase
Chapters: 24

Comments:

This DVD has a good image and strong audio. The subtitles are also well done with only a few instances of improper grammar. I couldn't see any manipulation in the image. Bitrate is weak and menus are exceptional. Unfortunately there are a host of extras in Japanese with only Korean subtitles. Perhaps some of these director and cast interviews could have explained the film to me. out of
---
Recommended Reading for Japanese Film Fans (CLICK COVERS or TITLES for more information)
The Japan Journals : 1947-2004,

by Donald Richie

The Midnight Eye Guide to New Japanese Film
by Tom Mes and Jasper Sharp

Kon Ichikawa (Cinematheque Ontario Monographs)

by James Quandt, Cinematheque Ontario

Shohei Imamura (Cinematheque Ontario Monographs, No. 1)
by James Quandt
Eros Plus Massacre: An Introduction to the Japanese New Wave Cinema (Midland Book, Mb 469)
by David Desser
The Films of Akira Kurosawa by Donald Ritchie

by Yasujiro Ozu, Kogo Noda, Donald Richie, Eric Klestadt

Ozu by Donald Ritchie

A Hundred Years of Japanese Film by Donald Richie
Check out more in "The Library"
---



DVD Menus

---
Subtitle Sample
Screen Captures
---
---