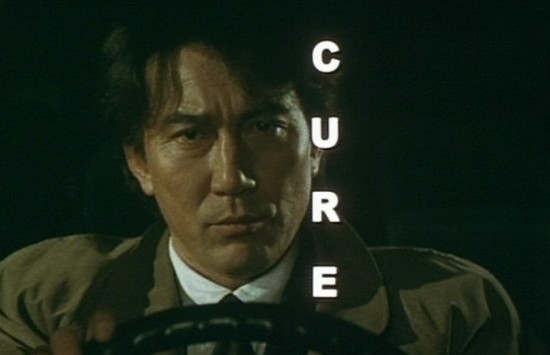 (aka "Kyua")
directed by Kiyoshi Kurosawa
Japan 1997
Probably the most appealing aspect of Kiyoshi Kurosawa's "Cure" is what it did NOT do - spoon feed the audience an excess of detail. There is so much inferred and left to your interpretation that the occult elements become that much more enhanced. Great horror/thriller stories often use your own imagination to create the most intense suspense and fear. Set in and around a barren, decaying Tokyo, a series of murders have been committed by seemingly average, ordinary people who claim to have had no control or explicit memory over their horrifying actions. Detective Kenichi Takabe (Koji Yakusho of Shall We Dance and Warm Water Under A Red Bridge) places his own sanity on the line as he tries to end the wave of unexplainable homicides which are linked with a large slash across the neck/chest of the victims in the shape of an "X". Is it a form of hypnosis from a strange amnesiac drifter?... or is it something deeper.
Japanese DVD Cover
Theatrical Release: November 6th, 1997 - Tokyo International Film Festival
Reviews More Reviews DVD Reviews
DVD Review: Home Vision - Region 1 - NTSC
DVD Box Cover

CLICK to order from:

Distribution
Home Vision - Region 1 - NTSC
Runtime
1:51:08
Video
1.78:1 Original Aspect Ratio
Average Bitrate: 7.68 mb/s
NTSC 720x480 29.97 f/s

NOTE: The Vertical axis represents the bits transferred per second. The Horizontal is the time in minutes.

Bitrate:

Audio
Japanese (Dolby Digital 2.0 Stereo)
Subtitles
English, None
Features
Release Information:
Studio: Home Vision Entertainment


Aspect Ratio:
Widescreen anamorphic - 1.85:1



DVD Release Date: January 6th, 2004
Keep Case
Chapters: 25

Edition Details:


• 16x9 digital transfer
• 2.0 stereo
• 20-minute interview with director Kiyoshi Kurosawa
• filmography
• Liner notes by Tom Mes, founder of midnighteye.com
• Original theatrical trailer
• New subtitles
• 1.85:1 aspect ratio
| | |
| --- | --- |
| Comments: | Solid work from Home Vision on an acutely interesting film. Clear anamorphic image with very few flaws. Colors are bright although seem a trifle inconsistent (beach scenes) at times. Sound is sharp and audible. Good contrast and Home Vision kept it visible even though it is a very dark film. Subtitles appear well translated. For the film and HomeVision bringing this to DVD, I give this out of |
---

DVD Menus
---
Subtitle Sample
Screen Captures
---
---
DVD Box Cover

CLICK to order from:

Distribution
Home Vision - Region 1 - NTSC
Recommended Reading (CLICK COVERS or TITLES for more information)





DONATIONS Keep DVDBeaver alive and advertisement free:
Mail cheques, money orders, cash to: or CLICK PayPal logo to donate!
Kiyoshi Kurosawa's Cure - Home Vision - Region 1 - NTSC - Kyua DVD Review Kiyoshi Kurosawa Cure Kyua DVD Review Kiyoshi Kurosawa Cure Kyua DVD Review Kiyoshi Kurosawa Cure Kyua DVD Review Kiyoshi Kurosawa Cure Kyua DVD Review Kiyoshi Kurosawa Cure Kyua DVD Review Kiyoshi Kurosawa Cure Kyua DVD Review Kiyoshi Kurosawa Cure Kyua DVD Review Kiyoshi Kurosawa Cure Kyua DVD Review Kiyoshi Kurosawa Cure Kyua DVD Review Kiyoshi Kurosawa Cure Kyua DVD Review Kiyoshi Kurosawa Cure Kyua DVD Review Kiyoshi Kurosawa Cure Kyua DVD Review Kiyoshi Kurosawa Cure Kyua DVD Review Kiyoshi Kurosawa Cure Kiyoshi Kurosawa's Cure - Home Vision - Region 1 - NTSC - Kyua DVD Review Kiyoshi Kurosawa Cure Kyua DVD Review Kiyoshi Kurosawa Cure Kyua DVD Review Kiyoshi Kurosawa Cure Kyua DVD Review Kiyoshi Kurosawa Cure Kyua DVD Review Kiyoshi Kurosawa Cure Kyua DVD Review Kiyoshi Kurosawa Cure Kyua DVD Review Kiyoshi Kurosawa Cure Kyua DVD Review Kiyoshi Kurosawa Cure Kyua DVD Review Kiyoshi Kurosawa Cure Kyua DVD Review Kiyoshi Kurosawa Cure Kyua DVD Review Kiyoshi Kurosawa Cure Kyua DVD Review Kiyoshi Kurosawa Cure Kyua DVD Review Kiyoshi Kurosawa Cure Kyua DVD Review Kiyoshi Kurosawa Cure Kiyoshi Kurosawa's Cure - Home Vision - Region 1 - NTSC - Kyua DVD Review Kiyoshi Kurosawa Cure Kyua DVD Review Kiyoshi Kurosawa Cure Kyua DVD Review Kiyoshi Kurosawa Cure Kyua DVD Review Kiyoshi Kurosawa Cure Kyua DVD Review Kiyoshi Kurosawa Cure Kyua DVD Review Kiyoshi Kurosawa Cure Kyua DVD Review Kiyoshi Kurosawa Cure Kyua DVD Review Kiyoshi Kurosawa Cure Kyua DVD Review Kiyoshi Kurosawa Cure Kyua DVD Review Kiyoshi Kurosawa Cure Kyua DVD Review Kiyoshi Kurosawa Cure Kyua DVD Review Kiyoshi Kurosawa Cure Kyua DVD Review Kiyoshi Kurosawa Cure Kyua DVD Review Kiyoshi Kurosawa Cure Kiyoshi Kurosawa's Cure - Home Vision - Region 1 - NTSC - Kyua DVD Review Kiyoshi Kurosawa Cure Kyua DVD Review Kiyoshi Kurosawa Cure Kyua DVD Review Kiyoshi Kurosawa Cure Kyua DVD Review Kiyoshi Kurosawa Cure Kyua DVD Review Kiyoshi Kurosawa Cure Kyua DVD Review Kiyoshi Kurosawa Cure Kyua DVD Review Kiyoshi Kurosawa Cure Kyua DVD Review Kiyoshi Kurosawa Cure Kyua DVD Review Kiyoshi Kurosawa Cure Kyua DVD Review Kiyoshi Kurosawa Cure Kyua DVD Review Kiyoshi Kurosawa Cure Kyua DVD Review Kiyoshi Kurosawa Cure Kyua DVD Review Kiyoshi Kurosawa Cure Kyua DVD Review Kiyoshi Kurosawa Cure Kiyoshi Kurosawa's Cure - Home Vision - Region 1 - NTSC - Kyua DVD Review Kiyoshi Kurosawa Cure Kyua DVD Review Kiyoshi Kurosawa Cure Kyua DVD Review Kiyoshi Kurosawa Cure Kyua DVD Review Kiyoshi Kurosawa Cure Kyua DVD Review Kiyoshi Kurosawa Cure Kyua DVD Review Kiyoshi Kurosawa Cure Kyua DVD Review Kiyoshi Kurosawa Cure Kyua DVD Review Kiyoshi Kurosawa Cure Kyua DVD Review Kiyoshi Kurosawa Cure Kyua DVD Review Kiyoshi Kurosawa Cure Kyua DVD Review Kiyoshi Kurosawa Cure Kyua DVD Review Kiyoshi Kurosawa Cure Kyua DVD Review Kiyoshi Kurosawa Cure Kyua DVD Review Kiyoshi Kurosawa Cure Kiyoshi Kurosawa's Cure - Home Vision - Region 1 - NTSC - Kyua DVD Review Kiyoshi Kurosawa Cure Kyua DVD Review Kiyoshi Kurosawa Cure Kyua DVD Review Kiyoshi Kurosawa Cure Kyua DVD Review Kiyoshi Kurosawa Cure Kyua DVD Review Kiyoshi Kurosawa Cure Kyua DVD Review Kiyoshi Kurosawa Cure Kyua DVD Review Kiyoshi Kurosawa Cure Kyua DVD Review Kiyoshi Kurosawa Cure Kyua DVD Review Kiyoshi Kurosawa Cure Kyua DVD Review Kiyoshi Kurosawa Cure Kyua DVD Review Kiyoshi Kurosawa Cure Kyua DVD Review Kiyoshi Kurosawa Cure Kyua DVD Review Kiyoshi Kurosawa Cure Kyua DVD Review Kiyoshi Kurosawa Cure Kiyoshi Kurosawa's Cure - Home Vision - Region 1 - NTSC - Kyua DVD Review Kiyoshi Kurosawa Cure Kyua DVD Review Kiyoshi Kurosawa Cure Kyua DVD Review Kiyoshi Kurosawa Cure Kyua DVD Review Kiyoshi Kurosawa Cure Kyua DVD Review Kiyoshi Kurosawa Cure Kyua DVD Review Kiyoshi Kurosawa Cure Kyua DVD Review Kiyoshi Kurosawa Cure Kyua DVD Review Kiyoshi Kurosawa Cure Kyua DVD Review Kiyoshi Kurosawa Cure Kyua DVD Review Kiyoshi Kurosawa Cure Kyua DVD Review Kiyoshi Kurosawa Cure Kyua DVD Review Kiyoshi Kurosawa Cure Kyua DVD Review Kiyoshi Kurosawa Cure Kyua DVD Review Kiyoshi Kurosawa Cure Kiyoshi Kurosawa's Cure - Home Vision - Region 1 - NTSC - Kyua DVD Review Kiyoshi Kurosawa Cure Kyua DVD Review Kiyoshi Kurosawa Cure Kyua DVD Review Kiyoshi Kurosawa Cure Kyua DVD Review Kiyoshi Kurosawa Cure Kyua DVD Review Kiyoshi Kurosawa Cure Kyua DVD Review Kiyoshi Kurosawa Cure Kyua DVD Review Kiyoshi Kurosawa Cure Kyua DVD Review Kiyoshi Kurosawa Cure Kyua DVD Review Kiyoshi Kurosawa Cure Kyua DVD Review Kiyoshi Kurosawa Cure Kyua DVD Review Kiyoshi Kurosawa Cure Kyua DVD Review Kiyoshi Kurosawa Cure Kyua DVD Review Kiyoshi Kurosawa Cure Kyua DVD Review Kiyoshi Kurosawa Cure