Teen Terror Collection
This 3-disc package appears to be 'available' now at Amazon. Essentially these are three more 'limited production' drive-in 50's flicks (which in DVDBeaver's mind makes them good campy fun!). The theme is *Teenagers* - for a while a very popular draw. It is pretty similar to Image's Watch The Skies set (reviewed HERE) and Femme Fatale set (reviewed HERE), where they take 3 previously released of the same genre (or they find a link) and combine them for a handsome discount into one Boxset. Teenage Doll is a decent film, with some substance - sneaking onto our Noir listing although the categorization is debatable, Teenage Monster is quite weak (really it is just plain 'bad') - but a total hoot! and Teenagers from Outer Space similar but superior and a lot of fun. I'm constantly drawn to these nostalgic films for there innocent production values and brash attempts at bona-fide 'cinema'. I encourage them as a great deviation from standard fare - whether it be art films or mainstream Hollywood. They represent an early form of the exploitation genre. Personally the appeal is too irresistible. the Image DVDs are all progressive and a notch above their usual output.
***
Product Description: They're wild, unstoppable, vicious -- and too young to drink! Stay off the streets when these hellions in hot rods hit town, led by a Teenage Doll who falls in with the wrong crowd and, by accidentally killing a crazy beat girl, sets off a gang war! Packed with hot gang chicks, street punks, and murder, this sexy guilty pleasure from legendary director Roger Corman pulls out all the stops and doesn't know how to say no! Then a stray meteor causes an innocent teen boy to mutate into a hideous Teenage Monster with the ultimate bad complexion, stalking the countryside with the law in hot pursuit! Finally, thrill-crazed Teenagers from Outer Space break out the ray guns and unleash a monstrous menace that threatens to devour Hollywood! Dig this ultimate juvenile delinquent trilogy from the golden age of the drive-in, daddy-o; it's every parent's worst nightmare come true!
---
Synopses:
Teenage Doll - A delinquent girls' gang pursues a nice ingénue linked romantically to the male leader of a rival gang, and apparently to the murder of one of their members.
The Black Widows, a teenage girl gang, find one of their number killed; they suspect Barbara, sometime girlfriend of the leader of rival gang The Vandals. As the gangs prepare for a rumble, we glimpse the members' home lives, exaggerating every type of family dysfunction; but that of their "average American" quarry is no better. Full of shadowy urban night scenes.

Teenage Monster - In a little Western town, a boy is subjected to rays from a meteor. As a result, he grows into a teenaged, hairy, psychopathic killer. His mother hides him in her basement.

Teenagers from Outer Space - 50's horror movie about Martians invading earth to grow their "Gargon Herd" (actually over-sized lobsters). The hero, Derek, realizes that there is intelligent life on Earth and decides to warn the humans. Eventually he sacrifices himself to destroy the incoming herds of Gargon's and save Earth.
---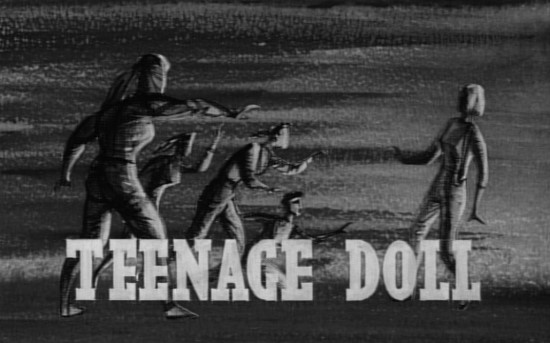 (aka "The Young Rebels")
Directed by Roger Corman
France 1957
So closely associated with B-level schlock is Roger Corman as a producer, that people frequently aren't aware of his considerable abilities as a director. One of his earlier, more noteworthy efforts in that vein is 1957's "Teenage Doll," a stylish and savvy effort to exploit the burgeoning teen market while offering some pointed observations about the broadening generation gap as well.

In a foreshadowing of trends that would consume the teen market in the 1960s, "Teenage Doll" centers on a teenage gang war that starts after one of the good girls accidentally kills one of the bad girls. A full four years before "West Side Story" hit screens, "Teenage Doll" traffics in many of the same themes, but without the rose-colored glasses of musical theater masking the darker edges.
Excerpt from Wade Majors review at Boxoffice Online located HERE
Poster
Theatrical Release: September 18th, 1957
Reviews More Reviews DVD Reviews
DVD Review: Image Entertainment - Region 0 - NTSC
Comments:

This, like all others in the collection, is progressive. Un-restored - there is some minor visible damage - contrast may have a notch of boosting but generally it looks acceptable to appreciate the film. Like the others there are no subtitles or extras. Sound is weak but fairly consistent with all dialogue audible.

The film has some merit and certainly outweighs the other two inclusions in the Boxset for a legitimate film although its limited production roots give it a kind of charming atmosphere.

DVD Menus
Screen Capture Samples
---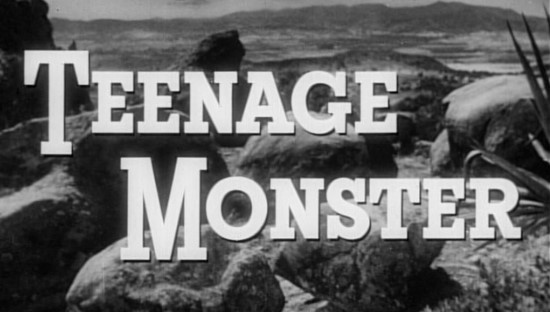 (aka "Meteor Monster' or 'Monster on the Hill")
Directed by Jacques R. Marquette
USA 1958
When a meteor kills a prospector and turns his son into a hairy monster, the grieving mother hides him away from the world. When she discovers a vein of gold in her husband's mine, she moves to town, only to have her son go on a killing spree.

At the core of this movie is a potentially strong idea; a movie about a mother trying to hide and protect her monstrous son lends itself to some strong possibilities. You have the possibility of exploring any number of intriguing relationships and situations (the mother's love for her son, the son's attachment to his mother and fear of desertion, the scheming younger woman's desire to escape from her condition and willingness to use anyone to serve her ends) that could have made for an emotionally compelling feature.
Excerpt of review by Dave Sindelar at Scififilm.org located HERE
Posters
Theatrical Releases: January 8th, 1958
Reviews More Reviews DVD Reviews
DVD Review: Image Entertainment - Region 0 - NTSC
Comments:

This transfer is similar to Teenage Doll, progressive but some minor damage. Fairly dirty with a bit of hiss in the audio. A film like this it doesn't hurt to see it a bit rough around the edges.

The film is quite amusing. Some camera faux-pas and bad acting. It looks like it may have been shot over a weekend. It's a real hoot!

DVD Menus
Screen Capture Samples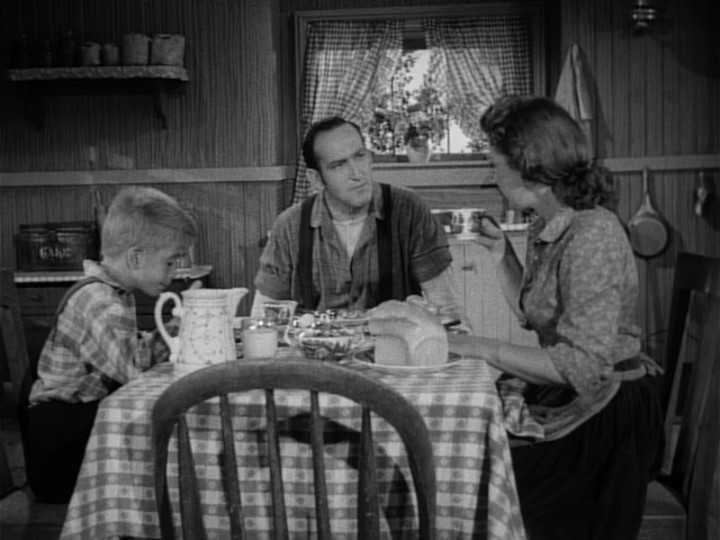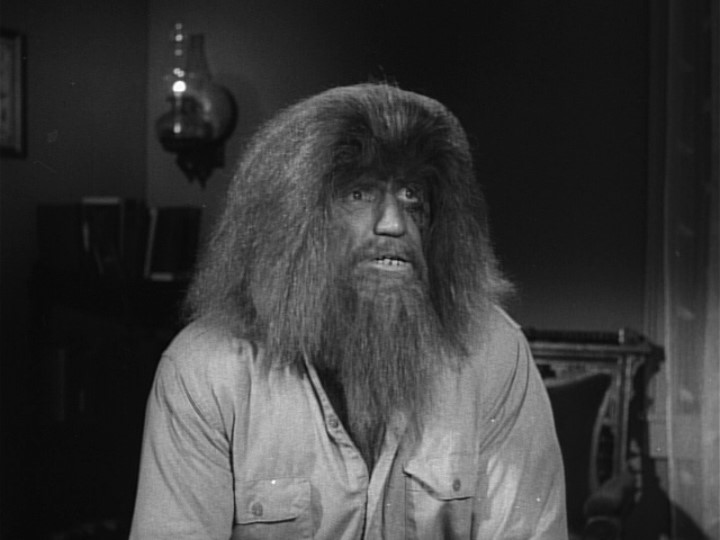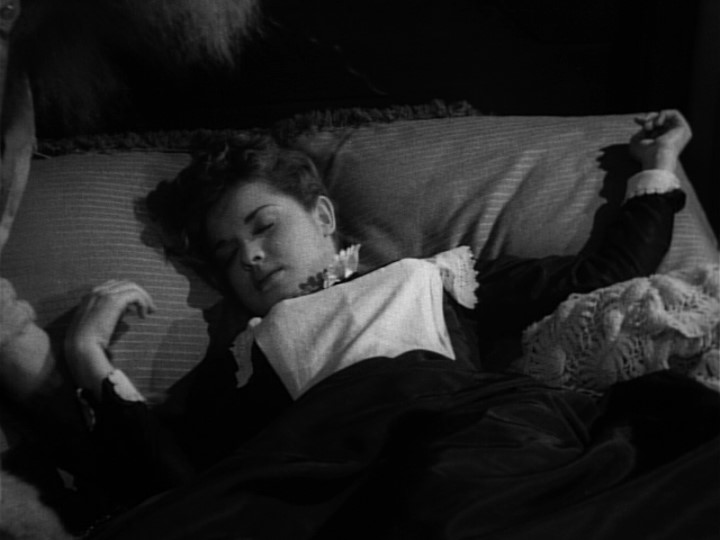 ---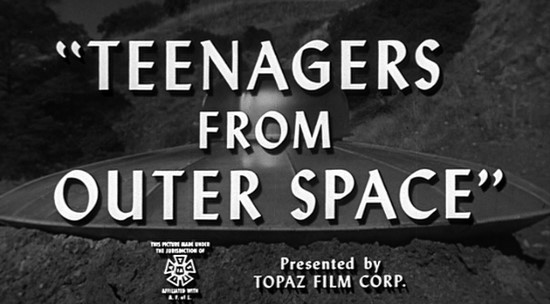 (aka 'Invasion of the Gargon' or 'Killers from Outer Space' or 'The Boy from Out of This World' or 'The Gargon Terror')
Directed by Tom Graeff
USA 1959
An epic attempting to cash in on the teenpic boom with its tale of two alien teens sent to Earth. One is 'good', and falls in love with a local high school honey; one is 'bad', and rampages with a ray gun. A major period feature is the theme of teen martyrdom: the 'good' alien commits suicide in a bid to save Earth from an army of spaceships (never seen on the screen) and the giant lobster (watch for the hand holding what you can see of it) which has accompanied them.
Excerpt from TimeOut Film Guide located HERE
.
Poster
Theatrical Releases: June 1959
Reviews More Reviews DVD Reviews
DVD Review: Image Entertainment - Region 0 - NTSC
Comments:

This is the best transfer of the three in this boxset. Progressive and strong, un-manipulated, contrast. There is a degree of reasonable sharpness as well. Quite impressive.

The film is a kind of quintessential marker of this quasi-genre (the 'teenage' sci-fi flic) and should be viewed for its high level of enjoyment. There are some interesting camera angles and shots as well.

DVD Menus
Screen Capture Samples
Recommended Books (CLICK COVERS or TITLES for more information)
---