Film Noir - The Dark Side of Hollywood 5-disc Boxset contains
Sudden Fear The Long Night Hangmen Also Die Railroaded Behind Locked Doors
directed by David Miller, Anatole Litvak, Fritz Lang, Anthony Mann and Oscar 'Budd' Boetticher
USA 1943, 47', 48' and 52'
Our take:
We are not the biggest fans of Kino here at DVDBeaver but this is a ridiculous deal. In fact it makes many of us feel like chumps for dishing out for the original single DVD prices but Noir fans will frequently be quite ravenous in the desire to sate their 'black cinema' hunger. We've been informed that these issues will be exactly the same as the originals that came out in 1999 or early 2000. The individual titles still sell for $ 26.99... and X 5 that = $ 134.95 while the PRE-ORDER at Amazon, for this new boxset, has a list price of $ 34.99 - a savings of $ 99.96 US funds. Even if you need only two of the five it makes financial sense to go the Boxset route - and you can sell the doubles on EBay if you are so inclined. We have fully reviewed the individual discs (most - quite a while ago), see review links throughout, but we'll make some general comments below. Frankly, the films are all solid top-shelf Noir and I envy those just catching the bug - being able to nab these gems at such a reasonable price.
Synopsis from the Kino website:
The five films brought together in Kino's new specially priced box set are Noir at its most exemplary. Though boasting stars like Joan Crawford and Henry Fonda and helmed by renowned directors, these five films are B movies in the best sense of the term: tight, raw and cannily devoid of gloss. Masters of the genre such as Budd Boetticher, Anthony Mann and the expatriated Fritz Lang are captured here in fine form, as are some of the greatest directors of black and white photography in the business (John Alton, RAILROADED; James Wong Howe, HANGMEN ALSO DIE). Throw in quintessential hardboiled character actors like Jack Palance (the cold-metal villain of SUDDEN FEAR) and Brian Donlevy, tough as nails floozies like Gloria Grahame (SUDDEN FEAR), and the inimitable lug Tor Johnson (BEHIND LOCKED DOORS) - and FILM NOIR: THE DARK SIDE OF HOLLYWOOD is an offer not to be refused.
Posters
Theatrical Release: January 18th, 2003 - Tokyo
Reviews More Reviews DVD Reviews
DVD Review: Kino - Region 0 - NTSC
DVD Box Cover

CLICK to order from:

Individual reviews:
Distribution
Kino - Region 0 - NTSC
Video
1.33:1 Aspect Ratio
Average Bitrate: 4 - 6.5 mb/s
NTSC 720x480 29.97 f/s
Audio
English (Dolby Digital 2.0)
Subtitles
None
Features

Release Information:
Studio: Kino Video

Aspect Ratio:
Original Aspect Ratio 1.33:1

Edition Details:

On The Long Night

• 2 Comparison clips between La Jour Se Leve and The Long Night
• Visual essay on the production design
• Photo Gallery

None on the rest

DVD Release Date: September 12th, 2006
5 Keep Case inside cardboard box (to be confirmed)
Chapters: various
Comments:

All five discs are encoded in the NTSC standard with no region specification.

The transfer quality really varies in these releases. The Long Night is easily the best of the lot with Sudden Fear and Hangmen Also Die looking much worse with damage and haziness throughout. Railroaded and Behind Locked Doors are quite acceptable - surprisingly good considering Kino's usual standards. I believe all 5 are interlaced transfers and hence most suitable for CRT (tube) viewing. All have instances of visible 'cue blips' for reel changes and light to heavy scratches.

Audio has some similar inconsistencies with fluctuations and occasional background hiss. None of the DVDs have optional subtitles and only The Long Night has some digital supplements - with 2 Comparison clips between La Jour Se Leve and The Long Night, a visual essay on the production design and a photo gallery.

This is by no means superlative DVD(s) production but the films offer some exciting Noir with Joan Crawford, Henry Fonda, Gloria Grahame and even Tor Johnson! The selections are generally regarded as must-owns in a complete DVD Noir library and this Boxset is priced to sell.
---
Recommended Reading in Film Noir (CLICK COVERS or TITLES for more information)
The Dark Side of the Screen: Film Noir

by Foster Hirsch

Somewhere in the Night: Film Noir and the American City

by Nicholas Christopher

Shades of Noir: A Reader
by Joan Copjec
The Art of Noir: The Posters and Graphics from the Classic Era of Film Noir
by Eddie Muller
The Little Black and White Book of Film Noir: Quotations from Films of the 40's and 50's
by Peg Thompson, Saeko Usukawa
Film Noir
by Alain Silver
Film Noir Guide: 745 Films of the Classic Era, 1940-1959
by Michael F. Keaney
Detours and Lost Highways: A Map of Neo-Noir
by Foster Hirsch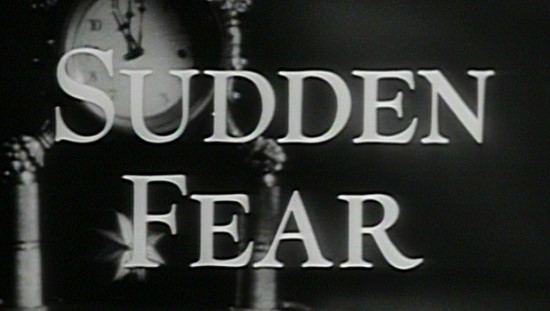 directed by David Miller
USA 1952
Gargoyle thriller from 1952, with Joan Crawford (in her high garish period) as an heiress who discovers her husband (Jack Palance, the perfect iconic match) is planning to kill her. The film was a product of RKO desperation and didn't do especially well on first release; its anomalous success as a revival (in 1987, in 35-millimeter restoration) seemed largely a matter of fidelity to archetype (as a clear-lined suspenser) and kitschy iconographic tastes, though Charles Lang's glossily noirish cinematography may have had something to do with it, too.
Excerpt of Pat Graham's review at the Chicago Reader located HERE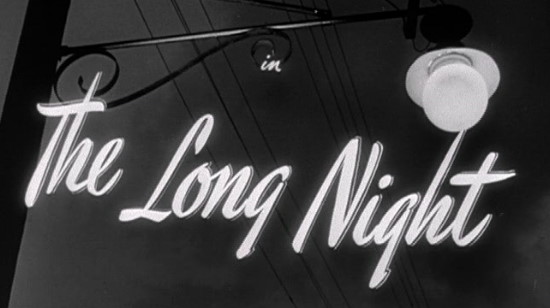 directed by Anatole Litvak
USA 1947
An exciting rediscovery from the studio vaults, The Long Night is an emotionally gripping, visually dynamic film noir, in which Henry Fonda, at the peak of his career, delivers an unforgettable performance. Presented in an intricate web of flashbacks, The Long Night follows the fractured thoughts of Joe Adams (Henry Fonda), a factory worker pinned inside his third-floor apartment after gunning down a mysterious, dapper gentleman (Vincent Price). Joe's memories, often containing flashbacks within flashbacks, reconstruct the events leading up to the shooting, revealing his romance with a quiet young girl (Barbara Bel Geddes), his less-romantic involvement with a worn-out showgirl (Ann Dvorak) and the varied twists of fate which drove Joe to murder.

In staging this remake of Marcel Carné's Le Jour Se Leve (France, 1939), the producers of The Long Night imported not only the story, but the look of poetic realism that made the original so haunting. At once dismal and magical, the world of The Long Night was unlike anything Hollywood had yet imagined, and laid the groundwork for the dark and gritty (but highly stylized) imagery that became the trademark of film noir.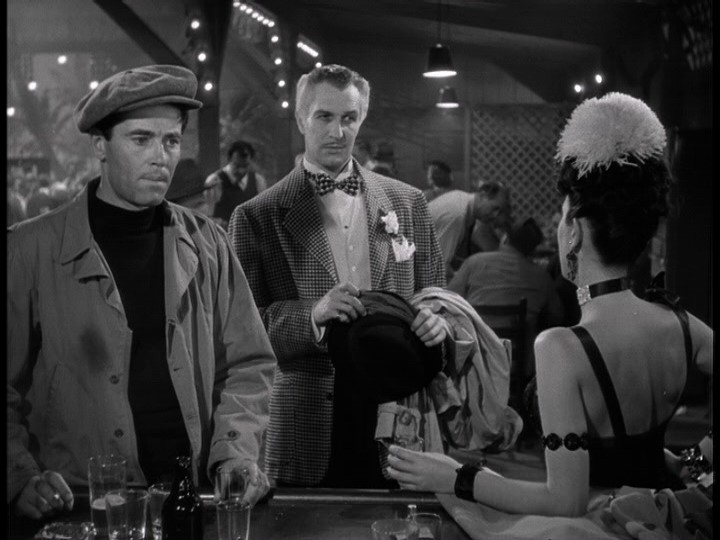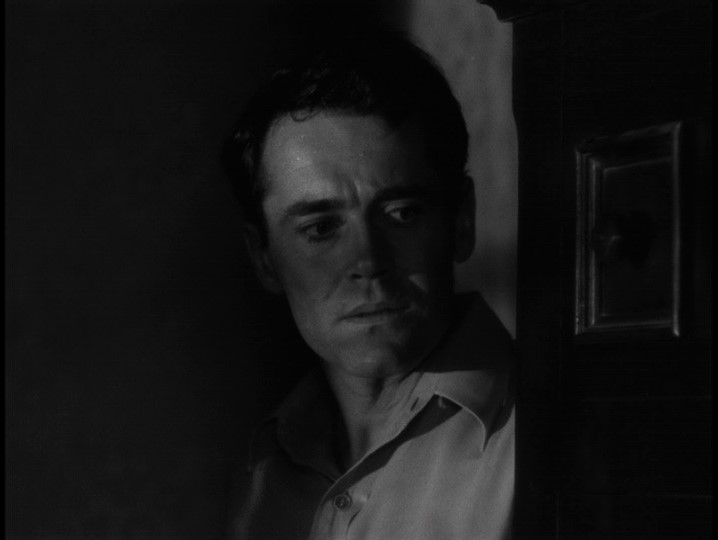 ---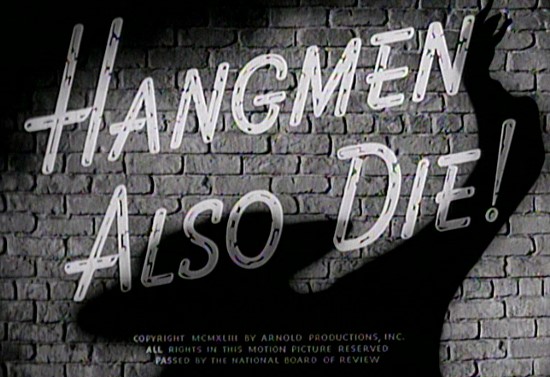 (aka "Lest We Forget" or "Never Surrender" or "No Surrender" or "Trust the People" )
Lang's marvellously dark adaptation of Bertolt Brecht's fictionalized take on the assassination of notorious Nazi leader and Czech 'protector' Reinhard Heydrich by the resistance movement, killed in Prague in 1942. Donlevy plays the assassin hiding in the city as the Gestapo promise retribution. There's plenty of tense Langian suspense and the story fits his noir disposition perfectly. Brecht was apparently none too pleased with the result, feeling his contribution had been undermined, but the film manages to pull off the tough double of making an anti-Nazi political statement and being thrilling entertainment as well.
Excerpt from Channel 4 located HERE
---
---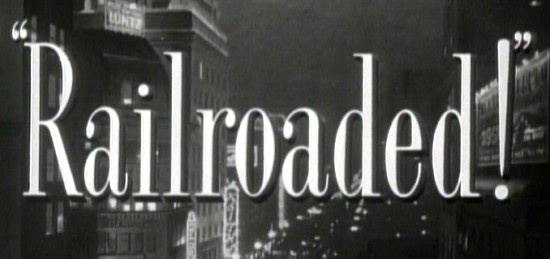 Clara Calhoun (Jane Randolph) is an attractive beautician who allows the back of her boutique to be a central location for a bookie operation. Her underworld associations escalate and she plans with her boyfriend and 'Duke' (John Ireland) to rob her nefarious tenants. The robbery turns sour and someone is shot. Steve Ryan (Ed Kelly) is innocent but is being framed as the murderer. At first, homicide detective Mickey Ferguson (Hugh Beaumont) thinks Steve is guilty, despite his obvious attraction to Steve's lovely sister Rosie (Sheila Ryan). Keen detective work ensues as Mickey seeks to prove the real perpetrator.
Mann, a consistently underrated director, does a wonderful unique take on the film-noir genre. It's funny, when preparing screen captures for the DVD (below) I always end up choosing so many shots from Mann's films (more than I require) because of the inventive angles and framing that he chooses. There are plenty of shadows and atmospheric lighting to immerse yourself in. If you love the film noir, I suspect you better get this.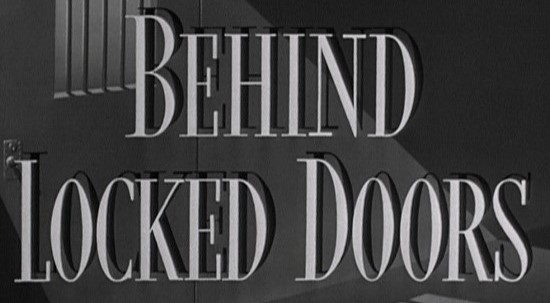 (aka "The Human Gorilla" )
directed by Oscar 'Budd' Boetticher
USA 1948
Before he made a name for himself directing westerns under the first name "Budd," Oscar Boetticher made this nicely smug little film noir about a private investigator (Richard Carlson, later the non-scaly star of The Creature From the Black Lagoon) who checks himself into the shady La Siesta Sanitarium in search of a corrupt judge hiding from the law. Once there his cover is blown and it's up to the femme fatale who sent him there (Lucille Bremer) and a punch-drunk inmate (Tor Johnson, who later achieved immortality via Plan 9 From Outer Space) to save his bacon. Presaging Sam Fuller's Shock Corridor, the film often plays mental illness for laughs but gets genuinely creepy when the doctors conspire to make the shamus a permanent resident. Snappy dialogue, the requisite black and white chiaroscuro (in a fine Kino Video transfer) and the pleasant sixty-two-minute running time make Behind Locked Doors a valuable addition to anyone's noir library.
Excerpt from Eddie Cockrell's review at Nitrate Online located HERE