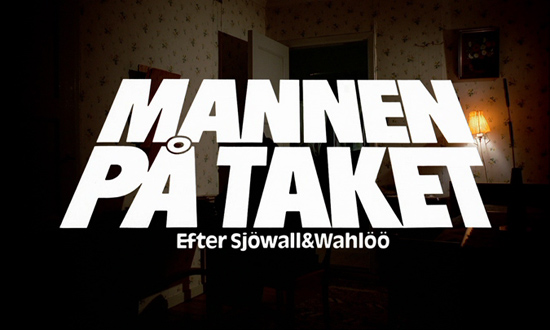 (aka "The Man on the Roof" )
directed by Bo Widerberg
Sweden 1976
At about 2 o'clock on a March morning in Stockholm, a hospitalized police inspector named Stig Nyman is slashed to death in his room with a bayonet.

So begins "Man on the Roof," a bloody but keen-eyed, unsparing and absorbing, multilayered Swedish film that opened yesterday at the Plaza.

Written and directed by Bo Widerberg, who is probably best remembered here for "Elvira Madigan," "Man on the Roof" is based on "The Abominable Man," one of the novels in the highly praised Detective Martin Beck series by the late Per Wahloo and his wife, Maj Sjowall. What elevated these novels beyond the traditions of the genre was a master plan by the authors to use them as the basis for an exploration of society, and director Widerberg remains faithful to that intent.

On one level, "Man on the Roof" stands as a simple mystery. Who killed Nyman and why? But to discover the answer, it is first necessary to know who Nyman was. A policeman, of course. But what is a policeman? One man's brute, it seems, is another's estimable protector of society's decent people. And finally, when the killer is revealed and begins one of those familiar killing sprees on a roof that drew spectacle-thirsty crowds and ringmasters in the form of importunate television newsmen and squads of specially trained and equipped police and their helicopters, the film becomes a study in the rationality of response.

As mysteries go, "Man on the Roof" is not a difficult puzzle. Straightforward, routine police procedures, carried out in a matter-of-fact way by sometimes weary men, yield the answer.

What invests this film with seriousness and a claim on our attention are the characters themselves. They inhabit a real world, and Widerberg sketches them, their environment and their relationships swiftly and deftly. That is true even of some of the few who appear for a matter of seconds, disappear never to be seen again and probably could be dispensed with in the name of brevity.

The chief roles are played remarkably: Carl-Gustaf Lindstedt as Beck, with an economy and grandeur reminiscent of Gabin as Maigret: Einer Ronn as his little chief assistant, with a vertical furrow between his brows that speaks volumes; Sven Wollter and Thomas Hellberg as the two younger detectives who mix like oil and water.

But behind it all looms Widerberg. "Man on the Roof" may suffer from a slow section in the middle, but over its length, the director displays several varieties of excellence—from the conjuration of horror by a single eye seen peering through a dark curtain; to the affectionate depiction of a city as background; to the succinct revelation of character; to the concoction of excitement, terror and suspense in the climactic stage. Not the least of his excellences is his willingness, at a time when it seems that technique is everything and coherence nil, to treat his audience to ideas as well.
Excerpt from New York Times review from March 24, 1977 located HERE
Theatrical Release: 1 October 1976
Reviews More Reviews DVD Reviews
DVD Review: SF (2-Disc) - Region 2 - PAL
Big thanks to Arvid for the Review!
DVD Box Cover

CLICK to order from:

Distribution

SF

Region 2 - PAL

Runtime
1:47:31 (4% PAL speedup)
Video

1.66:1 Original Aspect Ratio

16X9 enhanced
Average Bitrate: 7.26 mb/s
PAL 720x576 25.00 f/s

NOTE: The Vertical axis represents the bits transferred per second. The Horizontal is the time in minutes.

Bitrate

Audio
Swedish Dolby Digital 2.0
Subtitles
Swedish, Norwegian, Danish, Finnish, English, none
Features
Release Information:
Studio: SF

Aspect Ratio:
Widescreen anamorphic - 1.66:1

Edition Details:
• 'Med sikte på realism' 75 minutes new documentary by Ronny Svensson and Markus Strömqvist *
• Radio and TV-clips with Bo Widerberg from 1975, taken from Swedish television and radio *
• Audio commentary with producer Stefan Jarl and actor Sven Wolter

DVD Release Date: 2004-08-25
Keepcase

Chapters 24
Comments
The best Swedish police movie ever does also have one of the best Swedish DVD releases ever. The image is simply fantastic. Anamorphic, progressive, HD-Sourced in original aspect ratio. no signs of digital manipulation. The sound is the original Swedish mono-track and it sounds excellent.

There are two versions of the DVD, one 1-disc and one 2-disc. This is the 2-disc version that got an extra disc featuring the Extras marked with * (The documentary and the radio and tv-clips). The extras are only subtitled in Swedish and Finnish so if you don't know any of those languages you better go for the 1-disc (the second discshop link). But if you know Swedish/Finnish you definitely should by the 2-disc, since the documentary is brilliant and together with the other extras it's easy worth the extra bucks.

The backside of the DVD mentions no English subtitles but as you can see below it has both menus and subtitles in English available.

- Arvid
---
---
Screen Captures
Subtitle sample
DONATIONS Keep DVDBeaver alive and advertisement free:
Mail cheques, money orders, cash to: or CLICK PayPal logo to donate!
Gary Tooze

Mississauga, Ontario,

CANADA
Thank You!