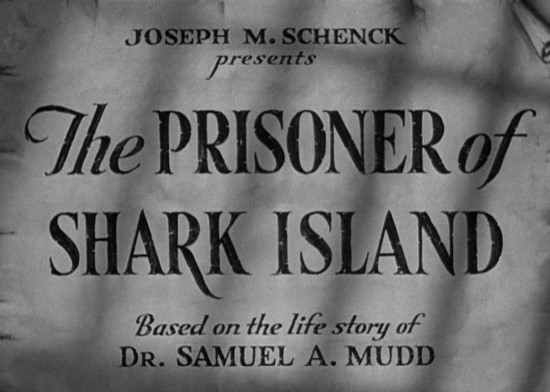 Directed by John Ford
USA 1936
Based on the true-life case of the incarceration of Dr. Samuel Mudd (Oscar-winning Warner Baxter), The Prisoner of Shark Island is a stirring account of the victimization of a simple man. This fast-moving and gripping drama — rarely seen and remarkably timeless — follows Mudd through a calamitous series of brutal encounters. Driven by selfless integrity and his honourable commitment to duty, Mudd exemplifies the quintessential Ford hero who has become, unwittingly, an enemy of the people. Regarded as a personal favourite by the director, it was also the film he was said to be most happy with.

Written by Nunnally Johnson (The Grapes of Wrath, Tobacco Road), The Prisoner of Shark Island dramatizes the fatal shooting of Abraham Lincoln (Frank McGlynn, Sr.) and the subsequent visit by the assassin John Wilkes Booth (Francis McDonald) to Dr. Samuel Mudd's house to fix his broken leg. Unaware of Booth's treason, Mudd is later arrested — narrowly escaping execution after a one-sided military trial — and sentenced to a life of hard labour at Fort Jefferson in Dry Tortugas (an infamous prison in the Gulf of Mexico surrounded by shark-infested waters).

Featuring a blistering, muscular performance by John Carradine as a sadistic prison guard, The Prisoner of Shark Island is a tautly scripted, vividly directed examination of Dr. Mudd's struggle to overcome inhuman justice. Nominated for Best Picture by the American National Board of Review, the film has been rarely screened over recent decades.
Posters
Theatrical Release: February 12th, 1936
Reviews More Reviews DVD Reviews
DVD Comparison:
Eureka (Master's of Cinema # 22) - Region 2 -
PAL vs. Fox (Ford at Fox) - Region 1 - NTSC
(Eureka (Master's of Cinema # 22) - Region 2 - PAL LEFT vs. Fox (Ford at Fox) - Region 1 - NTSC RIGHT)
DVD Box Cover

Distribution
Eureka Video - Region 2 - PAL
20th Century Fox (Ford at Fox) - Region 1 - NTSC

or

The complete Ford at Fox Collection (DETAILS HERE)

Runtime
1:32:12 (4% PAL speedup)
1:35:54
Video
1.33:1 Aspect Ratio
Average Bitrate: 8.13 mb/s
PAL 720x576 25.00 f/s
1.33:1 Aspect Ratio
Average Bitrate: 5.70 mb/s
NTSC 720x480 29.97 f/s

NOTE: The Vertical axis represents the bits transferred per second. The Horizontal is the time in minutes.

Bitrate:

Eureka

Bitrate:

Ford at Fox

Audio
English (Dolby Digital 2.0)
English (mono)
Subtitles
English, None
English, Spanish, French, None
Features

Release Information:
Studio: Eureka Video

Aspect Ratio:
Original Aspect Ratio 1.33:1

Edition Details:

• Full-length audio commentary by Scott Eyman
• Video interview with film critic David Ehrenstein (11:57)
• Promotional material gallery
• 130-page continuity and dialogue script and the 4-page musical cue sheet (both in pdf format)
• 24-page booklet — with writing by Lindsay Anderson, and others

DVD Release Date: March 20th, 2006
Transparent Keep Case
Chapters: 10

Release Information:
Studio: Fox

Aspect Ratio:
Original Aspect Ratio 1.33:1

Edition Details:

• Commentary by Anthony Slide
• Restoration comparison
• Interactive pressbook gallery
• Advertising gallery
• Still gallery

DVD Release Date: December 4th, 2007
Keep Case
Chapters: 20
Comments:

ADDITION: Ford at Fox release - December 07': The new Fox single-layered edition is significantly improved over the dual-layered Eureka disc in terms of sharpness and contrast - dramatically so. The Fox discs starts with this caveat:

Supplements include a very good commentary by Anthony Slide plus a restoration comparison and some static screens of an interactive pressbook gallery, advertising gallery and a stills gallery.

I recall enjoying the Scott Eyman commentary on the MoC disc a bit more but the image disparity between the two is too vast to ignore. This is another reason to buy Ford at Fox - as if you didn't have enough incentive already.

On the Moc: Although perhaps slightly softer than we might be accustomed to from a Eureka - Master's of Cinema release - I think it looks marvelous for a film over 70 years old and I am quite pleased with the consistency of the image although contrast seems a shade blended. Every other detail of the package is marked by MoC's first class efforts - a detailed commentary, an informative interview with Ehrenstein who discusses the historical and racial contexts of the film, some digital promotional material and a nicely appointed booklet filled with photos, essays and an interview with Ford. I especially enjoyed Eyman's commentary when he discussed the relationship of Ford and Harry Carey.

It is great to own this film on DVD with such extensive extra features. We recommend!
---

DVD Menus
(Eureka (Master's of Cinema # 22) - Region 2 - PAL LEFT vs. Fox (Ford at Fox) - Region 1 - NTSC RIGHT)
---
Subtitle Sample
(Eureka (Master's of Cinema # 22) - Region 2 - PAL TOP vs. Fox (Ford at Fox) - Region 1 - NTSC BOTTOM)
Screen Captures
(Eureka (Master's of Cinema # 22) - Region 2 - PAL TOP vs. Fox (Ford at Fox) - Region 1 - NTSC BOTTOM)
---
(Eureka (Master's of Cinema # 22) - Region 2 - PAL TOP vs. Fox (Ford at Fox) - Region 1 - NTSC BOTTOM)
---
(Eureka (Master's of Cinema # 22) - Region 2 - PAL TOP vs. Fox (Ford at Fox) - Region 1 - NTSC BOTTOM)
---
(Eureka (Master's of Cinema # 22) - Region 2 - PAL TOP vs. Fox (Ford at Fox) - Region 1 - NTSC BOTTOM)
---
(Eureka (Master's of Cinema # 22) - Region 2 - PAL TOP vs. Fox (Ford at Fox) - Region 1 - NTSC BOTTOM)
---
(Eureka (Master's of Cinema # 22) - Region 2 - PAL TOP vs. Fox (Ford at Fox) - Region 1 - NTSC BOTTOM)
---
(Eureka (Master's of Cinema # 22) - Region 2 - PAL TOP vs. Fox (Ford at Fox) - Region 1 - NTSC BOTTOM)
---
DVD Box Cover

Distribution
Eureka Video - Region 2 - PAL
20th Century Fox (Ford at Fox) - Region 1 - NTSC

or

The complete Ford at Fox Collection (DETAILS HERE)