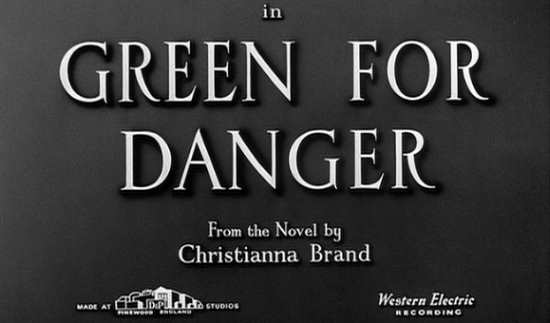 Directed by Sidney Gilliat
UK 1946
In the midst of Nazi air raids, a postman dies on the operating table at a rural English hospital. But was the death accidental? A delightful and wholly unexpected murder mystery, British writer/director Sidney Gilliat's Green for Danger features Trevor Howard and Sally Gray as suspected doctors and Alastair Sim in a marvelous turn as Scotland Yard's insouciant Inspector Cockrill. A screenwriter who had worked with Hitchcock on such films as The Lady Vanishes and Jamaica Inn, Gilliat slyly upends whodunit conventions with wit and style.
***
A wartime tale of murder most horrid, with Alastair Sim as the detective sent in to a hospital to sniff out the perpetrator of an operating table death...

When a bomb victim is admitted to an emergency ward for civilians during the Second World War, he leaves in a far worse state: dead. In the seemingly serene environs of a Tudor mansion with its wood beams and manicured gardens, suspicions rise as to whether the unfortunate patient died accidentally or was killed, leaving the surgeon, anesthetist and three attendant nurses under suspicion of murder.

Enter Inspector Cockrill (Sim) from Scotland Yard ready to unravel the mystery, which is further complicated by the sudden death of one of the nurses, who had her own suspicions but didn't live to tell the tale. So the cross-examination ensues, with Cockrill raking over his suspects' dirty secrets while the city suffers constant doodlebug bombardment.
Excerpt from Channel 4 located HERE
Posters
Theatrical Release: August 7th, 1947
Reviews More Reviews DVD Reviews
DVD Comparison:
Network - Region 2 - PAL vs. Criterion - Region 1- NTSC
(Network - Region 2 - PAL LEFT vs. Criterion - Region 1- NTSC RIGHT)
DVD Box Cover

Distribution
Network - Region 2 - PAL
Criterion Collection - Spine # 375 - Region 1- NTSC
Runtime
1:26:56 (4% PAL speedup)
1:31:27
Video
1.33:1 Aspect Ratio
Average Bitrate: 6.48 mb/s
PAL 720x576 25.00 f/s
1.338:1 Aspect Ratio
Average Bitrate: 6.60 mb/s
NTSC 720x480 29.97 f/s

NOTE: The Vertical axis represents the bits transferred per second. The Horizontal is the time in minutes.

Bitrate: Network

Bitrate: Criterion

Audio
English (Dolby Digital 2.0)
English (Dolby Digital mono 1.0)
Subtitles
None
English, none
Features

Release Information:
Studio: Network

Aspect Ratio:
Original Aspect Ratio 1.33:1

Edition Details:

• none

DVD Release Date: April 17th, 2006
Transparent Keep Case
Chapters: 12

Release Information:
Studio: Criterion

Aspect Ratio:
Original Aspect Ratio 1.33:1

Edition Details:

• Audio commentary by film and music historian Bruce Eder
• New interview with British film historian Geoff Brown
• Liner notes with essay by critic Geoffrey O'Brien and a director's statement

DVD Release Date: February 13th, 2007
Transparent Keep Case
Chapters: 21
Comments:

ADDITION: Not much to say that the screen caps can't tell you - The Criterion DVD is pictureboxed (see our description of 'pictureboxing' in our Kind Hearts and Coronets review), so it immediately gives up some resolution to the PAL DVD (than simply the standard difference). Still though, the Criterion transfer is far superior - sharper and cleaner - massively better contrast. Framing too goes Criterions way as it shows more information in the frame (meaning the Network edition is quite drastically cropped).

Historian Bruce Eder gives a fantastic commentary with no pauses or gaps. He relates plot details that differed from the book and many minute production eccentricities that give a strong appreciation of the film. Really a very professional and prepared commentary. Excellent choice by Criterion!

There is a 15 minute interview with Geoff Brown - he recounts many of the film's unique attributes that give it quite a special place for its era. There are a lot of stills used (as opposed to a talking head).

Liner notes too from Criterion. 18 pages worth with quality photos and nice artwork.

This is an under-appreciated film and the Criterion price is quite reasonable for all you get. Recommended!

***

RE: The Network: The single-layered DVD image is quite weak - there are a lot of instances of dirt and debris - light scratches and digital noise. Contrast is blended but we must remember the film is over 60 years old and there is no sign of restoration or cleaning on the progressive transfer. It is still most definitely tube-watchable. No extras and the price reflects that.

The film is enjoyable - a mystery with a touch of comedy - lots of interesting atmosphere. Trevor Howard and Sim slide perfectly into their roles. It sneaks into the Noir listing and fans of the 'dark cinema' will find this a nice treat.
---

DVD Menus
(Network - Region 2 - PAL LEFT vs. Criterion - Region 1- NTSC RIGHT)
---
Screen Captures
(Network - Region 2 - PAL TOP vs. Criterion - Region 1- NTSC BOTTOM)
(Network - Region 2 - PAL TOP vs. Criterion - Region 1- NTSC BOTTOM)
---
(Network - Region 2 - PAL TOP vs. Criterion - Region 1- NTSC BOTTOM)
---
(Network - Region 2 - PAL TOP vs. Criterion - Region 1- NTSC BOTTOM)
---
(Network - Region 2 - PAL TOP vs. Criterion - Region 1- NTSC BOTTOM)
---
(Network - Region 2 - PAL TOP vs. Criterion - Region 1- NTSC BOTTOM)
---
(Network - Region 2 - PAL TOP vs. Criterion - Region 1- NTSC BOTTOM)
---
| | | |
| --- | --- | --- |
| DVD Box Cover | | |
| Distribution | Network - Region 2 - PAL | Criterion Collection - Spine # 375 - Region 1- NTSC |