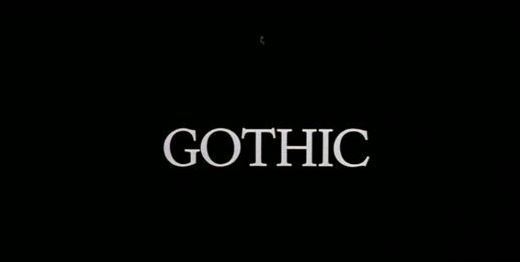 directed by Ken Russell
UK 1986
The Blu-ray of Ken Russell's Gothic is compared to these DVDs HERE
Ken Russell's films are always interesting to look at, although those who haven't acquired a taste for his symbolism-laden work and his perplexing visual jokes tend to write them off as nothing more than that. Russell is a smart filmmaker – sometimes too smart – and his movies are uncompromising in their refusal to provide a straightforward narrative. Is there any way to make Russell's films easier to follow? Apparently there is. If the subject matter is fantastic enough, it might just be that Russell's need for outrageous images can be satisfied without needing to introduce as many incomprehensible visual non-sequiturs.

In Gothic, Russell has characters that are among the most colourful in history: the writers Lord Byron (Gabriel Byrne), Percy Shelley (Julian Sands), Mary Godwin (Natasha Richardson), who was soon to be Mary Shelley, Dr. John Polidori (Timothy Spall) and Mary's stepsister Claire Clairemont (Myriam Cyr). These were real folks, and by all accounts, they were pretty wild. Their behaviour, and their written works, were ample evidence of this.

The premise here is fascinating – it's 1816 and the five have gathered at an isolated island estate in Switzerland to share scary stories and stir up scary dreams. They gather around a skull – with the assistance of drugs – to conjure up their greatest fears. They have fertile imaginations, later demonstrated by Polidori's creation of The Vampyre, which inspired the character Count Dracula, and Mary's creation of Frankenstein. Legend says that both were inspired by this night of sitting around a skull and letting their imaginations run wild.
Excerpt from Brian Webster's review at the Apollo Film Guide located HERE
Poster
Theatrical Release:
Reviews More Reviews DVD Reviews
DVD Comparison:
Artisan Entertainment - Region 1 - NTSC vs. MGM - Region 2 - PAL
Big thanks to Eric Cotenas for all the Screen Caps!
(Artisan Entertainment - Region 1 - NTSC - LEFT vs. MGM - Region 2 - PAL - RIGHT)
DVD Box Covers

Distribution

Artisan Entertainment

Region 1 - NTSC

MGM
Region 2 - PAL
Runtime
1:27:39
1:23:36 (4% PAL speedup)
Video

1.33:1 Open Matte format
Average Bitrate: 6.56 mb/s
NTSC 720x480 29.97 f/s

1.78:1 Original Aspect Ratio

16X9 enhanced
Average Bitrate: 6.2 mb/s
PAL 720x576 25.00 f/s

NOTE: The Vertical axis represents the bits transferred per second. The Horizontal is the time in minutes.

Bitrate:

Artisan Entertainment

Bitrate:

MGM

Audio
Dolby 2.0 Stereo Surround

English (stereo); German (stereo); French (mono); Italian (mono); Spanish (mono)

Subtitles
English closed captioning
French; Italian; Spanish; Dutch; Greek; English (HoH)
Features
Release Information:
Studio: Artisan Entertainment

Aspect Ratio:
Fullscreen - 1.33:1

Edition Details:

None

DVD Release Date: February 26, 2002
Amaray

Chapters 16

Release Information:
Studio: MGM

Aspect Ratio:
Widescreen anamorphic - 1.78:1

Edition Details:
None


DVD Release Date: June 20, 2005
Amaray

Chapters 16
Comments
The Blu-ray of Ken Russell's Gothic is compared to these DVDs HERE

There have been two releases of this title by Artisan on DVD. The first was reportedly inferior (probably mastered from the Vestron tape/laserdisc master). The second issuing has improved picture quality (the darkness and grain are part of the original shooting conditions) and the surround sound is preserved. The transfer is unmatted with dead space on the top and bottom of the frame. The OAR is likely 1.85:1 as the image can be zoomed into 16:9 resulting in tighter focused compositions (though its also likely that Russell and his DP Southon kept home video framing in mind as well).

The cover of the first release has the title GOTHIC at the top of the artwork while the second version has it at the bottom with the cast listed above.

NOTE: There are also unauthorized DVD releases of GOTHIC from a budget company calling itself "First Run Features" which is NOT to be confused with New York-based independent film/DVD distributors First Run Features and within a couple of those multi-film budget boxed-sets which are likely sourced from a Vestron release.

MGM's R2 anamorphic release of GOTHIC is nothing short of gorgeous. As the caps show, the colors are far more vibrant and the image sharper (though there is something to be said for the antiquated look of the R1 transfer giving a warmth to the candelit scenes but the MGM release gives serves the film's cool blues. The 1.85:1 presentation is matted obscuring only occasional detail on the top and bottom of the frame but many other compositions (especially once night sets in) shroud the top of the frame in darkness. Viewing GOTHIC in this way is a completely new experience for those only familiar with the Vestron tape/laserdisc and the Artisan DVDs. I found myself watching the entire film again when I first put it in to spot-check it.
---
DVD Menus
(Artisan Entertainment - Region 1 - NTSC -
LEFT
vs. MGM - Region 2 - PAL -
RIGHT
)
---
Screen Captures
(Artisan Entertainment - Region 1 - NTSC - TOP vs. MGM - Region 2 - PAL - BOTTOM)
---
(Artisan Entertainment - Region 1 - NTSC - TOP vs. MGM - Region 2 - PAL - BOTTOM)
---
(Artisan Entertainment - Region 1 - NTSC - TOP vs. MGM - Region 2 - PAL - BOTTOM)
---
(Artisan Entertainment - Region 1 - NTSC - TOP vs. MGM - Region 2 - PAL - BOTTOM)
---
(Artisan Entertainment - Region 1 - NTSC - TOP vs. MGM - Region 2 - PAL - BOTTOM)
---
(Artisan Entertainment - Region 1 - NTSC - TOP vs. MGM - Region 2 - PAL - BOTTOM)
---
(Artisan Entertainment - Region 1 - NTSC - TOP vs. MGM - Region 2 - PAL - BOTTOM)
---
Report Card:
| | |
| --- | --- |
| Image: | MGM (R2) |
| Sound: | MGM (R2) |
| Extras: | - |
| Menu: | Artisan (R1) |