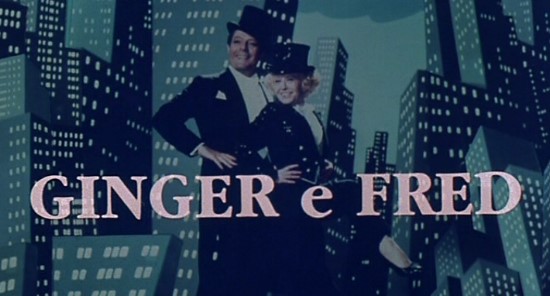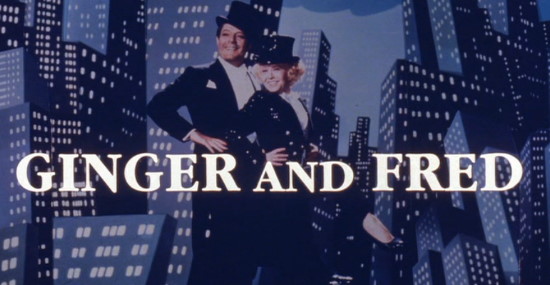 (Infinity Arthouse (2-disc) - Region 0 - PAL TOP vs. Warner - Region 1 - NTSC BOTTOM)



Italy / France / West Germany 1986
Masina and Mastroianni's dancing duo reunite for a 1970s TV show in Fellini's comedy-drama

It is hard not to be won over by Giulietta Masina at her best. This tiny, expressive actress had an air of Chaplin's tramp about her, and the requisite ability to simultaneously break and lift hearts. Federico Fellini cast Masina, his wife and his muse, in a number of roles where her innocent clowning was used to great effect, La Strada being the most obvious and most beloved of her pictures. In Ginger And Fred, Fellini pairs her with another great icon of Italian cinema, Marcello Mastroianni.

Masina and Mastroianni play Amelia and Pippo, an old-time dance double act. Accomplished imitators of Fred Astaire and Ginger Rogers, they wowed provincial Italian audiences with their polished song-and-dance shtick throughout the 1930s. Long since parted to lead ordinary family lives, they are reunited for a Christmas edition of a popular Italian variety TV show. The duo are reacquainted as they wait in the wings with their fellow guests, a hoard of freaks, deviants and oddballs.
Excerpt from Channel 4 located HERE
Posters
Theatrical Release: January 13th, 1986
Reviews More Reviews DVD Reviews
DVD Comparison:
Infinity Arthouse (2-disc) - Region 0 - PAL vs. Warner - Region 1 - NTSC
(Infinity Arthouse (2-disc) - Region 0 - PAL LEFT vs. Warner - Region 1 - NTSC RIGHT)
DVD Box Cover

Distribution
Infinity Arthouse - Region 0 - PAL
Warner - Region 1 - NTSC
Runtime
2:02:08 (4% PAL Speedup)
2:07:00
Video
1.33:1 Aspect Ratio
Average Bitrate: 4.63 mb/s
PAL 720x576 25.00 f/s
1.78:1 Aspect Ratio
Average Bitrate: 5.54 mb/s
NTSC 720x480 29.97 f/s

NOTE: The Vertical axis represents the bits transferred per second. The Horizontal is the time in minutes.

Bitrate: PAL

Bitrate: WARNER

Audio
Italian (Dolby Digital 2.0)
Italian (Dolby Digital 2.0)
Subtitles
English, None
English, None
Features

Release Information:
Studio: Infinity Arthouse

Aspect Ratio:
Original Aspect Ratio 1.33:1

Edition Details:

• La Felliniana - Epilogo: Passarella Finale (29:51)
• La Felliniana – Chapter 8: Silenzio (32:39)
• Marcello Mastroianni: A Self Portrait (1:31:56)

DVD Release Date: March 13th, 2006
Double Slim Transparent Keep Case inside cardboard slipcase
Chapters: 14

Release Information:
Studio: Warner

Aspect Ratio:
Original Aspect Ratio 1.78:1

Edition Details:

• Trailer (1:44)

DVD Release Date: February 13th, 2007
Keep Case
Chapters: 28
Comments:

ADDITION: Warner - NTSC - Unfortunately neither appear in the film's proper 1.66 aspect ratio. This AR appears problematic for some DVD production companies who don't wish to confuse their purchasers with a warning of black bars down the side when played on widescreen TV's. It is really very silly promoting this ignorance. Hence the Infinity has excess headroom and the Warner is fairly tight. The single-layered Infinity shows more weakness than the brighter, anamorphic Warner. Their are more digital artifacts in the Infinity but the Warner has scenes that appear very red. Forced to choose I would pick the slightly sharper Warner for the image.

The Warner has no extras save a trailer, where the Infinity has a 2nd disc of excellent supplement featurettes (see below). The Warner is almost 1/3 the price of the Infinity and although neither gets a strong nod for the transfer - in my opinion the Warner is the way to go (lesser of two evils) and if you are extremely keen you can get the Infinity later.

NOTE: The subtitle translation appears quite different at times.

***

The image quality is quite clear on this DVD5 (single layered disc). Funnily enough I can't recall two many packages where the main film is on a single layer and the extras are on a dual layered DVD... but here we have it. Clarity is quite strong with consistency in the softer lens usage when muse Masina is in the frame. Colors also are quite strong and subtitles are good. The original aspect ratio is 1.66 and this appears to be an open matte.

Extras are a high point of the package with about 2 1/2 hours of reminiscences and other informative material.

The film itself would be considered a 'miss' by many Fellini fans, but it is still part of his unique oeuvre. Certainly those who enjoy Masina will want to pick it up and the package is very well done by new label; Infinity Arthouse - I look forward to more of their production in the future.
---

DVD Menus
(Infinity Arthouse (2-disc) - Region 0 - PAL LEFT vs. Warner - Region 1 - NTSC RIGHT)
| | |
| --- | --- |
| | |
| | |
| | |
| | |
Disc 2 - Infinity
---
Subtitle Sample
(Infinity Arthouse (2-disc) - Region 0 - PAL TOP vs. Warner - Region 1 - NTSC BOTTOM)
Screen Captures
(Infinity Arthouse (2-disc) - Region 0 - PAL TOP vs. Warner - Region 1 - NTSC BOTTOM)
---
(Infinity Arthouse (2-disc) - Region 0 - PAL TOP vs. Warner - Region 1 - NTSC BOTTOM)
---
(Infinity Arthouse (2-disc) - Region 0 - PAL TOP vs. Warner - Region 1 - NTSC BOTTOM)
---
(Infinity Arthouse (2-disc) - Region 0 - PAL TOP vs. Warner - Region 1 - NTSC BOTTOM)
---
(Infinity Arthouse (2-disc) - Region 0 - PAL TOP vs. Warner - Region 1 - NTSC BOTTOM)
---
(Infinity Arthouse (2-disc) - Region 0 - PAL TOP vs. Warner - Region 1 - NTSC BOTTOM)
---
(Infinity Arthouse (2-disc) - Region 0 - PAL TOP vs. Warner - Region 1 - NTSC BOTTOM)
---
(Infinity Arthouse (2-disc) - Region 0 - PAL TOP vs. Warner - Region 1 - NTSC BOTTOM)
Report Card:
| | |
| --- | --- |
| Image: | Warner for 16X9, sharpness |
| Sound: | - |
| Extras: | Infinity |
| Menu: | - |
---
Recommended Books on Federico Fellini (CLICK COVERS or TITLES for more information)
| | | |
| --- | --- | --- |
| DVD Box Cover | | |
| Distribution | Infinity Arthouse - Region 0 - PAL | Warner - Region 1 - NTSC |