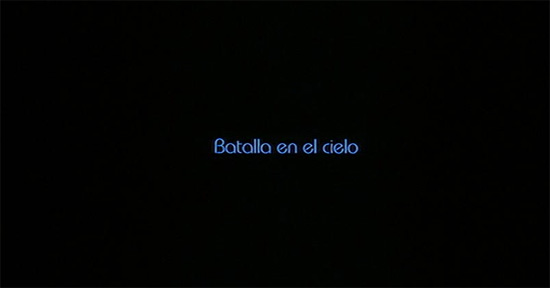 (aka "Battle in Heaven" )
directed by Carlos Reygadas
Mexico / Belgium / France / Germany 2005
Japón was a film about a man preparing to kill himself. Battle in Heaven details the mortal combat between a general's driver (played by Marcos Hern an actual chauffeur for Reygadas's father) and the general's daughter (played, under the assumed name of Anapola Mushkadiz, by an actual flower of the Mexican ruling class). Each has a criminal secret: The driver and his wife have orchestrated a botched kidnapping; the daughter, like Belle de Jour, amuses herself by working in a brothel.

Working without a screenplay, Reygadas is a Warholian impresario, creating existential situations where nonprofessionals can expose themselves—sometimes cruelly—on camera. (The Factory connection is clinched by Mushkadiz, an Edie Sedgwick type with a throaty voice and a bird's-nest coiffure.) This concern for authenticity is reinforced by the interpolation of documentary footage—most spectacularly in using a vast religious procession as a backdrop.
Theatrical Release: France 15 May 2005 (Cannes Film Festival)
Reviews More Reviews DVD Reviews
DVD Comparison:
Tartan - Region 0 - PAL vs. Tartan - Region 1- NTSC
Big thanks to Per-Olof Strandberg for the Review!
(Tartan - Region 0 - PAL LEFT vs. Tartan - Region 1- NTSC RIGHT)
DVD Box Cover

Distribution

Tartan

Region 0 - PAL

Tartan

Region 1 - NTSC

Runtime
1:34:45 (4% PAL speedup)
1:34:12
Video

1:1.78 Original Aspect Ratio

16X9 enhanced
Average Bitrate: 5.91 mb/s
PAL 720x576 25.00 f/s

1:1.78 Original Aspect Ratio

16X9 enhanced
Average Bitrate: 7.34 mb/s
NTSC 720x480 29.97 f/s

NOTE: The Vertical axis represents the bits transferred per second. The Horizontal is the time in minutes.

Bitrate PAL

Bitrate NTSC

Audio
Spanish (DTS 5.1, Dolby Digital 5.1, Dolby Digital 2.0)
Spanish (DTS 5.1, Dolby Digital 5.1, Dolby Digital 2.0)
Subtitles
English, None
English, None
Features
Release Information:
Studio: Tartan

Aspect Ratio:
Widescreen anamorphic - 1:1.78

Edition Details:
• Carlos Reygadas & Anapola Mushkadiz interview (16:9 / 33:28)
• Trailer (16:9 / 1:36)
• Tartan Trailer reel (1:39)
• Jason Wood Film notes

DVD Release Date: March 27, 2006
Keep Case

Chapters 16

Release Information:
Studio: Tartan

Aspect Ratio:
Widescreen anamorphic - 1:1.78

Edition Details:
• Carlos Reygadas & Anapola Mushkadiz interview (16:9 / 33:28)
• Trailer (16:9 / 1:36)
• Tartan Trailer reel (1:39)

• Excerpts from Japon

DVD Release Date: May 9th, 2006
Keep Case

Chapters 16
Comments
ADDITION - Tartan Region 1 NTSC (May 2006): Well, Tartan have given region 1 another unconverted PAL transfer. The Region 1 release looks quite poor next to the PAL edition by the same outfit. The PAL DVD is much sharper with better detail. Ghosting, combing and related artifacts are plentiful during horizontal pans in the NTSC transfer. Extras are duplicated with the addition of come Japon excerpts on the NTSC release, but a removal of the Jason Wood liner notes.

It's an easy choice - the PAL edition is the superior DVD.

****

According to IMDb this film was shot with Arriflex Cameras on 35 mm stock. Seen with a projector this DVD looks like the film was made on Digital video (not HD). But I can't find any information of the material used here, and there's no Making-off, that revels the camera. I presume that this is shot Digitally for the following reasons: The picture has an Digital sharp nature, the visible grain is typical for Video source, there's some minor blurriness in motion, the camera movements, use of the zoom, indicates that here's used a very light camera. Some parts of the film (shopping centers, streets) have a look of a Home Movie (no external light used).

If it's made on 35 mm stock, then it's either manipulated at the post-production stage, or on this DVD. Some of the faults listed, is typical for films that goes trough a Digital Enhancement process. The entire film looks contrast boosted, and there's edge enhancement visible. If the film is really shot on film, I wonder the Digital nature on this DVD! Is it edited on AVID, and then transferred directly to a new negative? On a TV set many of these things aren't visible.

The sound in this film is equal important as the picture. Reygadas uses the sound in an artistically way, making mood and locations . The DTS sound is very good! out of

****

NOTE: From my understanding Carlos Reygadas used an ARRICAM Lite with Cooke S4 lenses. I also asked him what filmstock he used at the SF screening and said he used the Fuji 400T 8582 which gave him the texture he wanted for the film. In terms of editing he used Final Cut Pro. (Thanks Nate)
---
DVD Menus
(Tartan - Region 0 - PAL LEFT vs. Tartan - Region 1- NTSC RIGHT)


---
Screen Captures
'Ghosting' sample from Tartan - Region 1 - NTSC
---
(Tartan - Region 0 - PAL TOP vs. Tartan - Region 1- NTSC BOTTOM)
---
(Tartan - Region 0 - PAL TOP vs. Tartan - Region 1- NTSC BOTTOM)
---
(Tartan - Region 0 - PAL TOP vs. Tartan - Region 1- NTSC BOTTOM)
---
(Tartan - Region 0 - PAL TOP vs. Tartan - Region 1- NTSC BOTTOM)
---
(Tartan - Region 0 - PAL TOP vs. Tartan - Region 1- NTSC BOTTOM)