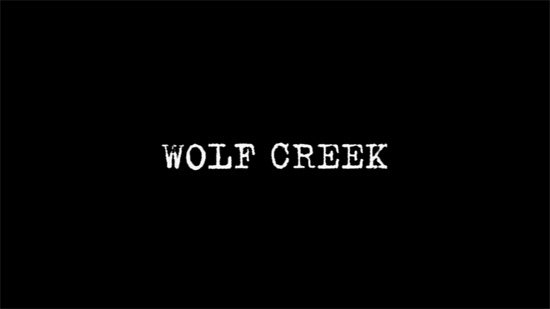 directed by Greg McLean
Australia 2005
Telling the stories of three backpackers in the outback of Australia, "Wolf Creek" is a mixed blessing by first time director Greg McLean.

The first half of the film introduces the three characters, sets up a love interest, location and environment. This half is quiet weak. We never really get to know the characters, we get "acquainted" with them. We never get to know what goes on inside them, we get "an idea". Left with them, we follow them thru the desolated outback, which even in real life is nothing but dust, dirt and a road - i.e. boring.

The second half of the film is what "Wolf Creek" is all about and where it delivers. Not so much horror, but more terror and sadism, "Wolf Creek" is surprisingly effective in setting the scene, using transitions between close-up of the characters bloody faces and the killer.

Where many horror films at the moment substitute story with sadism, "Wolf Creek" can be said to do the same, but thanks to some rather inventive story elements, the second part of the film is almost up to par with "Texas Chainsaw Massacre". Very wisely McLean never explains the killers motifs. He is just someone who kills. He is just someone who loves to see his victims squirming in pain, begging for their lives. And because he is a pure sadist, the sadism of the horror never becomes a substitution for story.

What I liked the most about "Wolf Creek" was, that the images stay with you. Even though the first part almost can be skipped, the mise-en-scene and the terror of the second part is so beautifully crafted, that it makes you want to see it again. And that is a quality I have missed in horror films lately. If the characters and the first part had been better crafted, "Wolf Creek" would indeed have been an amazing film. But one must remember, that this is a first effort, and McLean shows promise.
Posters
Theatrical Release: January 2005 (Sundance Film Festival)
Reviews More Reviews DVD Reviews
DVD Review: Optimum - Region 2 - PAL
Big thanks to Henrik Sylow for the Review!
DVD Box Cover

CLICK to order from:

Distribution

Optimum

Region 2 - PAL

Runtime
1:34:43 (4% PAL speedup)
Video

Original Aspect Ratio

16X9 enhanced
Average Bitrate: 7.82 mb/s
PAL 720x576 25.00 f/s

NOTE: The Vertical axis represents the bits transferred per second. The Horizontal is the time in minutes.

Bitrate

Audio
2.0 Dolby Digital Australian, 5.1 Dolby Digital Australian
Subtitles
No Subtitles
Features
Release Information:
Studio: Optimum

Aspect Ratio:
Widescreen anamorphic -

Edition Details:
• Audio Commentary by Greg McLean, Matt Hearn, Cassandra Magrath and Kestie Morassi
• Trailer (1:40 / 16x9)
• ...
• Disc 2:
• The Making of Wolf Creek (49:43 / 16x9)
• Deleted Scenes (5:58 / 16x9)
• Teaser Trailer (1:01 / 16x9)
• Meet Mick Taylor - an interview with John Garrett (20:55 / 16x9)
• Cry Wolf exclusive clip (3:42 / 16x9)

DVD Release Date: January 16, 2006
Amaray

Chapters 16
Comments
Shot on HD, then blown up to 35mm, having been digitally altered to look more like film than DV, the image has some minor issues. Even so, this is one very strong transfer. It is hard for me to tell what is an artifact and what is caused by grading, so as the image overall looks amazing, I'm willing to overlook what might be compression artifacts.

The sound is in general very good, but at times dialogue is hard to understand, as its in Aussie and being mumbled. But in scenes where you need to be able to hear what they say, its clear and easily understandable. Still, I would have liked subtitles added on this DVD.

The audio commentary is a mixed blessing. While there is some discussions towards scenes, a lot of the times they talk about how much fun they had doing this and that.

The same thing can be said about the interview with John Jarratt, who just sits and talks for 20 minutes. While he does talk about production and character, this is IMO a poor interview, as he is allowed to just talk, and the interviewer hasn't bothered preparing questions nor structuring the interview.

The only real good piece of additional material is the 50-minute Making of, where we get a good sense of production, how the film was graded from HD to film, and with lots of comments and interview segments.
---




DVD Menus

---
Screen Captures














DONATIONS Keep DVDBeaver alive:
Mail cheques, money orders, cash to: or CLICK PayPal logo to donate!
Thank You!
Greg McLean's - Wolf Creek - DVD Review Greg McLean Wolf Creek DVD Review Greg McLean Wolf Creek DVD Review Greg McLean Wolf Creek DVD Review Greg McLean Wolf Creek DVD Review Greg McLean Wolf Creek DVD Review Greg McLean Wolf Creek DVD Review Greg McLean Wolf Creek DVD Review Greg McLean Wolf Creek DVD Review Greg McLean Wolf Creek DVD Review Greg McLean's - Wolf Creek - DVD Review Greg McLean Wolf Creek DVD Review Greg McLean Wolf Creek DVD Review Greg McLean Wolf Creek DVD Review Greg McLean Wolf Creek DVD Review Greg McLean Wolf Creek DVD Review Greg McLean Wolf Creek DVD Review Greg McLean Wolf Creek DVD Review Greg McLean Wolf Creek DVD Review Greg McLean Wolf Creek DVD Review Greg McLean's - Wolf Creek - DVD Review Greg McLean Wolf Creek DVD Review Greg McLean Wolf Creek DVD Review Greg McLean Wolf Creek DVD Review Greg McLean Wolf Creek DVD Review Greg McLean Wolf Creek DVD Review Greg McLean Wolf Creek DVD Review Greg McLean Wolf Creek DVD Review Greg McLean Wolf Creek DVD Review Greg McLean Wolf Creek DVD Review Greg McLean's - Wolf Creek - DVD Review Greg McLean Wolf Creek DVD Review Greg McLean Wolf Creek DVD Review Greg McLean Wolf Creek DVD Review Greg McLean Wolf Creek DVD Review Greg McLean Wolf Creek DVD Review Greg McLean Wolf Creek DVD Review Greg McLean Wolf Creek DVD Review Greg McLean Wolf Creek DVD Review Greg McLean Wolf Creek DVD Review Greg McLean's - Wolf Creek - DVD Review Greg McLean Wolf Creek DVD Review Greg McLean Wolf Creek DVD Review Greg McLean Wolf Creek DVD Review Greg McLean Wolf Creek DVD Review Greg McLean Wolf Creek DVD Review Greg McLean Wolf Creek DVD Review Greg McLean Wolf Creek DVD Review Greg McLean Wolf Creek DVD Review Greg McLean Wolf Creek DVD Review Greg McLean's - Wolf Creek - DVD Review Greg McLean Wolf Creek DVD Review Greg McLean Wolf Creek DVD Review Greg McLean Wolf Creek DVD Review Greg McLean Wolf Creek DVD Review Greg McLean Wolf Creek DVD Review Greg McLean Wolf Creek DVD Review Greg McLean Wolf Creek DVD Review Greg McLean Wolf Creek DVD Review Greg McLean Wolf Creek DVD Review Greg McLean's - Wolf Creek - DVD Review Greg McLean Wolf Creek DVD Review Greg McLean Wolf Creek DVD Review Greg McLean Wolf Creek DVD Review Greg McLean Wolf Creek DVD Review Greg McLean Wolf Creek DVD Review Greg McLean Wolf Creek DVD Review Greg McLean Wolf Creek DVD Review Greg McLean Wolf Creek DVD Review Greg McLean Wolf Creek DVD Review Greg McLean's - Wolf Creek - DVD Review Greg McLean Wolf Creek DVD Review Greg McLean Wolf Creek DVD Review Greg McLean Wolf Creek DVD Review Greg McLean Wolf Creek DVD Review Greg McLean Wolf Creek DVD Review Greg McLean Wolf Creek DVD Review Greg McLean Wolf Creek DVD Review Greg McLean Wolf Creek DVD Review Greg McLean Wolf Creek DVD Review Greg McLean's - Wolf Creek - DVD Review Greg McLean Wolf Creek DVD Review Greg McLean Wolf Creek DVD Review Greg McLean Wolf Creek DVD Review Greg McLean Wolf Creek DVD Review Greg McLean Wolf Creek DVD Review Greg McLean Wolf Creek DVD Review Greg McLean Wolf Creek DVD Review Greg McLean Wolf Creek DVD Review Greg McLean Wolf Creek DVD Review Greg McLean's - Wolf Creek - DVD Review Greg McLean Wolf Creek DVD Review Greg McLean Wolf Creek DVD Review Greg McLean Wolf Creek DVD Review Greg McLean Wolf Creek DVD Review Greg McLean Wolf Creek DVD Review Greg McLean Wolf Creek DVD Review Greg McLean Wolf Creek DVD Review Greg McLean Wolf Creek DVD Review Greg McLean Wolf Creek DVD Review Greg McLean's - Wolf Creek - DVD Review Greg McLean Wolf Creek DVD Review Greg McLean Wolf Creek DVD Review Greg McLean Wolf Creek DVD Review Greg McLean Wolf Creek DVD Review Greg McLean Wolf Creek DVD Review Greg McLean Wolf Creek DVD Review Greg McLean Wolf Creek DVD Review Greg McLean Wolf Creek DVD Review Greg McLean Wolf Creek DVD Review Greg McLean's - Wolf Creek - DVD Review Greg McLean Wolf Creek DVD Review Greg McLean Wolf Creek DVD Review Greg McLean Wolf Creek DVD Review Greg McLean Wolf Creek DVD Review Greg McLean Wolf Creek DVD Review Greg McLean Wolf Creek DVD Review Greg McLean Wolf Creek DVD Review Greg McLean Wolf Creek DVD Review Greg McLean Wolf Creek DVD Review