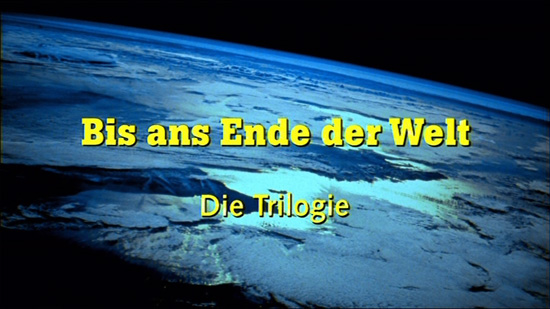 (aka "Until the End of the World (UK) (USA)" or "Jusqu'au bout du monde (France)")
directed by Wim Wenders
Germany / France / Australia 1991
"The Reader's Digest version I was forced to release at the time would have broken my heart if I had left it at that. I knew that. And I felt I owed it to my actors, to my crew and to the musicians who had worked on that fabulous score, to finish the real work we had done. It had epic proportions, that was for sure. Together with my editor, Peter Przygodda, we added another full year after the delivery of the commercial version at the time, at our own expense, and finished what I considered "the real film." Of five hours. Which exists since then and which hopefully will see not only the light of day in the form of DVD releases, but also a few theatrical screenings here or there. I have shown it four or five times already, and EVERYBODY who saw it had the same reaction. "Wow! Now we get it. That's a whole different ballgame!" At the time we had to condense the film so much that all the fun had gone out of it. The "message" had become very heavy, if not to say heavy-handed. The very narrator had become more or less a side character, for instance."
Posters
Theatrical Release: September 12, 1991 (Germany)
Reviews More Reviews DVD Reviews
DVD Review: Ripley's Home Video (RHV) (4 Disc Italian Edition) - Region 2 - PAL
DVD Box Cover

CLICK to order from:

Distribution

Ripley's Home Video (RHV)

Region 2 - PAL

The German edition is available HERE:

with Director's Cut - 279 Minutes , Audio options for German (Dolby Digital 5.1) and English (Dolby Digital 5.1) , Deleted Scenes, Wim Wenders – interviewed by Roger Willemsen, Biography of Wim Wenders, Trailer

Runtime
279 min (4% PAL speedup)
Video

1.78:1 Aspect Ratio

16X9 enhanced
Average Bitrate: 6.17 mb/s
PAL 720x576 25.00 f/s

NOTE: The Vertical axis represents the bits transferred per second. The Horizontal is the time in minutes.

Bitrate

Audio
Dolby Digital 5.1, Dolby 2.0 (English)
Subtitles
Italian, Italian for the Hearing Impaired
Features
Release Information:
Studio: Ripley's Home Video (RHV)

Aspect Ratio:
Widescreen anamorphic - 1.78:1

Edition Details:
• Film on three DVD's , Extras on fourth disc
• Extras:
• 10 minute monologue by Wim Wenders as he is driven around in Australia
• 40-minute interview on the making of the Director's Cut
• 30-minute montage of cut scenes and out-takes
• photo gallery
• trailer
• fold-out booklet (in Italian)

DVD Release Date: February 2004
3 Keepcases in a Box

Chapters 42
Comments
The Director's Cut is presented as a trilogy. It is spread out over on three single layered DVD's, each part with its own opening credit sequence. Wenders claims that that he used the original Super-35mm negative for this version and that the theatrical cut was actually struck from a dupe of the original. As you can see from the stills the image looks very, very good. But, since each disc only holds around an hour and a half of material it is a shame coming from such a high quality source that the transfer's bitrate isn't higher.

Since the transfer is from a 1.33:1 Super-35 source not used for the theatrical release, it is not entirely inappropriate that the anamorphic image is presented at a full screen ratio of 1.78:1 instead of the theatrical ratio of 1.85:1.

I have only scanned through the supplements but I found the 40 minute interview with the director to be concise and highly informative. This is obviously the version Wim Wenders is most attached to. For fans of the original release it is a must-have. out of
---




DVD Menus

---
Screen Captures
subtitle sample














DONATIONS Keep DVDBeaver alive:
Mail cheques, money orders, cash to: or CLICK PayPal logo to donate!
Thank You!
Wim Wenders' - Bis ans Ende der Welt - Until the End of the World - DVD Review Wim Wenders Bis ans Ende der Welt Until the End of the World DVD Review Wim Wenders Bis ans Ende der Welt Until the End of the World DVD Review Wim Wenders Bis ans Ende der Welt Until the End of the World DVD Review Wim Wenders Bis ans Ende der Welt Until the End of the World DVD Review Wim Wenders Bis ans Ende der Welt Until the End of the World DVD Review Wim Wenders' - Bis ans Ende der Welt - Until the End of the World - DVD Review Wim Wenders Bis ans Ende der Welt Until the End of the World DVD Review Wim Wenders Bis ans Ende der Welt Until the End of the World DVD Review Wim Wenders Bis ans Ende der Welt Until the End of the World DVD Review Wim Wenders Bis ans Ende der Welt Until the End of the World DVD Review Wim Wenders Bis ans Ende der Welt Until the End of the World DVD Review Wim Wenders' - Bis ans Ende der Welt - Until the End of the World - DVD Review Wim Wenders Bis ans Ende der Welt Until the End of the World DVD Review Wim Wenders Bis ans Ende der Welt Until the End of the World DVD Review Wim Wenders Bis ans Ende der Welt Until the End of the World DVD Review Wim Wenders Bis ans Ende der Welt Until the End of the World DVD Review Wim Wenders Bis ans Ende der Welt Until the End of the World DVD Review Wim Wenders' - Bis ans Ende der Welt - Until the End of the World - DVD Review Wim Wenders Bis ans Ende der Welt Until the End of the World DVD Review Wim Wenders Bis ans Ende der Welt Until the End of the World DVD Review Wim Wenders Bis ans Ende der Welt Until the End of the World DVD Review Wim Wenders Bis ans Ende der Welt Until the End of the World DVD Review Wim Wenders Bis ans Ende der Welt Until the End of the World DVD Review Wim Wenders' - Bis ans Ende der Welt - Until the End of the World - DVD Review Wim Wenders Bis ans Ende der Welt Until the End of the World DVD Review Wim Wenders Bis ans Ende der Welt Until the End of the World DVD Review Wim Wenders Bis ans Ende der Welt Until the End of the World DVD Review Wim Wenders Bis ans Ende der Welt Until the End of the World DVD Review Wim Wenders Bis ans Ende der Welt Until the End of the World DVD Review Wim Wenders' - Bis ans Ende der Welt - Until the End of the World - DVD Review Wim Wenders Bis ans Ende der Welt Until the End of the World DVD Review Wim Wenders Bis ans Ende der Welt Until the End of the World DVD Review Wim Wenders Bis ans Ende der Welt Until the End of the World DVD Review Wim Wenders Bis ans Ende der Welt Until the End of the World DVD Review Wim Wenders Bis ans Ende der Welt Until the End of the World DVD Review Wim Wenders' - Bis ans Ende der Welt - Until the End of the World - DVD Review Wim Wenders Bis ans Ende der Welt Until the End of the World DVD Review Wim Wenders Bis ans Ende der Welt Until the End of the World DVD Review Wim Wenders Bis ans Ende der Welt Until the End of the World DVD Review Wim Wenders Bis ans Ende der Welt Until the End of the World DVD Review Wim Wenders Bis ans Ende der Welt Until the End of the World DVD Review Wim Wenders' - Bis ans Ende der Welt - Until the End of the World - DVD Review Wim Wenders Bis ans Ende der Welt Until the End of the World DVD Review Wim Wenders Bis ans Ende der Welt Until the End of the World DVD Review Wim Wenders Bis ans Ende der Welt Until the End of the World DVD Review Wim Wenders Bis ans Ende der Welt Until the End of the World DVD Review Wim Wenders Bis ans Ende der Welt Until the End of the World DVD Review Wim Wenders' - Bis ans Ende der Welt - Until the End of the World - DVD Review Wim Wenders Bis ans Ende der Welt Until the End of the World DVD Review Wim Wenders Bis ans Ende der Welt Until the End of the World DVD Review Wim Wenders Bis ans Ende der Welt Until the End of the World DVD Review Wim Wenders Bis ans Ende der Welt Until the End of the World DVD Review Wim Wenders Bis ans Ende der Welt Until the End of the World DVD Review Wim Wenders' - Bis ans Ende der Welt - Until the End of the World - DVD Review Wim Wenders Bis ans Ende der Welt Until the End of the World DVD Review Wim Wenders Bis ans Ende der Welt Until the End of the World DVD Review Wim Wenders Bis ans Ende der Welt Until the End of the World DVD Review Wim Wenders Bis ans Ende der Welt Until the End of the World DVD Review Wim Wenders Bis ans Ende der Welt Until the End of the World DVD Review Wim Wenders' - Bis ans Ende der Welt - Until the End of the World - DVD Review Wim Wenders Bis ans Ende der Welt Until the End of the World DVD Review Wim Wenders Bis ans Ende der Welt Until the End of the World DVD Review Wim Wenders Bis ans Ende der Welt Until the End of the World DVD Review Wim Wenders Bis ans Ende der Welt Until the End of the World DVD Review Wim Wenders Bis ans Ende der Welt Until the End of the World DVD Review Wim Wenders' - Bis ans Ende der Welt - Until the End of the World - DVD Review Wim Wenders Bis ans Ende der Welt Until the End of the World DVD Review Wim Wenders Bis ans Ende der Welt Until the End of the World DVD Review Wim Wenders Bis ans Ende der Welt Until the End of the World DVD Review Wim Wenders Bis ans Ende der Welt Until the End of the World DVD Review Wim Wenders Bis ans Ende der Welt Until the End of the World DVD Review Wim Wenders' - Bis ans Ende der Welt - Until the End of the World - DVD Review Wim Wenders Bis ans Ende der Welt Until the End of the World DVD Review Wim Wenders Bis ans Ende der Welt Until the End of the World DVD Review Wim Wenders Bis ans Ende der Welt Until the End of the World DVD Review Wim Wenders Bis ans Ende der Welt Until the End of the World DVD Review Wim Wenders Bis ans Ende der Welt Until the End of the World DVD Review Wim Wenders' - Bis ans Ende der Welt - Until the End of the World - DVD Review Wim Wenders Bis ans Ende der Welt Until the End of the World DVD Review Wim Wenders Bis ans Ende der Welt Until the End of the World DVD Review Wim Wenders Bis ans Ende der Welt Until the End of the World DVD Review Wim Wenders Bis ans Ende der Welt Until the End of the World DVD Review Wim Wenders Bis ans Ende der Welt Until the End of the World DVD Review Wim Wenders' - Bis ans Ende der Welt - Until the End of the World - DVD Review Wim Wenders Bis ans Ende der Welt Until the End of the World DVD Review Wim Wenders Bis ans Ende der Welt Until the End of the World DVD Review Wim Wenders Bis ans Ende der Welt Until the End of the World DVD Review Wim Wenders Bis ans Ende der Welt Until the End of the World DVD Review Wim Wenders Bis ans Ende der Welt Until the End of the World DVD Review Wim Wenders' - Bis ans Ende der Welt - Until the End of the World - DVD Review Wim Wenders Bis ans Ende der Welt Until the End of the World DVD Review Wim Wenders Bis ans Ende der Welt Until the End of the World DVD Review Wim Wenders Bis ans Ende der Welt Until the End of the World DVD Review Wim Wenders Bis ans Ende der Welt Until the End of the World DVD Review Wim Wenders Bis ans Ende der Welt Until the End of the World DVD Review Wim Wenders' - Bis ans Ende der Welt - Until the End of the World - DVD Review Wim Wenders Bis ans Ende der Welt Until the End of the World DVD Review Wim Wenders Bis ans Ende der Welt Until the End of the World DVD Review Wim Wenders Bis ans Ende der Welt Until the End of the World DVD Review Wim Wenders Bis ans Ende der Welt Until the End of the World DVD Review Wim Wenders Bis ans Ende der Welt Until the End of the World DVD Review Wim Wenders' - Bis ans Ende der Welt - Until the End of the World - DVD Review Wim Wenders Bis ans Ende der Welt Until the End of the World DVD Review Wim Wenders Bis ans Ende der Welt Until the End of the World DVD Review Wim Wenders Bis ans Ende der Welt Until the End of the World DVD Review Wim Wenders Bis ans Ende der Welt Until the End of the World DVD Review Wim Wenders Bis ans Ende der Welt Until the End of the World DVD Review