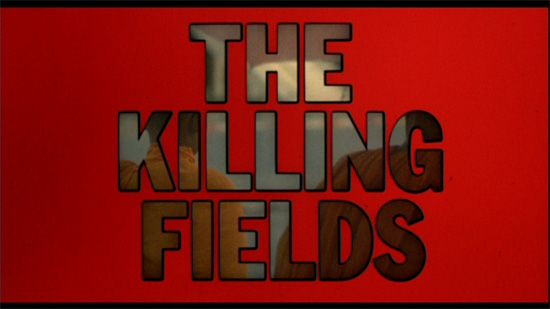 directed by Roland Joffé
United Kingdom 1984
Based upon Sydney Schanberg's story "The Death and Life of Dith Pran", published in New York Times in 1980, "The Killing Fields" is a tale of friendship and suffering, set against the Khmer Rouge's takeover of Cambodia in 1975.

One of the finest films of British Cinema of the 80s, "The Killing Fields" is a tale about men with conviction, dedication and a sense of commitment, that goes beyond definition. Joffé, who later would continue same motifs in "The Mission", tells the story from the point of view of two men, the correspondent Schanberg and his guide / translator Pran, who bond and become completely commited to each other.

What makes "The Killing Fields" such a powerful film is the focus on ordinary human beings, who risk their lives as they are committed to a cause and their friendship, and by them being ordinary human beings, their suffering becomes so much stronger as we see the horrors they face and go thru. Their bravery is not one of action, like in ordinary war movies. Their bravery is one we would wish we had if we ever would find ourselves in such a situation, more so our friends would have. Important here is Sam Waterston and Haing S. Ngor, who become their characters and give a performance of a lifetime.

One of the best British films ever made, "The Killing Field" is one of cinemas most powerful tales of friendship and suffering.
Poster
Theatrical Release: November 2, 1984
Reviews More Reviews DVD Reviews
DVD Review: Optimum (Special Edition) - Region 2 - PAL
Big thanks to Henrik Sylow for the Review!
DVD Box Cover

CLICK to order from:

Distribution

Optimum

Region 2 - PAL

Runtime
2:16:13
Video

1.85:1 Original Aspect Ratio

16X9 enhanced
Average Bitrate: 6.50 mb/s
PAL 720x576 25.00 f/s

NOTE: The Vertical axis represents the bits transferred per second. The Horizontal is the time in minutes.

Bitrate

Audio
2.0 Dolby Digital English, 5.1 Dolby Digital English
Subtitles
No Subtitles
Features
Release Information:
Studio: Optimum

Aspect Ratio:
Widescreen anamorphic - 1.85:1

Edition Details:
• Audio Commentary by Roland Joffé
• ...
• Disc 2:
• Omnibus: The Killing Fields (54:06 / 4:3)
• David Puttnam on The Killing Fields (48:17 / 16x9)

DVD Release Date: February 6, 2006
Amarey

Chapters 16
Comments
I'm not entirely satisfied with the image of this new edition. Colors are a bit flat, and the resolution lacks details. In some images, mainly medium shots and especially long shots, details are obscured into mosaic. The colors and grain is to be blamed on the stock the film was shot, but the lack of details is not. But all this aside, and minimal compression artifacts, the image is decent enough.

What one might argue the presentation is lacking, the DVD makes up for in additional material. The film itself is supported by an audio commentary by Roland Joffé. It is one very personal and informative commentary, where Joffé talks about the book, the production, what he thought about when creating a scene, structuring characters and motifs, and so forth. A Master Class commentary.

Disc 2 has a making of / coming soon program "Omnibus: The Killing Fields", shot in 1983, with location-shootings of Cambodia and interviews. Essential in depicting the production and a great piece of 1980s television.

It is followed by an interview by writer David Puttnam, who talks about various aspects of the story. Again, an essential and very supportive piece of additional material.
---




DVD Menus


---
Screen Captures














DONATIONS Keep DVDBeaver alive:
Mail cheques, money orders, cash to: or CLICK PayPal logo to donate!
Thank You!
Roland Joffé's - The Killing Fields - DVD Review Roland Joffé The Killing Fields DVD Review Roland Joffé The Killing Fields DVD Review Roland Joffé The Killing Fields DVD Review Roland Joffé The Killing Fields DVD Review Roland Joffé The Killing Fields DVD Review Roland Joffé The Killing Fields DVD Review Roland Joffé's - The Killing Fields - DVD Review Roland Joffé The Killing Fields DVD Review Roland Joffé The Killing Fields DVD Review Roland Joffé The Killing Fields DVD Review Roland Joffé The Killing Fields DVD Review Roland Joffé The Killing Fields DVD Review Roland Joffé The Killing Fields DVD Review Roland Joffé's - The Killing Fields - DVD Review Roland Joffé The Killing Fields DVD Review Roland Joffé The Killing Fields DVD Review Roland Joffé The Killing Fields DVD Review Roland Joffé The Killing Fields DVD Review Roland Joffé The Killing Fields DVD Review Roland Joffé The Killing Fields DVD Review Roland Joffé's - The Killing Fields - DVD Review Roland Joffé The Killing Fields DVD Review Roland Joffé The Killing Fields DVD Review Roland Joffé The Killing Fields DVD Review Roland Joffé The Killing Fields DVD Review Roland Joffé The Killing Fields DVD Review Roland Joffé The Killing Fields DVD Review Roland Joffé's - The Killing Fields - DVD Review Roland Joffé The Killing Fields DVD Review Roland Joffé The Killing Fields DVD Review Roland Joffé The Killing Fields DVD Review Roland Joffé The Killing Fields DVD Review Roland Joffé The Killing Fields DVD Review Roland Joffé The Killing Fields DVD Review Roland Joffé's - The Killing Fields - DVD Review Roland Joffé The Killing Fields DVD Review Roland Joffé The Killing Fields DVD Review Roland Joffé The Killing Fields DVD Review Roland Joffé The Killing Fields DVD Review Roland Joffé The Killing Fields DVD Review Roland Joffé The Killing Fields DVD Review Roland Joffé's - The Killing Fields - DVD Review Roland Joffé The Killing Fields DVD Review Roland Joffé The Killing Fields DVD Review Roland Joffé The Killing Fields DVD Review Roland Joffé The Killing Fields DVD Review Roland Joffé The Killing Fields DVD Review Roland Joffé The Killing Fields DVD Review Roland Joffé's - The Killing Fields - DVD Review Roland Joffé The Killing Fields DVD Review Roland Joffé The Killing Fields DVD Review Roland Joffé The Killing Fields DVD Review Roland Joffé The Killing Fields DVD Review Roland Joffé The Killing Fields DVD Review Roland Joffé The Killing Fields DVD Review Roland Joffé's - The Killing Fields - DVD Review Roland Joffé The Killing Fields DVD Review Roland Joffé The Killing Fields DVD Review Roland Joffé The Killing Fields DVD Review Roland Joffé The Killing Fields DVD Review Roland Joffé The Killing Fields DVD Review Roland Joffé The Killing Fields DVD Review Roland Joffé's - The Killing Fields - DVD Review Roland Joffé The Killing Fields DVD Review Roland Joffé The Killing Fields DVD Review Roland Joffé The Killing Fields DVD Review Roland Joffé The Killing Fields DVD Review Roland Joffé The Killing Fields DVD Review Roland Joffé The Killing Fields DVD Review Roland Joffé's - The Killing Fields - DVD Review Roland Joffé The Killing Fields DVD Review Roland Joffé The Killing Fields DVD Review Roland Joffé The Killing Fields DVD Review Roland Joffé The Killing Fields DVD Review Roland Joffé The Killing Fields DVD Review Roland Joffé The Killing Fields DVD Review Roland Joffé's - The Killing Fields - DVD Review Roland Joffé The Killing Fields DVD Review Roland Joffé The Killing Fields DVD Review Roland Joffé The Killing Fields DVD Review Roland Joffé The Killing Fields DVD Review Roland Joffé The Killing Fields DVD Review Roland Joffé The Killing Fields DVD Review Roland Joffé's - The Killing Fields - DVD Review Roland Joffé The Killing Fields DVD Review Roland Joffé The Killing Fields DVD Review Roland Joffé The Killing Fields DVD Review Roland Joffé The Killing Fields DVD Review Roland Joffé The Killing Fields DVD Review Roland Joffé The Killing Fields DVD Review Roland Joffé's - The Killing Fields - DVD Review Roland Joffé The Killing Fields DVD Review Roland Joffé The Killing Fields DVD Review Roland Joffé The Killing Fields DVD Review Roland Joffé The Killing Fields DVD Review Roland Joffé The Killing Fields DVD Review Roland Joffé The Killing Fields DVD Review Roland Joffé's - The Killing Fields - DVD Review Roland Joffé The Killing Fields DVD Review Roland Joffé The Killing Fields DVD Review Roland Joffé The Killing Fields DVD Review Roland Joffé The Killing Fields DVD Review Roland Joffé The Killing Fields DVD Review Roland Joffé The Killing Fields DVD Review Roland Joffé's - The Killing Fields - DVD Review Roland Joffé The Killing Fields DVD Review Roland Joffé The Killing Fields DVD Review Roland Joffé The Killing Fields DVD Review Roland Joffé The Killing Fields DVD Review Roland Joffé The Killing Fields DVD Review Roland Joffé The Killing Fields DVD Review