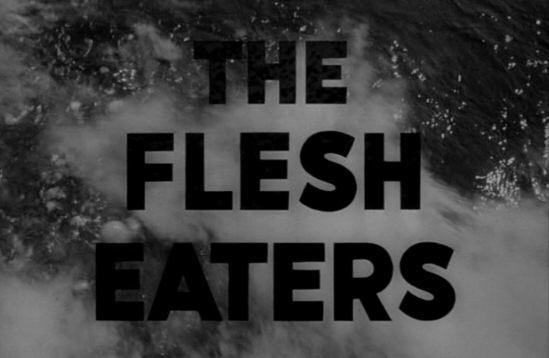 directed by Jack Curtis
USA 1964
The Flesh Eaters is exactly why people subject themselves to bad sci-fi films. Every once and a while you come across a gem that elicits such sheer enjoyment, you are willing to forgive the previous five or six duds you sat through. This is a camp film of the highest order. A pilot, an alcoholic actress, and her personal assistant become stranded on an island with a mysterious Udo Kier-like scientist. All hope of escape seems lost however, when they discover that the waters around them are home to some 'strange glowing things' that like to feed on human flesh. Featuring some of the sharpest Z-grade dialogue this side of Ed Wood Jr. and an utterly absurd "suspense sequence" about traversing a two-foot span of rocks that simply has to be seen to be believed, this is the epitome of a bad drive-in picture. Simply put, I laughed from beginning to end, and loved every damn second of it.

Theatrical Release: March 18, 1964
Reviews More Reviews DVD Reviews
DVD Review: Dark Sky FIlms - Region 0 - NTSC
Big thanks to Adam Lemke for the Review!
DVD Box Cover

CLICK to order from:

Distribution

Dark Sky FIlms

Region 0 - NTSC

Runtime
1.27.04
Video

1.85:1 Original Aspect Ratio

16X9 enhanced
Average Bitrate: mb/s
NTSC 720x480 29.97 f/s

Audio
English Mono
Subtitles
English, None
Features
Release Information:
Studio: Dark Sky FIlms

Aspect Ratio:
Widescreen anamorphic - 1.85:1

Edition Details:
• Trailers
• Deleted Scene - Rare Nazi Experiments Sequence
• Deleted Scene outtakes

DVD Release Date: Oct. 25, 2005
Keep Case

Chapters 15
Comments
This looked much better on my HD TV than on my computer. Non-progressive transfer exhibits moderate combing in many motion sequences, and there are some fluctuations in the audio quality. Those flaws aside, I think Dark Sky Films have come up with an excellent transfer for such an obscure picture. Thecinematography in the film is actually quite good and this disc (which has solid black levels, and is relatively free of all dirt and scratches) conveys this nicely. The extras feature a scene cut from the film that was of little interest to myself, but would have given the film more of a political edge had it remained intact. A worthy addition to any good collection, the film has tremendous replay value and I highly recommend it to the adventurous genre fans out there!
out of
---




DVD Menus


---
Screen Captures
Subtitle sample
Mail cheques, money orders, cash to: or CLICK PayPal logo to donate!
Thank You!
Jack Curtis' - The Flesh Eaters - DVD Review Jack Curtis The Flesh Eaters DVD Review Jack Curtis The Flesh Eaters DVD Review Jack Curtis The Flesh Eaters DVD Review Jack Curtis The Flesh Eaters DVD Review Jack Curtis The Flesh Eaters DVD Review Jack Curtis The Flesh Eaters DVD Review Jack Curtis The Flesh Eaters DVD Review Jack Curtis' - The Flesh Eaters - DVD Review Jack Curtis The Flesh Eaters DVD Review Jack Curtis The Flesh Eaters DVD Review Jack Curtis The Flesh Eaters DVD Review Jack Curtis The Flesh Eaters DVD Review Jack Curtis The Flesh Eaters DVD Review Jack Curtis The Flesh Eaters DVD Review Jack Curtis The Flesh Eaters DVD Review Jack Curtis' - The Flesh Eaters - DVD Review Jack Curtis The Flesh Eaters DVD Review Jack Curtis The Flesh Eaters DVD Review Jack Curtis The Flesh Eaters DVD Review Jack Curtis The Flesh Eaters DVD Review Jack Curtis The Flesh Eaters DVD Review Jack Curtis The Flesh Eaters DVD Review Jack Curtis The Flesh Eaters DVD Review Jack Curtis' - The Flesh Eaters - DVD Review Jack Curtis The Flesh Eaters DVD Review Jack Curtis The Flesh Eaters DVD Review Jack Curtis The Flesh Eaters DVD Review Jack Curtis The Flesh Eaters DVD Review Jack Curtis The Flesh Eaters DVD Review Jack Curtis The Flesh Eaters DVD Review Jack Curtis The Flesh Eaters DVD Review Jack Curtis' - The Flesh Eaters - DVD Review Jack Curtis The Flesh Eaters DVD Review Jack Curtis The Flesh Eaters DVD Review Jack Curtis The Flesh Eaters DVD Review Jack Curtis The Flesh Eaters DVD Review Jack Curtis The Flesh Eaters DVD Review Jack Curtis The Flesh Eaters DVD Review Jack Curtis The Flesh Eaters DVD Review Jack Curtis' - The Flesh Eaters - DVD Review Jack Curtis The Flesh Eaters DVD Review Jack Curtis The Flesh Eaters DVD Review Jack Curtis The Flesh Eaters DVD Review Jack Curtis The Flesh Eaters DVD Review Jack Curtis The Flesh Eaters DVD Review Jack Curtis The Flesh Eaters DVD Review Jack Curtis The Flesh Eaters DVD Review Jack Curtis' - The Flesh Eaters - DVD Review Jack Curtis The Flesh Eaters DVD Review Jack Curtis The Flesh Eaters DVD Review Jack Curtis The Flesh Eaters DVD Review Jack Curtis The Flesh Eaters DVD Review Jack Curtis The Flesh Eaters DVD Review Jack Curtis The Flesh Eaters DVD Review Jack Curtis The Flesh Eaters DVD Review Jack Curtis' - The Flesh Eaters - DVD Review Jack Curtis The Flesh Eaters DVD Review Jack Curtis The Flesh Eaters DVD Review Jack Curtis The Flesh Eaters DVD Review Jack Curtis The Flesh Eaters DVD Review Jack Curtis The Flesh Eaters DVD Review Jack Curtis The Flesh Eaters DVD Review Jack Curtis The Flesh Eaters DVD Review Jack Curtis' - The Flesh Eaters - DVD Review Jack Curtis The Flesh Eaters DVD Review Jack Curtis The Flesh Eaters DVD Review Jack Curtis The Flesh Eaters DVD Review Jack Curtis The Flesh Eaters DVD Review Jack Curtis The Flesh Eaters DVD Review Jack Curtis The Flesh Eaters DVD Review Jack Curtis The Flesh Eaters DVD Review Jack Curtis' - The Flesh Eaters - DVD Review Jack Curtis The Flesh Eaters DVD Review Jack Curtis The Flesh Eaters DVD Review Jack Curtis The Flesh Eaters DVD Review Jack Curtis The Flesh Eaters DVD Review Jack Curtis The Flesh Eaters DVD Review Jack Curtis The Flesh Eaters DVD Review Jack Curtis The Flesh Eaters DVD Review Jack Curtis' - The Flesh Eaters - DVD Review Jack Curtis The Flesh Eaters DVD Review Jack Curtis The Flesh Eaters DVD Review Jack Curtis The Flesh Eaters DVD Review Jack Curtis The Flesh Eaters DVD Review Jack Curtis The Flesh Eaters DVD Review Jack Curtis The Flesh Eaters DVD Review Jack Curtis The Flesh Eaters DVD Review Jack Curtis' - The Flesh Eaters - DVD Review Jack Curtis The Flesh Eaters DVD Review Jack Curtis The Flesh Eaters DVD Review Jack Curtis The Flesh Eaters DVD Review Jack Curtis The Flesh Eaters DVD Review Jack Curtis The Flesh Eaters DVD Review Jack Curtis The Flesh Eaters DVD Review Jack Curtis The Flesh Eaters DVD Review Jack Curtis' - The Flesh Eaters - DVD Review Jack Curtis The Flesh Eaters DVD Review Jack Curtis The Flesh Eaters DVD Review Jack Curtis The Flesh Eaters DVD Review Jack Curtis The Flesh Eaters DVD Review Jack Curtis The Flesh Eaters DVD Review Jack Curtis The Flesh Eaters DVD Review Jack Curtis The Flesh Eaters DVD Review Jack Curtis' - The Flesh Eaters - DVD Review Jack Curtis The Flesh Eaters DVD Review Jack Curtis The Flesh Eaters DVD Review Jack Curtis The Flesh Eaters DVD Review Jack Curtis The Flesh Eaters DVD Review Jack Curtis The Flesh Eaters DVD Review Jack Curtis The Flesh Eaters DVD Review Jack Curtis The Flesh Eaters DVD Review Jack Curtis' - The Flesh Eaters - DVD Review Jack Curtis The Flesh Eaters DVD Review Jack Curtis The Flesh Eaters DVD Review Jack Curtis The Flesh Eaters DVD Review Jack Curtis The Flesh Eaters DVD Review Jack Curtis The Flesh Eaters DVD Review Jack Curtis The Flesh Eaters DVD Review Jack Curtis The Flesh Eaters DVD Review Jack Curtis' - The Flesh Eaters - DVD Review Jack Curtis The Flesh Eaters DVD Review Jack Curtis The Flesh Eaters DVD Review Jack Curtis The Flesh Eaters DVD Review Jack Curtis The Flesh Eaters DVD Review Jack Curtis The Flesh Eaters DVD Review Jack Curtis The Flesh Eaters DVD Review Jack Curtis The Flesh Eaters DVD Review