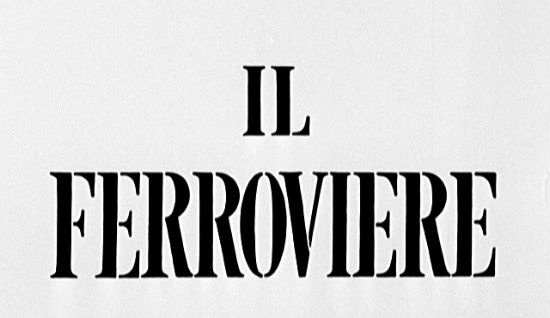 (aka 'The Railroad Man')
Directed by Pietro Germi
Italy 1956
He has a good job working as a railroad man, but Andrea Marcocci is not happy. An obscure disease haunts him. His daughter Giulia leaves her husband, seeking shelter in the arms of another man, who does not love her. Andrea's good–for-nothing son storms out after one argument too many with his father. Unable to face these troubles alone, Andrea starts to drink. Inevitably, the booze interferes with his work and he causes a serious rail accident. Desperately trying to hold onto his job, he goes to work on a strike day, further alienating himself from his friends and colleagues.

Severely attacked by the leftist Italian critics of its time, THE RAILROAD MAN is a heartfelt cry against many of the problems that plagued Italian society during the mid-50's. And, it is an undisputed masterpiece of its director and star Pietro Germi (DIVORCE - ITALIAN STYLE, SEDUCED AND ABANDONED). Written by Germi (who gives a passionate performance as Andrea) and Luciano Vincenzoni (FOR A FEW DOLLARS MORE, THE GOOD, THE BAD AND THE UGLY, A FISTFUL OF DYNAMITE), the film also features a magnificent score by maestro Carlo Rustichelli (KILL, BABY… KILL!). The extraordinary ensemble cast includes Sylva Koscina, (JULIET OF THE SPIRITS, LISA AND THE DEVIL) as Giulia plus Saro Urzi (THE GODFATHER's Vitelli); Carlo Giuffré (Geppetto in Roberto Benigni's PINOCCHIO); Edoardo Nevola (A MAN OF STRAW) and Franco Fantasia (one of Italy's premier character actors). Digitally remastered from the original vault negative, for the first time ever uncut on DVD in America, THE RAILROAD MAN is a masterpiece of late Italian neo-realism and cannot be missed.
Posters
Theatrical Release: August 11th, 1956
Reviews More Reviews DVD Reviews
DVD Review: NoShame Films (2-disc) - Region 0 - NTSC
DVD Box Cover

CLICK to order from:

Distribution
NoShame Films - Region 0 - NTSC
Runtime
1:50:16
Video
1.33:1 Original Aspect Ratio
Average Bitrate: 7.0 mb/s
NTSC 720x480 29.97 f/s

NOTE: The Vertical axis represents the bits transferred per second. The Horizontal is the time in minutes.

Bitrate:

Audio
Italian (Dolby Digital 2.0)
Subtitles
English, None
Features

Release Information:
Studio: NoShame Films

Aspect Ratio:
Original Aspect Ratio 1.33:1

Edition Details:

• Pietro Germi, a Classic on It's Own - interviews with Mario Monicelli, Giuseppe Tornatore, Maiano Damiani, etc. (90 Mins.)
• Pietro Germi's original screen test
• Original Italian Theatrical trailer
• Poster & Still Gallery
• Collectible Booklet - including Pietro Germi's bio

DVD Release Date: June 28th, 2005
Double slim Keep Case
Chapters: 12
| | |
| --- | --- |
| Comments: | Another very fine, but non-progressive, DVD image from NoShame. The package consists of 2 dual-layered DVDs - one with the feature and a second with 2 featurette extras, of which the 'Pietro Germi, a Classic on It's Own' 83 minute film is a perfect addition. There is another booklet included which seems to be a main-stay of NoShame but, although quite a good liner notes addition, at only 8 pages it is no where near the size of the booklets in their DVD editions of Boccaccio 70' and Yesterday, Today and Tomorrow. Overall this is a great package and the image appears to have no manipulations and looks clear with strong contrast. the only drawback is the 'combing' which will not be noticeable on tube viewing. I had never seen the film before and was extremely impressed. I consider this a great find and we strongly recommend! |
---



DVD Menus

2nd Disc
---
Subtitle Sample
Screen Captures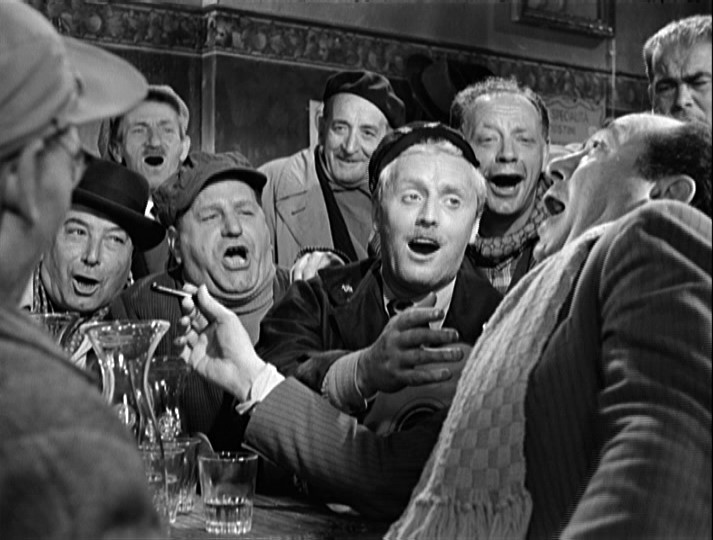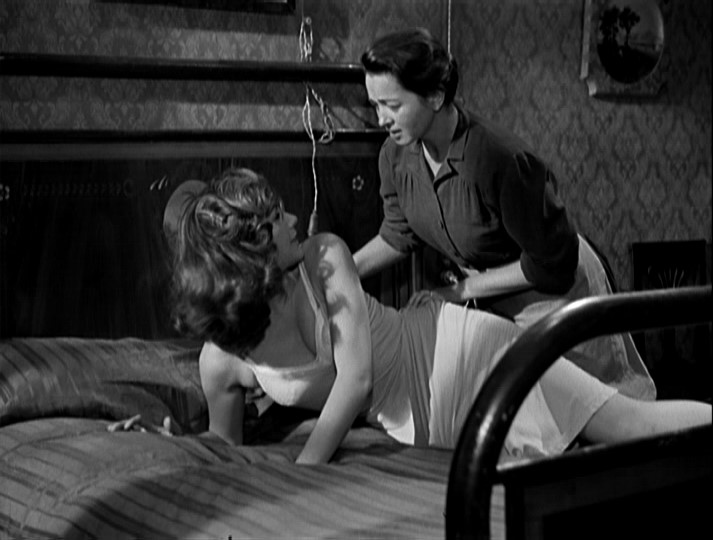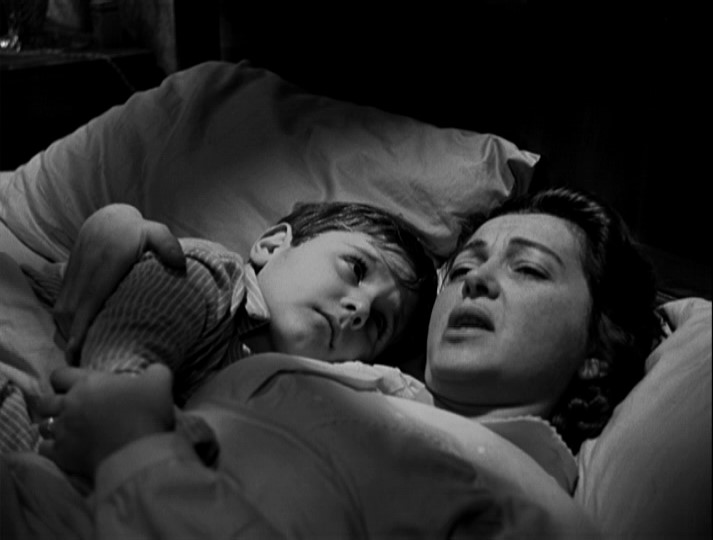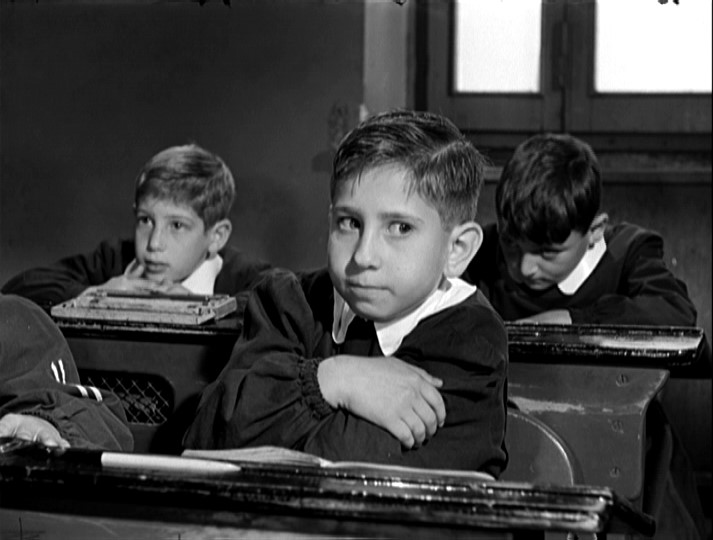 ---
Combing visible...
---
Recommended Books on Italian Cinema (CLICK COVERS or TITLES for more information)














DONATIONS Keep DVDBeaver alive:
Mail cheques, money orders, cash to: or CLICK PayPal logo to donate!
Gary Tooze

Mississauga, Ontario,

CANADA
Thank You!
Pietro Germi's - Il Ferroviere - The Railroad Man - DVD Review Pietro Germi Il Ferroviere The Railroad Man DVD Review Pietro Germi Il Ferroviere The Railroad Man DVD Review Pietro Germi Il Ferroviere The Railroad Man DVD Review Pietro Germi Il Ferroviere The Railroad Man DVD Review Pietro Germi Il Ferroviere The Railroad Man DVD Review Pietro Germi Il Ferroviere The Railroad Man DVD Review Pietro Germi Il Ferroviere The Railroad Man DVD Review Pietro Germi's - Il Ferroviere - The Railroad Man - DVD Review Pietro Germi Il Ferroviere The Railroad Man DVD Review Pietro Germi Il Ferroviere The Railroad Man DVD Review Pietro Germi Il Ferroviere The Railroad Man DVD Review Pietro Germi Il Ferroviere The Railroad Man DVD Review Pietro Germi Il Ferroviere The Railroad Man DVD Review Pietro Germi Il Ferroviere The Railroad Man DVD Review Pietro Germi Il Ferroviere The Railroad Man DVD Review Pietro Germi's - Il Ferroviere - The Railroad Man - DVD Review Pietro Germi Il Ferroviere The Railroad Man DVD Review Pietro Germi Il Ferroviere The Railroad Man DVD Review Pietro Germi Il Ferroviere The Railroad Man DVD Review Pietro Germi Il Ferroviere The Railroad Man DVD Review Pietro Germi Il Ferroviere The Railroad Man DVD Review Pietro Germi Il Ferroviere The Railroad Man DVD Review Pietro Germi Il Ferroviere The Railroad Man DVD Review Pietro Germi's - Il Ferroviere - The Railroad Man - DVD Review Pietro Germi Il Ferroviere The Railroad Man DVD Review Pietro Germi Il Ferroviere The Railroad Man DVD Review Pietro Germi Il Ferroviere The Railroad Man DVD Review Pietro Germi Il Ferroviere The Railroad Man DVD Review Pietro Germi Il Ferroviere The Railroad Man DVD Review Pietro Germi Il Ferroviere The Railroad Man DVD Review Pietro Germi Il Ferroviere The Railroad Man DVD Review Pietro Germi's - Il Ferroviere - The Railroad Man - DVD Review Pietro Germi Il Ferroviere The Railroad Man DVD Review Pietro Germi Il Ferroviere The Railroad Man DVD Review Pietro Germi Il Ferroviere The Railroad Man DVD Review Pietro Germi Il Ferroviere The Railroad Man DVD Review Pietro Germi Il Ferroviere The Railroad Man DVD Review Pietro Germi Il Ferroviere The Railroad Man DVD Review Pietro Germi Il Ferroviere The Railroad Man DVD Review Pietro Germi's - Il Ferroviere - The Railroad Man - DVD Review Pietro Germi Il Ferroviere The Railroad Man DVD Review Pietro Germi Il Ferroviere The Railroad Man DVD Review Pietro Germi Il Ferroviere The Railroad Man DVD Review Pietro Germi Il Ferroviere The Railroad Man DVD Review Pietro Germi Il Ferroviere The Railroad Man DVD Review Pietro Germi Il Ferroviere The Railroad Man DVD Review Pietro Germi Il Ferroviere The Railroad Man DVD Review Pietro Germi's - Il Ferroviere - The Railroad Man - DVD Review Pietro Germi Il Ferroviere The Railroad Man DVD Review Pietro Germi Il Ferroviere The Railroad Man DVD Review Pietro Germi Il Ferroviere The Railroad Man DVD Review Pietro Germi Il Ferroviere The Railroad Man DVD Review Pietro Germi Il Ferroviere The Railroad Man DVD Review Pietro Germi Il Ferroviere The Railroad Man DVD Review Pietro Germi Il Ferroviere The Railroad Man DVD Review Pietro Germi's - Il Ferroviere - The Railroad Man - DVD Review Pietro Germi Il Ferroviere The Railroad Man DVD Review Pietro Germi Il Ferroviere The Railroad Man DVD Review Pietro Germi Il Ferroviere The Railroad Man DVD Review Pietro Germi Il Ferroviere The Railroad Man DVD Review Pietro Germi Il Ferroviere The Railroad Man DVD Review Pietro Germi Il Ferroviere The Railroad Man DVD Review Pietro Germi Il Ferroviere The Railroad Man DVD Review Pietro Germi's - Il Ferroviere - The Railroad Man - DVD Review Pietro Germi Il Ferroviere The Railroad Man DVD Review Pietro Germi Il Ferroviere The Railroad Man DVD Review Pietro Germi Il Ferroviere The Railroad Man DVD Review Pietro Germi Il Ferroviere The Railroad Man DVD Review Pietro Germi Il Ferroviere The Railroad Man DVD Review Pietro Germi Il Ferroviere The Railroad Man DVD Review Pietro Germi Il Ferroviere The Railroad Man DVD Review Pietro Germi's - Il Ferroviere - The Railroad Man - DVD Review Pietro Germi Il Ferroviere The Railroad Man DVD Review Pietro Germi Il Ferroviere The Railroad Man DVD Review Pietro Germi Il Ferroviere The Railroad Man DVD Review Pietro Germi Il Ferroviere The Railroad Man DVD Review Pietro Germi Il Ferroviere The Railroad Man DVD Review Pietro Germi Il Ferroviere The Railroad Man DVD Review Pietro Germi Il Ferroviere The Railroad Man DVD Review