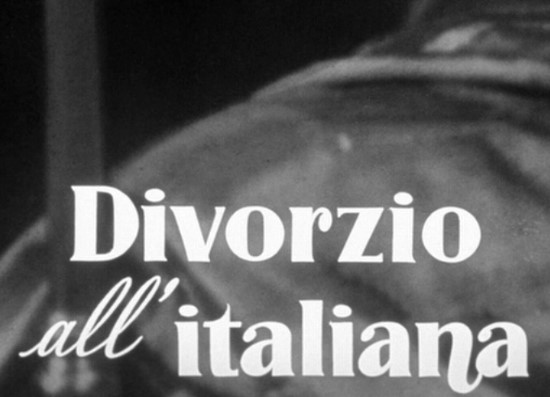 (aka 'Divorce - Italian Style')
directed by Pietro Germi
Italy 1961
Baron Ferdinando Cefal¨ (Marcello Mastroianni) longs to marry his nubile, young cousin Angela (Stefania Sandrelli), but one obstacle stands in his way: his fatuous and fawning wife, Rosalia (Daniela Rocca). His solution? Since divorce is illegal, he will devise a scenario wherein he can catch his spouse in the arms of another and murder her to save his honor—a lesser offense. A hilarious and cutting satire of Italy's hypocritical judicial system and male-dominated culture, winner of the 1962 Academy Award« for Best Original Screenplay.
Posters
Theatrical Release: January 18th, 2003 - Tokyo
Reviews More Reviews DVD Reviews
DVD Comparison:
20th Century Fox - Region 2 - PAL vs. Criterion - Region 0 - NTSC
Big thanks to Ole Kofoed and Gary Tooze for the Screen Caps!
(20th Century Fox - Region 2 - PAL - LEFT vs. Criterion - Region 1 - NTSC - RIGHT)
DVD Box Covers

Distribution

20th Century Fox

Region 2 - PAL

Criterion Collection - Spine # 286 - Region 0 - NTSC
Runtime
1:40:24 (4% PAL speedup)
1:44:36
Video

1.84:1 Original Aspect Ratio

16X9 enhanced
Average Bitrate: 7.38 mb/s
PAL 720x576 25.00 f/s

1.82:1 Original Aspect Ratio

16X9 enhanced
Average Bitrate: 8.21 mb/s
NTSC 720x480 29.97 f/s

NOTE: The Vertical axis represents the bits transferred per second. The Horizontal is the time in minutes.

Bitrate:

20th Century Fox

Bitrate:

Criterion

Audio
Italian Dolby Digital 1.0 Mono / Remastered DD 5.1

Italian (Dolby Digital 2.0)

Subtitles
English, French, Italian or none.
English, None
Features
Release Information:
Studio: 20th Century Fox

Aspect Ratio:
Widescreen anamorphic - 1.84:1

Edition Details:
• New interviews with Sandrelli, Milo, Buzzanca and Concini (24:45).
• Screen-test footage of Daniela Rocca & Stefania Sandrelli (8:56).
• 5 small old interview clips with Germi (2:09).
• Poster.
• List of CristaldiFilm price winners.
• Previews of CristaldiFilm on DVD.

DVD Release Date: 2003
Keep Case.

Chapters 20


Release Information:
Studio: Criterion / Home Vision

Aspect Ratio:
Original aspect Ratio 1.82:1

Edition Details:

• Pietro Germi: The Man with the Cigar in His Mouth, a 39-minute documentary by critic and filmmaker Mario Sesti featuring interviews with Germi's longtime friends and collaborators
• Delighting in Contrasts, a new 30-minute interview featuring Stefania Sandrelli, Lando Buzzanca, and Mario Sesti discussing Germi on the set of Divorce Italian Style, along with an interview with screenwriter Ennio De Concini
• Rare screen-test footage of actresses Daniela Rocca and Stefania Sandrelli
• A new essay by film critic Stuart Klawans

DVD Release Date: April 26th, 2005
Double thick Keep Case
Chapters: 22
Comments
The PAL Fox edition doesn't look too bad. It also has the same black borders around the image that the Criterion does - both inhibiting the maximum horizontal resolution. As we look closer, the Fox is cropped - a little on top and bottom and more so on the side edges. It looks a shade brightness boosted, heavy and saturated beside the Criterion which is also minutely sharper. I think the ratio is definitely off on one of these and my bet is the Fox where faces look a little vertically squished. Obviously, for those sensitive to it, the Criterion will not have the PAL speedup issue. We have already discussed HERE how the Criterion is brimming with extras and although the Fox has some of the same - they are not subtitled. The Fox has a remastered 5.1 track option as well as the original mono. We conclude that the Criterion is the definitive edition of this amazing film.

- Gary W. Tooze
---



DVD Menus
(20th Century Fox - Region 2 - PAL - LEFT vs. Criterion - Region 1 - NTSC - RIGHT)
| | |
| --- | --- |
| | |
| | |
| | |
| | |
| | |
| | |
---
Screen Captures
(20th Century Fox - Region 2 - PAL - TOP vs. Criterion - Region 1 - NTSC - BOTTOM)
Subtitle sample
---
(20th Century Fox - Region 2 - PAL - TOP vs. Criterion - Region 1 - NTSC - BOTTOM)
---
(20th Century Fox - Region 2 - PAL - TOP vs. Criterion - Region 1 - NTSC - BOTTOM)
---
(20th Century Fox - Region 2 - PAL - TOP vs. Criterion - Region 1 - NTSC - BOTTOM)
---
(20th Century Fox - Region 2 - PAL - TOP vs. Criterion - Region 1 - NTSC - BOTTOM)
---
(20th Century Fox - Region 2 - PAL - TOP vs. Criterion - Region 1 - NTSC - BOTTOM)
---
Recommended Books on Italian Cinema (CLICK COVERS or TITLES for more information)
DVD Box Covers

Distribution

20th Century Fox

Region 2 - PAL

Criterion Collection - Spine # 286 - Region 0 - NTSC

---
Report Card:
| | |
| --- | --- |
| Image: | Criterion |
| Sound: | Fox |
| Extras: | Criterion |
| Menu: | Criterion |