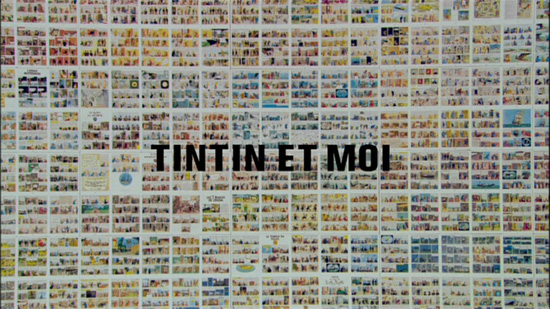 (aka "Tintin og mig" or "Tintin and I")
directed by Anders Østergaard
Denmark / Belgium / France / Switzerland 2003
In 1971, the French writer Numa Sadoul went to Bruxelles, to, as a student, interview cartoonists about their work. Amongst them Hergé. Instead of an interview, Sadoul got 4 days of soul searching conversations with Hergé, which over the next 3 years would be rewritten 4 times by Hergé and Sadoul, to be published as a book. But Hergé withdrew his conversations, as he felt they were too personal, and the book never came to be.

Now, 30 years later, Danish writer and director Anders Østergård, has made these conversations into a documentary about Hergé and Tintin.

More than just a biographical documentary, "Tintin et moi" is a study of Georges Remi, how his catholic upbringing and political views dominate the stories, why he before the second world war was Tintin, but after became Captain Haddock, and of the parallelism's between Remi, Hergé and Les Adventures de Tintin.

At the end, one not only appreciates the work of Hergé immensely, but has gotten a profound understanding of the stories of Tintin, of their political allusions and how they are reflecting the situation of Hergé. As Sadoul notes, what began as a mere interview, became psychoanalysis.

As a documentary film, "Tintin et moi" is beautiful. Østergård uses archive footage, clips of the comic books, animates clips and recordings to constantly give the images a dynamic drive. While one easily can close ones eyes and just listen to the lecture, one can also enjoy an at time poetic and very creative use of the form.

A must-see for all fans of documentary film and of Tintin.
Poster
Theatrical Release: August 13, 2003 (Odense International Film Festival)
DVD Review: Scanbox - Region 2 - PAL
Big thanks to Henrik Sylow for the Review!
DVD Box Cover

CLICK to order from:

Distribution

Scanbox

Region 2 - PAL

Runtime
1:13:53
Video

1.78:1 Aspect Ratio

16X9 enhanced
Average Bitrate: 6.60 mb/s
PAL 720x576 25.00 f/s

NOTE: The Vertical axis represents the bits transferred per second. The Horizontal is the time in minutes.

Bitrate

Audio
2.0 Dolby Digital Danish / French / English
Subtitles
Danish, Swedish, Norwegian, English, None
Features
Release Information:
Studio: Scanbox

Aspect Ratio:
Widescreen anamorphic - 1.78:1

Edition Details:
• Trailer (1:41 / 16x9)

DVD Release Date: October 18, 2005
Amarey

Chapters 12
| | |
| --- | --- |
| Comments | The quality of the image varies depending on the source. Old stock footage is very grainy, and new DigiBeta footage is flawless. Given the quality of the transfer and its length, this image is about as perfect as can be. |
---




DVD Menus

---
Screen Captures
subtitle sample (English only)
Captures resized to 800px from 1016px














DONATIONS Keep DVDBeaver alive:
Mail cheques, money orders, cash to: or CLICK PayPal logo to donate!
Thank You!
Anders Østergaard's - Tintin et moi - DVD Review Anders Østergaard Tintin et moi DVD Review Anders Østergaard Tintin et moi DVD Review Anders Østergaard Tintin et moi DVD Review Anders Østergaard Tintin et moi DVD Review Anders Østergaard Tintin et moi DVD Review Anders Østergaard Tintin et moi DVD Review Anders Østergaard Tintin et moi DVD Review Anders Østergaard Tintin et moi DVD Review Anders Østergaard Tintin et moi DVD Review Anders Østergaard Tintin et moi DVD Review Anders Østergaard Tintin et moi DVD Review Anders Østergaard's - Tintin et moi - DVD Review Anders Østergaard Tintin et moi DVD Review Anders Østergaard Tintin et moi DVD Review Anders Østergaard Tintin et moi DVD Review Anders Østergaard Tintin et moi DVD Review Anders Østergaard Tintin et moi DVD Review Anders Østergaard Tintin et moi DVD Review Anders Østergaard Tintin et moi DVD Review Anders Østergaard Tintin et moi DVD Review Anders Østergaard Tintin et moi DVD Review Anders Østergaard Tintin et moi DVD Review Anders Østergaard Tintin et moi DVD Review Anders Østergaard's - Tintin et moi - DVD Review Anders Østergaard Tintin et moi DVD Review Anders Østergaard Tintin et moi DVD Review Anders Østergaard Tintin et moi DVD Review Anders Østergaard Tintin et moi DVD Review Anders Østergaard Tintin et moi DVD Review Anders Østergaard Tintin et moi DVD Review Anders Østergaard Tintin et moi DVD Review Anders Østergaard Tintin et moi DVD Review Anders Østergaard Tintin et moi DVD Review Anders Østergaard Tintin et moi DVD Review Anders Østergaard Tintin et moi DVD Review Anders Østergaard's - Tintin et moi - DVD Review Anders Østergaard Tintin et moi DVD Review Anders Østergaard Tintin et moi DVD Review Anders Østergaard Tintin et moi DVD Review Anders Østergaard Tintin et moi DVD Review Anders Østergaard Tintin et moi DVD Review Anders Østergaard Tintin et moi DVD Review Anders Østergaard Tintin et moi DVD Review Anders Østergaard Tintin et moi DVD Review Anders Østergaard Tintin et moi DVD Review Anders Østergaard Tintin et moi DVD Review Anders Østergaard Tintin et moi DVD Review Anders Østergaard's - Tintin et moi - DVD Review Anders Østergaard Tintin et moi DVD Review Anders Østergaard Tintin et moi DVD Review Anders Østergaard Tintin et moi DVD Review Anders Østergaard Tintin et moi DVD Review Anders Østergaard Tintin et moi DVD Review Anders Østergaard Tintin et moi DVD Review Anders Østergaard Tintin et moi DVD Review Anders Østergaard Tintin et moi DVD Review Anders Østergaard Tintin et moi DVD Review Anders Østergaard Tintin et moi DVD Review Anders Østergaard Tintin et moi DVD Review Anders Østergaard's - Tintin et moi - DVD Review Anders Østergaard Tintin et moi DVD Review Anders Østergaard Tintin et moi DVD Review Anders Østergaard Tintin et moi DVD Review Anders Østergaard Tintin et moi DVD Review Anders Østergaard Tintin et moi DVD Review Anders Østergaard Tintin et moi DVD Review Anders Østergaard Tintin et moi DVD Review Anders Østergaard Tintin et moi DVD Review Anders Østergaard Tintin et moi DVD Review Anders Østergaard Tintin et moi DVD Review Anders Østergaard Tintin et moi DVD Review Anders Østergaard's - Tintin et moi - DVD Review Anders Østergaard Tintin et moi DVD Review Anders Østergaard Tintin et moi DVD Review Anders Østergaard Tintin et moi DVD Review Anders Østergaard Tintin et moi DVD Review Anders Østergaard Tintin et moi DVD Review Anders Østergaard Tintin et moi DVD Review Anders Østergaard Tintin et moi DVD Review Anders Østergaard Tintin et moi DVD Review Anders Østergaard Tintin et moi DVD Review Anders Østergaard Tintin et moi DVD Review Anders Østergaard Tintin et moi DVD Review Anders Østergaard's - Tintin et moi - DVD Review Anders Østergaard Tintin et moi DVD Review Anders Østergaard Tintin et moi DVD Review Anders Østergaard Tintin et moi DVD Review Anders Østergaard Tintin et moi DVD Review Anders Østergaard Tintin et moi DVD Review Anders Østergaard Tintin et moi DVD Review Anders Østergaard Tintin et moi DVD Review Anders Østergaard Tintin et moi DVD Review Anders Østergaard Tintin et moi DVD Review Anders Østergaard Tintin et moi DVD Review Anders Østergaard Tintin et moi DVD Review Anders Østergaard's - Tintin et moi - DVD Review Anders Østergaard Tintin et moi DVD Review Anders Østergaard Tintin et moi DVD Review Anders Østergaard Tintin et moi DVD Review Anders Østergaard Tintin et moi DVD Review Anders Østergaard Tintin et moi DVD Review Anders Østergaard Tintin et moi DVD Review Anders Østergaard Tintin et moi DVD Review Anders Østergaard Tintin et moi DVD Review Anders Østergaard Tintin et moi DVD Review Anders Østergaard Tintin et moi DVD Review Anders Østergaard Tintin et moi DVD Review Anders Østergaard's - Tintin et moi - DVD Review Anders Østergaard Tintin et moi DVD Review Anders Østergaard Tintin et moi DVD Review Anders Østergaard Tintin et moi DVD Review Anders Østergaard Tintin et moi DVD Review Anders Østergaard Tintin et moi DVD Review Anders Østergaard Tintin et moi DVD Review Anders Østergaard Tintin et moi DVD Review Anders Østergaard Tintin et moi DVD Review Anders Østergaard Tintin et moi DVD Review Anders Østergaard Tintin et moi DVD Review Anders Østergaard Tintin et moi DVD Review Anders Østergaard's - Tintin et moi - DVD Review Anders Østergaard Tintin et moi DVD Review Anders Østergaard Tintin et moi DVD Review Anders Østergaard Tintin et moi DVD Review Anders Østergaard Tintin et moi DVD Review Anders Østergaard Tintin et moi DVD Review Anders Østergaard Tintin et moi DVD Review Anders Østergaard Tintin et moi DVD Review Anders Østergaard Tintin et moi DVD Review Anders Østergaard Tintin et moi DVD Review Anders Østergaard Tintin et moi DVD Review Anders Østergaard Tintin et moi DVD Review Anders Østergaard's - Tintin et moi - DVD Review Anders Østergaard Tintin et moi DVD Review Anders Østergaard Tintin et moi DVD Review Anders Østergaard Tintin et moi DVD Review Anders Østergaard Tintin et moi DVD Review Anders Østergaard Tintin et moi DVD Review Anders Østergaard Tintin et moi DVD Review Anders Østergaard Tintin et moi DVD Review Anders Østergaard Tintin et moi DVD Review Anders Østergaard Tintin et moi DVD Review Anders Østergaard Tintin et moi DVD Review Anders Østergaard Tintin et moi DVD Review Anders Østergaard's - Tintin et moi - DVD Review Anders Østergaard Tintin et moi DVD Review Anders Østergaard Tintin et moi DVD Review Anders Østergaard Tintin et moi DVD Review Anders Østergaard Tintin et moi DVD Review Anders Østergaard Tintin et moi DVD Review Anders Østergaard Tintin et moi DVD Review Anders Østergaard Tintin et moi DVD Review Anders Østergaard Tintin et moi DVD Review Anders Østergaard Tintin et moi DVD Review Anders Østergaard Tintin et moi DVD Review Anders Østergaard Tintin et moi DVD Review Anders Østergaard's - Tintin et moi - DVD Review Anders Østergaard Tintin et moi DVD Review Anders Østergaard Tintin et moi DVD Review Anders Østergaard Tintin et moi DVD Review Anders Østergaard Tintin et moi DVD Review Anders Østergaard Tintin et moi DVD Review Anders Østergaard Tintin et moi DVD Review Anders Østergaard Tintin et moi DVD Review Anders Østergaard Tintin et moi DVD Review Anders Østergaard Tintin et moi DVD Review Anders Østergaard Tintin et moi DVD Review Anders Østergaard Tintin et moi DVD Review Anders Østergaard's - Tintin et moi - DVD Review Anders Østergaard Tintin et moi DVD Review Anders Østergaard Tintin et moi DVD Review Anders Østergaard Tintin et moi DVD Review Anders Østergaard Tintin et moi DVD Review Anders Østergaard Tintin et moi DVD Review Anders Østergaard Tintin et moi DVD Review Anders Østergaard Tintin et moi DVD Review Anders Østergaard Tintin et moi DVD Review Anders Østergaard Tintin et moi DVD Review Anders Østergaard Tintin et moi DVD Review Anders Østergaard Tintin et moi DVD Review Anders Østergaard's - Tintin et moi - DVD Review Anders Østergaard Tintin et moi DVD Review Anders Østergaard Tintin et moi DVD Review Anders Østergaard Tintin et moi DVD Review Anders Østergaard Tintin et moi DVD Review Anders Østergaard Tintin et moi DVD Review Anders Østergaard Tintin et moi DVD Review Anders Østergaard Tintin et moi DVD Review Anders Østergaard Tintin et moi DVD Review Anders Østergaard Tintin et moi DVD Review Anders Østergaard Tintin et moi DVD Review Anders Østergaard Tintin et moi DVD Review Anders Østergaard's - Tintin et moi - DVD Review Anders Østergaard Tintin et moi DVD Review Anders Østergaard Tintin et moi DVD Review Anders Østergaard Tintin et moi DVD Review Anders Østergaard Tintin et moi DVD Review Anders Østergaard Tintin et moi DVD Review Anders Østergaard Tintin et moi DVD Review Anders Østergaard Tintin et moi DVD Review Anders Østergaard Tintin et moi DVD Review Anders Østergaard Tintin et moi DVD Review Anders Østergaard Tintin et moi DVD Review Anders Østergaard Tintin et moi DVD Review Anders Østergaard's - Tintin et moi - DVD Review Anders Østergaard Tintin et moi DVD Review Anders Østergaard Tintin et moi DVD Review Anders Østergaard Tintin et moi DVD Review Anders Østergaard Tintin et moi DVD Review Anders Østergaard Tintin et moi DVD Review Anders Østergaard Tintin et moi DVD Review Anders Østergaard Tintin et moi DVD Review Anders Østergaard Tintin et moi DVD Review Anders Østergaard Tintin et moi DVD Review Anders Østergaard Tintin et moi DVD Review Anders Østergaard Tintin et moi DVD Review Anders Østergaard's - Tintin et moi - DVD Review Anders Østergaard Tintin et moi DVD Review Anders Østergaard Tintin et moi DVD Review Anders Østergaard Tintin et moi DVD Review Anders Østergaard Tintin et moi DVD Review Anders Østergaard Tintin et moi DVD Review Anders Østergaard Tintin et moi DVD Review Anders Østergaard Tintin et moi DVD Review Anders Østergaard Tintin et moi DVD Review Anders Østergaard Tintin et moi DVD Review Anders Østergaard Tintin et moi DVD Review Anders Østergaard Tintin et moi DVD Review