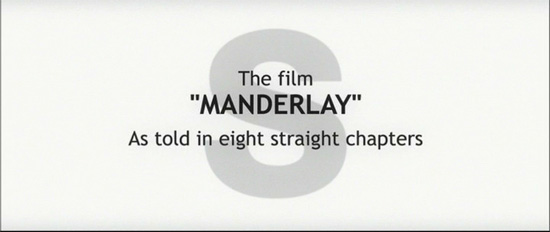 directed by Lars von Trier
Denmark 2005
With "Manderlay", Lars von Trier sharpens his criticism of the US; here alluding on Bush's policy towards the current war.

While the narrative context and mold is the same as in "Dogville", "Manderlay" stands as a mirror image of "Dogville". Where Grace passively accepted her submission, she now active participates in dissolving the oppression of society. Where problems were external in "Dogville", they are now internal. Even von Trier's mise-en-scene by colors is inversed; in "Dogville" white on black, now black on sandy white.

The most striking inversion of motifs and themes is in regards to freedom and democracy. Where "Dogville" was a perverted allegory upon the ease by which man is corrupted by evil when given uninhibited power, "Manderlay" reverses the image and shows, how easily Grace is corrupted when giving slaves freedom and democracy.

In "Manderlay" von Trier is debating idealism versus realism. Grace is helping the slaves of Manderlay of pure idealism, "We owe them. We brought them over here.", she tells her father, before she with armed force takes over control. She later defends her armed coup-d'etat and maintaining a weapon force by, "The guns are merely a precaution against threats against the community." She only wants good, and she will force goodness, freedom and democracy upon these slaves with force and education. A parallelism to the American actions in Afghanistan and Iraq.

The most absurd parable by von Trier is the story of the clock. The former slaves have by majority voted, that the former slave Jim is to keep the clock on Manderlay going, but as no one has a clock, they vote whether the time is 5 too or 5 after. An absurd parable on democracy, but von Trier's argument here is, that democracy is more than just rule of majority; democracy requires a common set of values and norms. You cannot enforce or educate a people to be democratic. A similar point is made by Samira Makhmalbaf in "At Five in the Afternoon", who depicts the western military as na´ve, believing they will secure and introduce democracy by there mere presence.

Lars von Trier's spares none. Not even his own heroine, who he finally depicts as a hypocrite. As she fails to create her idea of a democratic utopia at Manderlay, and she has to face the truth about society, she runs away. She had the right to enforce her will on others, they don't have the right to enforce theirs on her. The hypocrisy of Grace and her idealism, her good intentions, is revealed, and here von Trier puts the nail in the coffin by having Grace being too late to be rescued by her father, as the clock is running late; after all, the time was decided thru a democratic vote, so it had to be right – until time made a difference.

Grace is played by Bryce Dallas Howard. Originally Nicole Kidman was intended to play her, and continuing to play Grace in "Washington" as well, but as Kidman was unable to leave a shooting to meet up with Lars and the rest of the crew at beginning of the shoot, Lars decided to replace her with another actress. Kidman will be in "Washington", but not in the role as Grace. Lars has decided to have Grace been played by a different actress for each film.

There are pros and cons to Howard. She is not as good an actress as Kidman, and in some scenes, she simply doesn't comes thru. On the other side, she has so much naivety in her acting, that she represents the naivety of her idealism far better than Kidman ever could.

Likewise it is now Willem Dafoe and no longer James Caan, who portraits the father of Grace. Returning are Lauren Bacall, Jeremy Davies, Jean-Marc Barr and others; as a footnote also David Bowie, here once more with Young Americans.

An issue, that was debated before, during and after production, even today, is the so-called donkey problem, especially since the death of the donkey has been cut from the film. While I would have liked to discuss the matter in details with von Trier, he declined. His only comment to the issue is,

"I cut all the scenes showing the dead donkey out of the film. I did so after the following deliberations: having the dead donkey on screen would have been an important artistic statement (and artistic integrity matters a great deal to me, and as I say, it is highly unusual of me to temper my demands in that respect), but in my view the political and social content of the film is so important that it would be sad if it could be rejected or ignored merely by referring to the "donkey problem" as it was called in the papers." (Lars von Trier, December 8th, 2004)

Where the donkey in one scene is present, it is gone from the next onward. They talk about sacrificing the donkey to avoid starvation and death, we see Grace about to shoot the donkey, we later see plates with ribs, but we don't see the killing it self nor any scenes with the dead donkey.

I am not certain, if von Trier made the right decision here. He is an iconoclast, and in my point of view, von Trier compromised his art for the sake of the product. The donkey problem will follow von Trier for years; to me, it remains perhaps the most discussable issue towards his auteurism, and to auteurism in general.

As a film, "Manderlay" doesn't have the impact of "Dogville". It is 40 minutes shorter, some sequences are concluded too hasty, and it feels as if von Trier has taken a story and fitted into his Dogville-template, rather than created a story to be build up with the template; very much so in regards to Grace, who now merely is the catalyst of the story, no longer the object and thus no longer a need for us to identify with her; arguable due to the inversion of characters and themes.

All in all, it may be a weaker narrative film than "Dogville", with weaker mise-en-scene, and with Grace as a bystander, but "Manderlay" is a more conscious political film than "Dogville", far more aggressive and debatable.

Posters
Theatrical Release: May 16, 2005 (Cannes Film Festival)
Reviews More Reviews DVD Reviews
DVD Comparison:
Nordisk Film (2 Disc Edition) - Region 2 - PAL vs. TVA - Region 1- NTSC
Big thanks to Henrik Sylow for the Review!
(Nordisk Film (2 Disc Edition) - Region 2 - PAL LEFT vs. TVA - Region 1- NTSC RIGHT)
DVD Box Cover

On August 8th, 2006 IFC will be releasing an edition of Manderlay that we hope will be a vast improvement over the TVA Films edition.
Distribution

Nordisk Film

Region 2 - PAL

TVA Films

Region 1 - NTSC

Runtime
2:12:39 (4% PAL speedup)
2:12:24
Video

2.35:1 Original Aspect Ratio

16X9 enhanced
Average Bitrate: 6.74 mb/s
PAL 720x576 25.00 f/s

2.35:1 Original Aspect Ratio

16X9 enhanced
Average Bitrate: 7.8 mb/s


NTSC 720x480 29.97 f/s

NOTE: The Vertical axis represents the bits transferred per second. The Horizontal is the time in minutes.

Bitrate

Bitrate

Audio
5.1 Dolby Digital English, DTS English
5.1 Dolby Digital English
Subtitles
Danish, Swedish, None
French, None
Features
Release Information:
Studio: Nordisk Film

Aspect Ratio:
Widescreen anamorphic - 2.35:1

Edition Details:
• Audio commentary by Lars von Trier and Anthony Dod Mantle
• Bryce Dallas Howard (5:40 / 16x9)
• Isaach de BankolÚ (4:45 / 16x9)
• Danny Glover (4:53 / 16x9)
• Willem Dafoe (5:52 / 16x9)
• Danish Trailer (1:51 / 16x9)
• DISC 2
• Documentaries (1:23:58 / 4:3)
• Featurettes (22:25 / 16x9)
• Cannes - Scandinavian Press Conference (47:53 / 16x9)
• Interviews (1:18:23 / 16x9)

DVD Release Date: December 6th, 2005
Double Amarey

Chapters 10

Release Information:
Studio: TVA Films

Aspect Ratio:
Widescreen anamorphic - 2.35:1

Edition Details:
• Trailers

DVD Release Date: June 20th, 2005
Keep case

Chapters 16
Comments
ADDITION: TVA Region 1 - NTSC - June 2006 - As with their edition of Assayas' 'Clean' (see HERE) TVA are proving to be a real joke when it comes to DVD transfers. Clean was cropped and non-progressive and Manderlay is taken from an unconverted PAL source. Hence it is rife with the associated artifacts of that sloppy transfer process - ie. ghosting, combing and related digital weaknesses. Aside from the inferior image it has no extras save some trailers. This review is only to warn you away from this Canadian release and to wait for the IFC (in August) if you don't own the Nordisk already.

****

About the Nordisk:

Image
Besides macro blocking, this transfer is flawless. It has the same soft and sandy look of the theatrical print. There are no visible artifacts. Another perfect transfer from Electric Parc.

Sound
Nothing much to be said here. Dialogue is clear, surrounds are used as part of the mise-en-scene, the score sounds great.

For our non-Danish speaking viewers, the film is in Spoken English, thus no English subtitles on film, nor parts of added value, which is in English. On non-English parts, there are English subtitles.

Added Value
For once an involved audio commentary by Lars von Trier. Normally he is very casual, laid-back, sometimes more than usual, and likewise so here. But he ping-pongs motifs, themes, acting, cinematography, shooting in sequence, reflection on Dogville and so forth with DoP Anthony Dod Mantle, and actually gives a great commentary.

Disc 1 is concluded with 4 brief interviews, where everyone is so happy to work with Lars. While its genuine, its still a bit unbecoming for a Danish production to be so back-clapping.

Disc 2 (see below) has almost 4 hours of extras, with two superb interviews with Lars von Trier, the one from Deadline is key interview, and a great documentary about the making of the film.

Added Value - Disc 2
Documentaries
- The Road to Manderlay (44:29 / 4:3)
- The Cannes Experience (29:29 / 4:3)

Featurettes
- Visual Effects (12:58 / 16x9)
- Less is More (6:30 / 16x9)
- Jeremy - The Coffee Boy (2:57 / 16x9)

Cannes - Scandinavian Press Conference
- Lars von Trier (27:13 / 16x9)
- Bryce Dallas Howard (9:59 / 16x9)
- Isaach de BankolÚ, Danny Glover and Willem Dafoe (10:41 / 16x9)

Interviews
- Deadline (DR2) with LVT (28:15 / 4:3)
- LVT (22:13 / 16x9)
- Danny Glover Anecdote (5:34 / 16x9)
- Willem Dafoe (3:26 / 16x9)
- Lauren Bacall (5:17 / 16x9)
- Joseph Mydell (4:49 / 16x9)
- Anthony Dod Mantle (4:41 / 16x9)
- Vibeke Windel°v (4:07 / 16x9)

---




DVD Menus
| | |
| --- | --- |
| | |
| | |
| | |
| | |
| | |
| | |
| | |
---
Screen Captures
Example of 'Combing' and 'Ghosting' artifacts on the TVA Region 1 release
Captures resized to 800px from 1016px native resolution
(Nordisk Film (2 Disc Edition) - Region 2 - PAL TOP vs. TVA - Region 1- NTSC BOTTOM)
---
(Nordisk Film (2 Disc Edition) - Region 2 - PAL TOP vs. TVA - Region 1- NTSC BOTTOM)
---
(Nordisk Film (2 Disc Edition) - Region 2 - PAL TOP vs. TVA - Region 1- NTSC BOTTOM)
---
(Nordisk Film (2 Disc Edition) - Region 2 - PAL TOP vs. TVA - Region 1- NTSC BOTTOM)
---
(Nordisk Film (2 Disc Edition) - Region 2 - PAL TOP vs. TVA - Region 1- NTSC BOTTOM)
---
(Nordisk Film (2 Disc Edition) - Region 2 - PAL TOP vs. TVA - Region 1- NTSC BOTTOM)