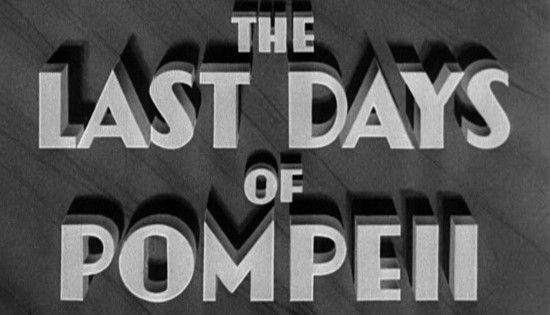 Directed by Ernest B. Schoedsack and Merian C. Cooper (uncredited)
USA 1935
This is an excellent and impacting film - a follow-up after King Kong from producer Merian C. Cooper (who also directs some scenes). It has some intangibles that make it a timeless production. Preston Foster plays a blacksmith on a mission after his wife and child are run-over by a chariot. He enters the field of Gladiatorial combat as an ambitious assassin, but after his success in the coliseum makes a sweet young boy (David Holt) an orphan, he softens to adopt the child as his own. In typical older film fashion his character comes full circle miraculously quickly, but it just all seems to work so well. Actually the strength of the film is in the characterizations (Basil Rathbone is excellent Pontius Pilate) but there is really no relation to the catastrophic demise of Pompeii that we might be imminently expecting. Still a fabulous Hollywood film, if inaccurate rending of the novel. We strongly recommend.

out of

Theatrical Release: October 18th, 1935
Reviews More Reviews DVD Reviews
DVD Review: Warner - Region 1 - NTSC
DVD Box Cover

CLICK to order from:

Distribution
Warner Home Video - Region 1 - NTSC
Runtime
1:36:06
Video
1.33:1 Original Aspect Ratio
Average Bitrate: 5.36 mb/s
NTSC 720x480 29.97 f/s

NOTE: The Vertical axis represents the bits transferred per second. The Horizontal is the time in minutes.

Bitrate:

Audio
English (Dolby Digital 2.0)
Subtitles
English, French, Spanish, None
Features

Release Information:
Studio: Warner Home Video

Aspect Ratio:
Original Aspect Ratio 1.33:1

Edition Details:

• none

DVD Release Date: November 22nd, 2005
Keep Case
Chapters: 18
| | |
| --- | --- |
| Comments: | This is quite typical of Warner restorations from films of this same era. Grain showing and very decent contrast levels. It is relatively sharp. There are frequent vertical scratches but they are usually very light for the most part. Audio is consistent. This is better than I was anticipating and as good as it will get for this 70-year old film. There are no extras at all (which is somewhat surprising from Warner) but the price is right. We recommend. |
---



DVD Menus


---
Subtitle Sample
Screen Captures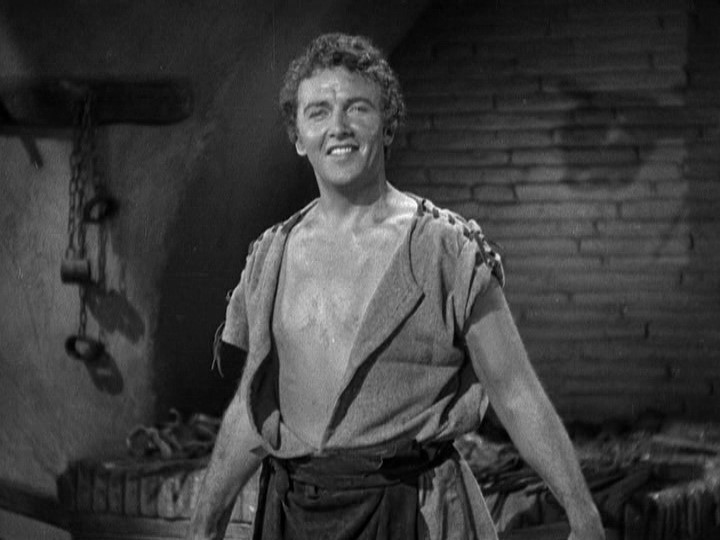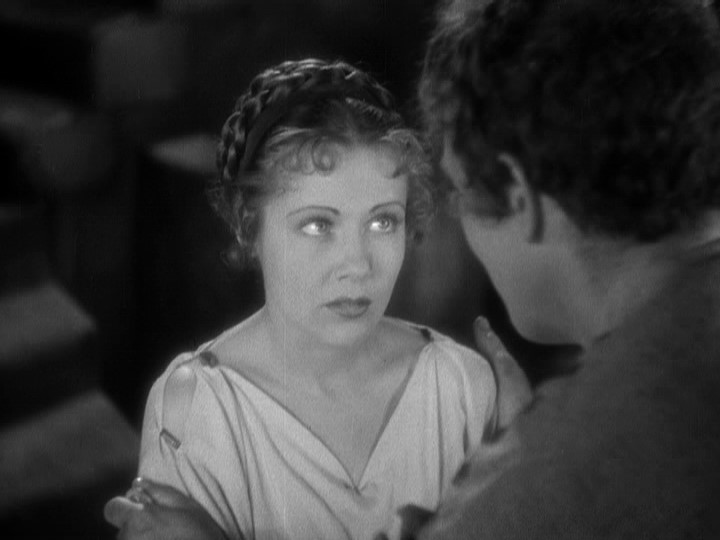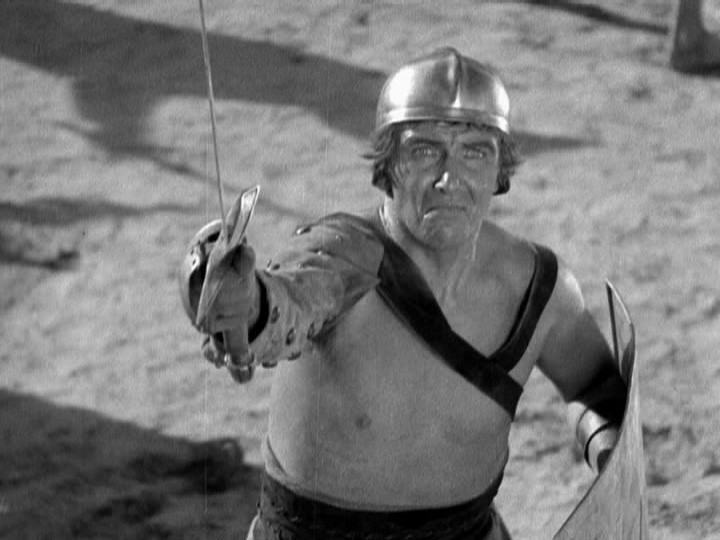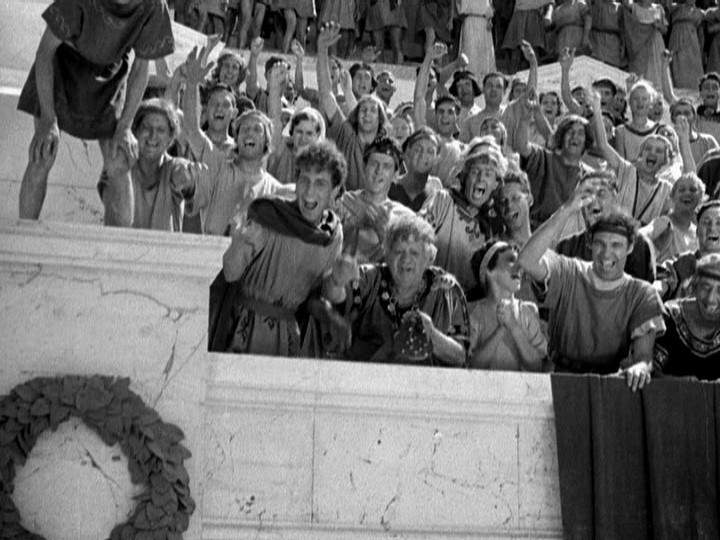 ---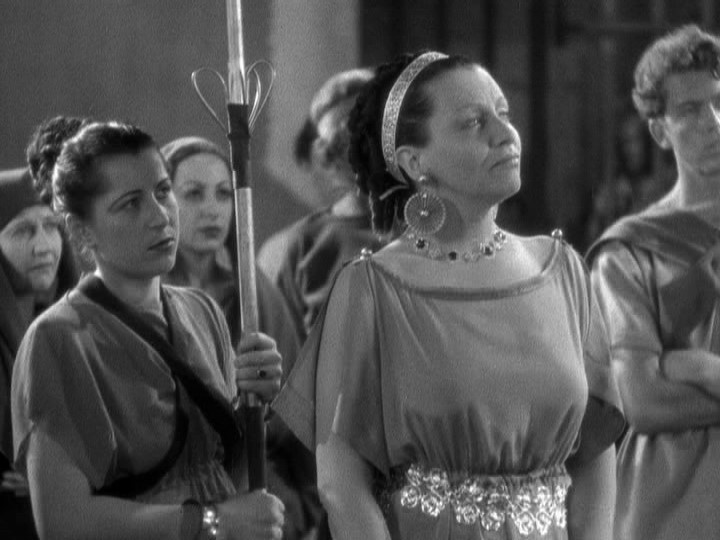 ---




















DONATIONS Keep DVDBeaver alive:
Mail cheques, money orders, cash to: or CLICK PayPal logo to donate!
Gary Tooze

Mississauga, Ontario,

CANADA
Thank You!
Merian C. Cooper's - The Last Days of Pompeii (1935) - DVD Review Merian C. Cooper The Last Days of Pompeii 1935 DVD Review Merian C. Cooper The Last Days of Pompeii 1935 DVD Review Merian C. Cooper The Last Days of Pompeii 1935 DVD Review Merian C. Cooper The Last Days of Pompeii 1935 DVD Review Merian C. Cooper The Last Days of Pompeii 1935 DVD Review Merian C. Cooper The Last Days of Pompeii 1935 DVD Review Merian C. Cooper The Last Days of Pompeii 1935 DVD Review Merian C. Cooper The Last Days of Pompeii 1935 DVD Review Merian C. Cooper The Last Days of Pompeii 1935 DVD Review Merian C. Cooper's - The Last Days of Pompeii (1935) - DVD Review Merian C. Cooper The Last Days of Pompeii 1935 DVD Review Merian C. Cooper The Last Days of Pompeii 1935 DVD Review Merian C. Cooper The Last Days of Pompeii 1935 DVD Review Merian C. Cooper The Last Days of Pompeii 1935 DVD Review Merian C. Cooper The Last Days of Pompeii 1935 DVD Review Merian C. Cooper The Last Days of Pompeii 1935 DVD Review Merian C. Cooper The Last Days of Pompeii 1935 DVD Review Merian C. Cooper The Last Days of Pompeii 1935 DVD Review Merian C. Cooper The Last Days of Pompeii 1935 DVD Review Merian C. Cooper's - The Last Days of Pompeii (1935) - DVD Review Merian C. Cooper The Last Days of Pompeii 1935 DVD Review Merian C. Cooper The Last Days of Pompeii 1935 DVD Review Merian C. Cooper The Last Days of Pompeii 1935 DVD Review Merian C. Cooper The Last Days of Pompeii 1935 DVD Review Merian C. Cooper The Last Days of Pompeii 1935 DVD Review Merian C. Cooper The Last Days of Pompeii 1935 DVD Review Merian C. Cooper The Last Days of Pompeii 1935 DVD Review Merian C. Cooper The Last Days of Pompeii 1935 DVD Review Merian C. Cooper The Last Days of Pompeii 1935 DVD Review Merian C. Cooper's - The Last Days of Pompeii (1935) - DVD Review Merian C. Cooper The Last Days of Pompeii 1935 DVD Review Merian C. Cooper The Last Days of Pompeii 1935 DVD Review Merian C. Cooper The Last Days of Pompeii 1935 DVD Review Merian C. Cooper The Last Days of Pompeii 1935 DVD Review Merian C. Cooper The Last Days of Pompeii 1935 DVD Review Merian C. Cooper The Last Days of Pompeii 1935 DVD Review Merian C. Cooper The Last Days of Pompeii 1935 DVD Review Merian C. Cooper The Last Days of Pompeii 1935 DVD Review Merian C. Cooper The Last Days of Pompeii 1935 DVD Review Merian C. Cooper's - The Last Days of Pompeii (1935) - DVD Review Merian C. Cooper The Last Days of Pompeii 1935 DVD Review Merian C. Cooper The Last Days of Pompeii 1935 DVD Review Merian C. Cooper The Last Days of Pompeii 1935 DVD Review Merian C. Cooper The Last Days of Pompeii 1935 DVD Review Merian C. Cooper The Last Days of Pompeii 1935 DVD Review Merian C. Cooper The Last Days of Pompeii 1935 DVD Review Merian C. Cooper The Last Days of Pompeii 1935 DVD Review Merian C. Cooper The Last Days of Pompeii 1935 DVD Review Merian C. Cooper The Last Days of Pompeii 1935 DVD Review Merian C. Cooper's - The Last Days of Pompeii (1935) - DVD Review Merian C. Cooper The Last Days of Pompeii 1935 DVD Review Merian C. Cooper The Last Days of Pompeii 1935 DVD Review Merian C. Cooper The Last Days of Pompeii 1935 DVD Review Merian C. Cooper The Last Days of Pompeii 1935 DVD Review Merian C. Cooper The Last Days of Pompeii 1935 DVD Review Merian C. Cooper The Last Days of Pompeii 1935 DVD Review Merian C. Cooper The Last Days of Pompeii 1935 DVD Review Merian C. Cooper The Last Days of Pompeii 1935 DVD Review Merian C. Cooper The Last Days of Pompeii 1935 DVD Review Merian C. Cooper's - The Last Days of Pompeii (1935) - DVD Review Merian C. Cooper The Last Days of Pompeii 1935 DVD Review Merian C. Cooper The Last Days of Pompeii 1935 DVD Review Merian C. Cooper The Last Days of Pompeii 1935 DVD Review Merian C. Cooper The Last Days of Pompeii 1935 DVD Review Merian C. Cooper The Last Days of Pompeii 1935 DVD Review Merian C. Cooper The Last Days of Pompeii 1935 DVD Review Merian C. Cooper The Last Days of Pompeii 1935 DVD Review Merian C. Cooper The Last Days of Pompeii 1935 DVD Review Merian C. Cooper The Last Days of Pompeii 1935 DVD Review Merian C. Cooper's - The Last Days of Pompeii (1935) - DVD Review Merian C. Cooper The Last Days of Pompeii 1935 DVD Review Merian C. Cooper The Last Days of Pompeii 1935 DVD Review Merian C. Cooper The Last Days of Pompeii 1935 DVD Review Merian C. Cooper The Last Days of Pompeii 1935 DVD Review Merian C. Cooper The Last Days of Pompeii 1935 DVD Review Merian C. Cooper The Last Days of Pompeii 1935 DVD Review Merian C. Cooper The Last Days of Pompeii 1935 DVD Review Merian C. Cooper The Last Days of Pompeii 1935 DVD Review Merian C. Cooper The Last Days of Pompeii 1935 DVD Review Merian C. Cooper's - The Last Days of Pompeii (1935) - DVD Review Merian C. Cooper The Last Days of Pompeii 1935 DVD Review Merian C. Cooper The Last Days of Pompeii 1935 DVD Review Merian C. Cooper The Last Days of Pompeii 1935 DVD Review Merian C. Cooper The Last Days of Pompeii 1935 DVD Review Merian C. Cooper The Last Days of Pompeii 1935 DVD Review Merian C. Cooper The Last Days of Pompeii 1935 DVD Review Merian C. Cooper The Last Days of Pompeii 1935 DVD Review Merian C. Cooper The Last Days of Pompeii 1935 DVD Review Merian C. Cooper The Last Days of Pompeii 1935 DVD Review Merian C. Cooper's - The Last Days of Pompeii (1935) - DVD Review Merian C. Cooper The Last Days of Pompeii 1935 DVD Review Merian C. Cooper The Last Days of Pompeii 1935 DVD Review Merian C. Cooper The Last Days of Pompeii 1935 DVD Review Merian C. Cooper The Last Days of Pompeii 1935 DVD Review Merian C. Cooper The Last Days of Pompeii 1935 DVD Review Merian C. Cooper The Last Days of Pompeii 1935 DVD Review Merian C. Cooper The Last Days of Pompeii 1935 DVD Review Merian C. Cooper The Last Days of Pompeii 1935 DVD Review Merian C. Cooper The Last Days of Pompeii 1935 DVD Review Merian C. Cooper's - The Last Days of Pompeii (1935) - DVD Review Merian C. Cooper The Last Days of Pompeii 1935 DVD Review Merian C. Cooper The Last Days of Pompeii 1935 DVD Review Merian C. Cooper The Last Days of Pompeii 1935 DVD Review Merian C. Cooper The Last Days of Pompeii 1935 DVD Review Merian C. Cooper The Last Days of Pompeii 1935 DVD Review Merian C. Cooper The Last Days of Pompeii 1935 DVD Review Merian C. Cooper The Last Days of Pompeii 1935 DVD Review Merian C. Cooper The Last Days of Pompeii 1935 DVD Review Merian C. Cooper The Last Days of Pompeii 1935 DVD Review Merian C. Cooper's - The Last Days of Pompeii (1935) - DVD Review Merian C. Cooper The Last Days of Pompeii 1935 DVD Review Merian C. Cooper The Last Days of Pompeii 1935 DVD Review Merian C. Cooper The Last Days of Pompeii 1935 DVD Review Merian C. Cooper The Last Days of Pompeii 1935 DVD Review Merian C. Cooper The Last Days of Pompeii 1935 DVD Review Merian C. Cooper The Last Days of Pompeii 1935 DVD Review Merian C. Cooper The Last Days of Pompeii 1935 DVD Review Merian C. Cooper The Last Days of Pompeii 1935 DVD Review Merian C. Cooper The Last Days of Pompeii 1935 DVD Review Merian C. Cooper's - The Last Days of Pompeii (1935) - DVD Review Merian C. Cooper The Last Days of Pompeii 1935 DVD Review Merian C. Cooper The Last Days of Pompeii 1935 DVD Review Merian C. Cooper The Last Days of Pompeii 1935 DVD Review Merian C. Cooper The Last Days of Pompeii 1935 DVD Review Merian C. Cooper The Last Days of Pompeii 1935 DVD Review Merian C. Cooper The Last Days of Pompeii 1935 DVD Review Merian C. Cooper The Last Days of Pompeii 1935 DVD Review Merian C. Cooper The Last Days of Pompeii 1935 DVD Review Merian C. Cooper The Last Days of Pompeii 1935 DVD Review Merian C. Cooper's - The Last Days of Pompeii (1935) - DVD Review Merian C. Cooper The Last Days of Pompeii 1935 DVD Review Merian C. Cooper The Last Days of Pompeii 1935 DVD Review Merian C. Cooper The Last Days of Pompeii 1935 DVD Review Merian C. Cooper The Last Days of Pompeii 1935 DVD Review Merian C. Cooper The Last Days of Pompeii 1935 DVD Review Merian C. Cooper The Last Days of Pompeii 1935 DVD Review Merian C. Cooper The Last Days of Pompeii 1935 DVD Review Merian C. Cooper The Last Days of Pompeii 1935 DVD Review Merian C. Cooper The Last Days of Pompeii 1935 DVD Review Merian C. Cooper's - The Last Days of Pompeii (1935) - DVD Review Merian C. Cooper The Last Days of Pompeii 1935 DVD Review Merian C. Cooper The Last Days of Pompeii 1935 DVD Review Merian C. Cooper The Last Days of Pompeii 1935 DVD Review Merian C. Cooper The Last Days of Pompeii 1935 DVD Review Merian C. Cooper The Last Days of Pompeii 1935 DVD Review Merian C. Cooper The Last Days of Pompeii 1935 DVD Review Merian C. Cooper The Last Days of Pompeii 1935 DVD Review Merian C. Cooper The Last Days of Pompeii 1935 DVD Review Merian C. Cooper The Last Days of Pompeii 1935 DVD Review Merian C. Cooper's - The Last Days of Pompeii (1935) - DVD Review Merian C. Cooper The Last Days of Pompeii 1935 DVD Review Merian C. Cooper The Last Days of Pompeii 1935 DVD Review Merian C. Cooper The Last Days of Pompeii 1935 DVD Review Merian C. Cooper The Last Days of Pompeii 1935 DVD Review Merian C. Cooper The Last Days of Pompeii 1935 DVD Review Merian C. Cooper The Last Days of Pompeii 1935 DVD Review Merian C. Cooper The Last Days of Pompeii 1935 DVD Review Merian C. Cooper The Last Days of Pompeii 1935 DVD Review Merian C. Cooper The Last Days of Pompeii 1935 DVD Review Merian C. Cooper's - The Last Days of Pompeii (1935) - DVD Review Merian C. Cooper The Last Days of Pompeii 1935 DVD Review Merian C. Cooper The Last Days of Pompeii 1935 DVD Review Merian C. Cooper The Last Days of Pompeii 1935 DVD Review Merian C. Cooper The Last Days of Pompeii 1935 DVD Review Merian C. Cooper The Last Days of Pompeii 1935 DVD Review Merian C. Cooper The Last Days of Pompeii 1935 DVD Review Merian C. Cooper The Last Days of Pompeii 1935 DVD Review Merian C. Cooper The Last Days of Pompeii 1935 DVD Review Merian C. Cooper The Last Days of Pompeii 1935 DVD Review Merian C. Cooper's - The Last Days of Pompeii (1935) - DVD Review Merian C. Cooper The Last Days of Pompeii 1935 DVD Review Merian C. Cooper The Last Days of Pompeii 1935 DVD Review Merian C. Cooper The Last Days of Pompeii 1935 DVD Review Merian C. Cooper The Last Days of Pompeii 1935 DVD Review Merian C. Cooper The Last Days of Pompeii 1935 DVD Review Merian C. Cooper The Last Days of Pompeii 1935 DVD Review Merian C. Cooper The Last Days of Pompeii 1935 DVD Review Merian C. Cooper The Last Days of Pompeii 1935 DVD Review Merian C. Cooper The Last Days of Pompeii 1935 DVD Review Merian C. Cooper's - The Last Days of Pompeii (1935) - DVD Review Merian C. Cooper The Last Days of Pompeii 1935 DVD Review Merian C. Cooper The Last Days of Pompeii 1935 DVD Review Merian C. Cooper The Last Days of Pompeii 1935 DVD Review Merian C. Cooper The Last Days of Pompeii 1935 DVD Review Merian C. Cooper The Last Days of Pompeii 1935 DVD Review Merian C. Cooper The Last Days of Pompeii 1935 DVD Review Merian C. Cooper The Last Days of Pompeii 1935 DVD Review Merian C. Cooper The Last Days of Pompeii 1935 DVD Review Merian C. Cooper The Last Days of Pompeii 1935 DVD Review Merian C. Cooper's - The Last Days of Pompeii (1935) - DVD Review Merian C. Cooper The Last Days of Pompeii 1935 DVD Review Merian C. Cooper The Last Days of Pompeii 1935 DVD Review Merian C. Cooper The Last Days of Pompeii 1935 DVD Review Merian C. Cooper The Last Days of Pompeii 1935 DVD Review Merian C. Cooper The Last Days of Pompeii 1935 DVD Review Merian C. Cooper The Last Days of Pompeii 1935 DVD Review Merian C. Cooper The Last Days of Pompeii 1935 DVD Review Merian C. Cooper The Last Days of Pompeii 1935 DVD Review Merian C. Cooper The Last Days of Pompeii 1935 DVD Review Merian C. Cooper's - The Last Days of Pompeii (1935) - DVD Review Merian C. Cooper The Last Days of Pompeii 1935 DVD Review Merian C. Cooper The Last Days of Pompeii 1935 DVD Review Merian C. Cooper The Last Days of Pompeii 1935 DVD Review Merian C. Cooper The Last Days of Pompeii 1935 DVD Review Merian C. Cooper The Last Days of Pompeii 1935 DVD Review Merian C. Cooper The Last Days of Pompeii 1935 DVD Review Merian C. Cooper The Last Days of Pompeii 1935 DVD Review Merian C. Cooper The Last Days of Pompeii 1935 DVD Review Merian C. Cooper The Last Days of Pompeii 1935 DVD Review Merian C. Cooper's - The Last Days of Pompeii (1935) - DVD Review Merian C. Cooper The Last Days of Pompeii 1935 DVD Review Merian C. Cooper The Last Days of Pompeii 1935 DVD Review Merian C. Cooper The Last Days of Pompeii 1935 DVD Review Merian C. Cooper The Last Days of Pompeii 1935 DVD Review Merian C. Cooper The Last Days of Pompeii 1935 DVD Review Merian C. Cooper The Last Days of Pompeii 1935 DVD Review Merian C. Cooper The Last Days of Pompeii 1935 DVD Review Merian C. Cooper The Last Days of Pompeii 1935 DVD Review Merian C. Cooper The Last Days of Pompeii 1935 DVD Review Merian C. Cooper's - The Last Days of Pompeii (1935) - DVD Review Merian C. Cooper The Last Days of Pompeii 1935 DVD Review Merian C. Cooper The Last Days of Pompeii 1935 DVD Review Merian C. Cooper The Last Days of Pompeii 1935 DVD Review Merian C. Cooper The Last Days of Pompeii 1935 DVD Review Merian C. Cooper The Last Days of Pompeii 1935 DVD Review Merian C. Cooper The Last Days of Pompeii 1935 DVD Review Merian C. Cooper The Last Days of Pompeii 1935 DVD Review Merian C. Cooper The Last Days of Pompeii 1935 DVD Review Merian C. Cooper The Last Days of Pompeii 1935 DVD Review Merian C. Cooper's - The Last Days of Pompeii (1935) - DVD Review Merian C. Cooper The Last Days of Pompeii 1935 DVD Review Merian C. Cooper The Last Days of Pompeii 1935 DVD Review Merian C. Cooper The Last Days of Pompeii 1935 DVD Review Merian C. Cooper The Last Days of Pompeii 1935 DVD Review Merian C. Cooper The Last Days of Pompeii 1935 DVD Review Merian C. Cooper The Last Days of Pompeii 1935 DVD Review Merian C. Cooper The Last Days of Pompeii 1935 DVD Review Merian C. Cooper The Last Days of Pompeii 1935 DVD Review Merian C. Cooper The Last Days of Pompeii 1935 DVD Review Merian C. Cooper's - The Last Days of Pompeii (1935) - DVD Review Merian C. Cooper The Last Days of Pompeii 1935 DVD Review Merian C. Cooper The Last Days of Pompeii 1935 DVD Review Merian C. Cooper The Last Days of Pompeii 1935 DVD Review Merian C. Cooper The Last Days of Pompeii 1935 DVD Review Merian C. Cooper The Last Days of Pompeii 1935 DVD Review Merian C. Cooper The Last Days of Pompeii 1935 DVD Review Merian C. Cooper The Last Days of Pompeii 1935 DVD Review Merian C. Cooper The Last Days of Pompeii 1935 DVD Review Merian C. Cooper The Last Days of Pompeii 1935 DVD Review Merian C. Cooper's - The Last Days of Pompeii (1935) - DVD Review Merian C. Cooper The Last Days of Pompeii 1935 DVD Review Merian C. Cooper The Last Days of Pompeii 1935 DVD Review Merian C. Cooper The Last Days of Pompeii 1935 DVD Review Merian C. Cooper The Last Days of Pompeii 1935 DVD Review Merian C. Cooper The Last Days of Pompeii 1935 DVD Review Merian C. Cooper The Last Days of Pompeii 1935 DVD Review Merian C. Cooper The Last Days of Pompeii 1935 DVD Review Merian C. Cooper The Last Days of Pompeii 1935 DVD Review Merian C. Cooper The Last Days of Pompeii 1935 DVD Review