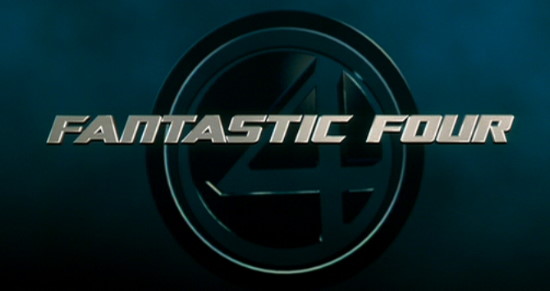 Directed by Tim Story
USA
2005
When an experimental space voyage goes awry, four people are changed by cosmic rays. Reed Richards, inventor and leader of the group gains the ability to stretch his body, and takes the name, Mr. Fantastic. His girlfriend, Sue Storm, gains the ability to turn invisible and create force fields, calling herself the Invisible Woman. Her younger brother Johnny Storm gains the ability to control fire, including covering his own body with flame, becoming the Human Torch. Pilot Ben Grimm is turned into a super-strong rock creature calling himself Thing. Together, they use their unique powers to explore the strange aspects of the world, and to foil the evil plans of Doctor Doom.
*****
Marvel Comics' first family of superherodom, the Fantastic Four, hits the big screen in a light-hearted and funny adventure. It begins when down-on-his-luck genius Reed Richards (Ioan Gruffudd) has to enlist the financial and intellectual help from former schoolmate and rival Victor Von Doom (Julian McMahon) in order to pursue outer-space research into human DNA. Also on the trip are Reed's best friend, Ben Grimm (Michael Chiklis); his former lover, Sue Storm (Jessica Alba), who's now Doom's employee and love interest; and her hotshot-pilot brother, Johnny Storm (Chris Evans). Things don't go as planned, of course, and the quartet becomes blessed--or is it cursed?--with superhuman powers: flexibility, brute strength, invisibility and projecting force fields, and bursting into flame. Meanwhile, Doom himself is undergoing a transformation.
Among the many entries in the comic-book-movie frenzy, Fantastic Four is refreshing because it doesn't take itself too seriously. Characterization isn't too deep, and the action is a bit sparse until the final reel (like most "first" superhero movies, it has to go through the "how did we get these powers and what we will do with them" churn). But it's a good-looking cast, and original comic-book co-creator Stan Lee makes his most significant Marvel-movie cameo yet, in a speaking role as the FF's steadfast postal carrier, Willie Lumpkin.
Posters
Theatrical Release: June 29th, 2005
Reviews More Reviews DVD Reviews
DVD Review: 20th Century Fox - Region 1 - NTSC
DVD Box Cover

CLICK to order from:

Distribution
20th Century Fox Home Video - Region 1 - NTSC
Runtime
1:45:24
Video
2.35:1 Original Aspect Ratio
Average Bitrate: 6.78 mb/s
NTSC 720x480 29.97 f/s

NOTE: The Vertical axis represents the bits transferred per second. The Horizontal is the time in minutes.

Bitrate:

Audio
English (DTS), English (Dolby Digital 5.1) DUB: Spanish (Dolby Digital 2.0)
Subtitles
English, Spanish, None
Features

Release Information:
Studio: 20th Century Fox Home Video

Aspect Ratio:
Original Aspect Ratio 2.35:1

Edition Details:

• Commentary by: Jessica Alba, Michael Chiklis, and Ioan Gruffud
• 3 deleted scenes
• The Fantastic Tour: Exclusive behind-the-scenes home video hosted by the entire cast
• Making of Fantastic Four
• Fox Movie Channel Presents Casting Session & Making A Scene
• Music videos: Everything Burns, Come On Come In, Music
• Exclusive inside look at X-Men 3 - hosted by producer Avi Arad

DVD Release Date: December 6th, 2005
Keep Case inside cardboard sleeve
Chapters: 32
Comments:

At DVDBeaver, we love comicbook-dom and its too easy to cut this up. I won't go into a big spiel about why Marvel comics (Spiderman, X-Men etc.) are superior to DC (Superman, Batman etc.) so you'll just have to take my word on it - they are. The Fantastic Four were my mainstays as a child - such extraneous characters including The Silver Surfer, Galactus and von Doom created some of the best sagas in the history of comic storytelling, and like both recent Spiderman and X-Men films, I suspect the sequel will be superior to the original. It still proves to be a worthy introduction building the base for future films but nonetheless, I am totally biased about this first FF film - it thrilled me to bits.

The DVD itself is typical Fox - very good, if not stupendous, image - excellent audio, commentary and extras. They are the one DVD production outfit that seem to be sticklers for aspect ratio. Good subtitles - there are really no flaws and I think the price hits in the correct purchasing sphere. Yes, in the name of Aunt Petunia's favorite nephew - we recommend.
---



DVD Menus

---
Subtitle Sample
Screen Captures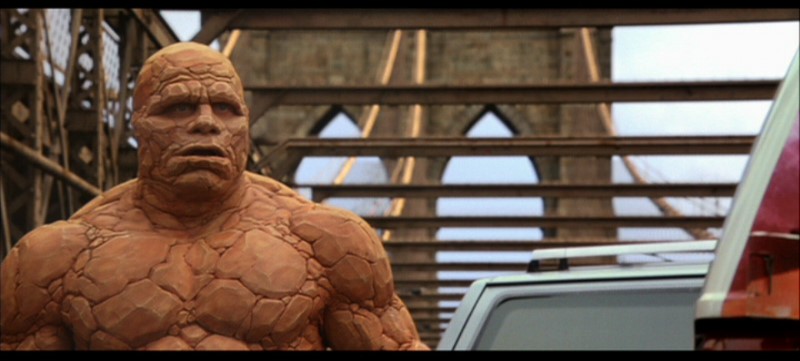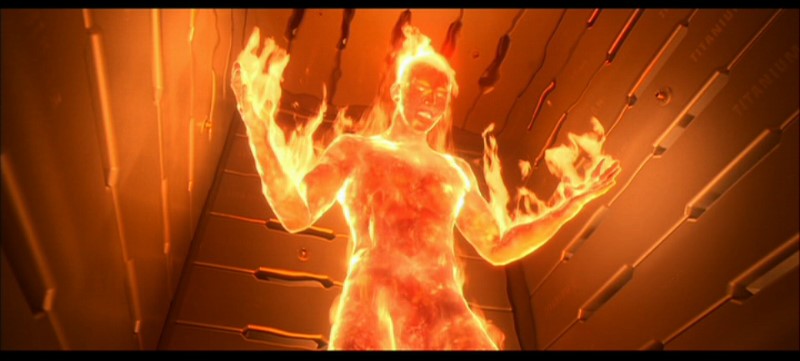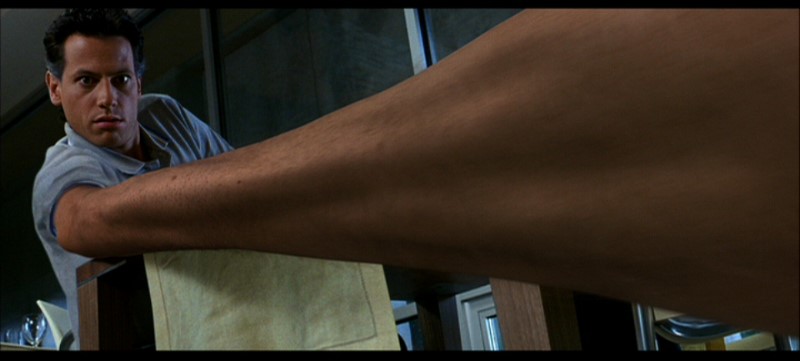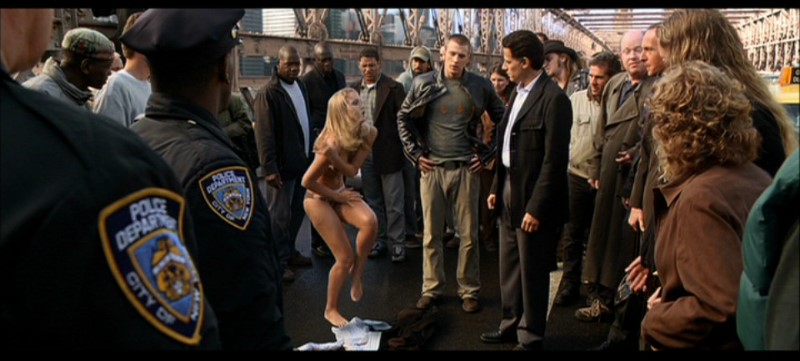 ---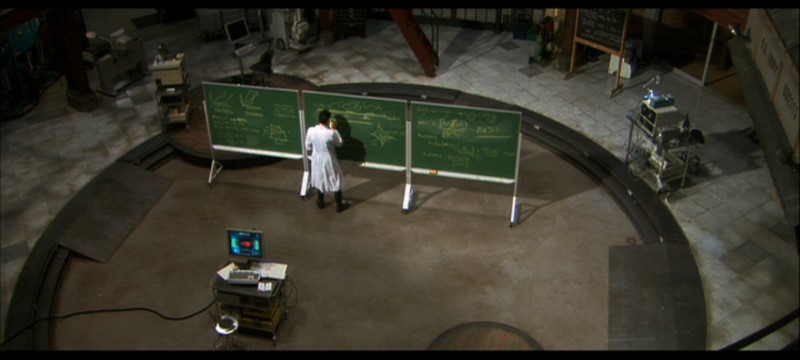 DONATIONS Keep DVDBeaver alive:
Mail cheques, money orders, cash to: or CLICK PayPal logo to donate!
Gary Tooze

Mississauga, Ontario,

CANADA
Thank You!
Tim Story's - Fantastic Four - DVD Reviews Tim Story Fantastic Four DVD Reviews Tim Story Fantastic Four DVD Reviews Tim Story Fantastic Four DVD Reviews Tim Story Fantastic Four DVD Reviews Tim Story Fantastic Four DVD Reviews Tim Story Fantastic Four DVD Reviews Tim Story Fantastic Four DVD Reviews Tim Story's - Fantastic Four - DVD Reviews Tim Story Fantastic Four DVD Reviews Tim Story Fantastic Four DVD Reviews Tim Story Fantastic Four DVD Reviews Tim Story Fantastic Four DVD Reviews Tim Story Fantastic Four DVD Reviews Tim Story Fantastic Four DVD Reviews Tim Story Fantastic Four DVD Reviews Tim Story's - Fantastic Four - DVD Reviews Tim Story Fantastic Four DVD Reviews Tim Story Fantastic Four DVD Reviews Tim Story Fantastic Four DVD Reviews Tim Story Fantastic Four DVD Reviews Tim Story Fantastic Four DVD Reviews Tim Story Fantastic Four DVD Reviews Tim Story Fantastic Four DVD Reviews Tim Story's - Fantastic Four - DVD Reviews Tim Story Fantastic Four DVD Reviews Tim Story Fantastic Four DVD Reviews Tim Story Fantastic Four DVD Reviews Tim Story Fantastic Four DVD Reviews Tim Story Fantastic Four DVD Reviews Tim Story Fantastic Four DVD Reviews Tim Story Fantastic Four DVD Reviews Tim Story's - Fantastic Four - DVD Reviews Tim Story Fantastic Four DVD Reviews Tim Story Fantastic Four DVD Reviews Tim Story Fantastic Four DVD Reviews Tim Story Fantastic Four DVD Reviews Tim Story Fantastic Four DVD Reviews Tim Story Fantastic Four DVD Reviews Tim Story Fantastic Four DVD Reviews Tim Story's - Fantastic Four - DVD Reviews Tim Story Fantastic Four DVD Reviews Tim Story Fantastic Four DVD Reviews Tim Story Fantastic Four DVD Reviews Tim Story Fantastic Four DVD Reviews Tim Story Fantastic Four DVD Reviews Tim Story Fantastic Four DVD Reviews Tim Story Fantastic Four DVD Reviews Tim Story's - Fantastic Four - DVD Reviews Tim Story Fantastic Four DVD Reviews Tim Story Fantastic Four DVD Reviews Tim Story Fantastic Four DVD Reviews Tim Story Fantastic Four DVD Reviews Tim Story Fantastic Four DVD Reviews Tim Story Fantastic Four DVD Reviews Tim Story Fantastic Four DVD Reviews Tim Story's - Fantastic Four - DVD Reviews Tim Story Fantastic Four DVD Reviews Tim Story Fantastic Four DVD Reviews Tim Story Fantastic Four DVD Reviews Tim Story Fantastic Four DVD Reviews Tim Story Fantastic Four DVD Reviews Tim Story Fantastic Four DVD Reviews Tim Story Fantastic Four DVD Reviews Tim Story's - Fantastic Four - DVD Reviews Tim Story Fantastic Four DVD Reviews Tim Story Fantastic Four DVD Reviews Tim Story Fantastic Four DVD Reviews Tim Story Fantastic Four DVD Reviews Tim Story Fantastic Four DVD Reviews Tim Story Fantastic Four DVD Reviews Tim Story Fantastic Four DVD Reviews Tim Story's - Fantastic Four - DVD Reviews Tim Story Fantastic Four DVD Reviews Tim Story Fantastic Four DVD Reviews Tim Story Fantastic Four DVD Reviews Tim Story Fantastic Four DVD Reviews Tim Story Fantastic Four DVD Reviews Tim Story Fantastic Four DVD Reviews Tim Story Fantastic Four DVD Reviews Tim Story's - Fantastic Four - DVD Reviews Tim Story Fantastic Four DVD Reviews Tim Story Fantastic Four DVD Reviews Tim Story Fantastic Four DVD Reviews Tim Story Fantastic Four DVD Reviews Tim Story Fantastic Four DVD Reviews Tim Story Fantastic Four DVD Reviews Tim Story Fantastic Four DVD Reviews Tim Story's - Fantastic Four - DVD Reviews Tim Story Fantastic Four DVD Reviews Tim Story Fantastic Four DVD Reviews Tim Story Fantastic Four DVD Reviews Tim Story Fantastic Four DVD Reviews Tim Story Fantastic Four DVD Reviews Tim Story Fantastic Four DVD Reviews Tim Story Fantastic Four DVD Reviews Tim Story's - Fantastic Four - DVD Reviews Tim Story Fantastic Four DVD Reviews Tim Story Fantastic Four DVD Reviews Tim Story Fantastic Four DVD Reviews Tim Story Fantastic Four DVD Reviews Tim Story Fantastic Four DVD Reviews Tim Story Fantastic Four DVD Reviews Tim Story Fantastic Four DVD Reviews Tim Story's - Fantastic Four - DVD Reviews Tim Story Fantastic Four DVD Reviews Tim Story Fantastic Four DVD Reviews Tim Story Fantastic Four DVD Reviews Tim Story Fantastic Four DVD Reviews Tim Story Fantastic Four DVD Reviews Tim Story Fantastic Four DVD Reviews Tim Story Fantastic Four DVD Reviews Tim Story's - Fantastic Four - DVD Reviews Tim Story Fantastic Four DVD Reviews Tim Story Fantastic Four DVD Reviews Tim Story Fantastic Four DVD Reviews Tim Story Fantastic Four DVD Reviews Tim Story Fantastic Four DVD Reviews Tim Story Fantastic Four DVD Reviews Tim Story Fantastic Four DVD Reviews Tim Story's - Fantastic Four - DVD Reviews Tim Story Fantastic Four DVD Reviews Tim Story Fantastic Four DVD Reviews Tim Story Fantastic Four DVD Reviews Tim Story Fantastic Four DVD Reviews Tim Story Fantastic Four DVD Reviews Tim Story Fantastic Four DVD Reviews Tim Story Fantastic Four DVD Reviews Tim Story's - Fantastic Four - DVD Reviews Tim Story Fantastic Four DVD Reviews Tim Story Fantastic Four DVD Reviews Tim Story Fantastic Four DVD Reviews Tim Story Fantastic Four DVD Reviews Tim Story Fantastic Four DVD Reviews Tim Story Fantastic Four DVD Reviews Tim Story Fantastic Four DVD Reviews Tim Story's - Fantastic Four - DVD Reviews Tim Story Fantastic Four DVD Reviews Tim Story Fantastic Four DVD Reviews Tim Story Fantastic Four DVD Reviews Tim Story Fantastic Four DVD Reviews Tim Story Fantastic Four DVD Reviews Tim Story Fantastic Four DVD Reviews Tim Story Fantastic Four DVD Reviews Tim Story's - Fantastic Four - DVD Reviews Tim Story Fantastic Four DVD Reviews Tim Story Fantastic Four DVD Reviews Tim Story Fantastic Four DVD Reviews Tim Story Fantastic Four DVD Reviews Tim Story Fantastic Four DVD Reviews Tim Story Fantastic Four DVD Reviews Tim Story Fantastic Four DVD Reviews Tim Story's - Fantastic Four - DVD Reviews Tim Story Fantastic Four DVD Reviews Tim Story Fantastic Four DVD Reviews Tim Story Fantastic Four DVD Reviews Tim Story Fantastic Four DVD Reviews Tim Story Fantastic Four DVD Reviews Tim Story Fantastic Four DVD Reviews Tim Story Fantastic Four DVD Reviews Tim Story's - Fantastic Four - DVD Reviews Tim Story Fantastic Four DVD Reviews Tim Story Fantastic Four DVD Reviews Tim Story Fantastic Four DVD Reviews Tim Story Fantastic Four DVD Reviews Tim Story Fantastic Four DVD Reviews Tim Story Fantastic Four DVD Reviews Tim Story Fantastic Four DVD Reviews Tim Story's - Fantastic Four - DVD Reviews Tim Story Fantastic Four DVD Reviews Tim Story Fantastic Four DVD Reviews Tim Story Fantastic Four DVD Reviews Tim Story Fantastic Four DVD Reviews Tim Story Fantastic Four DVD Reviews Tim Story Fantastic Four DVD Reviews Tim Story Fantastic Four DVD Reviews