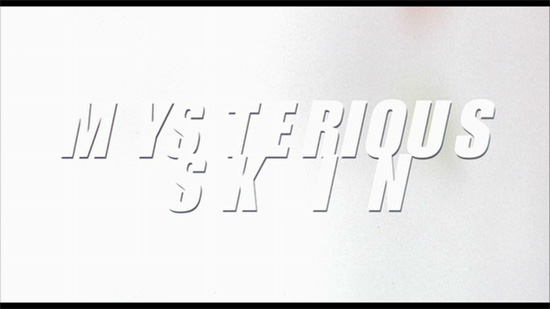 directed by Gregg Araki
USA / Netherlands 2004
Based on a 1995 novel by Scott Heim, "Mysterious Skin" reflects upon how one childhood event shape the lives of two boys. At the age of eight, Brian (Brady Corbett) passed out during a little league game and was out for five hours, which he contributes to alien abduction, while Neil (Joseph Gordon-Levitt) sought out an early sexual experience with his coach. Young adults, Brian is alienated and spends most of his time at the library reading and writing about alien abductions, while Neil has become a male prostitute.

When they finally unite, their suppressed memories and emotions come out, and they realize how different they have become by what once happened.

With almost lyrical simplicity, Gregg Araki has created one incredible powerful film about sexual trauma and how they shape our lives. Beautifully acted by Corbett and Gordon-Levitt, as well as great supporting roles by especially Elisabeth Shue, "Mysterious Skin" is a film first and foremost to experience, at the same time brutal and tender, toying with our perception of things, provokes and seduces. One of the best films of the year.
Posters
Theatrical Release: September 3, 2004 (Venice Film Festival)
Reviews More Reviews DVD Reviews
DVD Review: Tartan - Region 2 - PAL
Big thanks to Henrik Sylow for the Review!
DVD Box Cover

CLICK to order from:

Distribution

Tartan

Region 2 - PAL

Runtime
1:40:49
Video

1.85:1 Original Aspect Ratio

16X9 enhanced
Average Bitrate: 6.27 mb/s
PAL 720x576 25.00 f/s

NOTE: The Vertical axis represents the bits transferred per second. The Horizontal is the time in minutes.

Bitrate

Audio
2.0 Dolby Digital English, 5.1 Dolby Digital English, DTS English
Subtitles
English, None
Features
Release Information:
Studio: Tartan

Aspect Ratio:
Widescreen anamorphic - 1.85:1

Edition Details:
• Audio commentary by Gregg Araki, Brady Corbett and Joseph Gordon-Levitt
• Interviews
• - Gregg Araki (21:46 / 16x9)
• - Scott Heim (25:16 / 16x9)
• - Brady Corbett and Joseph Gordon-Levitt (15:28 / 16x9)
• - London Film Festival Q&A: Araki and Heim (13:04 / 16x9)
• Original Trailer (1:49 / 4:3)

DVD Release Date: October 24, 2005
Keep Case

Chapters 16
Comments
A flawless and stunning transfer. No visible artifacts, not even when zooming in. Colors are solid. Details sharp as can be. Simply one impressive image.

The additional material begins with an audio commentary by director Gregg Araki and the two leading actors Brady Corbett and Joseph Gordon-Levitt, where they in depth discuss various element of their characters, about the themes of the story and reflect upon the making of the film. A bit dry, but one very informative commentary.

For this DVD, Tartan made interviews with director Gregg Araki, writer Scott Heim, and actors Brady Corbett and Joseph Gordon-Levitt, where they ask specific questions towards the film. The interviews are finished with the Q&A from LFF 04.
---
---
Screen Captures
subtitle sample
Captures resized to 800px from 1016px native resolution
DONATIONS Keep DVDBeaver alive and advertisement free:
Mail cheques, money orders, cash to: or CLICK PayPal logo to donate!
Thank You!
Gregg Araki's - Mysterious Skin - DVD Review Gregg Araki Mysterious Skin DVD Review Gregg Araki Mysterious Skin DVD Review Gregg Araki Mysterious Skin DVD Review Gregg Araki Mysterious Skin DVD Review Gregg Araki Mysterious Skin DVD Review Gregg Araki Mysterious Skin DVD Review Gregg Araki Mysterious Skin DVD Review Gregg Araki Mysterious Skin DVD Review Gregg Araki's - Mysterious Skin - DVD Review Gregg Araki Mysterious Skin DVD Review Gregg Araki Mysterious Skin DVD Review Gregg Araki Mysterious Skin DVD Review Gregg Araki Mysterious Skin DVD Review Gregg Araki Mysterious Skin DVD Review Gregg Araki Mysterious Skin DVD Review Gregg Araki Mysterious Skin DVD Review Gregg Araki Mysterious Skin DVD Review Gregg Araki's - Mysterious Skin - DVD Review Gregg Araki Mysterious Skin DVD Review Gregg Araki Mysterious Skin DVD Review Gregg Araki Mysterious Skin DVD Review Gregg Araki Mysterious Skin DVD Review Gregg Araki Mysterious Skin DVD Review Gregg Araki Mysterious Skin DVD Review Gregg Araki Mysterious Skin DVD Review Gregg Araki Mysterious Skin DVD Review Gregg Araki's - Mysterious Skin - DVD Review Gregg Araki Mysterious Skin DVD Review Gregg Araki Mysterious Skin DVD Review Gregg Araki Mysterious Skin DVD Review Gregg Araki Mysterious Skin DVD Review Gregg Araki Mysterious Skin DVD Review Gregg Araki Mysterious Skin DVD Review Gregg Araki Mysterious Skin DVD Review Gregg Araki Mysterious Skin DVD Review Gregg Araki's - Mysterious Skin - DVD Review Gregg Araki Mysterious Skin DVD Review Gregg Araki Mysterious Skin DVD Review Gregg Araki Mysterious Skin DVD Review Gregg Araki Mysterious Skin DVD Review Gregg Araki Mysterious Skin DVD Review Gregg Araki Mysterious Skin DVD Review Gregg Araki Mysterious Skin DVD Review Gregg Araki Mysterious Skin DVD Review Gregg Araki's - Mysterious Skin - DVD Review Gregg Araki Mysterious Skin DVD Review Gregg Araki Mysterious Skin DVD Review Gregg Araki Mysterious Skin DVD Review Gregg Araki Mysterious Skin DVD Review Gregg Araki Mysterious Skin DVD Review Gregg Araki Mysterious Skin DVD Review Gregg Araki Mysterious Skin DVD Review Gregg Araki Mysterious Skin DVD Review Gregg Araki's - Mysterious Skin - DVD Review Gregg Araki Mysterious Skin DVD Review Gregg Araki Mysterious Skin DVD Review Gregg Araki Mysterious Skin DVD Review Gregg Araki Mysterious Skin DVD Review Gregg Araki Mysterious Skin DVD Review Gregg Araki Mysterious Skin DVD Review Gregg Araki Mysterious Skin DVD Review Gregg Araki Mysterious Skin DVD Review Gregg Araki's - Mysterious Skin - DVD Review Gregg Araki Mysterious Skin DVD Review Gregg Araki Mysterious Skin DVD Review Gregg Araki Mysterious Skin DVD Review Gregg Araki Mysterious Skin DVD Review Gregg Araki Mysterious Skin DVD Review Gregg Araki Mysterious Skin DVD Review Gregg Araki Mysterious Skin DVD Review Gregg Araki Mysterious Skin DVD Review Gregg Araki's - Mysterious Skin - DVD Review Gregg Araki Mysterious Skin DVD Review Gregg Araki Mysterious Skin DVD Review Gregg Araki Mysterious Skin DVD Review Gregg Araki Mysterious Skin DVD Review Gregg Araki Mysterious Skin DVD Review Gregg Araki Mysterious Skin DVD Review Gregg Araki Mysterious Skin DVD Review Gregg Araki Mysterious Skin DVD Review Gregg Araki's - Mysterious Skin - DVD Review Gregg Araki Mysterious Skin DVD Review Gregg Araki Mysterious Skin DVD Review Gregg Araki Mysterious Skin DVD Review Gregg Araki Mysterious Skin DVD Review Gregg Araki Mysterious Skin DVD Review Gregg Araki Mysterious Skin DVD Review Gregg Araki Mysterious Skin DVD Review Gregg Araki Mysterious Skin DVD Review Gregg Araki's - Mysterious Skin - DVD Review Gregg Araki Mysterious Skin DVD Review Gregg Araki Mysterious Skin DVD Review Gregg Araki Mysterious Skin DVD Review Gregg Araki Mysterious Skin DVD Review Gregg Araki Mysterious Skin DVD Review Gregg Araki Mysterious Skin DVD Review Gregg Araki Mysterious Skin DVD Review Gregg Araki Mysterious Skin DVD Review Gregg Araki's - Mysterious Skin - DVD Review Gregg Araki Mysterious Skin DVD Review Gregg Araki Mysterious Skin DVD Review Gregg Araki Mysterious Skin DVD Review Gregg Araki Mysterious Skin DVD Review Gregg Araki Mysterious Skin DVD Review Gregg Araki Mysterious Skin DVD Review Gregg Araki Mysterious Skin DVD Review Gregg Araki Mysterious Skin DVD Review Gregg Araki's - Mysterious Skin - DVD Review Gregg Araki Mysterious Skin DVD Review Gregg Araki Mysterious Skin DVD Review Gregg Araki Mysterious Skin DVD Review Gregg Araki Mysterious Skin DVD Review Gregg Araki Mysterious Skin DVD Review Gregg Araki Mysterious Skin DVD Review Gregg Araki Mysterious Skin DVD Review Gregg Araki Mysterious Skin DVD Review Gregg Araki's - Mysterious Skin - DVD Review Gregg Araki Mysterious Skin DVD Review Gregg Araki Mysterious Skin DVD Review Gregg Araki Mysterious Skin DVD Review Gregg Araki Mysterious Skin DVD Review Gregg Araki Mysterious Skin DVD Review Gregg Araki Mysterious Skin DVD Review Gregg Araki Mysterious Skin DVD Review Gregg Araki Mysterious Skin DVD Review Gregg Araki's - Mysterious Skin - DVD Review Gregg Araki Mysterious Skin DVD Review Gregg Araki Mysterious Skin DVD Review Gregg Araki Mysterious Skin DVD Review Gregg Araki Mysterious Skin DVD Review Gregg Araki Mysterious Skin DVD Review Gregg Araki Mysterious Skin DVD Review Gregg Araki Mysterious Skin DVD Review Gregg Araki Mysterious Skin DVD Review Gregg Araki's - Mysterious Skin - DVD Review Gregg Araki Mysterious Skin DVD Review Gregg Araki Mysterious Skin DVD Review Gregg Araki Mysterious Skin DVD Review Gregg Araki Mysterious Skin DVD Review Gregg Araki Mysterious Skin DVD Review Gregg Araki Mysterious Skin DVD Review Gregg Araki Mysterious Skin DVD Review Gregg Araki Mysterious Skin DVD Review Gregg Araki's - Mysterious Skin - DVD Review Gregg Araki Mysterious Skin DVD Review Gregg Araki Mysterious Skin DVD Review Gregg Araki Mysterious Skin DVD Review Gregg Araki Mysterious Skin DVD Review Gregg Araki Mysterious Skin DVD Review Gregg Araki Mysterious Skin DVD Review Gregg Araki Mysterious Skin DVD Review Gregg Araki Mysterious Skin DVD Review Gregg Araki's - Mysterious Skin - DVD Review Gregg Araki Mysterious Skin DVD Review Gregg Araki Mysterious Skin DVD Review Gregg Araki Mysterious Skin DVD Review Gregg Araki Mysterious Skin DVD Review Gregg Araki Mysterious Skin DVD Review Gregg Araki Mysterious Skin DVD Review Gregg Araki Mysterious Skin DVD Review Gregg Araki Mysterious Skin DVD Review