Firstly, a massive thank you to our Patreon supporters. Your generosity touches me deeply. These supporters have become the single biggest contributing factor to the survival of DVDBeaver. Your assistance has become essential.
What do Patrons receive, that you don't?
1) Our weekly Newsletter sent to your Inbox every Monday morning!
2) Patron-only Silent Auctions - so far over 30 Out-of-Print titles have moved to deserved, appreciative, hands!
3) Access to over 20,000 unpublished screen captures in lossless high-resolution format!
Please consider keeping us in existence with a couple of dollars or more each month (your pocket change!) so we can continue to do our best in giving you timely, thorough reviews, calendar updates and detailed comparisons. Thank you very much.






| | |
| --- | --- |
| | S E A R C H D V D B e a v e r |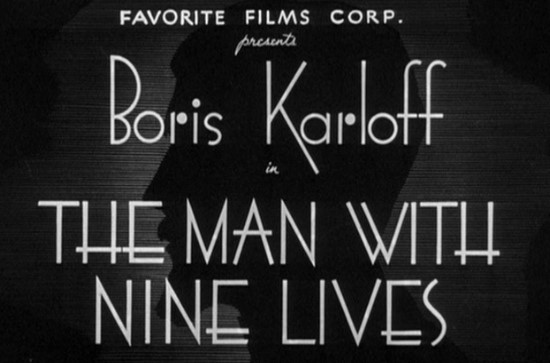 (aka 'Behind the Door ')
directed by Nick Grinde
USA 1940
The Man With Nine Lives DVD is compared to the Blu-ray HERE
One of quite a few from Columbia's "Mad Doctor" movies featuring Karloff. In this one Dr. Tim Morgan (Roger Pryor) is a scientist working on curing cancer with cryogenic freezing therapy. But after extensive work with limited results, he seeks out Dr. Leon Kravaal (Boris Karloff), another radical colleague who mysteriously disappeared almost a decade before. He finds him alright... but frozen! Once revived other details begin to surface in this classic mystery / sci-fi from the 40's. If you are into this genre, then you may consider this quintessential.
Posters etc.
Theatrical Release: April 18th, 1940
Reviews More Reviews DVD Reviews
DVD Review: Columbia Tri-Star - Region 1,2,3,4 - NTSC
DVD Box Cover

CLICK to order from:

Distribution
Columbia Tri-Star Home Video - Region 1,2,3,4 - NTSC
Runtime
1:14:00
Video
1.33:1 Original Aspect Ratio
Average Bitrate: 7.1 mb/s
NTSC 720x480 29.97 f/s

NOTE: The Vertical axis represents the bits transferred per second. The Horizontal is the time in minutes.

Bitrate:

Audio
English (Dolby Digital 2.0)
Subtitles
English, Japanese, None
Features

Release Information:
Studio: Columbia Tri-Star Home Video

Aspect Ratio:
Original aspect Ratio 1.33:1

Edition Details:

• none

DVD Release Date: October 4th, 2005
Keep Case
Chapters: 12
Comments:

The Man With Nine Lives DVD is compared to the Blu-ray HERE

Very impressive image until we reach the end of the film where the print must have fallen on hard times. It is surprisingly sharp with a bit of grain, some expected contrast fluctuations, but for most of the film it looks to be of Warner-restoration quality. Standard for Columbia - it's a bare bones release with an enticing price tag. I don't suppose a film like this would warrant a lot of supplement attention unless boxed in a Karloff signature set or the like. I enjoyed this film very much, but as many know, I am bias for this stuff. I always find it amusing watching Karloff with his grim, stone-faced look that seems to suit any scene.
---
DVD Menus

---
Subtitle Sample
Screen Captures
---
---
Quality appears to decrease in the final 10 minutes...
DVD Box Cover

CLICK to order from:

Distribution
Columbia Tri-Star Home Video - Region 1,2,3,4 - NTSC
---






Nick Grinde's - The Man with Nine Lives - Boris Karloff DVD Review Nick Grinde The Man with Nine Lives Boris Karloff DVD Review Nick Grinde The Man with Nine Lives Boris Karloff DVD Review Nick Grinde The Man with Nine Lives Boris Karloff DVD Review Nick Grinde The Man with Nine Lives Boris Karloff DVD Review Nick Grinde The Man with Nine Lives Boris Karloff DVD Review Nick Grinde The Man with Nine Lives Boris Karloff DVD Review Nick Grinde The Man with Nine Lives Boris Karloff DVD Review Nick Grinde The Man with Nine Lives Boris Karloff DVD Review Nick Grinde's - The Man with Nine Lives - Boris Karloff DVD Review Nick Grinde The Man with Nine Lives Boris Karloff DVD Review Nick Grinde The Man with Nine Lives Boris Karloff DVD Review Nick Grinde The Man with Nine Lives Boris Karloff DVD Review Nick Grinde The Man with Nine Lives Boris Karloff DVD Review Nick Grinde The Man with Nine Lives Boris Karloff DVD Review Nick Grinde The Man with Nine Lives Boris Karloff DVD Review Nick Grinde The Man with Nine Lives Boris Karloff DVD Review Nick Grinde The Man with Nine Lives Boris Karloff DVD Review Nick Grinde's - The Man with Nine Lives - Boris Karloff DVD Review Nick Grinde The Man with Nine Lives Boris Karloff DVD Review Nick Grinde The Man with Nine Lives Boris Karloff DVD Review Nick Grinde The Man with Nine Lives Boris Karloff DVD Review Nick Grinde The Man with Nine Lives Boris Karloff DVD Review Nick Grinde The Man with Nine Lives Boris Karloff DVD Review Nick Grinde The Man with Nine Lives Boris Karloff DVD Review Nick Grinde The Man with Nine Lives Boris Karloff DVD Review Nick Grinde The Man with Nine Lives Boris Karloff DVD Review Nick Grinde's - The Man with Nine Lives - Boris Karloff DVD Review Nick Grinde The Man with Nine Lives Boris Karloff DVD Review Nick Grinde The Man with Nine Lives Boris Karloff DVD Review Nick Grinde The Man with Nine Lives Boris Karloff DVD Review Nick Grinde The Man with Nine Lives Boris Karloff DVD Review Nick Grinde The Man with Nine Lives Boris Karloff DVD Review Nick Grinde The Man with Nine Lives Boris Karloff DVD Review Nick Grinde The Man with Nine Lives Boris Karloff DVD Review Nick Grinde The Man with Nine Lives Boris Karloff DVD Review Nick Grinde's - The Man with Nine Lives - Boris Karloff DVD Review Nick Grinde The Man with Nine Lives Boris Karloff DVD Review Nick Grinde The Man with Nine Lives Boris Karloff DVD Review Nick Grinde The Man with Nine Lives Boris Karloff DVD Review Nick Grinde The Man with Nine Lives Boris Karloff DVD Review Nick Grinde The Man with Nine Lives Boris Karloff DVD Review Nick Grinde The Man with Nine Lives Boris Karloff DVD Review Nick Grinde The Man with Nine Lives Boris Karloff DVD Review Nick Grinde The Man with Nine Lives Boris Karloff DVD Review Nick Grinde's - The Man with Nine Lives - Boris Karloff DVD Review Nick Grinde The Man with Nine Lives Boris Karloff DVD Review Nick Grinde The Man with Nine Lives Boris Karloff DVD Review Nick Grinde The Man with Nine Lives Boris Karloff DVD Review Nick Grinde The Man with Nine Lives Boris Karloff DVD Review Nick Grinde The Man with Nine Lives Boris Karloff DVD Review Nick Grinde The Man with Nine Lives Boris Karloff DVD Review Nick Grinde The Man with Nine Lives Boris Karloff DVD Review Nick Grinde The Man with Nine Lives Boris Karloff DVD Review Nick Grinde's - The Man with Nine Lives - Boris Karloff DVD Review Nick Grinde The Man with Nine Lives Boris Karloff DVD Review Nick Grinde The Man with Nine Lives Boris Karloff DVD Review Nick Grinde The Man with Nine Lives Boris Karloff DVD Review Nick Grinde The Man with Nine Lives Boris Karloff DVD Review Nick Grinde The Man with Nine Lives Boris Karloff DVD Review Nick Grinde The Man with Nine Lives Boris Karloff DVD Review Nick Grinde The Man with Nine Lives Boris Karloff DVD Review Nick Grinde The Man with Nine Lives Boris Karloff DVD Review Nick Grinde's - The Man with Nine Lives - Boris Karloff DVD Review Nick Grinde The Man with Nine Lives Boris Karloff DVD Review Nick Grinde The Man with Nine Lives Boris Karloff DVD Review Nick Grinde The Man with Nine Lives Boris Karloff DVD Review Nick Grinde The Man with Nine Lives Boris Karloff DVD Review Nick Grinde The Man with Nine Lives Boris Karloff DVD Review Nick Grinde The Man with Nine Lives Boris Karloff DVD Review Nick Grinde The Man with Nine Lives Boris Karloff DVD Review Nick Grinde The Man with Nine Lives Boris Karloff DVD Review Nick Grinde's - The Man with Nine Lives - Boris Karloff DVD Review Nick Grinde The Man with Nine Lives Boris Karloff DVD Review Nick Grinde The Man with Nine Lives Boris Karloff DVD Review Nick Grinde The Man with Nine Lives Boris Karloff DVD Review Nick Grinde The Man with Nine Lives Boris Karloff DVD Review Nick Grinde The Man with Nine Lives Boris Karloff DVD Review Nick Grinde The Man with Nine Lives Boris Karloff DVD Review Nick Grinde The Man with Nine Lives Boris Karloff DVD Review Nick Grinde The Man with Nine Lives Boris Karloff DVD Review Nick Grinde's - The Man with Nine Lives - Boris Karloff DVD Review Nick Grinde The Man with Nine Lives Boris Karloff DVD Review Nick Grinde The Man with Nine Lives Boris Karloff DVD Review Nick Grinde The Man with Nine Lives Boris Karloff DVD Review Nick Grinde The Man with Nine Lives Boris Karloff DVD Review Nick Grinde The Man with Nine Lives Boris Karloff DVD Review Nick Grinde The Man with Nine Lives Boris Karloff DVD Review Nick Grinde The Man with Nine Lives Boris Karloff DVD Review Nick Grinde The Man with Nine Lives Boris Karloff DVD Review