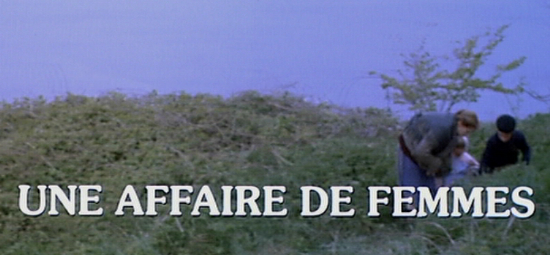 (aka 'Story of Women')
France 1988
From acclaimed director Claude Chabrol (La Cérémonie, Merci pour le chocolat) comes the compelling true story of working-class housewife Marie (Isabelle Huppert, The Piano Teacher, 8 Women), who performs illegal abortions in France during World War II, evading the Nazis, and betraying those she loves. Brought to life by Chabrol on actual locations, Story of Women is an honest, original, and utterly absorbing film, which won Isabelle Huppert Best Actress honors at the Venice Film Festival.
Posters
Theatrical Release: September 18th, 1988
Reviews More Reviews DVD Reviews
DVD Review: Home Vision Entertainment - Region 1 - NTSC
DVD Box Cover

CLICK to order from:

Distribution
Home Vision Entertainment - Region 1 - NTSC
Runtime
1:47:32
Video
1.72:1 Original Aspect Ratio
Average Bitrate: 6.82 mb/s
NTSC 720x480 29.97 f/s

NOTE: The Vertical axis represents the bits transferred per second. The Horizontal is the time in minutes.

Bitrate:

Audio
French (Dolby Digital 2.0)
Subtitles
English, None
Features

Release Information:
Studio: Home Vision Entertainment

Aspect Ratio:
Original aspect Ratio 1.72:1

Edition Details:

• Scene commentary by director Claude Chabrol
• Interviews with producer Marin Karmitz and writer Francis Szpiner
• Director filmography
• Original French theatrical trailer
• Liner notes essay by film critic and author Wheeler Winston Dixon

DVD Release Date: July 27th, 2004
Keep Case
Chapters: 20
Comments:

Like HVE's other Chabrol DVDs (La Cérémonie, and Masques) this is an excellent transfer that I suspect is a licensed port of the MK2 (which I'm not sure has English subtitles). It again states on the box as being 1.66, like the others, but in actuality is around 1.72, so we may be losing a small amount of the image. Great colors, sharp, no manipulation visible, excellent subtitles and quite extensive extras with the Chabrol select scene commentary and two interviews - its a wonder that this didn't get bounced up to the Criterion label and garner a coveted spine #. out of

I think this is one of the films that really landed Huppert on the map for a lot of people (although she had done almost 40 films prior to this). Easily one of Chabrol's best films and a strong recommendation.
---



DVD Menus
---
Subtitle Sample
Screen Captures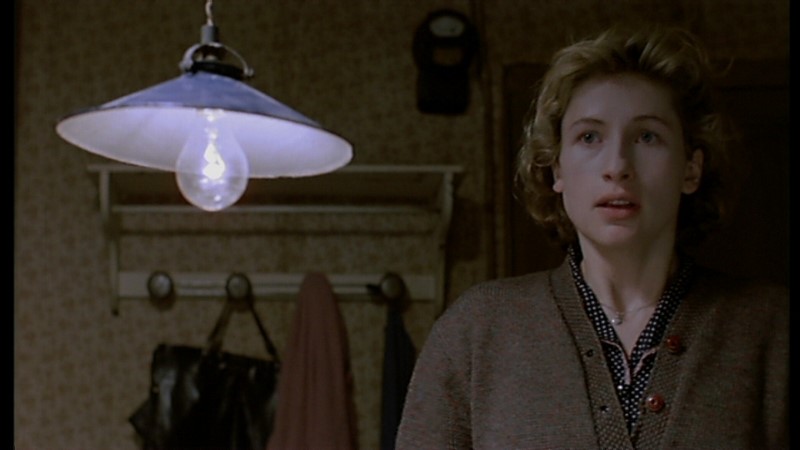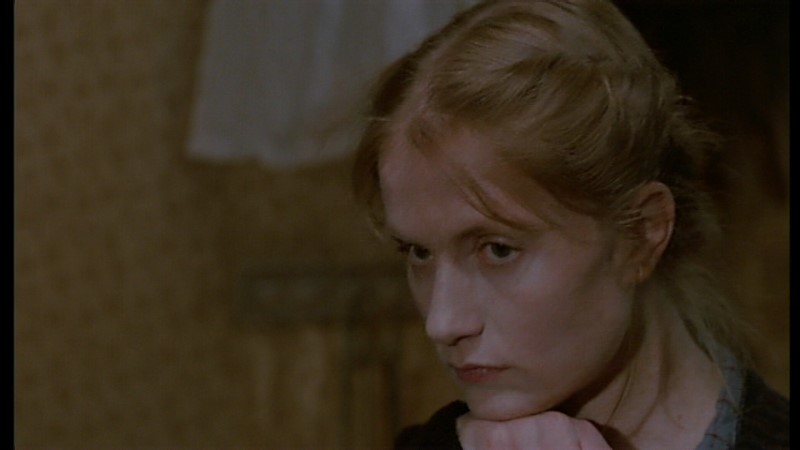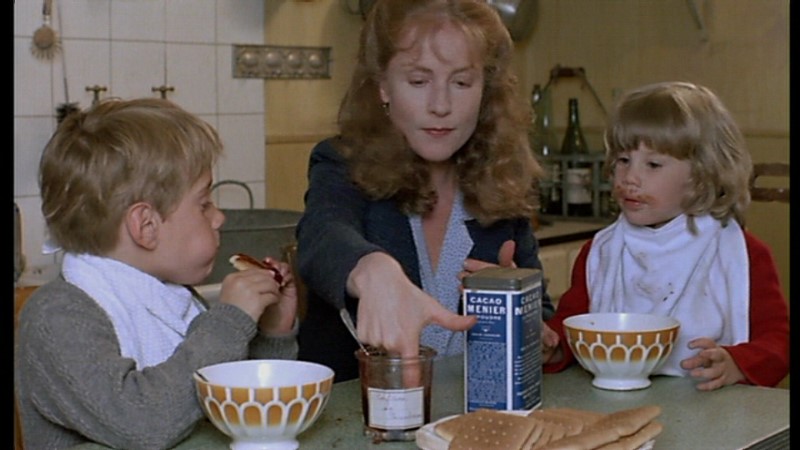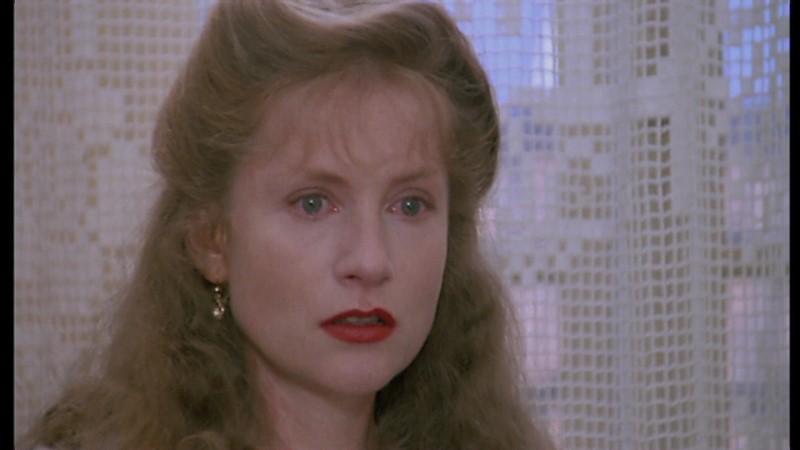 Claude Chabrol's - The Story of Women - Isabelle Huppert DVD Review Claude Chabrol The Story of Women Isabelle Huppert DVD Review Claude Chabrol The Story of Women Isabelle Huppert DVD Review Claude Chabrol The Story of Women Isabelle Huppert DVD Review Claude Chabrol The Story of Women Isabelle Huppert DVD Review Claude Chabrol The Story of Women Isabelle Huppert DVD Review Claude Chabrol The Story of Women Isabelle Huppert DVD Review Claude Chabrol The Story of Women Isabelle Huppert DVD Review Claude Chabrol The Story of Women Isabelle Huppert DVD Review Claude Chabrol The Story of Women Isabelle Huppert DVD Review Claude Chabrol The Story of Women Isabelle Huppert DVD Review Claude Chabrol's - The Story of Women - Isabelle Huppert DVD Review Claude Chabrol The Story of Women Isabelle Huppert DVD Review Claude Chabrol The Story of Women Isabelle Huppert DVD Review Claude Chabrol The Story of Women Isabelle Huppert DVD Review Claude Chabrol The Story of Women Isabelle Huppert DVD Review Claude Chabrol The Story of Women Isabelle Huppert DVD Review Claude Chabrol The Story of Women Isabelle Huppert DVD Review Claude Chabrol The Story of Women Isabelle Huppert DVD Review Claude Chabrol The Story of Women Isabelle Huppert DVD Review Claude Chabrol The Story of Women Isabelle Huppert DVD Review Claude Chabrol The Story of Women Isabelle Huppert DVD Review Claude Chabrol's - The Story of Women - Isabelle Huppert DVD Review Claude Chabrol The Story of Women Isabelle Huppert DVD Review Claude Chabrol The Story of Women Isabelle Huppert DVD Review Claude Chabrol The Story of Women Isabelle Huppert DVD Review Claude Chabrol The Story of Women Isabelle Huppert DVD Review Claude Chabrol The Story of Women Isabelle Huppert DVD Review Claude Chabrol The Story of Women Isabelle Huppert DVD Review Claude Chabrol The Story of Women Isabelle Huppert DVD Review Claude Chabrol The Story of Women Isabelle Huppert DVD Review Claude Chabrol The Story of Women Isabelle Huppert DVD Review Claude Chabrol The Story of Women Isabelle Huppert DVD Review Claude Chabrol's - The Story of Women - Isabelle Huppert DVD Review Claude Chabrol The Story of Women Isabelle Huppert DVD Review Claude Chabrol The Story of Women Isabelle Huppert DVD Review Claude Chabrol The Story of Women Isabelle Huppert DVD Review Claude Chabrol The Story of Women Isabelle Huppert DVD Review Claude Chabrol The Story of Women Isabelle Huppert DVD Review Claude Chabrol The Story of Women Isabelle Huppert DVD Review Claude Chabrol The Story of Women Isabelle Huppert DVD Review Claude Chabrol The Story of Women Isabelle Huppert DVD Review Claude Chabrol The Story of Women Isabelle Huppert DVD Review Claude Chabrol The Story of Women Isabelle Huppert DVD Review Claude Chabrol's - The Story of Women - Isabelle Huppert DVD Review Claude Chabrol The Story of Women Isabelle Huppert DVD Review Claude Chabrol The Story of Women Isabelle Huppert DVD Review Claude Chabrol The Story of Women Isabelle Huppert DVD Review Claude Chabrol The Story of Women Isabelle Huppert DVD Review Claude Chabrol The Story of Women Isabelle Huppert DVD Review Claude Chabrol The Story of Women Isabelle Huppert DVD Review Claude Chabrol The Story of Women Isabelle Huppert DVD Review Claude Chabrol The Story of Women Isabelle Huppert DVD Review Claude Chabrol The Story of Women Isabelle Huppert DVD Review Claude Chabrol The Story of Women Isabelle Huppert DVD Review Claude Chabrol's - The Story of Women - Isabelle Huppert DVD Review Claude Chabrol The Story of Women Isabelle Huppert DVD Review Claude Chabrol The Story of Women Isabelle Huppert DVD Review Claude Chabrol The Story of Women Isabelle Huppert DVD Review Claude Chabrol The Story of Women Isabelle Huppert DVD Review Claude Chabrol The Story of Women Isabelle Huppert DVD Review Claude Chabrol The Story of Women Isabelle Huppert DVD Review Claude Chabrol The Story of Women Isabelle Huppert DVD Review Claude Chabrol The Story of Women Isabelle Huppert DVD Review Claude Chabrol The Story of Women Isabelle Huppert DVD Review Claude Chabrol The Story of Women Isabelle Huppert DVD Review Claude Chabrol's - The Story of Women - Isabelle Huppert DVD Review Claude Chabrol The Story of Women Isabelle Huppert DVD Review Claude Chabrol The Story of Women Isabelle Huppert DVD Review Claude Chabrol The Story of Women Isabelle Huppert DVD Review Claude Chabrol The Story of Women Isabelle Huppert DVD Review Claude Chabrol The Story of Women Isabelle Huppert DVD Review Claude Chabrol The Story of Women Isabelle Huppert DVD Review Claude Chabrol The Story of Women Isabelle Huppert DVD Review Claude Chabrol The Story of Women Isabelle Huppert DVD Review Claude Chabrol The Story of Women Isabelle Huppert DVD Review Claude Chabrol The Story of Women Isabelle Huppert DVD Review Claude Chabrol's - The Story of Women - Isabelle Huppert DVD Review Claude Chabrol The Story of Women Isabelle Huppert DVD Review Claude Chabrol The Story of Women Isabelle Huppert DVD Review Claude Chabrol The Story of Women Isabelle Huppert DVD Review Claude Chabrol The Story of Women Isabelle Huppert DVD Review Claude Chabrol The Story of Women Isabelle Huppert DVD Review Claude Chabrol The Story of Women Isabelle Huppert DVD Review Claude Chabrol The Story of Women Isabelle Huppert DVD Review Claude Chabrol The Story of Women Isabelle Huppert DVD Review Claude Chabrol The Story of Women Isabelle Huppert DVD Review Claude Chabrol The Story of Women Isabelle Huppert DVD Review Claude Chabrol's - The Story of Women - Isabelle Huppert DVD Review Claude Chabrol The Story of Women Isabelle Huppert DVD Review Claude Chabrol The Story of Women Isabelle Huppert DVD Review Claude Chabrol The Story of Women Isabelle Huppert DVD Review Claude Chabrol The Story of Women Isabelle Huppert DVD Review Claude Chabrol The Story of Women Isabelle Huppert DVD Review Claude Chabrol The Story of Women Isabelle Huppert DVD Review Claude Chabrol The Story of Women Isabelle Huppert DVD Review Claude Chabrol The Story of Women Isabelle Huppert DVD Review Claude Chabrol The Story of Women Isabelle Huppert DVD Review Claude Chabrol The Story of Women Isabelle Huppert DVD Review Claude Chabrol's - The Story of Women - Isabelle Huppert DVD Review Claude Chabrol The Story of Women Isabelle Huppert DVD Review Claude Chabrol The Story of Women Isabelle Huppert DVD Review Claude Chabrol The Story of Women Isabelle Huppert DVD Review Claude Chabrol The Story of Women Isabelle Huppert DVD Review Claude Chabrol The Story of Women Isabelle Huppert DVD Review Claude Chabrol The Story of Women Isabelle Huppert DVD Review Claude Chabrol The Story of Women Isabelle Huppert DVD Review Claude Chabrol The Story of Women Isabelle Huppert DVD Review Claude Chabrol The Story of Women Isabelle Huppert DVD Review Claude Chabrol The Story of Women Isabelle Huppert DVD Review