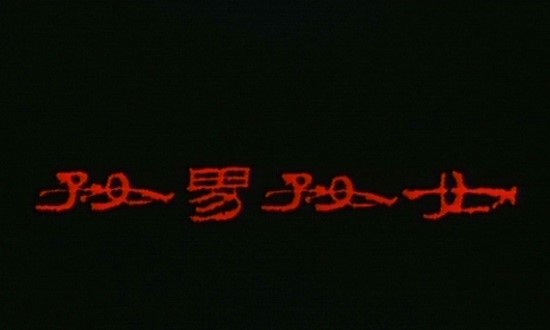 (aka 'Haonan haonu' or 'Good Men Good Women')
Modern-day actress Liang Ching (Annie Shizuka Inoh), is set to star in a film about the White Terror, the Taiwanese government's crackdown on suspected Communists during the early 50s. Caught up in rehearsals, Liang Ching finds herself imagining the film she will be starring in, but her visualization of scenes from the script seems inflected more and more by her personal memories which are awakened by the mysterious receipt of faxed pages from her old diary. As a result, she is forced to relive the past--blurring the lines between her movie role and real life.
****
This film about sadness is full of life. It has too many elements to talk about: the music, the shots of trees, the food, the way people talk to each other like real human beings — not like one supermodel to another, and the beautiful and precise imagery. There are plenty of ambiguities, things I can't explain, things that can't be explained. Good Men, Good Women adopts a serious attitude to life. It suggests that there are difficult, painful social and personal problems that aren't going to be solved overnight, or by shortcuts. Good Men, Good Women needs to be seen and re-seen. Writing about it only gets you so far.

And the conclusions you draw from the film will partly depend on what you bring to it. It's not "pessimistic." The real pessimists today are the ones who more or less cheerfully accept the present situation. There's hopelessness for you! André Breton was another artist who knew that history had psychic consequences. And he wrote that "the feeling that one is lost, however alarming it may be, is not — far from it — one of those feelings that leave man in the depths of despair, precisely because it instinctively begets the question of how to find a way out."
Excerpt from By David Walsh's article for the World Socialist Website located HERE
Alt-DVD Cover
Theatrical Release: September 15th, 1995
Reviews More Reviews DVD Reviews
DVD Review: Fox/Lorber - Wellspring - Region 0 - NTSC
DVD Box Cover

CLICK to order from:

Distribution
Fox/Lorber - Wellspring Home Video - Region 0 - NTSC
Runtime
1:47:52
Video
1.75:1 Aspect Ratio
Average Bitrate: 5.11 mb/s
NTSC 720x480 29.97 f/s

NOTE: The Vertical axis represents the bits transferred per second. The Horizontal is the time in minutes.

Bitrate:

Audio
Mandarin / Cantonese / Japanese / Taiwanese (Dolby Digital 2.0)
Subtitles
English, None
Features

Release Information:
Studio: Fox/Lorber - Wellspring

Aspect Ratio:
Original aspect Ratio 1.75:1

Edition Details:

• Trailer for Flowers of Shanghai
• Text Filmography screens

DVD Release Date: February 19th, 2002
Keep Case
Chapters: 16
| | |
| --- | --- |
| Comments: | Quite poor - non-anamorphic, non-progressive (see combing in last large capture) - a sloppy image from Fox/Lorber. Edge enhancements, no detail and a black border around the image prohibiting full horizontal resolution. Tack onto this yellow subtitles (that are at least removable)- a weak audio track, bleeding colors and you have typical Fox/Lorber quality. Another fine mess. There is another Asian DVD version floating around and we'll see if we can compare it. As for this out of |
---



DVD Menus
---
Subtitle Sample
Screen Captures
---
---
Combing evident...
DVD Box Cover

CLICK to order from:

Distribution
Fox/Lorber - Wellspring Home Video - Region 0 - NTSC
---






Hsiao-hsien Hou's Haonan haonu Good Men Good Women DVD Review Hsiao-hsien Hou Haonan haonu Good Men Good Women DVD Review Hsiao-hsien Hou Haonan haonu Good Men Good Women DVD Review Hsiao-hsien Hou Haonan haonu Good Men Good Women DVD Review Hsiao-hsien Hou Haonan haonu Good Men Good Women DVD Review Hsiao-hsien Hou Haonan haonu Good Men Good Women DVD Review Hsiao-hsien Hou Haonan haonu Good Men Good Women DVD Review Hsiao-hsien Hou Haonan haonu Good Men Good Women DVD Review Hsiao-hsien Hou Haonan haonu Good Men Good Women DVD Review Hsiao-hsien Hou Haonan haonu Good Men Good Women DVD Review Hsiao-hsien Hou Haonan haonu Good Men Good Women DVD Review Hsiao-hsien Hou's Haonan haonu Good Men Good Women DVD Review Hsiao-hsien Hou Haonan haonu Good Men Good Women DVD Review Hsiao-hsien Hou Haonan haonu Good Men Good Women DVD Review Hsiao-hsien Hou Haonan haonu Good Men Good Women DVD Review Hsiao-hsien Hou Haonan haonu Good Men Good Women DVD Review Hsiao-hsien Hou Haonan haonu Good Men Good Women DVD Review Hsiao-hsien Hou Haonan haonu Good Men Good Women DVD Review Hsiao-hsien Hou Haonan haonu Good Men Good Women DVD Review Hsiao-hsien Hou Haonan haonu Good Men Good Women DVD Review Hsiao-hsien Hou Haonan haonu Good Men Good Women DVD Review Hsiao-hsien Hou Haonan haonu Good Men Good Women DVD Review Hsiao-hsien Hou's Haonan haonu Good Men Good Women DVD Review Hsiao-hsien Hou Haonan haonu Good Men Good Women DVD Review Hsiao-hsien Hou Haonan haonu Good Men Good Women DVD Review Hsiao-hsien Hou Haonan haonu Good Men Good Women DVD Review Hsiao-hsien Hou Haonan haonu Good Men Good Women DVD Review Hsiao-hsien Hou Haonan haonu Good Men Good Women DVD Review Hsiao-hsien Hou Haonan haonu Good Men Good Women DVD Review Hsiao-hsien Hou Haonan haonu Good Men Good Women DVD Review Hsiao-hsien Hou Haonan haonu Good Men Good Women DVD Review Hsiao-hsien Hou Haonan haonu Good Men Good Women DVD Review Hsiao-hsien Hou Haonan haonu Good Men Good Women DVD Review Hsiao-hsien Hou's Haonan haonu Good Men Good Women DVD Review Hsiao-hsien Hou Haonan haonu Good Men Good Women DVD Review Hsiao-hsien Hou Haonan haonu Good Men Good Women DVD Review Hsiao-hsien Hou Haonan haonu Good Men Good Women DVD Review Hsiao-hsien Hou Haonan haonu Good Men Good Women DVD Review Hsiao-hsien Hou Haonan haonu Good Men Good Women DVD Review Hsiao-hsien Hou Haonan haonu Good Men Good Women DVD Review Hsiao-hsien Hou Haonan haonu Good Men Good Women DVD Review Hsiao-hsien Hou Haonan haonu Good Men Good Women DVD Review Hsiao-hsien Hou Haonan haonu Good Men Good Women DVD Review Hsiao-hsien Hou Haonan haonu Good Men Good Women DVD Review Hsiao-hsien Hou's Haonan haonu Good Men Good Women DVD Review Hsiao-hsien Hou Haonan haonu Good Men Good Women DVD Review Hsiao-hsien Hou Haonan haonu Good Men Good Women DVD Review Hsiao-hsien Hou Haonan haonu Good Men Good Women DVD Review Hsiao-hsien Hou Haonan haonu Good Men Good Women DVD Review Hsiao-hsien Hou Haonan haonu Good Men Good Women DVD Review Hsiao-hsien Hou Haonan haonu Good Men Good Women DVD Review Hsiao-hsien Hou Haonan haonu Good Men Good Women DVD Review Hsiao-hsien Hou Haonan haonu Good Men Good Women DVD Review Hsiao-hsien Hou Haonan haonu Good Men Good Women DVD Review Hsiao-hsien Hou Haonan haonu Good Men Good Women DVD Review Hsiao-hsien Hou's Haonan haonu Good Men Good Women DVD Review Hsiao-hsien Hou Haonan haonu Good Men Good Women DVD Review Hsiao-hsien Hou Haonan haonu Good Men Good Women DVD Review Hsiao-hsien Hou Haonan haonu Good Men Good Women DVD Review Hsiao-hsien Hou Haonan haonu Good Men Good Women DVD Review Hsiao-hsien Hou Haonan haonu Good Men Good Women DVD Review Hsiao-hsien Hou Haonan haonu Good Men Good Women DVD Review Hsiao-hsien Hou Haonan haonu Good Men Good Women DVD Review Hsiao-hsien Hou Haonan haonu Good Men Good Women DVD Review Hsiao-hsien Hou Haonan haonu Good Men Good Women DVD Review Hsiao-hsien Hou Haonan haonu Good Men Good Women DVD Review Hsiao-hsien Hou's Haonan haonu Good Men Good Women DVD Review Hsiao-hsien Hou Haonan haonu Good Men Good Women DVD Review Hsiao-hsien Hou Haonan haonu Good Men Good Women DVD Review Hsiao-hsien Hou Haonan haonu Good Men Good Women DVD Review Hsiao-hsien Hou Haonan haonu Good Men Good Women DVD Review Hsiao-hsien Hou Haonan haonu Good Men Good Women DVD Review Hsiao-hsien Hou Haonan haonu Good Men Good Women DVD Review Hsiao-hsien Hou Haonan haonu Good Men Good Women DVD Review Hsiao-hsien Hou Haonan haonu Good Men Good Women DVD Review Hsiao-hsien Hou Haonan haonu Good Men Good Women DVD Review Hsiao-hsien Hou Haonan haonu Good Men Good Women DVD Review Hsiao-hsien Hou's Haonan haonu Good Men Good Women DVD Review Hsiao-hsien Hou Haonan haonu Good Men Good Women DVD Review Hsiao-hsien Hou Haonan haonu Good Men Good Women DVD Review Hsiao-hsien Hou Haonan haonu Good Men Good Women DVD Review Hsiao-hsien Hou Haonan haonu Good Men Good Women DVD Review Hsiao-hsien Hou Haonan haonu Good Men Good Women DVD Review Hsiao-hsien Hou Haonan haonu Good Men Good Women DVD Review Hsiao-hsien Hou Haonan haonu Good Men Good Women DVD Review Hsiao-hsien Hou Haonan haonu Good Men Good Women DVD Review Hsiao-hsien Hou Haonan haonu Good Men Good Women DVD Review Hsiao-hsien Hou Haonan haonu Good Men Good Women DVD Review Hsiao-hsien Hou's Haonan haonu Good Men Good Women DVD Review Hsiao-hsien Hou Haonan haonu Good Men Good Women DVD Review Hsiao-hsien Hou Haonan haonu Good Men Good Women DVD Review Hsiao-hsien Hou Haonan haonu Good Men Good Women DVD Review Hsiao-hsien Hou Haonan haonu Good Men Good Women DVD Review Hsiao-hsien Hou Haonan haonu Good Men Good Women DVD Review Hsiao-hsien Hou Haonan haonu Good Men Good Women DVD Review Hsiao-hsien Hou Haonan haonu Good Men Good Women DVD Review Hsiao-hsien Hou Haonan haonu Good Men Good Women DVD Review Hsiao-hsien Hou Haonan haonu Good Men Good Women DVD Review Hsiao-hsien Hou Haonan haonu Good Men Good Women DVD Review