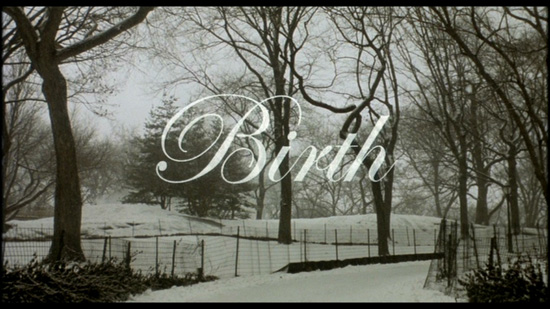 directed by Jonathan Glazer
USA 2004
Watching "Birth", I thought about cinematographer Néstor Almendros and his idea of cinemakinetics, of how to portrait the human female face. In "Birth", the mise-en-scene almost is a declaration of love to the face of Nicole Kidman, constantly placing her face as the centerpiece of the mise-en-scene, so carefully composed by cinematographer Harris Savides ("The Game", "Elephant"), directly inspired by Rudolph Maté's portrait of Falconetti's face in "La Passion de Jeanne d'Arc". Savides and Glazer even dares to shoot the ouverture from an opera as a 2 minute close up of Kidman's face. There is also an allusion to the works of Kubrick, by general mise-en-scene to "Eyes Wide Shut" (which also starred Kidman), by context to "Lolita". And even so, paying tribute to the great masters, Savides demonstrates that he himself is a master cinematographer, by setting up unique shots, as the three minute tracking shot of the late Sean jogging thru Central Park, demonstrating how he controls time and space. Watching "Birth", one simply is overwhelmed by the cinematography. This is more than just a master and his camera, this is cinema pure.

"Birth" tells the story of Sean and Anna. Sean died ten years ago of a heart attack, and now Anna finally has come to terms with his death and accepted to be married to Joseph. But not sooner than she agreed, a boy turns up, who not only claims that he is Sean, but also wants Anna again. Naturally everyone doubts him, but little by little those close to Sean are turned around, as he knows events and things only he would know.

Coming from the sensational gangster film "Sexy Beast", where Glazer for the first time demonstrated his superb character direction skills, Glazer co-wrote "Birth" with the great French melodramatist Jean-Claude Carrière ("Le Hussard sur le toit", "Un amour de Swann", "Max mon Amour") and Milo Addica ("Monsters Ball"), and has created one of the most uniquely beautiful love stories ever to hit the screen.

"Birth" had hardly had its premiere, before it was attacked for sympathizing with pedophiles, and while Anna openly is sexually attracted to Sean, a ten year old boy, there is nothing sordid about it. This is a tale about love, a love that is above age, even death. This is pure love. Glazer even dares to show Sean kiss Anna and we sit and watch it as it being the most natural thing in the world.

Glazer gets away with it because of meticulous character description. Rather than wasting time with people talking, Glazer shows people looking at each other, people thinking, wondering, contemplating, reasoning, remembering. Using the same strategy as a thriller, Glazer little by little allows us, Anna and her milieu, to see Sean as who he really is. And even then, Glazer never goes the full distance, but only so far, that we fall in love with Sean ourselves.

The acting is flawless, across the board. Glazer depends on us believing in the characters, not by what they say, but by who they react. The icing on the cake is of course the leads. Kidman once again shows, that she is the greatest actress alive. It is simply uncanny what she can express with her face alone, and "Birth" is her best performance to date. But she couldn't do what she does without the support of Cameron Bright, who plays beyond age and experience.

"Birth" is one of the best films of the year, one of the very best films of the year. It is brave and daring, and acting, direction and cinematography just takes your breath away. More than just a film about love, this is a film about memory, about emotions, and with an ending that will haunt you. A masterpiece.
Posters
Theatrical Release: September 8, 2004 (Venice Film Festival)
Reviews More Reviews DVD Reviews
DVD Review: SF Film - Region 2 - PAL
Big thanks to Henrik Sylow for the Review!
DVD Box Cover

CLICK to order from:

Distribution

SF Film

Region 2 - PAL

Runtime
1:36:02 (4% PAL speedup)
Video

1.85:1 Original Aspect Ratio

16X9 enhanced
Average Bitrate: 6.84 mb/s
PAL 720x576 25.00 f/s

NOTE: The Vertical axis represents the bits transferred per second. The Horizontal is the time in minutes.

Bitrate

Audio
2.0 Dolby Digital English, 5.1 Dolby Digital English
Subtitles
Danish, Swedish, Norwegian, Finnish, Icelandic, English and None
Features
Release Information:
Studio: SF Film

Aspect Ratio:
Widescreen anamorphic - 1.85:1

Edition Details:
• Theatrical Trailer (1:50 / 16x9)

DVD Release Date: July 5, 2005
Amarey

Chapters 22
Comments
The transfer has been accused of being very grainy, flat and dark, but that is also how the film looked in the theatres. The look of the film aside, the transfer displays minute halos and edge enhancements, but even so, the image is impressive.

On DVD Times the region 1 edition was reviewed, and going by their images the region 1 image appears to have been compromised by contrast boosting. A comparison would be very welcomed thus.

Sound comes as 2.0 Dolby Digital or the theatrical 5.1 Dolby Digital. It is a beautiful soundmix, really setting an atmosphere.

Sadly there are no extras but the trailer.
---

DVD Menus

---
Screen Captures
subtitle sample (English only)
Captures resized to 800px from 1016px