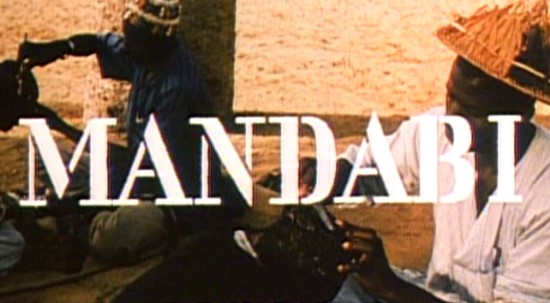 (aka 'Le Mandat' or 'The Money Order')
directed by Ousmane Sembene
Senegal 1968
Sembene's second feature unlocked for the first time the complex daily world of modern Africa. This story of a man who receives a money order and, in his attempts to cash it, encounters an intimidating barrage of Third World bureaucracy, becomes a witty, masterful portrait of an ancient civilization in the throes of change.

Receiving the dubious windfall at first seems a blessing to Ibrahima Dieng, who lives with his two wives and their seven children. However, as the tale unfolds, the seemingly easy transaction threatens to destroy the traditional fabric of his life. Quickly, the whole neighborhood becomes aware of it, the wives buy provisions on credit, their parents ask for a share and people try to extort him for money - all the while, his attempts to cash the piece of paper turn futile.

MANDABI is a warm, subtle comedy with a series of visual revelations about a civilization struggling to recapture its own rich heritage after a century of colonial corruption.
Theatrical Release: November 1968
Reviews More Reviews DVD Reviews
DVD Review: New Yorker - Region 1 - NTSC
DVD Box Cover

CLICK to order from:

Distribution
New Yorker Video - Region 1 - NTSC
Runtime
1:31:21
Video
1.47:1 Original Aspect Ratio
Average Bitrate: 5.81 mb/s
NTSC 720x480 29.97 f/s

NOTE: The Vertical axis represents the bits transferred per second. The Horizontal is the time in minutes.

Bitrate:

Audio
French / Wolof (Dolby Digital 2.0)
Subtitles
English (burned-in)
Features

Release Information:
Studio: New Yorker Home Video

Aspect Ratio:
Original aspect Ratio 1.47:1

Edition Details:

• New Yorker trailers

DVD Release Date: May 31st, 2005
Keep Case
Chapters: 28
| | |
| --- | --- |
| Comments: | Although still non-progressive and non-anamorphic widescreen, this image displays less of the associated artifacts of that transfer process (combing and ghosting), but it is a filthy print with plenty of visible damage. Chroma bug is evident and the burned in subtitles are often very faint and hard to read. Again this image is more in line with something that Facets would produce... not New Yorker. It was probably shot on 16mm, and is almost 40 years old, but I only those extremely keen on the director and film should venture to buy. This may not be the best way for the uninitiated to be introduced to Sembene's work. out of |
---
---
Subtitle Sample
Screen Captures
---
---





DONATIONS Keep DVDBeaver alive and advertisement free:
Mail cheques, money orders, cash to: or CLICK PayPal logo to donate!
Gary Tooze

Mississauga, Ontario,

CANADA
Thank You!
Ousmane Sembene's Mandabi - New Yorker - Region 1 - NTSC Ousmane Sembene Mandabi DVD Review Ousmane Sembene Mandabi DVD Review Ousmane Sembene Mandabi DVD Review Ousmane Sembene Mandabi DVD Review Ousmane Sembene Mandabi DVD Review Ousmane Sembene Mandabi DVD Review Ousmane Sembene Mandabi DVD Review Ousmane Sembene Mandabi DVD Review Ousmane Sembene Mandabi DVD Review Ousmane Sembene Mandabi DVD Review Ousmane Sembene Mandabi DVD Review Ousmane Sembene Mandabi DVD Review Ousmane Sembene Mandabi DVD Review Ousmane Sembene Mandabi DVD Review Ousmane Sembene Mandabi DVD Review Ousmane Sembene Mandabi DVD Review Ousmane Sembene Mandabi DVD Review Ousmane Sembene Mandabi DVD Review Ousmane Sembene Mandabi DVD Review Ousmane Sembene Mandabi DVD Review Ousmane Sembene Mandabi DVD Review Ousmane Sembene Mandabi DVD Review Ousmane Sembene's Mandabi - New Yorker - Region 1 - NTSC Ousmane Sembene Mandabi DVD Review Ousmane Sembene Mandabi DVD Review Ousmane Sembene Mandabi DVD Review Ousmane Sembene Mandabi DVD Review Ousmane Sembene Mandabi DVD Review Ousmane Sembene Mandabi DVD Review Ousmane Sembene Mandabi DVD Review Ousmane Sembene Mandabi DVD Review Ousmane Sembene Mandabi DVD Review Ousmane Sembene Mandabi DVD Review Ousmane Sembene Mandabi DVD Review Ousmane Sembene Mandabi DVD Review Ousmane Sembene Mandabi DVD Review Ousmane Sembene Mandabi DVD Review Ousmane Sembene Mandabi DVD Review Ousmane Sembene Mandabi DVD Review Ousmane Sembene Mandabi DVD Review Ousmane Sembene Mandabi DVD Review Ousmane Sembene Mandabi DVD Review Ousmane Sembene Mandabi DVD Review Ousmane Sembene Mandabi DVD Review Ousmane Sembene Mandabi DVD Review Ousmane Sembene's Mandabi - New Yorker - Region 1 - NTSC Ousmane Sembene Mandabi DVD Review Ousmane Sembene Mandabi DVD Review Ousmane Sembene Mandabi DVD Review Ousmane Sembene Mandabi DVD Review Ousmane Sembene Mandabi DVD Review Ousmane Sembene Mandabi DVD Review Ousmane Sembene Mandabi DVD Review Ousmane Sembene Mandabi DVD Review Ousmane Sembene Mandabi DVD Review Ousmane Sembene Mandabi DVD Review Ousmane Sembene Mandabi DVD Review Ousmane Sembene Mandabi DVD Review Ousmane Sembene Mandabi DVD Review Ousmane Sembene Mandabi DVD Review Ousmane Sembene Mandabi DVD Review Ousmane Sembene Mandabi DVD Review Ousmane Sembene Mandabi DVD Review Ousmane Sembene Mandabi DVD Review Ousmane Sembene Mandabi DVD Review Ousmane Sembene Mandabi DVD Review Ousmane Sembene Mandabi DVD Review Ousmane Sembene Mandabi DVD Review Ousmane Sembene's Mandabi - New Yorker - Region 1 - NTSC Ousmane Sembene Mandabi DVD Review Ousmane Sembene Mandabi DVD Review Ousmane Sembene Mandabi DVD Review Ousmane Sembene Mandabi DVD Review Ousmane Sembene Mandabi DVD Review Ousmane Sembene Mandabi DVD Review Ousmane Sembene Mandabi DVD Review Ousmane Sembene Mandabi DVD Review Ousmane Sembene Mandabi DVD Review Ousmane Sembene Mandabi DVD Review Ousmane Sembene Mandabi DVD Review Ousmane Sembene Mandabi DVD Review Ousmane Sembene Mandabi DVD Review Ousmane Sembene Mandabi DVD Review Ousmane Sembene Mandabi DVD Review Ousmane Sembene Mandabi DVD Review Ousmane Sembene Mandabi DVD Review Ousmane Sembene Mandabi DVD Review Ousmane Sembene Mandabi DVD Review Ousmane Sembene Mandabi DVD Review Ousmane Sembene Mandabi DVD Review Ousmane Sembene Mandabi DVD Review Ousmane Sembene's Mandabi - New Yorker - Region 1 - NTSC Ousmane Sembene Mandabi DVD Review Ousmane Sembene Mandabi DVD Review Ousmane Sembene Mandabi DVD Review Ousmane Sembene Mandabi DVD Review Ousmane Sembene Mandabi DVD Review Ousmane Sembene Mandabi DVD Review Ousmane Sembene Mandabi DVD Review Ousmane Sembene Mandabi DVD Review Ousmane Sembene Mandabi DVD Review Ousmane Sembene Mandabi DVD Review Ousmane Sembene Mandabi DVD Review Ousmane Sembene Mandabi DVD Review Ousmane Sembene Mandabi DVD Review Ousmane Sembene Mandabi DVD Review Ousmane Sembene Mandabi DVD Review Ousmane Sembene Mandabi DVD Review Ousmane Sembene Mandabi DVD Review Ousmane Sembene Mandabi DVD Review Ousmane Sembene Mandabi DVD Review Ousmane Sembene Mandabi DVD Review Ousmane Sembene Mandabi DVD Review Ousmane Sembene Mandabi DVD Review Ousmane Sembene's Mandabi - New Yorker - Region 1 - NTSC Ousmane Sembene Mandabi DVD Review Ousmane Sembene Mandabi DVD Review Ousmane Sembene Mandabi DVD Review Ousmane Sembene Mandabi DVD Review Ousmane Sembene Mandabi DVD Review Ousmane Sembene Mandabi DVD Review Ousmane Sembene Mandabi DVD Review Ousmane Sembene Mandabi DVD Review Ousmane Sembene Mandabi DVD Review Ousmane Sembene Mandabi DVD Review Ousmane Sembene Mandabi DVD Review Ousmane Sembene Mandabi DVD Review Ousmane Sembene Mandabi DVD Review Ousmane Sembene Mandabi DVD Review Ousmane Sembene Mandabi DVD Review Ousmane Sembene Mandabi DVD Review Ousmane Sembene Mandabi DVD Review Ousmane Sembene Mandabi DVD Review Ousmane Sembene Mandabi DVD Review Ousmane Sembene Mandabi DVD Review Ousmane Sembene Mandabi DVD Review Ousmane Sembene Mandabi DVD Review Ousmane Sembene's Mandabi - New Yorker - Region 1 - NTSC Ousmane Sembene Mandabi DVD Review Ousmane Sembene Mandabi DVD Review Ousmane Sembene Mandabi DVD Review Ousmane Sembene Mandabi DVD Review Ousmane Sembene Mandabi DVD Review Ousmane Sembene Mandabi DVD Review Ousmane Sembene Mandabi DVD Review Ousmane Sembene Mandabi DVD Review Ousmane Sembene Mandabi DVD Review Ousmane Sembene Mandabi DVD Review Ousmane Sembene Mandabi DVD Review Ousmane Sembene Mandabi DVD Review Ousmane Sembene Mandabi DVD Review Ousmane Sembene Mandabi DVD Review Ousmane Sembene Mandabi DVD Review Ousmane Sembene Mandabi DVD Review Ousmane Sembene Mandabi DVD Review Ousmane Sembene Mandabi DVD Review Ousmane Sembene Mandabi DVD Review Ousmane Sembene Mandabi DVD Review Ousmane Sembene Mandabi DVD Review Ousmane Sembene Mandabi DVD Review Ousmane Sembene's Mandabi - New Yorker - Region 1 - NTSC Ousmane Sembene Mandabi DVD Review Ousmane Sembene Mandabi DVD Review Ousmane Sembene Mandabi DVD Review Ousmane Sembene Mandabi DVD Review Ousmane Sembene Mandabi DVD Review Ousmane Sembene Mandabi DVD Review Ousmane Sembene Mandabi DVD Review Ousmane Sembene Mandabi DVD Review Ousmane Sembene Mandabi DVD Review Ousmane Sembene Mandabi DVD Review Ousmane Sembene Mandabi DVD Review Ousmane Sembene Mandabi DVD Review Ousmane Sembene Mandabi DVD Review Ousmane Sembene Mandabi DVD Review Ousmane Sembene Mandabi DVD Review Ousmane Sembene Mandabi DVD Review Ousmane Sembene Mandabi DVD Review Ousmane Sembene Mandabi DVD Review Ousmane Sembene Mandabi DVD Review Ousmane Sembene Mandabi DVD Review Ousmane Sembene Mandabi DVD Review Ousmane Sembene Mandabi DVD Review