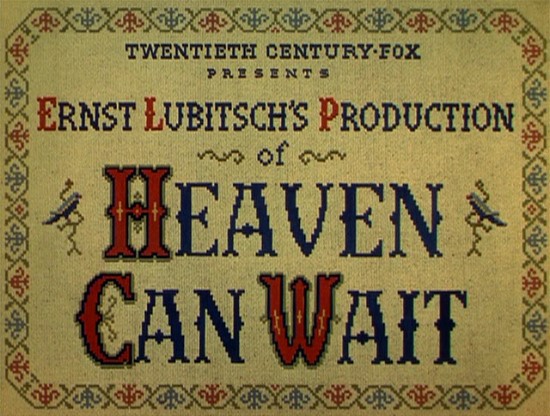 directed by Ernst Lubitsch
USA 1943
Newly deceased playboy Henry Van Cleve (Don Ameche) presents himself to the outer offices of Hades, where he asks a bemused Satan for permission to enter the gates of Hell. Though the Devil doubts Henry's sins will qualify him for eternal damnation, Henry proceeds to recount a lifetime spent wooing and pursuing women. Nominated for Academy Awards for Best Picture and Director, Heaven Can Wait is an enduring classic that showcases director Ernst Lubitsch's trademark blend of wit, urbanity, and grace.
Posters
Theatrical Release: August 11th, 1943
Reviews More Reviews DVD Reviews
DVD Review: Criterion - Region 1 - NTSC
DVD Box Cover

CLICK to order from:

Distribution
Criterion Collection - Spine # 291 - Region 1 - NTSC
Runtime
1:52:16
Video
1.78:1 Original Aspect Ratio
Average Bitrate: 6.1 mb/s
NTSC 720x480 29.97 f/s

NOTE: The Vertical axis represents the bits transferred per second. The Horizontal is the time in minutes.

Bitrate:

Audio
English (Dolby Digital 2.0)
Subtitles
English, None
Features

Release Information:
Studio: Criterion / Home Vision

Aspect Ratio:
Original aspect Ratio 1.33:1

Edition Details:

• New video conversation between film critics Molly Haskell and Andrew Sarris
• Creativity with Bill Moyers: A Portrait of Samson Raphaelson (1982), a 30-minute program exploring the screenwriter's life and career
• Audio seminar with Raphaelson and film critic Richard Corliss recorded at the Museum of Modern Art in 1977
• Lubitsch home piano recordings
• Original theatrical trailer
• 8-page liner notes with essay by film scholar William Paul

DVD Release Date: June 14th, 2005
Keep Case
Chapters: 15
Comments:

It's tough to know for sure, but I have the feeling colors are a little 'off' at times on this release. I guess what I am referring to is consistency - hues can be bright one moment and a little washed out and dull the next. Perhaps its just my failing vision, but see the capture of the book followed by the conversation - one flat and the other luminous. Comments on possible reasons are offered to DVDBeaver from Daryl Chin HERE.

The image is, however, very sharp with some decent smatterings of film grain showing. Typically contrast is very good, as are subtitles and there are a bevy of extras included that Lubitsch aficionados will eat-up. I loved the film for more than Gene Tierney, which for me, is saying a bunch. out of
---
---
Subtitle Sample
Screen Captures
---
---
DVD Box Cover

CLICK to order from:

Distribution
Criterion Collection - Spine # 291 - Region 1 - NTSC
---




DONATIONS Keep DVDBeaver alive and advertisement free:
Mail cheques, money orders, cash to: or CLICK PayPal logo to donate!
Gary Tooze

Mississauga, Ontario,

CANADA
Thank You!
Ernst Lubitsch's Heaven Can Wait 1943 Criterion Region 1- NTSC DVD Review Ernst Lubitsch Heaven Can Wait 1943 Criterion DVD Review Ernst Lubitsch Heaven Can Wait 1943 Criterion DVD Review Ernst Lubitsch Heaven Can Wait 1943 Criterion DVD Review Ernst Lubitsch Heaven Can Wait 1943 Criterion DVD Review Ernst Lubitsch Heaven Can Wait 1943 Criterion DVD Review Ernst Lubitsch Heaven Can Wait 1943 Criterion DVD Review Ernst Lubitsch Heaven Can Wait 1943 Criterion DVD Review Ernst Lubitsch Heaven Can Wait 1943 Criterion DVD Review Ernst Lubitsch Heaven Can Wait 1943 Criterion DVD Review Ernst Lubitsch Heaven Can Wait 1943 Criterion DVD Ernst Lubitsch's Heaven Can Wait 1943 Criterion Region 1- NTSC DVD Review Ernst Lubitsch Heaven Can Wait 1943 Criterion DVD Review Ernst Lubitsch Heaven Can Wait 1943 Criterion DVD Review Ernst Lubitsch Heaven Can Wait 1943 Criterion DVD Review Ernst Lubitsch Heaven Can Wait 1943 Criterion DVD Review Ernst Lubitsch Heaven Can Wait 1943 Criterion DVD Review Ernst Lubitsch Heaven Can Wait 1943 Criterion DVD Review Ernst Lubitsch Heaven Can Wait 1943 Criterion DVD Review Ernst Lubitsch Heaven Can Wait 1943 Criterion DVD Review Ernst Lubitsch Heaven Can Wait 1943 Criterion DVD Review Ernst Lubitsch Heaven Can Wait 1943 Criterion DVD Ernst Lubitsch's Heaven Can Wait 1943 Criterion Region 1- NTSC DVD Review Ernst Lubitsch Heaven Can Wait 1943 Criterion DVD Review Ernst Lubitsch Heaven Can Wait 1943 Criterion DVD Review Ernst Lubitsch Heaven Can Wait 1943 Criterion DVD Review Ernst Lubitsch Heaven Can Wait 1943 Criterion DVD Review Ernst Lubitsch Heaven Can Wait 1943 Criterion DVD Review Ernst Lubitsch Heaven Can Wait 1943 Criterion DVD Review Ernst Lubitsch Heaven Can Wait 1943 Criterion DVD Review Ernst Lubitsch Heaven Can Wait 1943 Criterion DVD Review Ernst Lubitsch Heaven Can Wait 1943 Criterion DVD Review Ernst Lubitsch Heaven Can Wait 1943 Criterion DVD Ernst Lubitsch's Heaven Can Wait 1943 Criterion Region 1- NTSC DVD Review Ernst Lubitsch Heaven Can Wait 1943 Criterion DVD Review Ernst Lubitsch Heaven Can Wait 1943 Criterion DVD Review Ernst Lubitsch Heaven Can Wait 1943 Criterion DVD Review Ernst Lubitsch Heaven Can Wait 1943 Criterion DVD Review Ernst Lubitsch Heaven Can Wait 1943 Criterion DVD Review Ernst Lubitsch Heaven Can Wait 1943 Criterion DVD Review Ernst Lubitsch Heaven Can Wait 1943 Criterion DVD Review Ernst Lubitsch Heaven Can Wait 1943 Criterion DVD Review Ernst Lubitsch Heaven Can Wait 1943 Criterion DVD Review Ernst Lubitsch Heaven Can Wait 1943 Criterion DVD Ernst Lubitsch's Heaven Can Wait 1943 Criterion Region 1- NTSC DVD Review Ernst Lubitsch Heaven Can Wait 1943 Criterion DVD Review Ernst Lubitsch Heaven Can Wait 1943 Criterion DVD Review Ernst Lubitsch Heaven Can Wait 1943 Criterion DVD Review Ernst Lubitsch Heaven Can Wait 1943 Criterion DVD Review Ernst Lubitsch Heaven Can Wait 1943 Criterion DVD Review Ernst Lubitsch Heaven Can Wait 1943 Criterion DVD Review Ernst Lubitsch Heaven Can Wait 1943 Criterion DVD Review Ernst Lubitsch Heaven Can Wait 1943 Criterion DVD Review Ernst Lubitsch Heaven Can Wait 1943 Criterion DVD Review Ernst Lubitsch Heaven Can Wait 1943 Criterion DVD Ernst Lubitsch's Heaven Can Wait 1943 Criterion Region 1- NTSC DVD Review Ernst Lubitsch Heaven Can Wait 1943 Criterion DVD Review Ernst Lubitsch Heaven Can Wait 1943 Criterion DVD Review Ernst Lubitsch Heaven Can Wait 1943 Criterion DVD Review Ernst Lubitsch Heaven Can Wait 1943 Criterion DVD Review Ernst Lubitsch Heaven Can Wait 1943 Criterion DVD Review Ernst Lubitsch Heaven Can Wait 1943 Criterion DVD Review Ernst Lubitsch Heaven Can Wait 1943 Criterion DVD Review Ernst Lubitsch Heaven Can Wait 1943 Criterion DVD Review Ernst Lubitsch Heaven Can Wait 1943 Criterion DVD Review Ernst Lubitsch Heaven Can Wait 1943 Criterion DVD Ernst Lubitsch's Heaven Can Wait 1943 Criterion Region 1- NTSC DVD Review Ernst Lubitsch Heaven Can Wait 1943 Criterion DVD Review Ernst Lubitsch Heaven Can Wait 1943 Criterion DVD Review Ernst Lubitsch Heaven Can Wait 1943 Criterion DVD Review Ernst Lubitsch Heaven Can Wait 1943 Criterion DVD Review Ernst Lubitsch Heaven Can Wait 1943 Criterion DVD Review Ernst Lubitsch Heaven Can Wait 1943 Criterion DVD Review Ernst Lubitsch Heaven Can Wait 1943 Criterion DVD Review Ernst Lubitsch Heaven Can Wait 1943 Criterion DVD Review Ernst Lubitsch Heaven Can Wait 1943 Criterion DVD Review Ernst Lubitsch Heaven Can Wait 1943 Criterion DVD Ernst Lubitsch's Heaven Can Wait 1943 Criterion Region 1- NTSC DVD Review Ernst Lubitsch Heaven Can Wait 1943 Criterion DVD Review Ernst Lubitsch Heaven Can Wait 1943 Criterion DVD Review Ernst Lubitsch Heaven Can Wait 1943 Criterion DVD Review Ernst Lubitsch Heaven Can Wait 1943 Criterion DVD Review Ernst Lubitsch Heaven Can Wait 1943 Criterion DVD Review Ernst Lubitsch Heaven Can Wait 1943 Criterion DVD Review Ernst Lubitsch Heaven Can Wait 1943 Criterion DVD Review Ernst Lubitsch Heaven Can Wait 1943 Criterion DVD Review Ernst Lubitsch Heaven Can Wait 1943 Criterion DVD Review Ernst Lubitsch Heaven Can Wait 1943 Criterion DVD