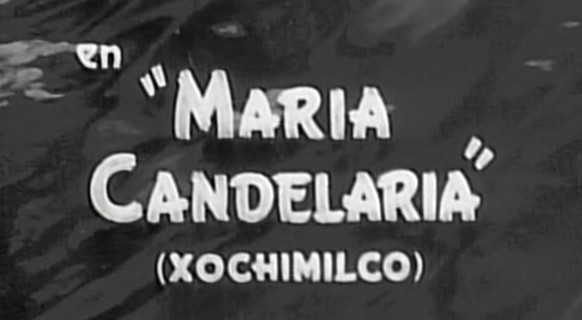 (aka "Xochimilco" or "Portrait of Maria")
directed by Emilio Fernández
México 1943
One of the best cinematic experiences I've witnessed, a milestone in Mexican Film History, This Winner of the Grand Prix and Best Cinematography at the Cannes Film Festival in 1946.

This was one of the highest peaks that reached a successful career of the duo of Director Emilio Fernández and Cinematographer Gabriel Figueroa. The movie depicts one of the director's passions: the injustice and prejudice at poor and innocent people.

Lorenzo Rafael (played by Pedro Armendáriz) is living with María Candelaria (Dolores Del Río) and they plan to get married until tragedy occurs as she gets ill and Lorenzo Rafael has to break in to a store and steals medicine and a dress for Maria for their wedding day. The owner of the store: Don Damián (Miguel Inclán) wants Maria for him, and incarcerates Lorenzo Rafael. Maria tries to get money to put Lorenzo out of jail as she poses for a painter in Xochimilco, but a confusion implodes tragic events.
Theatrical Release: January 20th, 1944 - Mexico