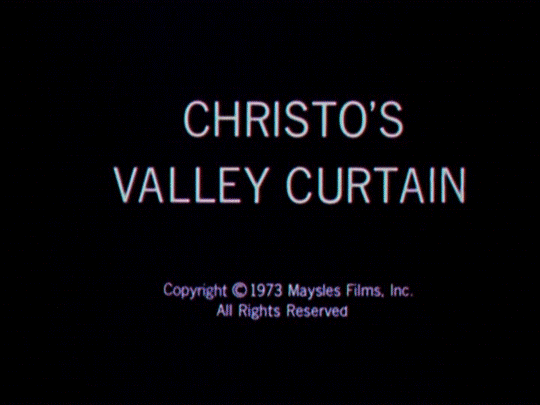 directed by Albert & David Maysles, Ellen Hovde, Charlotte Zwerin, Deborah Dickson, Susan Froemke, Henry Corra
USA 1974 - 1995
A lot of readers would have heard of Christo, an artist who they might consider strange given that most of his publicised projects seem to involve wrapping large objects like buildings and landmarks. In 1969 he wrapped the coast of Little Bay in Sydney with 90,000 square metres of erosion control fabric. But Christo's artworks encompass more than just wrapping things.

Born in Bulgaria in 1935 as Christo Javacheff, he met his Casablanca-born wife Jeanne-Claude in Paris in the late 1950s. They began wrapping structures and objects in the early 1960s, and moved permanently to New York in 1963. It looks like they spent a decade just wrapping things, but they began to branch out in the 1970s by creating enormous structures, not necessarily enormous in size but often enormous in scale; a 24.5 mile fence across the Californian landscape, half a million square metres of fabric surrounding eleven islands, a 381 metre-wide curtain across a valley in Colorado. Their latest project is to construct 7,500 gates in New York's Central Park, a project that was conceived in 1979 and is due to be realised in early 2005. All of their projects are self-funded through the sale of Christo's artworks, and all of the materials used are recycled.

In 1972 the pair commenced a working relationship with the Maysles brothers, David and Albert, two well-known documentary film-makers whom they had met a decade earlier. The collaboration has extended to five films, which are included in this deluxe package. Several were edited by Charlotte Zwerin who worked extensively with the brothers. The last of the five films only involved Albert, as David died in 1987. Apart from Christo, they made some superb films, like the Rolling Stones documentary Gimme Shelter and Horowitz Plays Mozart. Their style is very much cinema verite, with the narrative driven by the editing and eschewing the use of voice-overs.

You would think that films about an artist making art that many people find, well, weird, would be fairly dry and uninteresting. Not so. These films concentrate on the effort involved in getting the projects off the ground, and there is enough drama and humour in that to make the films entertaining. Christo and his wife turn out to be likeable though somewhat eccentric characters. This package sat on the site's pile of unallocated discs for a long time before I decided to review it, and I'm glad I did - I wish I had grabbed it earlier.
Excerpt from MichaelDVD.com located HERE


DVD Review: Plexifilm (3DVD Box Set + 82 Page Book) - Region 0 - NTSC
DVD Box Cover

CLICK to order from:

Distribution

Plexifilm

Region 0 - NTSC

Runtime
282 min
Video

1.33:1 Original Aspect Ratio
Average Bitrate: 0.00 mb/s
NTSC 704x480 29.97 f/s

NOTE: The Vertical axis represents the bits transferred per second. The Horizontal is the time in minutes.

Bitrate:

Audio
French and English (Dolby Digital 2.0 Mono)
Subtitles
Burned In & Non Removable English subtitles when needed
Features
Release Information:
Studio: Plexifilm

Aspect Ratio:
Fullscreen - 1.33:1

Edition Details:
• Colour, Box Set
• 5 Maysles Films on 3DVDs
• Christo's Valley Curtain - 28 mins
• Running Fence - 58 mins
• Islands - 57 mins
• Christo In Paris - 58 mins
• Umbrellas - 81 mins
• Interview with Albert Maysles, Christo & Jeanne-Claude - 27mins
• Commentary on all Five films
• 82 page Book

DVD Release Date: 4/27/2004
Cardboard Outer Box with 3 Slim Clear Plastic Inner Cases + Book

Chapters 39
Comments
The Maysles' films have always provided me with a window into areas I may not have normally ventured. Throughout the years the Maysles have created varied and effective films such as: Gimme Shelter, Grey Gardens, Salesman and The Beatles First U.S. Visit. While I had seen most of their films before DVD became popular, a few of them such as Salesman and these Christo films eluded me until recently.

This new box set from Plexifilm is another quality release and appears to present the Maysles' work as intended. As always with Plexi, beautiful packaging and menus.

Fans of the other Maysles films will find the pace and structure of these films pleasing. Each film has a similar way of presenting Christo's art projects, but are different enough to work very well as a whole. It's interesting to see all the different people reacting to Christo, his ideas and his sometimes crazy behavior.

Most of these films were shot on 16mm and look very much the part on these DVDs. Curiously 'Running Fence' is listed as 35mm on IMDB.com and I tend to believe this as it is the best looking of the earliest four films. Colours are very nice throughout while sharpness and contrast are typical of the film stocks used. Film grain is visible but it is slightly muddied by compression issues. Somewhat disappointingly all discs in this set are single-layered and it wouldn't be a factor if I didn't notice some compression artifacts. These films would have benefited nicely from more disc space and therefore higher bitrates. This is also relevant because this set could have easily been a 2DVD set with its current quality.

Audio on all films is very clear with obvious limitations due to their low budget and documentary style. On the earlier films there is a touch of hiss, but I would greatly prefer this over heavy digital noise reduction.

All films include a commentary with Albert Maysles, Christo & Jeanne-Claude. The commentaries supply a fair amount of interesting information and maintain a steady pace with a few moments of silence. Albert tends to be the quietest of the bunch and I would have liked to have heard more from him.

The included 82 page book provides a wealth of very interesting facts and is the single most informative element of this set. I would love to see more like this. The interview on disc three is recently shot and looks great. A few of the stories overlap the commentaries but it is still a welcome inclusion to the set.

Plexifilm has come through with a very nice set. Cosmetically its packaging and menus are on par with Criterion. The transfers and extras are a definite notch below Criterion's standards for films of this nature. Since Criterion has already released the bulk of the Maysles' work it would have been nice to see them tackle this material.
---



DVD Menus

---
Screen Captures
DVD Box Cover

CLICK to order from:

Distribution

Plexifilm

Region 0 - NTSC
---




















DONATIONS Keep DVDBeaver alive:
Mail cheques, money orders, cash to: or CLICK PayPal logo to donate!
Gary Tooze

Mississauga, Ontario,

CANADA
Many Thanks...