Region Free Player Recommendation of the MONTH !
The Region-Free WORKHORSE!
SOLD OUT
DVDBeaver can obtain a few new Malata DVP 393a Region Free DVD Players
(to let go at $85 US + shipping). Send me an email with your address and I will quote you shipping.
SOLD OUT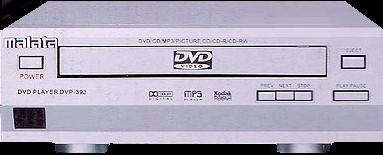 Malata DVP 393a Region Free review by Gary Tooze
I am very impressed with my 3rd year of owning the Malata 393a- Region Free DVD player. Firstly, so as to avoid confusion, Malata makes a 'DVP 398', a 'DVP 398a' and a 'DVDP 393a- Region Free'. This review is focusing on the latter.
The first thing you will probably notice about the Malata 393a Region Free machine is how small it is. I compare the size of it to a computer DVD drive. Its specific dimensions are 430W x 55H x 275D (mm). You can see the images below with a standard keep case box as reference (by the way, I don't have particularly large hands). I would say a little longer than a keep case and a height of about 5 stacked keep cases. Being so tiny my first suspicion was if it would even work, let alone do proper PAL + NTSC rendering. Next thing that may strike you, is the reasonable price.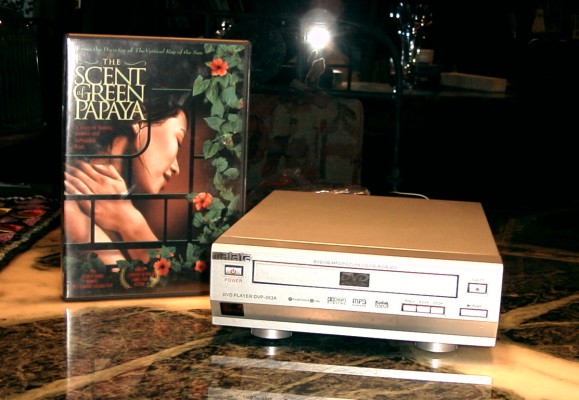 Plugged in right out of the box with no set-up it played both PAL and NTSC DVDs without a glitch. I later read the setting do default to an NTSC television. What struck me was no "jitter" that my current Malata 520 experiences ("JITTER" in the sense that many Region Free machines notice the top edge of the frame jumping up and down unless a settings correction is made) . This is overcome on my, now old, machine my changing a setting from "Still" to "Smart" etc. In the Set-up options the new 393a defaults to something called "Super Smart". Perhaps this is the reason for the avoidance of annoying "jitter". Regardless the top frame is solid.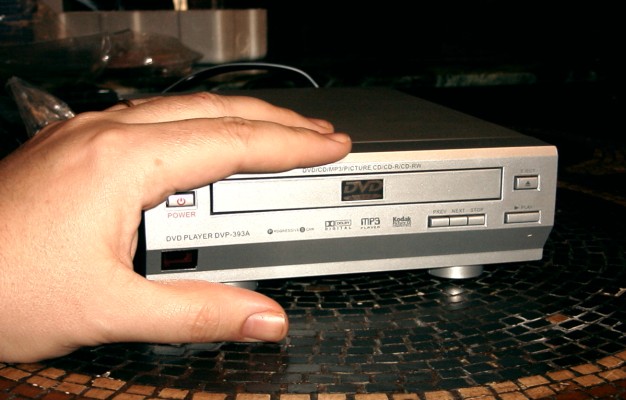 My first viewing on this new Malata was the AE Region 2- PAL "Rosetta", followed by the Anchor Bay DiviMax Region 1 - NTSC DVD of "Time Bandits" which both looked marvelous. NOTE: the machine defaults to P+S mode - the other choices are 'Widescreen TV' or 'Widescreen'. Standard television owners will want "Widescreen"! or else everything will be Pan and Scan.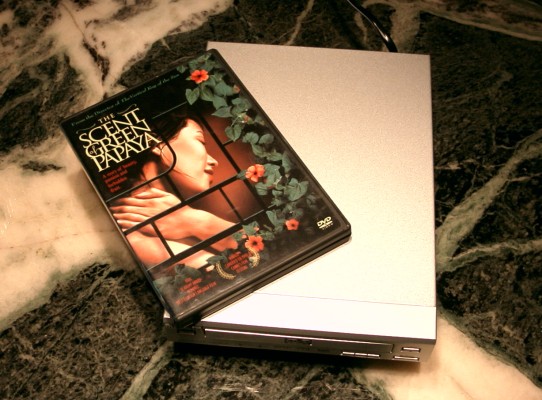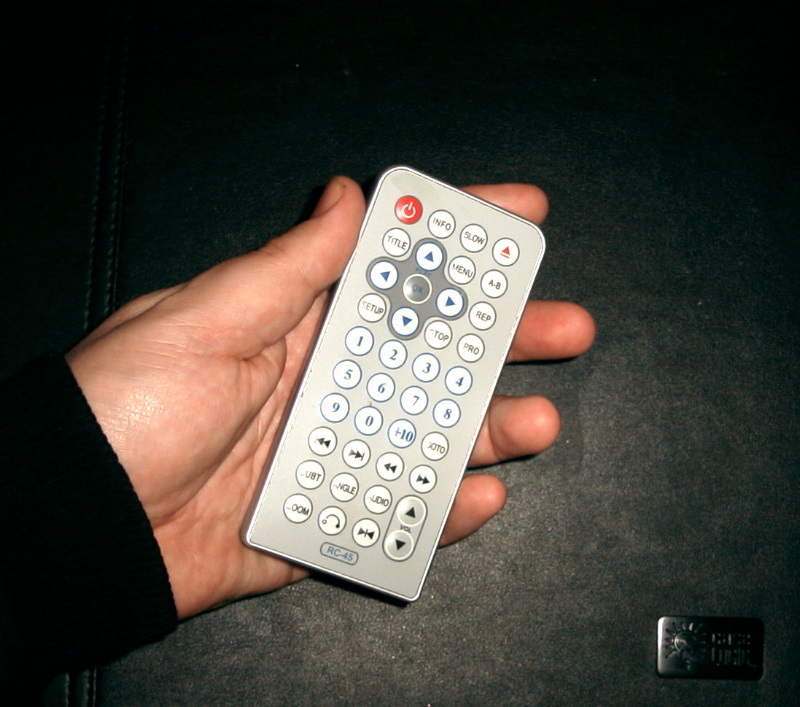 WHAT I LIKED
It plays DVD-R discs (all that I tried)

It has a volume control on the remote (although not great audio range).

It has a Power 'off' button on the remote (unlike my Malata 520)

Progressive Scan

The "Info" button on the remote shows an onscreen window with "Time, Chapter" and different from my 520 - "Time Remaining". Sometime it is nice to know how much time is left while watching a film.

Many new features such as Repeat (Chapter or specific memory set scene)

The biggest bonus... the price is astonishing:
WHAT I DIDN'T LIKE
I can't tell when the Power is on or off - no indicator light on the machine!

No incremental zoom - although there is a 'zoom' button on the tiny remote - it only zooms in (1.5X, 2X and 3X) - it does not zoom out to help prevent overscan.

The remote is actually too small - a little larger than a credit card - this is not a bonus for easy handling and manipulating.

No LCD player display - it is so small that there is no room on the front to see the DVD info (Chapter, time etc. ) - although this info is accessible (see above) by clicking a button.
REGION FREE FEATURES ( as stated by Malata )
Plays Regions 1,2,3,4,5,6 discs
Region-Free from factory (no hardware or software modification required)
Plays REA and RCE Discs

KEY FEATURES

Progressive scan
Correct PAL to NTSC conversion
Listed as compatible with DVD, CD, CD-R, CD-RW, MP3 CDs, JPEG CDs
DTS-Compatible digital audio output
Composite, S-Video, and Component video output
Stereo and Coaxial audio outputs
NTSC to PAL and PAL to NTSC converters built into player
NTSC and PAL video output
Variable power sources compatible. The Malata is compatible with voltages between 100 and 230. Works in the USA, Europe, and practically anywhere! NOTE: On the back of the DVD player, and in the instruction booklet, it says that this unit will only work on an input of 120V. This is incorrect and we guarantee this DVD player to work on supplies of between 100V and 230V. Also, please be aware that this unit has a 2-prong USA-style power plug. You may need to get a plug-adapter to use this unit in your country.
Remote Control

SPECIFICATIONS

Audio DAC: 96KHz 16-24Bit
Audio level: 2Vp-p (1KHz)
Frequency Response: 20Hz-20KHz
Dynamic range: 70dB
S/N: >85dB
Channel separation: 80 dB
Video DAC: 10 bit
Video level: 1Vp-p (750hm)
Video Resolution: 500 lines
Video S/N: 60 dB
DG: < 3%
DP: < 5 deg
Power consumption: 20w
Cabinet color: Silver
Gross Weight: 4kgs
Unit dimension 430W x 55H x 275D (mm)
I can't think of anything else, but if I do, I will report it here. So far I am very impressed with this Malata.
Can't get it Region Free?
Use your remote,
1.Turn on the machine;
2.Open tray;
3.Press "title" button;
4. Press back chapter key;
5. Press forward chapter key;
6. Enter "0".
Can't get it out of Progressive Scan mode?
1) Remove Discs
2) Power On
3) Hold "STOP" on remote for 5-8 seconds
Region Free Player Recommendation of the MONTH !
The Region-Free WORKHORSE!
SOLD OUT
DVDBeaver can obtain a few new Malata DVP 393a Region Free DVD Players
(to let go at $85 US + shipping). Send me an email with your address and I will quote you shipping.
SOLD OUT




















DONATIONS Keep DVDBeaver alive:
Mail cheques, money orders, cash to: or CLICK PayPal logo to donate!
Thank You!