| | |
| --- | --- |
| | S E A R C H D V D B e a v e r |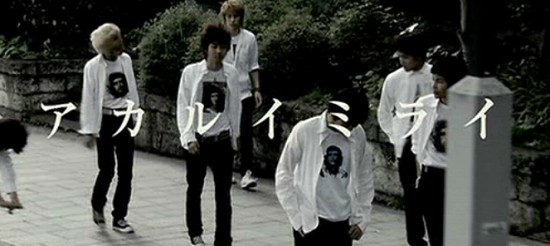 (aka "Akarui mirai" or "Bright Future")
directed by Kiyoshi Kurosawa
Japan 2003
I found Kurosawa's Bright Future to be an interesting film, essentially hollow, but unified by a delicate series of precise directorial diversions that kept the suspense level high but found me questioning the intended relevance. As a social commentary you could find support for an examination of the emptiness of much of youth culture in Japan (everywhere?). After seeing it a few days ago, I am surprised at the level that it has stayed with me. No question Kurosawa (no relation to Akira) has an eye for shapes, scenery and composition. Perhaps one of the best compliments I can give a film is that I was never bored - and the multi-directional plot kept me thinking and intrigued enough to warrant this comment.
Yuji Nimura (Joe Odagiri) dreams of the future when he's asleep. The future he dreams of may not be the real future in store for him, but it identifies his simplistic character and outlook on life. He works with Mamoru Arita at an oshibori (wet hand towels) plant. With youth on their side they bond as directionless semi-loners until the boss unusually befriends them one day. Mamoru bequeaths his pet jellyfish to Nimura before he commits a heinous crime. This jellyfish encapsulates the mystery of the film, its meaning and could easily have symbolic interpretations again relating to society. Mamoru's father, Shinichiro (Tatsuya Fuji), becomes the focus figure of the film and his friendly relationship with Nimura evolves.
Beautiful, suspenseful, interpretational - and pretty to look at, and I can see how film experiences like this can grow upon you. Essentially for me, it fell short of expectations. I was hoping to see a maturing from Kurosaw's "Cure" (the only other film of his I have seen) . From a pure entertainment standpoint this film is a worthwhile visit - but beyond that I wouldn't have any illusions about its depth or cleverness.

out of

Theatrical Release: January 18th, 2003 - Tokyo
Reviews DVD Reviews Kurosawa Interview
DVD Comparison:
Klock Worx (single disc) - Region 0 - NTSC vs. Palm Pictures - Region 1 - NTSC
Big thanks to Eric Cotenas for the Review!
Klock Worx (single disc) - Region 0 - NTSC LEFT vs. Palm Pictures - Region 1 - NTSC RIGHT
DVD Box Cover

Thinking of buying from YesAsia? CLICK HERE and use THIS UPDATED BEAVER PAGE to source their very best...

Distribution
Klock Worx - Region 0 - NTSC

Palm Pictures

Region 1 - NTSC

Runtime
1:54:48
1:32:09
Video
1.78:1 Original Aspect Ratio
Average Bitrate: 4.29 mb/s
NTSC 720x480 29.97 f/s

1.75:1 Original Aspect Ratio

16X9 enhanced
Average Bitrate: 6.0 mb/s
NTSC 720x480 29.97 f/s

NOTE: The Vertical axis represents the bits transferred per second. The Horizontal is the time in minutes.

Bitrate:

Bitrate:

Audio
Japanese (Dolby Digital)
Japanese Dolby Digital 2.0 surround
Subtitles
English, None (NO subs on EXTRAS !)
English, none
Features

Release Information:
Studio: Klock Worx R0 NTSC

Aspect Ratio:
Original aspect Ratio 1.78:1

Edition Details:

-cast and crew biographies along with comments
-theatrical trailer
-a press conference which runs more than 18 minutes (no English subtitles)
-a 9 minute featurette on the special effects of the film (no English subtitles)

DVD Release Date: October 28, 2003
Keep Case
Chapters: 29

Release Information:
Studio: Palm Pictures

Aspect Ratio:
Widescreen anamorphic - 1.75:1

Edition Details:
• AMBIVALENT FUTURE documentary (4:3; 1:14:24; burnt-in English subtitles)
• Theatrical Trailer (4:3; 1:42; English subtitles)
• Trailers for RECONSTRUCTION and DIG!

DVD Release Date: 8 March 2005
Amaray

Chapters 18
Comments:

ADDITION: PALM PICTURE - MAY 2010: Although the Palm Pictures edition runs 18 minutes shorter than the Japanese single and double disc editions, the 92 minute cut of BRIGHT FUTURE is the director's preferred version (he was encouraged to shorten it for international release and decided he liked the shorter version). Shot on both Sony HD and DV 24p cameras (screened digitally and as a 35mm film scan), the transfer here is unfortunately interlaced and has dropped the import's 5.1 mix in favor of a 2.0 surround track. On the other hand, Palm Pictures has seen fit to include the 74 minute documentary AMBIVALENT FUTURE on the same disc (it was previously offered only on the Japanese 2 disc edition with English subtitles). While some picture bitrate for the feature was sacrificed for its inclusion, the documentary is worthwhile and informative.

From Mr.Noise: "The versions are actually different. I do not know if the difference is regional or not, but the recut was rather skillfully done. Not only was 22 minutes cut out, but scenes and sequences were rearranged and parts of the soundtrack were remixed, music and effects added and removed. Which means that whoever prepared the 93 minute version had access to the mixing elements.

I suspect that the shorter version is an "authorized" one (perhaps reluctantly). The 115 minute version is richer and more interesting, and we get to know the characters much better, but I have to admit that when I looked at the long version for the first time, there were only 2 sequences that I could point to as not being in the shortened version. It was not until I made a side-by-side comparison that the extent of the revisions became obvious.

More distressing (on the DVD) is the poor visual quality of the US version. Probably transferred from a film print made from the digital original, it suffers greatly compared to the Korean Region 3 version which may have used the original DV master as its source.

At best, the 93 minute version could be considered an alternate version. At worst --- just a commercial compromise."

Kurosawa on the two version HERE.

ON THE KLOCK WORX: This is a pretty crisp DVD - trace amounts of edge enhancement but overall very good contrast - good sound - and some Extras. I only wish the menus were in English just like the clean white optional subtitles on the Feature (no subs on the Extras). The anamorphic image is bright and compliments the outstanding cinematography. Yes, I recommend this DVD. out of

NOTE: there is a two disc version with more special features including 1) Ambivalent Future: a making of featurette that runs for 74 minutes (English subtitles included!) -and a Behind-the-Scenes featurette which runs 25 minutes (no English Subtitles).
---
Recommended Reading for Japanese Film Fans (CLICK COVERS or TITLES for more information)
The Japan Journals : 1947-2004,

by Donald Richie

The Midnight Eye Guide to New Japanese Film
by Tom Mes and Jasper Sharp

Kon Ichikawa (Cinematheque Ontario Monographs)

by James Quandt, Cinematheque Ontario

Shohei Imamura (Cinematheque Ontario Monographs, No. 1)
by James Quandt
Eros Plus Massacre: An Introduction to the Japanese New Wave Cinema (Midland Book, Mb 469)
by David Desser
The Films of Akira Kurosawa by Donald Ritchie

Ozu by Donald Ritchie

A Hundred Years of Japanese Film by Donald Richie
Check out more in "The Library"
DVD Menus
Klock Worx (single disc) - Region 0 - NTSC LEFT vs. Palm Pictures - Region 1 - NTSC RIGHT
---
Subtitle Sample
Klock Worx (single disc) - Region 0 - NTSC TOP vs. Palm Pictures - Region 1 - NTSC BOTTOM
Screen Captures
Klock Worx (single disc) - Region 0 - NTSC TOP vs. Palm Pictures - Region 1 - NTSC BOTTOM
---
Klock Worx (single disc) - Region 0 - NTSC TOP vs. Palm Pictures - Region 1 - NTSC BOTTOM
---
Klock Worx (single disc) - Region 0 - NTSC TOP vs. Palm Pictures - Region 1 - NTSC BOTTOM
---
Klock Worx (single disc) - Region 0 - NTSC TOP vs. Palm Pictures - Region 1 - NTSC BOTTOM
---
Klock Worx (single disc) - Region 0 - NTSC TOP vs. Palm Pictures - Region 1 - NTSC BOTTOM
---
Klock Worx (single disc) - Region 0 - NTSC TOP vs. Palm Pictures - Region 1 - NTSC BOTTOM
DVD Box Cover

Thinking of buying from YesAsia? CLICK HERE and use THIS UPDATED BEAVER PAGE to source their very best...

Distribution
Klock Worx - Region 0 - NTSC

Palm Pictures

Region 1 - NTSC
---